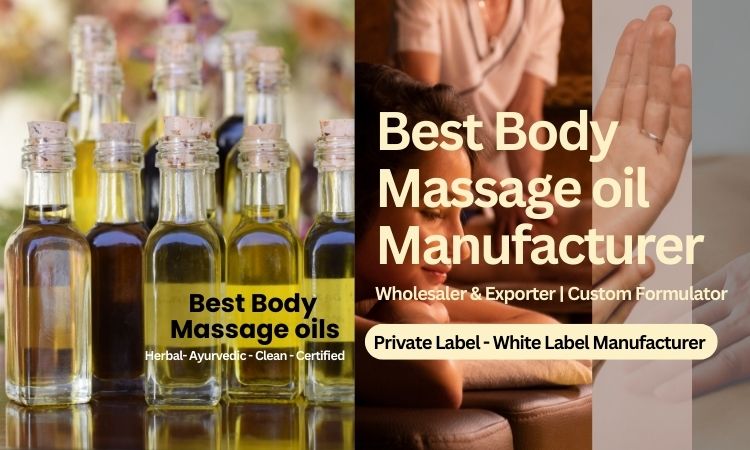 Massage Oil Manufacturer in India
Give yourself a full-body massage on a daily basis. It is nourishing, pacifies the doshas, relieves fatigue, provides stamina, pleasure, and perfect sleep, enhances the complexion and the luster of the skin; promotes longevity, and nourishes all parts of the body.
The aforementioned phrase from an Ayurvedic textbook captures the many benefits of using a body massage oil daily. Before spas became popular, the art of massaging self with oil, also known as Abhyanga, was practised extensively by people.
A relaxing massage will revive your mood and eliminate pain from the body. However, it is always better to massage with natural and organic massage oil than massage oils that are chemical based.
Aadhunik Ayurveda, the best manufacturer of body massage oils in India offers Natural Body Massage Oils that are effective and safe for your skin. They are also versatile i.e. they can work for various issues. For instance, massage oil that is healthy for your skin might also alleviate stress, anxiety, or other mental issues.
Manufacturer Wholesaler and Supplier of Body massage oil at the best price in India
Aadhunik Ayurveda is a leading Manufacturer, Wholesaler, and Supplier, distributor of Body massage oil in India. We offer the purest forms of body massage oil to our customers. No chemicals, additives, or fillers are added to them. Check out premium-grade edible essential oils that strengthen your mind, body, and soul in various ways. As no fillers or additives are used while manufacturing them, a little amount would be sufficient for most requirements.
You can find different types of Body massage oils for different skin needs and age groups and treatment-oriented and much much more. Pick body massage oils from our private label products (formulations) that are tested and ready-to-use oils in quantities as low as 1 litre to as much as your desire. This really helps new market entrants to start their skincare business line with the least investment and purity.
Manufacturer Supplier & Exporter of body massage oils
Aadhunik Ayurveda is the best manufacturer, supplier & wholesaler of pure and organic body massage oils. The raw material of body massage oil is sourced from farmers from different Indian states in the form of fresh, dry, and semi-dry herbs and nuts & seeds.
Aadhunik Ayurveda provides the best body massage oil at bulk prices in India & exports it to many other countries around the world. For ensuring quality the seeds are sourced directly from the farmers and cleaned at our cold-pressed unit before extracting the cold-pressed oils to use it as an ingredient in body massage oil. Likewise, herbs are infused with oils and herbs are subject to distillation to produce essential oils.
Since raw materials of the massage oils are prepared in-house, the control over quality is always intact with no chance of adulteration. Hence the quality ingredients produce a quality, healthy, effective body massage oil.
Wholesaler and supplier of Body massage oil at the best price in India
Since we use traditional techniques and methods to make the best quality body massage oil which is best to give relief to the body, mind, and soul. This makes us the best therapeutic skin care company - a manufacturer of body massage oils at the best prices in India and for the global market space.
Aadhunik Ayurveda provides premium quality body massage oil that does not contain any artificial preservatives or chemicals. It is skin-friendly and does not cause any side effects. Our consistent efforts to provide better results through rigorous quality checks help us meet customers' expectations. We work on ingredients thoroughly before making them a part of our product formulation.
We provide body massage oils in bulk quantities like 1 liter, 5 liter, 10 liter, & 20 liter, and much more suiting your requirement at the best prices.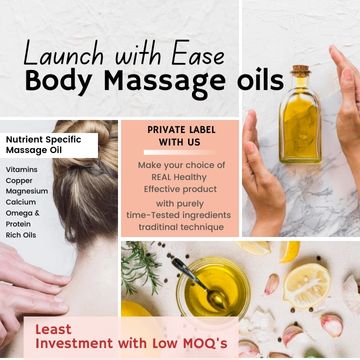 Private Label therapeutic body massage oil manufacturer
Aadhunik Ayurveda is a private-label therapeutic body massage oil manufacturer. Our therapeutic body massage oil is the best for body aches & for the relaxation of the muscles & senses. It is an amazing oil that helps you in getting rid of different body pains, stress, anxiety, etc. It is made with natural ingredients. It makes your skin smooth, supple & soft. This oil improves the texture of the skin. The world-class facility with state of art traditional equipment and techniques make Aadhunik Ayurveda the top organic therapeutic GMP-certified custom formulation for natural and organic body massage oil manufacturers.
Aadhunik Ayurveda with years of experience in developing healthy chemical and preservative-free products is highly beneficial to new brands as we understand the market need in depth.
Get private-label - third-party therapeutic body massage oils with ease, the least investment, and low moq's.
Third party-private label Ayurvedic body massage oils
Aadhunik Ayurveda is the best private-label third-party ayurvedic body massage oil manufacturing company in the world located in the Himalayan foothills in the Indian state of Uttarakhand our private-label ayurvedic and natural products are 100% clean, sustainably sourced ingredients blend and chemical free which works best in the long term interest of both seller and the buyer.
Our ayurvedic range of body massage oils includes Kumkumadi oil, nalpamradi, eladi, and much more.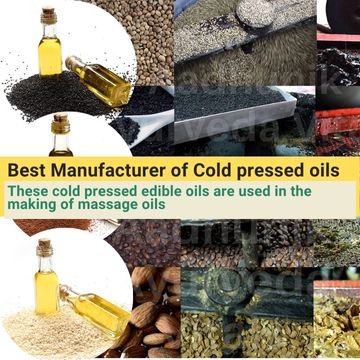 Single ingredient body massage oils-almond oil, coconut oil, hemp seed oil, jojoba oil
Single-ingredient body massage oils are an all-time favorite and have been in use for thousands of years.
It's simple and easy to launch cold-pressed oils under your brand name with us. These cold depressed oils can be marketed as body massage oils, hair & body massage oils, and all-purpose oil suitable for hair body, and food. We give shape to your vision within your preferred budget. Explore private-label cold-pressed oils with us like
Private-label Cold pressed Almond oil
Private-label Cold-pressed walnut oil
All cold-pressed oils are prepared at Aadhunik Ayurveda cold pressing unit. The seeds are sourced directly from farmers cultivating in different parts of India
Aadhunik Ayurveda is the best ISO & GMP certified manufacturer- wholesaler-supplier and retailer of single-ingredient body massage oil in India. We supply various 5-star and 7-star hotel spas and dedicated spa centers around the globe.
Aadhunik Ayurveda body massage oil is available in different standard pack sizes like 1kg, 2kg, 5kg, 10kg, 25kg, and much more as per convenience.
What makes Aadhunik Ayurveda the best Manufacturer of Authentic Body Massage oils
Traditional techniques to prepare body massage oils
Cold pressing to produce carrier oils- Aadhunik Ayurveda uses the traditional technique of cold pressed method. It is a unique clean technique that calls for quality seeds, no heat, and no chemicals or solvents in the making of the oil. The produced oil is the best organic certified wholesale cold pressed oil suitable for multiple purposes like food, skin care, hair care, wellness, & supplement.
Steam distillation to produce essential oils- Aadhunik Ayurveda uses the technique of steam distillation. This technique is 100% environmentally friendly and the product is the most potent, effective, and healthy for use. This technique produces edible essential oil.
Infusion of herbs to produce herb-infused oils - Aadhunik Ayurveda herbs-infused oil is the best quality edible oil. These herbs blend oils are potent, and effectively prepared in accordance to mention in our ancient texts.
Right blend with apt composition – The kesya rasayana - the knowledge of making the right use of herbs and oils in their right state, apt composition keeping in tune with all factors results in the preparation of a healthy, potent body massage oil. Going with Aadhunik Ayurveda will make you enjoy a huge amount of business benefits. Our practitioners are well knowledgeable and experienced to provide the best herbal formula that works effectively on the skin. We are the best herbal body oil wholesaler in India. In case of any further queries, feel free to contact us.
The World-class facility- with state- of-the-art traditional equipment and techniques makes Aadhunik Ayurveda the top organic ayurvedic GMP-certified custom formulation manufacturer for organic skin care, body care, beauty products, and health and wellness products.
Connect with farmers for raw material - Aadhunik Ayurveda-sourced raw materials directly from the farmers are used for making pure body massage oils. raw material quality & technique is very important for making pure and chemical-free body oils. Aadhunik Ayurveda makes pure and organic body massage oil using fresh or dried plant parts like roots, stems, leaves, petals, bark, etc. the raw material is sourced directly from the farmers cultivating different herbs across the Indian states
Custom formulation- formulated to your need and expectation - Aadhunik Ayurveda is the best ayurvedic product manufacturer in India with a fast-growing presence across the world.
Aadhunik Ayurveda makes organic ayurvedic GMP-certified custom formulations for organic and body care products.
Aadhunik Ayurveda gives you the option to choose from more than 500 of the existing product line/formulation to private label on your brand name. However, in case you don't find a formula to suit your needs, we can always custom formulate it for you. And this makes Aadhunik Ayurveda the best custom formulation manufacturer & supplier of wholesale ayurvedic organic certified products.
Certifications and licences - Aadhunik Ayurveda is a certified and licensed private labeling/contract manufacturer of body massage oil and wellness products manufacturer compliant with global standards and environmental regulations.
Complete assistance under one roof- from manufacturing to labeling and design - Aadhunik Ayurveda does the right processing to retain nutritional compounds to suit the composition of the product making it potent, effective, and above all healthy. Hence everything from farms to bottles and jars is done under one roof thereby ensuring quality with just no adulteration. This detailed connect & makes has credited Aadhunik with the best body massage oil private labeling company.
Low moq & least investment - It's easy, and simple to seek private label-white label body massage oil manufacturing services with low investment and low MOQs.
To work on quality is the prime aspect that we keep on our priority list and we provide the best quality potent herbal ayurvedic products. For a successful product, it's important to reach out to a manufacturer with a strong connection with our traditional systems of sourcing quality raw material and preparing it.
Aadhunik Ayurveda is the leading body massage oil manufacturer, supplier & exporter in India because of its authentic products. It is a well-known certified organic and natural skin care ayurvedic products company in India.