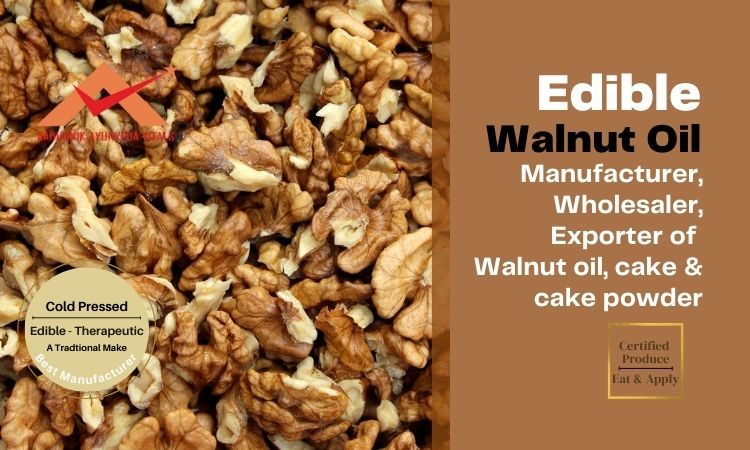 Cold Pressed Walnut Oils Manufacturers in India
Walnut oil is often known as 'Akhrot Ka Tel' in India. This oil has anti-aging, anti-bacterial, anti-cancer, and analgesic properties which can be used to successfully treat hair fall, dandruff, wrinkles, dark circles, Psoriasis, and Eczema.
Walnuts, the single-seeded stone fruit originated in parts of central Asia and the Mediterranean region. It is extremely loaded with omega-3 fats, protein, antioxidants, plant sterols, magnesium, copper, vitamins A, and D, and so forth. The surface structure of walnut is much like that of a brain, which has earned it the name "brain food". Also because it is good for boosting brain health. To make a range of delicious treats for body and skin such as breakfast cereals, salads, pasta, desserts, energy bars, skin products, walnuts are one of the key ingredients.
This oil is extracted from the walnut seed and is used for various purposes. Since industrial revolutions, the oils are made using different techniques to produce cost effective oils like hot press, solvent extraction etc.
which are further refined, bleached and deodorized. So till now nothing beats the goodness of cold pressed oils as these oils are super healthy, nutrient rich and therefore beneficial for use in skin care, food and wellness products.
Aadhunik Ayurveda Cold Pressed Walnut Oil is 100% pure containing essential fatty acids beneficial for the human body found in walnuts.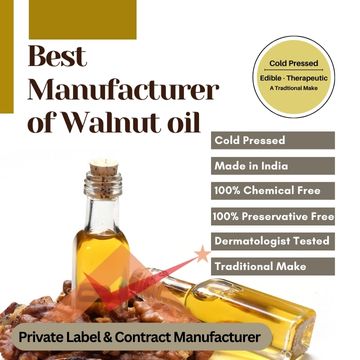 Manufacturer of Cold Pressed Walnut Oil
Aadhunik Ayurveda is the leading manufacturer of Walnut cold-pressed oil in India. All the nuts are directly sourced from the farmers in the himalayan region of Uttarakhand. The handpicked walnuts are shelled and cold-pressed to extract their natural oil also known as cold pressed oil.
Aadhunik Ayurveda uses traditional techniques and methods to make the best quality nuts and seed oil as was made in our early times. This makes the oil wealthy in nutrients, aroma, and colour and lends good shelf life without the use of preservatives.
Walnut cold-pressed oil made at Aadhunik Ayurveda is safe and chemical-free and has multiple purposes in nature as this oil can be used for lots of purposes like food, skin care, wellness etc.
Aadhunik ayurveda is a known quality producer of various cold pressed oils delivering pure oil at reasonable prices to various industries like food, skin care & cosmetics,nutraceuticals etc.
Walnut cold pressed oils and its cake and cake powder also known as walnut meal is available in wholesale and retail packs of different sizes starting from 1 kg, 5 kg, 10kg, 25 kg etc.
Making of the Walnut Oil and its Uses
At Aadhunik, Walnut Oil is extracted from Walnut nuts using the traditional technique of cold-pressed method. It is the best technique where seeds are pressed between the two heavy metal rods. The oil extracted is 100% pure and natural, which preserves its nutty taste and aroma. There is no addition of heat or any other ingredients to prepare the oil. No chemicals or preservatives have been added to this product during processing.
Private Label Cold pressed Walnut Oil
Aadhunik Ayurveda is one of the leading Wholesalers, Suppliers, Manufacturers, and Exporters of Walnut oil and other cold pressed oil in India. We offer private label walnut oil and private label walnut products to various brands in the areas of food, skin care & wellness. Explore private labelling services here.
We employ numerous tests and quality checks to ensure that only premium-quality Walnut oil reaches you. The highest quality and packaging standards are employed to facilitate easy dispense and no-leakages. Also, our portal uses a secure payment gateway to safeguard your transactions. Our company is an ISO, GMP, and USDA-certified company that allows us to manufacture the extensive and best range of ayurvedic products.
FAQ
1.How do I choose the best quality walnut oil for my skin care brand?
Aadhunik Ayurveda Walnut cold-pressed oil is 100% pure that does not contain any synthetic and even no preservatives at all. It is certified organic and edible.
2.Where do the best walnut oils come from?
Best walnut oil comes from the cold-pressed technique. Aadhunik cold-pressed Walnut oil is healthy in nutrients, aroma, and color. It is 100% pure and edible and can be used for many purposes and form a better shelf life without any preservatives.
3.Is walnut oil good for your hair?
It helps in the regeneration of the cells & helps to accelerate hair growth. It helps in eliminating the wrinkles; it has anti-aging properties that assist your skin, hair & scalp.
4.Can you fry it in Walnut Oil?
No, walnut oil should not be used as a deep frying oil. Add the oil to your salads, and chutneys to lend flavor, aroma, and of course nutrition.