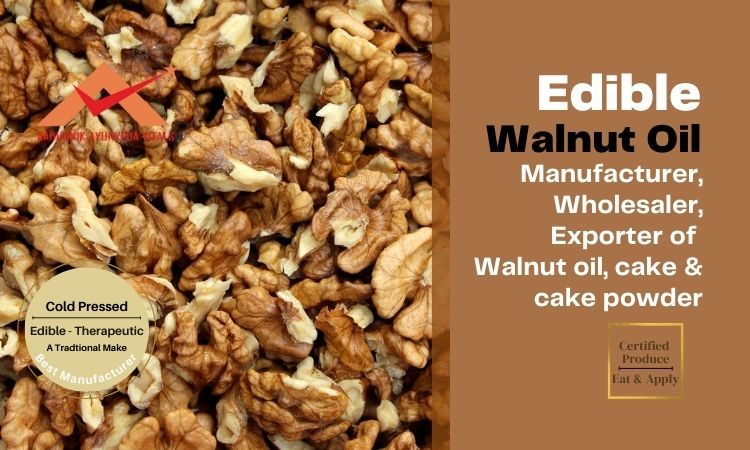 Cold Pressed Walnut Oils Manufacturers in India
Walnut oil is often known as 'Akhrot Ka Tel' in India. This oil has anti-aging, anti-bacterial, anti-cancer, and analgesic properties which can be used to successfully treat hair fall, dandruff, wrinkles, dark circles, Psoriasis, and Eczema.
Walnuts, the single-seeded stone fruit originated in parts of central Asia and the Mediterranean region. It is extremely loaded with omega-3 fats, protein, antioxidants, plant sterols, magnesium, copper, vitamins A, and D, and so forth. The surface structure of walnut is much like that of a brain, which has earned it the name "brain food". Also because it is good for boosting brain health. To make a range of delicious treats for body and skin such as breakfast cereals, salads, pasta, desserts, energy bars, skin products, walnuts are one of the key ingredients.
This oil is extracted from the walnut seed and is used for various purposes. Since industrial revolutions, the oils are made using different techniques to produce cost effective oils like hot press, solvent extraction etc.
which are further refined, bleached and deodorized. So till now nothing beats the goodness of cold pressed oils as these oils are super healthy, nutrient rich and therefore beneficial for use in skin care, food and wellness products.
Aadhunik Ayurveda Cold Pressed Walnut Oil is 100% pure containing essential fatty acids beneficial for the human body found in walnuts.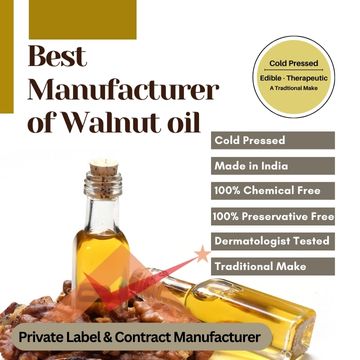 Manufacturer of Cold Pressed Walnut Oil
Aadhunik Ayurveda is the leading manufacturer of Walnut cold-pressed oil in India. All the nuts are directly sourced from the farmers in the himalayan region of Uttarakhand. The handpicked walnuts are shelled and cold-pressed to extract their natural oil also known as cold pressed oil.
Aadhunik Ayurveda uses traditional techniques and methods to make the best quality nuts and seed oil as was made in our early times. This makes the oil wealthy in nutrients, aroma, and colour and lends good shelf life without the use of preservatives.
Walnut cold-pressed oil made at Aadhunik Ayurveda is safe and chemical-free and has multiple purposes in nature as this oil can be used for lots of purposes like food, skin care, wellness etc.
Aadhunik ayurveda is a known quality producer of various cold pressed oils delivering pure oil at reasonable prices to various industries like food, skin care & cosmetics,nutraceuticals etc.
Walnut cold pressed oils and its cake and cake powder also known as walnut meal is available in wholesale and retail packs of different sizes starting from 1 kg, 5 kg, 10kg, 25 kg etc.
Making of the Walnut Oil and its Uses
At Aadhunik, Walnut Oil is extracted from Walnut nuts using the traditional technique of cold-pressed method. It is the best technique where seeds are pressed between the two heavy metal rods. The oil extracted is 100% pure and natural, which preserves its nutty taste and aroma. There is no addition of heat or any other ingredients to prepare the oil. No chemicals or preservatives have been added to this product during processing.
Private Label Cold pressed Walnut Oil
Aadhunik Ayurveda is one of the leading Wholesalers, Suppliers, Manufacturers, and Exporters of Walnut oil and other cold pressed oil in India. We offer private label walnut oil and private label walnut products to various brands in the areas of food, skin care & wellness. Explore private labelling services here.
We employ numerous tests and quality checks to ensure that only premium-quality Walnut oil reaches you. The highest quality and packaging standards are employed to facilitate easy dispense and no-leakages. Also, our portal uses a secure payment gateway to safeguard your transactions. Our company is an ISO, GMP, and USDA-certified company that allows us to manufacture the extensive and best range of ayurvedic products.
Characterization of Physico-chemical and Other Bioactive properties of Walnut Seed Oil Extracted By Cold-Pressed Method
In this study, the comparison of physico-chemical and phytochemical profiles for common walnut (Juglans. regia) was analysed. The results showed that common walnut has advantage in unsaturated fatty acids (77.9%) and flavonoids. The seeds also contain some appreciable amount of vitamins; vitamin A and vitamin E. The presence of these bioactive and nutritive compounds in the seed has made it a veritable source for good health conditions.
Due to this reason, the present study aims to extract the cold pressed Walnut oil from selected varieties released to assess the quality of oil with physicochemical parameters and bioactive compounds investigated.
Introduction
Plants have been a great source of nutrients to humans and animals. Humans have relied mostly on plants for nutritional and medicinal needs. Some plant seeds have nutritive and calorific values which make them necessary components of diets. The use of plants by people for treatment of diseases and ailments has been in practice for a long time. Nutritional discoveries showed that frequent eating of nuts greatly lowered the risk of heart diseases.
Walnuts seeds are known for their content of omega-3-fatty acids which are good in maintaining a healthy heart as they have low saturated fats. The seeds have potential health benefits in the area of memory and cognitive function and promote brain health. Low omega-3-fatty acid intake has been linked to depression and decline in cognitive function. Walnut seed contains melatonin, a hormone used in the body to regulate sleep. Melatonin is a powerful antioxidant that fights free radicals which is responsible for the development of cancer cells. Black walnut seeds also contain allergic acids that neutralise cancer causing substances. Therefore consumption of black walnut seeds may help to reduce the growth of cancer cells, heart disease and high blood pressure as it lowers the level of bad cholesterol. Hence this work seeks to evaluate the phytochemical composition, proximate analysis and vitamin content of the plant to encourage its consumption as a functional food.
The Following table below points to physico-chemical properties, fatty acid composition in Walnut seed oil during our investigation.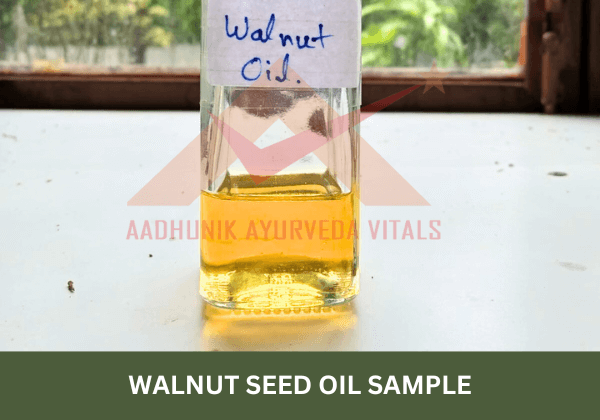 Method
Oil extraction
Cold press method was used to extract oil from the walnut seed. After the extraction process, the oil was filtered to remove impurities and then kept in a glass bottle under 18°C provides information on the most commonly tested physico-chemical analysis, fatty acids profile, phytochemical and other bioactive analysis.
| | |
| --- | --- |
| Product Name | Walnut Seed Oil |
| Botanical Name | Juglanas regia |
| Manufacturing Process | Cold pressed only |
| Part Used | Nuts seeds |
| Quality | 100% pure and natural |
| Usage | Skincare, health and wellness |
| Cultivation | Indian Himalayan range |
Physico-chemical Analysis
Various parameters were analyzed in walnut seed oil are given below.
Properties
Specifications
Results
Appearance
Oily Liquid
Conform
Colour
A clear light yellow-greenish liquid.
Conform
Odour
Characteristic
Conform
Solubility
Soluble in oils, insoluble in water
Conform
Acid Value
<4.0
1.9
Refractive Density
0.915-0.920@20°
0.917
Refractive Index
1.460-1.478@20°
1.467
Surface Gravity
0.910-0.930@20°
0.917
Saponification Value (Mg/KoH/G)
188-195
192.8
Unsaponifiable Matter (%)
<2.0
0.58
Peroxide Value (ME O2/ Kg)
<20.0
3.4
Iodine Value (CALC))
1.470-156.0
148.9
Fatty Acid Profile(%)
| | | |
| --- | --- | --- |
| Fatty Acid | Specification Range (% | Results(%) |
| Palmitic | 5.0-8.0 | 6.7 |
| Oleic | 14.0-26.0 | 16.5 |
Qualitative Analysis of Phytochemical/Nutritional Profile Test For Walnut Seed Oil
| | | |
| --- | --- | --- |
| S.NO. | Walnut Seed Oil Qualitative Analysis | Result |
| 1 | Phytosterols | (-ve) |
| 2 | Flavonoids | (+ve) |
| 3 | Unsaturated fatty acid | (+ve) |
Microbial Analysis of Walnut Seed Oil
Microbial
Specification
Results
Aerobic Mesophilic Bacterial Count
<1000 CFU/g
Conform
Yeast and Mould
<100 CFU/g
Conform
Description
Appearance- Walnut Oil is in a liquid form.
Colour- The pure cold-pressed walnut seed oil is a clear light yellow-greenish liquid in colour.
Odour- The odour of cold-pressed walnut seed oil is obtained from the seeds. The walnut oil has characteristics in aroma.
Solubility- Walnut Oil can be soluble in cosmetic esters & fixed oils, and insoluble in water.
Acid Value-the acid value is the number of milligrams of KOH that is required to neutralise the free fatty acid present in 1.g of fat.
Refractive Density-is a determined value that provides a relative measure of the optical density of that material. The higher the index of refractive value, the more optical dense a material is.
Refractive Index-indicates the possible chances of rancidity development in oil. Higher the refractive index higher is the chances of spoilage due to oxidation.
Saponificvation Value-is the number of milligrams of KOH required to neutralize the fatty acids resulting from the complete hydrolysis of 1g of fat.
Unsaponifiable matter-are the substances in many oils and fats that are not tri-glycosides. These can be washed away because they are soluble in water.
Peroxide Value-is a parameter specifying the content of oxygen as peroxide, especially hydroperoxide in a substance.
Iodine Value- the iodine value is the amount of iodine in 100g of oil or fat.
Fatty Acids-Walnut contains a few fatty acids such as palmitic acid, oleic acid, stearic acid, linoleic acid, etc.
Heavy Metals-This test is done to see if there are unusual amounts of metals that are toxic or could be harmful.
Microbial Test-is significant and is expected by various industries from over the world, where human wellbeing is in danger of being adversely affected by illness caused from bacterial infection, and microbial toxins.
Observations of Qualitative Tests for Walnut Oil
1. Phytosterols
No, formation of blue-green colour, shows the presence of phytosterols in the sample.
2. Flavonoid
Formation of red colour shows the presence of flavonoid in a sample.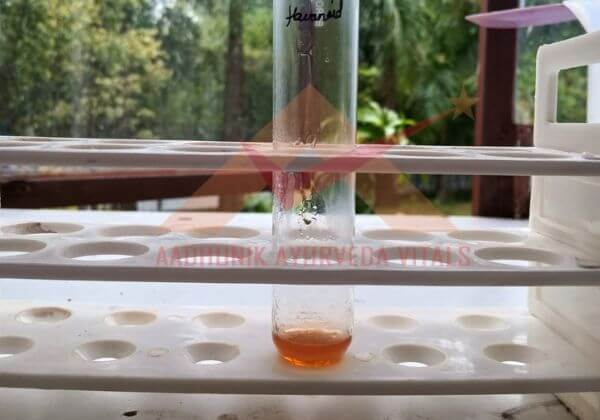 3. Unsaturated Fatty Acids
After observation there is change in colour before and after which shows the present of unsaturated fatty acids in a sample.
Conclusion
Overall, the walnut oil was enriched with oleic & linoleic acid which affects its physicochemical properties such as iodine value, saponification value, acid value etc. Walnut has a higher amount of unsaturated fatty acid and flavonoid which are beneficial for humans. Hence, walnut oil proved to be the best for food products and development.
FAQ
1.How do I choose the best quality walnut oil for my skin care brand?
Aadhunik Ayurveda Walnut cold-pressed oil is 100% pure that does not contain any synthetic and even no preservatives at all. It is certified organic and edible.
2.Where do the best walnut oils come from?
Best walnut oil comes from the cold-pressed technique. Aadhunik cold-pressed Walnut oil is healthy in nutrients, aroma, and color. It is 100% pure and edible and can be used for many purposes and form a better shelf life without any preservatives.
3.Is walnut oil good for your hair?
It helps in the regeneration of the cells & helps to accelerate hair growth. It helps in eliminating the wrinkles; it has anti-aging properties that assist your skin, hair & scalp.
4.Can you fry it in Walnut Oil?
No, walnut oil should not be used as a deep frying oil. Add the oil to your salads, and chutneys to lend flavor, aroma, and of course nutrition.