Ayurvedic Beauty Skincare Product Manufacturer in India
Aadhunik Ayurveda is the best clean yet certified organic ayurvedic skin care products manufacturers in India manufacturing with world class production lines adhering to global standards. Over the years, we have made significant presence in private label ayurvedic beauty cosmetics products with famous brands present in Canada, U.S, Dubai, Singapore, Australia, Malaysia, Indonesia, Saudi Arabia, parts of Europe and much more.
Ayurveda is an ancient Indian medical system used for skin care that has been practised for over 5000 years. It is a complete healthcare system that addresses the physical, mental and spiritual aspects of life.
The principles of Ayurveda are based on five elements: earth, water, air, space, and fire. These five elements characterise our entire existence in the food we eat, the thoughts we have in our minds, and the way we interact with others. And therefore what we apply and what we inhale has a direct connection with our body, mind and soul. The more healthy the skin care beauty products are, the better the health is over time. And hence we at Aadhunik Ayurveda make everything the traditional way to create that energy in the products that work holistically on mind, body and soul. The unique minimal processing technique of ingredients helps retain aroma, nutrients and wholesome goodness in the final products and that's the reason Aadhunik Ayurveda is the fastest growing ayurvedic beauty products manufacturers in India.
What is Ayurvedic Skincare?
In today's world, ayurvedic skin care products found in the market are often no more completely ayurvedic. There is much more added to ayurvedic herbal products these days which takes away the original, authentic qualities from it. Ayurveda is the goodness of a 5000-year-old science blended with modern chemical ingredients & techniques to seek colour, consistency, fragrance and texture. Home to Ayurveda, its ancient wisdom is highly used and recommended in India. Ayurvedic Skincare has a holistic approach to treating your skincare woes and giving you healthy skin from within. Unlike harsh chemical treatments, using Ayurveda for skin is simple, uncomplicated, and can be easily incorporated into our daily skincare routine. If you are disappointed with the empty promises of skincare products, it is time you switch to Ayurveda for healthy skin.
The Importance of Ayurveda in Skincare
Ayurveda holds a strong belief in creating a good balance. Your skin is a direct reflection of the balance you maintain outside and inside your body. Before embarking on an Ayurvedic skincare journey, you should understand what works for you best and create an effective routine accordingly. Ayurveda and skin co-exist with Vata (air), Pita (fire), and Kapha (water) , the three Doshas that help you create a unique routine that is tailor-made for your skin concerns.
With the combination of the right ingredients, Ayurvedic herbs and properties help enhance the collagen in your skin. Using Ayurvedic ingredients also diminish scars and pigmentations by up to 40%. Fielding with anti-aging and antifungal ingredients, following a routine with Ayurveda for skin, might just be the best idea for your skincare.
Ayurvedic Beauty Skincare Products Manufacturer in India
Skin needs proper care and nourishment and every person wants to use good quality products on their skin. To make skin look good and glowing, many people these days are using products that are natural or herbal. Thus, this has made tremendous growth in the Ayurvedic/natural marketplace.
Choosing ayurvedic beauty products often provides great care to the skin because of their herbal extracts that naturally turn the skin beautifully healthy. Despite using harsh chemical-based skincare products people prefer to go for herbal products. In order to get the best herbal cosmetic products, switch to Aadhunik Ayurveda, the leading ayurvedic cosmetic manufacturer in India. We also offer third-party ayurvedic cosmetic manufacturing business opportunities.
Being the best private-label manufacturing company, Aadhunik Ayurveda serves the most qualitative herbal beauty products. The raw material we choose is of great quality which is the major aspect we follow. Get a third-party ayurvedic cosmetic manufacturing business with Aadhunik Ayurveda and introduce a quality product line to your brand.
Why investing in an Ayurvedic Third Party Manufacturing Company is Beneficial in India?
Starting a new venture in any field may require a lot of struggle and investments. But if you are thinking of having a smart business start-up in the field of skin care then connecting with a Third-party manufacturing company can help you in a lot of ways. The business companies or individuals who do not own their own manufacturing units can tie with third party or contract manufacturing companies like Aadhunik Ayurveda to get the quality and tested branded product range, by this business method, you can earn profits and do a successful business. So, here are some advantages of investing in an ayurvedic Third-party/contract manufacturing company in India.
Cost- associating with a manufacturing company for ayurvedic products can help you in getting branded product range at the most reasonable prices.
Hassle-free business- as all the creation and formulation of the products are done by the manufacturers, you get a chance to focus on another most important working area - marketing of your own company and its business. Thus, this helps you in working on the core of your business and earning higher sales with less stress and less investment and more returns.
Quality- driven ayurvedic products- the manufacturing companies expertise make sure that all the products or medicines are manufactured with proper care and innovation. Thus, this helps to make a high-quality range of ayurvedic products.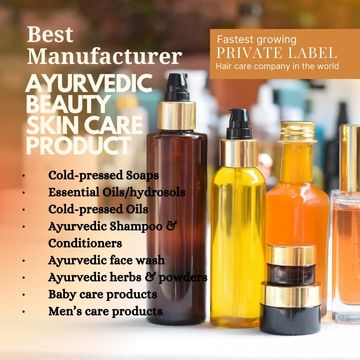 How to choose the best ayurvedic beauty products manufacturer in india?
It's best to google and seek answers to all the questions and surely make a visit to the place/factory and see because there are many traders in the market selling the produce on the name of manufacturers. Ayurvedic beauty products manufacturer is ideally different from other manufacturers because in ayurvedic herbal products there is more use of plant based - minimal processed ingredients and hence there is more connection with the farming community to seek quality raw material.
What products are usually manufactured by ayurvedic cosmetic manufacturers?
Ideally, ayurvedic cosmetics include products like kajal, sindoor etc. and skin preparing products like powder polisher, face oils, body oils etc. however these days products like lip tint, lipstick, mascara, foundation, primer, anti smudge kajal etc. are all manufactured under the umbrella of ayurvedic products. Such products need a significant amount of chemicals and preservatives in their making to derive the needed colour, texture, consistency etc and come up to the expectation of the ongoing market.
Where to find the best genuine skin care products manufacturer in India?
It's best to google and find out the manufacturer post which makes a visit and seek all the answers very much satisfying your need. Proceed only when you are sure of the quality, make and everything that surrounds it.
Quality Manufacturing of Skincare Products by Aadhunik Ayurveda
Aadhunik Ayurveda is a quality-driven manufacturing company in India for the best Ayurvedic skincare products. Our manufacturing unit prepares 100% natural and harmless skincare products. So, if you connect with us in India, you will get ISO, GMP, FDA certified ayurvedic ranges to enhance your business. Moreover, all our skincare products get approved, so you always rely on our quality. The ayurvedic/herbal skincare range by Aadhunik Ayurveda will help our customers to improve their skin problems like acne, sunburn, dried skin, pimples, etc. so, here are some Ayurvedic Skincare range that we provide to our associates in India-
Ayurvedic Shampoo & Conditioners
Ayurvedic face wash
Why is Aadhunik Ayurveda the Top Ayurvedic Skincare Products Manufacturers in India?
We come with close to a decade's experience, with an aim to serve the best in the market. Also, by serving the best products in the market, we are preferred as the best manufacturer for transparency and ethical business standards. We also give contract manufacturing and third-party manufacturing services to our associates. In addition, the manufacturing unit of Aadhunik Ayurveda produces the best Ayurvedic Skincare products with the approval of ISO, GMP, FDA. Moreover, we are also the Top Ayurvedic Suppliers and Distributors of skincare products in India with global presence reaching to more than 13 countries.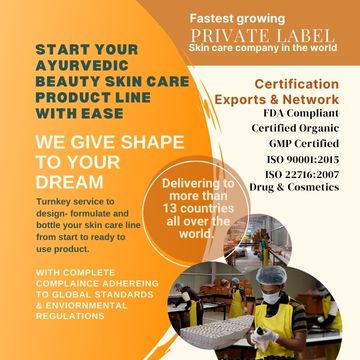 So, if you are here looking for ayurvedic skin care wholesale & raw material manufacturers in India, contact Aadhunik Ayurveda vitals now.
Formulation of herbal/ayurvedic skin care products
Create skin and cosmetics formulas with us as per your vision and budget to target specific or general skin care & wellness needs. We hold expertise in formulating skin care & wellness products in the areas of
Ayurvedic Skin care products manufacturer
Doshas specific skin care products manufacturer
Cosmetic beauty skin care products manufacturer
100% natural skin care products manufacturer
Health & wellness products manufacturer
Explore more with us through ongoing market trends, custom formulation and everything that involves skin care.
FAQ
1.What does Ayurveda say about Skincare?
Ayurveda is an ancient system that bases treatments on balancing the three doshas: Ayurvedic skin care can include facials, face masks, and herbal formulations. Some of these remedies may help in the treatment of skin issues, like acne, eczema, dryness, and redness.
2.Is Ayurvedic Skincare effective?
While Ayurvedic skincare products may not have overnight effects like cosmetic products with peels or acids, it is nevertheless effective, and you should start feeling a therapeutic difference as soon as possible.
3.What types of products are used in Ayurvedic skincare treatments?
Essential oils, facial oils, herbal extracts, cold-pressed soaps and oils, and hydrosols are a big part of skin treatment. Herbs and oils are used in different ways, including Anti-aging, Ayurvedic anti-aging products have specific ingredients to help nourish the skin and promote youthfulness.