Manufacturer, Exporter and bulk supplier of Natural Oils
Aadhunik Ayurveda is the Best Private Label Organic Natural Oils Manufacturer in India. If you are looking for the best quality natural oils in bulk, then Aadhunik Ayurveda is the right one to source best quality natural oils, carrier oils , cold-pressed oils, essential oils and other wellness products.
At Aadhunik Ayurveda natural herbs oils, ingredients extracted from plants, were in use for thousands of years for health, medicinal, and aromatic/fragrant purposes. With around more than 100's of natural oils available today, each one carries a distinct flavour and aroma of the plant, from which it is extracted.
Aadhunik Ayurveda is the No.1 Private Label Manufacturer of Edible Natural Oils made through the process of steam-distillation and cold-pressed methods. To deliver true natural oils to the market, we use concentrated plant extracts without the application of any chemical process.
Making of Natural Oils
Making of Natural oils at Aadhunik Ayurveda with the help of our ancient traditional methods for making high quality edible natural oils. All our 100% pure and natural oils products are carefully extracted from flowers, plants, seeds, nuts and exotic herbs that were sourced directly from the farmers and distilled in a well-equipped distillation manufacturing plant that keeps the ancient philosophy alive of making a balance among body, mind & soul. They assist in soothing, uplifting, healing, & boosting the immune system. Our wide range of pure natural oils including, Lavender oil, Rosemary oil, Peppermint Oil, Lemon Oil, Eucalyptus oil, Cold-pressed Almond oil, Walnut oil, Jojoba oil, blend of herbs infused oils and many others available at reasonable prices.
Best Manufacturer, Supplier & Exporter of Natural Oils
Aadhunik Ayurveda is a trusted and efficient 100% pure and natural oils manufacturer, supplier, exporter and wholesaler, that is committed to providing the best quality products to its clients at cost-effective prices. We try to keep the natural ingredients of plant botanicals alive all through the manufacturing of our products to provide maximum benefits to consumers. The safety and precautions which are taken in the process of manufacturing essential oils distinguish us from the rest Natural Oil suppliers and also make us superior and recognized worldwide.
With close to a decade of experience as Best Natural Oil manufacturers, wholesaler, & suppliers Aadhunik Ayurveda is successful in establishing its reach across the world with many international brands buying ready to use product or raw material for their product. The consistent efforts in meeting the demands of natural oils of the customers and clients from all over the world have made the leading wholesale and bulk suppliers and exporters of various natural oils in India, Australia, Canada, America, Dubai and other International countries. Our aim has always been to fulfil the necessities of top best quality essential oils without failure and additionally in time.
Moreover, Aadhunik Ayurveda is not only manufactured in the Natural oils but also very famous for the other ranges like, skincare, haircare, Babycare and personal care products and many more. We provide authentic rates that are wholesale expenses. Our inventory is always full of natural ayurvedic care products. So, you can order the products any time.
We make the products as per the requirement of the client in term of
Ingredients that customer desire to work with
Consistency & Texture of the products
Function of the product, Aroma & overall look & experience.
Our Natural Oils Range Includes
The category of our Natural Oils is quite big and contains a wide assortment of natural herbal and pure oils.
Essential Oils are extracted from the natural plant botanicals by steam distillation, these oils are imbued with the original characteristics of the plants such as the aroma and health benefits. Essential oils blend with carrier oils are edible aromatic and therapeutic oils that are good to use for food, inhalation - aromatherapy and skin care products. Essential oils contain natural aroma derived from plant parts. Essential oils can be used to prepare different blends of floral, earthy, citrusy, spicy, lemony, grassy, camphorous, sweet flowery etc. to use as an aroma oil. These aroma oils can be used as a diffuser oil.
Fragrance oils are different from essential oils as these are created synthetically, something similar to perfumes. Fragrance oils are far cheaper than essential oils and not meant for edible purposes.
Carrier oils are known as excellent diluters of essential oils, we have a wonderful range of carrier oils used to bring down the concentration levels of essential oils to make them skin-friendly.
Flavour Oil is extracted from the various seeds and nuts using cold-pressed techniques, Aadhunik Ayurveda manufactures various types of natural flavour oil to add flavour to your food items also used in skincare and other personal care products.
Herbal Liquid Extract are much less concentrated than the essential oils, herbal liquid extracts also called hydrosols/floral water are aromatic liquid extractions from the fruits, leaves, herbs, roosts and other plant parts. At Aadhunik you will get a variety of these edible floral waters at amazing prices.
Private Label of Natural Oils Products Manufacturer
Aadhunik Ayurveda is the top leading manufacturer of Private Label Natural aroma & flavour Oil Products in India. If you are looking for the top Natural Oils manufacturer Company, then Aadhunik Ayurveda is the best choice for you, as it helps established brands & start-ups with low moq's. Our range of Private Label Natural Oils products includes.
Private Label Essential Oil
Private Label Aromatherapy Oil
Private Label natural Diffuser Oil
Private Label Facial Oil
Private Label Lavender essential oil
Private Label Natural Flavor Oils
Private Label natural glow body oil
Private Label Aromatic Hydrosol/flower water
Private Label After shower Oils
Private Label Cold-pressed oils
Private Label Aroma diffuser oils & much more.
All our products are packed in airtight glass bottles of sizes you desire to keep intact their aroma quality, and benefits of the natural oils until the completion of their shelf life. We can bottle 5ml, 10ml, 15ml, 20ml, 30ml, 50ml, 100ml, 200ml, 250ml, 500ml, 1000ml and much more.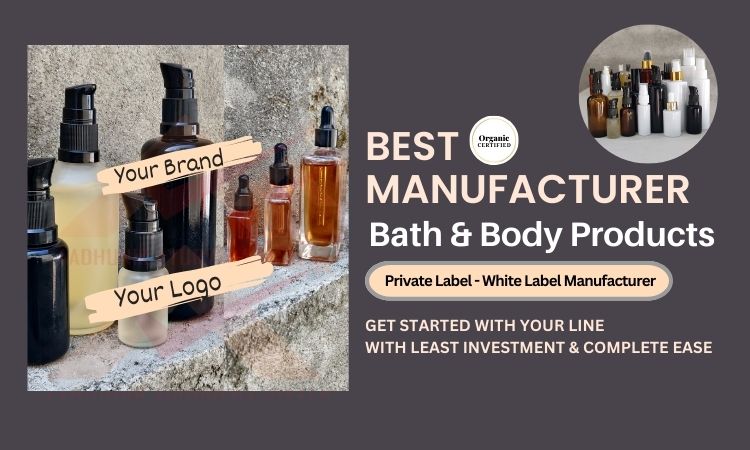 Facility & Certification
With years of experience and well equipped facility & organic certifications like USDA, ISO, & GMP Aadhunik Ayurveda provide one stop-all solutions under one roof. Our carefully designed private label Natural Oils are rich in natural plant-derived constituents and super quality with best prices. We promise to deliver the 100% high quality of organic natural oils.
Well, here are some reasons listed that you can consider purchasing Natural oils from Aadhunik Ayurveda:
Complete in-house essential oil, cold pressed oil making unit
Connect with farmers for quality herbs, nuts & seeds.
We ensure 100% pure and natural products without any use of preservatives.
Customer satisfaction is our prime goal.
Availability of an extensive variety of natural products at reasonable wholesale prices.
We constantly maintain a great focus on quality control and research & development.
Customised blends/customised formulation
Private label & white label services with ease in low moqs and least investment.
Is it possible to create a blend that works as a face oil, body oil and aroma oil?
Yes, we can create a blend keeping in view the prominent and under notes of essential oils you look forward to including the carrier oils. For more details drop an email to us at aadhunikayurvedavitals@gmail.com