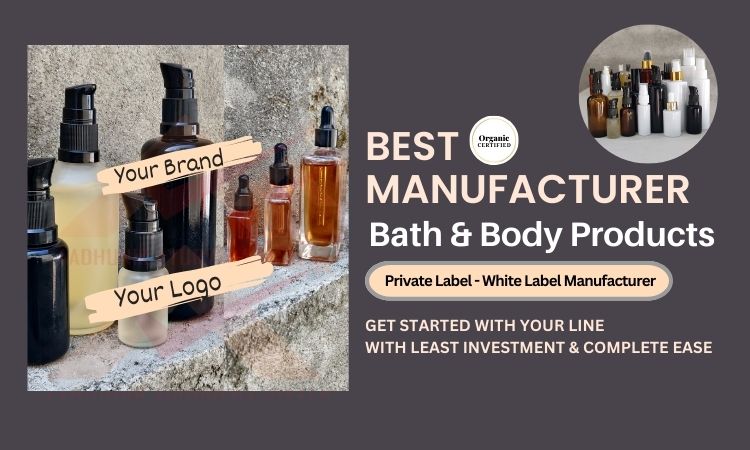 Bath & Body Product Manufacturer
Aadhunik Ayurveda is the world's fastest growing natural - herbal bath and body products manufacturer in India formulating various products and raw material for brands across the world. Using the essential natural healthy bath and body care products soothes the skin internally as these are quite necessary for the deep nourishment of the skin. The herbal yet gentle formulation products for bath and body care are more beneficial to use as these are made up of herbs and roots which offers a no harm skincare regime. And we at Aadhunik Ayurveda are the best herbal Bath & Body Care Manufacturers in India.
Aadhunik Ayurveda provides a range of qualitative herbal bath and body care products 100% organic that penetrates the skin smoothly and stimulates the health of the skin cells. That results in a rejuvenating radiant glow to your skin. The natural formulations are gentle and do not have a harsh impact on the skin. We are the best ayurvedic bath and body care private label product manufacturer in India.
As we are the leading private label body care products manufacturer, we offer a rich range of bath and body care products to enhance your shop inventory to help you cater to all requirements of the present day consumer in low MOQ's as well. Our quality, commitment and consistency in producing best and unique products has made us the favoured organisation for private label & contract manufacturing in bath & body care products.
Body wash/Shower Gels are the blend of natural herbs that provide all the moisture and nourishment to the skin. Aadhunik shower wash/gels do not contain any chemical extracts, they completely take the natural herbs, that with a sensitive touch soothes the skin.
Soaps stands as the essential item among skincare products. It is indeed the future as its zero plastic , zero waste environment friendly product. It is a great product which could improve the health and nature of the skin. Aadhunik hand-made soaps are made with plant-derived ingredients like cold pressed edible oils, butters, goat milk, and essential oils that give your everyday skincare routine a magical touch.
Bath Oils soothes the skin internally, these oils are quite necessary for the deep nourishment of the skin. Aadhunik organic bath oils are beneficial to use as these are made up of herbs and roots which offers a natural skincare regime.
Body Oils are the best formulas when it comes to imparting deep nourishment and moisture to the skin. Not only do these body oils rejuvenate the skin but also turn the skin super smooth and glowing. And going with Aadhunik Ayurveda for natural and organic body oils is the best solution to provide all the moisture naturally without any chemical formulas.
Face Wash are water-soluble compounds that lather up properly on the skin while massaging. It dissolves dust, sweat, oil and other grime substances. Aadhunik Ayurveda with the top-notch quality of raw material makes highly beneficial products that turn the skin healthy naturally.
Body Lotions & Body butters - Moisturising the skin is very important after a shower and we at Aadhunik Ayurveda make unique lotions and butters with blend of oils, butters, hydrosols and essential oils that lends skin completely nourished and ease skin concerns like itch, dryness, spots and other discoloration. This is because we don't use normal distilled water but we make use of herb waters also known as hydrosols keeping in view the kind of moisturiser we are formulating.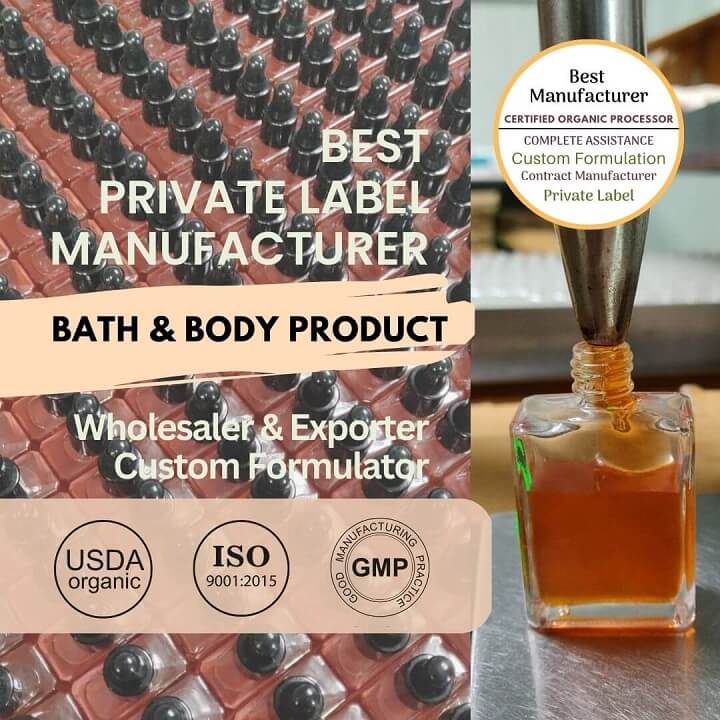 Private Label Manufacturer of Bath & Body Care Products
Aadhunik Ayurveda is the top leading manufacturer/producer of Private Label Bath & Body Products in India that formulate the extremely good body products at pocket-friendly prices for your brand. Our company has a great manufacturing team that gives improved quality every time. Moreover, we have the best manufacturing equipment that gives the best quality products. Our range of organic bath and body care is very popular not only in India but in other parts of the world like Australia, Canada, America, Singapore and parts of the Middle East and Europe. If you are searching for the top quality ayurvedic bath and body care for your existing or new launch best skincare line, then Aadhunik Ayurveda is the best choice as it helps start-ups, established brands and hotels, spas with lowMOQ's and least investment. Our range of private label organic bath and body care products includes.
With years of experience and well equipped facilities, we at Aadhunik Ayurveda can provide one stop - all solutions under one roof from an idea to ready to use product as per your requirement and budget.
Our carefully crafted private label body products are rich in natural ingredients and super competent in quality with reasonably priced.
Our in-house R & D team and state-of-the-art production setup that includes cold pressing unit, hydrosol & essential oil distillery, Physical and chemical parameter check testing lab helps us deliver superior quality body products which might be non-toxic and do not have any bad effects on the skin.
With an exhaustive years of experience in private label & contract manufacturing body care products we recognize your varied needs with respect to consumer needs. Our custom designed range of products are tailored- made to satisfy those needs. We are also well-equipped to undertake packaging and bottling of all finished products into jars, bottles and deliver as per your requirement.
All the ingredients we include in our bath & body care products are derived from the earth. We don't put anything not to be used in our products. As we are an FDA registered facility, we do not conduct any sort of animal testing, making both our products and our practices green and cruelty free.
Best Organic Bath & Body Care Manufacturers in India
Aadhunik Ayurveda is one of the leading Ayurvedic Body care products manufacturers in India. We manufacture a variety of natural ayurvedic body care products. Our products contain categories, personal care, skincare, etc.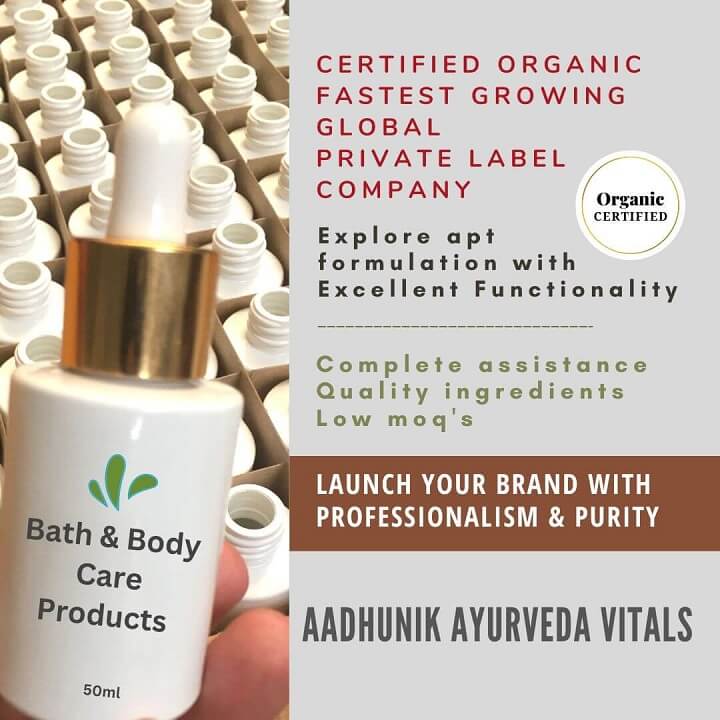 The company has the experience of close to a decade which understands the changing consumer need patterns and therefore help formulate, develop a product that is best in connection with consumer needs.
Our company has the best team of skilled staff that are talented and dedicated.
Our manufactured products are accredited with the aid of ISO, USDA & GMP.
We promise to deliver the 100% quality of herbal body care products.
The best quality ingredients for making bath and body care are directly sourced from farmers. We have a strong network with farmers to source quality raw material like nuts, seeds, herbs etc. This also helps us understand the source of the raw material because we prefer only cultivated raw material and never indulge in unsustainable practices.
Know more about our network by visiting the following links
Manufacturer of Himalayan turmeric essential oil, hydrosol and powder.
Manufacturer of face toners.
For the best Organic Bath & Body care manufacturers in India, Aadhunik Ayurveda is the best company. So, choose us for great skincare products and additionally the best business opportunities in the skin care industry.
FAQ
Can you custom-make and ship products into New Zealand with all documentation?
Yes, we have all the required documentation in place and hold years of experience in exporting ready to use skin care, food and wellness products to different countries across the world.
How to start a skincare brand with ease in terms of quality product and low moq's?
Starting a skin care brand calls for keeping in view multiple factors like kind of products, target market, ingredients, USP, packaging and much more. Find more details here