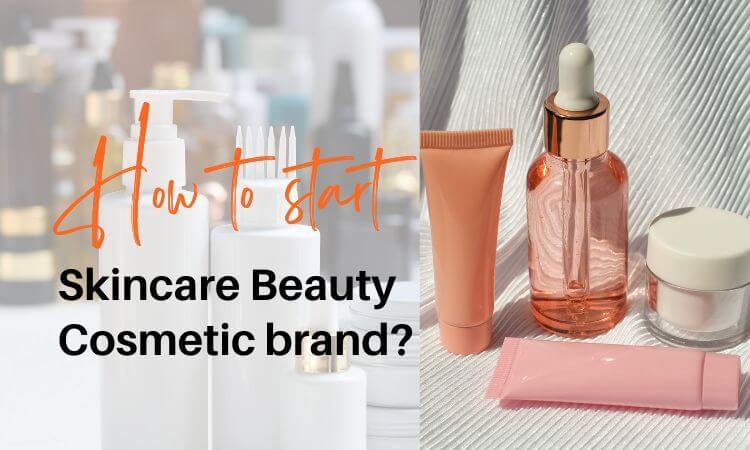 How to start a skincare beauty cosmetic brand
Beauty and cosmetics is a huge industry growing at an exceptional rate over the past 2 decades with growing awareness and demand for beauty and cosmetics not only from developed but from developing and under developed countries too. Hence, with many players entering the segment with unique offerings making the market a place with unlimited value additions. So if you are one of those looking forward to starting your own skin care line, it's time to consider these parameters before freezing your beauty & cosmetics business plan.
Research Online - It's important to do research online to understand the kind of products sold online and figure out their necessity and luxury in day to day skin care routine. Post corona, the online market is a competitive shop with a number of choices for every skin type, need and target market. While researching, it's important to dive deep inside the products with significant parameters that make a difference in positioning the product and creating a successful brand.
Find a Best Manufacturing Company - Investing in a manufacturing set up will call for fixed machinery cost, rent, expert hands,formulation team, chemist- technicians and equipment, commissioning, connect with farming communities for raw material etc. Hence like fmcg multinational who, too, do not indulge in manufacturing but believe in private labeling/white labeling and contract manufacturing to focus on building successful brands. So its important to look for a manufacturer that understands your requirement and formulate - develop product in time to your need, target market and budget.
Check Certifications - Certifications play an important role in establishing a trust with the manufacturer. And indeed certifications give shape to the organization with better regulatory framework-governance and thereby good manufacturing practices for a quality product. There are basic certification/licenses to operate a manufacturing firm like drug and cosmetics, ISO, GMP, organic, cruelty free etc. Apart from this many region based certifications as per the exports can be considered like HALAL which is required for selling products in the Middle east.
Check Industry Experience - Experience, infrastructure plus industry know-how is very important in the creation of a potent and healthy product within the decided budget. And no one can do it better than the real experienced hand who understands the recent shift of the market and the demand for the product. Aadhunk Ayurveda does it the real unique way and that's the reason behind its being the fastest growing private label skin care manufacturer and exporter in India.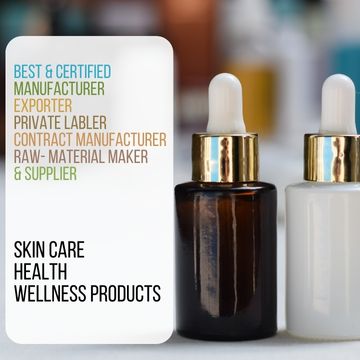 Authenticity of manufacturer - With close to a decade of experience of manufacturing 100% natural or say chemical and preservative free skin care, health and wellness products, Aadhunik Ayurveda has been behind the changing dynamics of the skin care industry. The introduction of waterless beauty, chemical and preservative skin care made Aadhunik a pioneer with a tag of hero manufacturer and exporter of authentic line of skin care beauty products like staple bath, body polishers, face polishers, make-up remover, kumkumadi range of products, nalpamaradi products, face oils, after bath oils, edible essential oils, hair oils etc.
Products Manufacturing Range and Capabilities - Aadhunik Ayurveda is a world class facility equipped with traditional and modern day necessities to produce wide range of skin care, health and wellness products with its more than 6 working lines to deliver more than 1 lakh bottles of skin care needs like moisturizers, cleansers, toners, shampoos etc. The location of the company makes a difference to the product quality and therefore the founders chose to stay in Dehradun, himalayan foothills to keep a close connection with the farming community of plains and himalayan belt. Hence the raw material like rosemary, chamomile, nettle, turmeric, rose, marigold, calendula, bay leaf, cinnamon, jojoba, black cumin, hempseed, apricot, mandarin orange, ginger, holy basil, peppermint, sesame, sunflower, perilla, etc. reach our facility within few hours/less than a day from the farmers located in different Indian states like Uttarakhand, U.P., Rajasthan, Haryana, Madhya Pradesh, Himachal Pradesh, Punjab etc.
Skincare product testing - Testing of a skin care product is of utmost importance to ensure quality ingredients with right composition have made way to the bottles and jars with no chance of adulteration and bacterial/fungal infection during run on the production lines. Every batch is tested for physical, microbiology and stability tests before finally approved for filling in bottles and jars for end consumer use.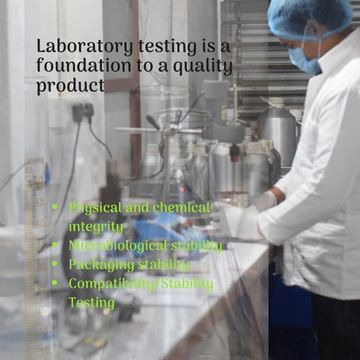 Testing That Drives Quality - Testing is an important factor that plays a major role in creating and delivering a quality product on a regular basis. Timely check in every stage of production beginning from raw material testing for heavy metals, pH, microbiology etc. to apt composition - compatibility testing to keeping the solution parameters like pH etc. in tune to desired product is crucial. With in-house modern day equipment and experienced technicians and laboratory, the quality of the product is maintained all through different levels in the production line and it helps reduce overall cost and time.
Services Unique- It is nothing unusual that we offer at Aadhunik Ayurveda but yes we offer everything like private label/white label, contact manufacturing and custom formulation with ease, least investment and low MOQ's. It's a simple 5 step process which helps develop a perfect timely communication/coordination with clients and thus help us work in tune to clients' needs/vision and budget.
Our 5-step product development process
STEP 1 CONSULTATION - We understand the requirement of the client and accordingly suggest the best as per the industry insights. Thereafter we move to another level where we create prototypes for the client to use on themselves or as per their plan.
STEP 2 FORMULATION - Formulation is an intensive and highly lab oriented process where a product is developed keeping in mind all the factors like ingredients, their compatibility, find product outcome-efficiency, target skin, stability check, texture, appearance and aroma of the product etc.
STEP 3 MANUFACTURING - Once the products are approved, thereafter we proceed for final manufacturing. Meanwhile the bottle/jard are kept ready and checked on various grounds like - dispensing of the products, leakages, product and bottle/jar compatibility, labeling, packaging etc. Thereafter we proceed with the final product manufacturing and with all checks we dispatch the material to the client with the best logistics company.
STEP 4 OPTIONAL REFORMULATION - Incase you are one of those who wish to redo the existing product, we can do that with the kind of reformulation ideas in your mind. Its simple as you let us know the expected product to look, feel and performance you want and we shall deliver with our best effort and infrastructure. Even if the existing product is not formulated by us we can reformulate it to enhance its functionality or anything that you desire. Reformulation too calls for comprehensive product development steps to deliver a well-researched quality product.
STEP 5 FULFILLMENT - We communicate with our clients on every stage to ensure their close involvement during all stages and that gives them the feel of ownership which boost their confidence in their product. Transparency and Timely delivery is our founding principle as we understand every day is crucial in such a competitive world.
How to choose products for your brand
Launching a skin care brand is exciting but it needs a tremendous amount of details to look into to finalize the products you wish to launch in your brand line. From choosing a particular product and thereafter working on its function, texture, aroma, uniqueness etc. is time consuming but we at Aadhunik Ayurveda have worked and created multiple kinds of textures depending upon the product, skin type, market trend etc. With us you can easily explore our dedicated - expertise of manufacturing cleansers, toners, make-up removers, face serums, masks, hair care products, body care products and much more.
Manufacturer of Face Mask
Manufacturer of Powdered Face Cleanser
Manufacturer of Face Wash
Manufacturer of Coffee Deep exfoliating Face Cleanser
Manufacturer of Illuminating face cleanser
Manufacturer of Makeup Remover Creams
Manufacturer of Makeup Remover Oils
Manufacturer of Vitamin-c Face Toners
Manufacturer of Face Massage Creams
Manufacturer of Body Butter
Manufacturer of Hand & Feet Creams
Manufacturer of Hair Oils
Manufacturer of Hair Massage Oils
Manufacturer of Hair Butter
Manufacturer of Hair Shampoos
Manufacturer of Anti-Dandruff Hair Oils
Manufacturer of Anti-Acne Face Oils
Manufacturer of Anti-Acne Soaps
Manufacturer of Anti-Acne Creams
Manufacturer of Cow Milk Soaps
FAQ
1. What is custom formulation in skin care & Cosmetics?
Custom formulation in skin care is a service wherein the client wants to create a formula as per his/her idea. In a way we give shape to our clients' ideas. The product is developed and presented for approval before it is considered as a final product ready for bulk manufacturing.
2. What are the Top Certifications required for skincare Brands?
A skin care manufacturer certainly needs a manufacturing license to legally operate in the marketplace. This manufacturing license is provided by the government of India under strict regulations and guidelines.
3. What kind of testing is mandatory for cosmetic and Personal Care products?
Testing is an important part of cosmetics and personal care products and therefore every batch needs to be tested for some basic parameters like pH, heavy metal, microbiology, stability etc.