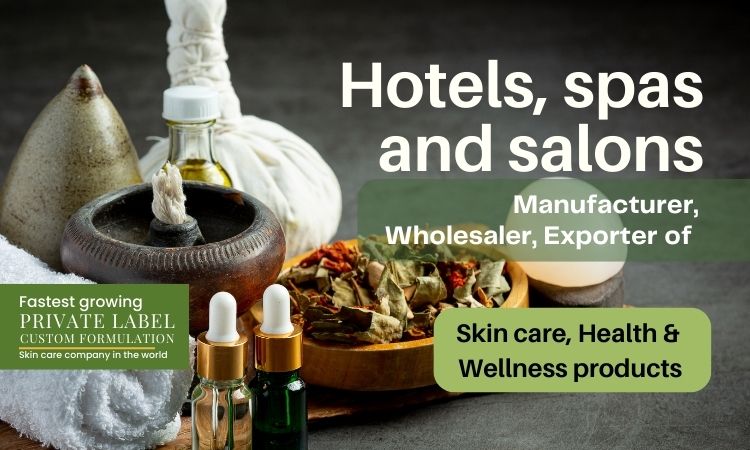 Hotels, spas and salons skin care & wellness products manufacturer, wholesaler and exporter in India
Wellness is the key driver to hotels and spas around the world. Therefore new concept hotels and spas are preferred and becoming popular as they offer customized and geographically tuned therapies to their guests to ensure a happy and holistic - wellness stay. From healthy eating, stress reduction, complementary medicine, wellness practices to self care, wellness centers are selling points for all kinds of products and services to bring a sea of change in lifestyle values. Hence Aadhunik Ayurveda vitals with its more than half a decade experience in manufacturing wellness products customized to the spa therapies is the only manufacturer and supplier understanding the growing need of the global wellness industry.
Aadhunik Ayurveda, the best manufacturer of hotels, spas and salons skin care and wellness products offers different aromatic and therapeutic blends of oils, creams, exfoliators, polishers, foot treatment salts, potli massage supplies including herbal teas, tea drops, aroma diffuser oils and ayurvedic treatment products like abhyanga oil, kumkumadi facial oil etc.
With our presence and experience to cater to the needs of different models of wellness business like retail health and wellness products through shops, workplace wellness through offering companies products to help better workplaces, customized therapy for concept spas, treatment products for salons and day spas and much more.
Best manufacturer of hotels, spas & salons products
Aadhunik Ayurveda manufactures different kinds of products for use in hotels, spas and salons across the world. These include
Hair shampoo & conditioner
Massage creams
Body wraps/lepas
Aromatherapy oils
Treatment products
Bath salts
Tea-cut, coarse & fine powder herbs
Wellness tea drops
Authentic ancient treatment preparations like kumkumadi oil, abhyanga oil etc.
Massage Potli
Essential Oils like basil, vetiver, lavender, sweet lime, lemongrass etc.
Hydrosols like rose water, lavender water, eucalyptus water, basil water etc
Aadhunik Ayurveda is the one stop for all your hotel, spa & salon product requirements. We customize the product as per your vision/requirement and budget. We help you build your brand for the retail boutique in your hotel/spa.
Private label products for hotels, spas and salons
Aadhunik Ayurveda offers private label services which help you build your brand with ease. Since we support start-ups, we offer low moqs which in turn reduces the burden of investment to start the line. With our experience and ongoing services to this industry we offer products in wholesale pack sizes of 1 liter, 2 liters and 5 liters and also retail packs of desired products in your chosen packaging and on your brand name.
Wellness industry is fast leading to a robust growth and Aadhunik ayurveda is one of the fastest growing manufacturing, private labeling companies providing raw material and ready to use blends to many hotels, spas and salons across the globe. With world class ISO, USDA, GMP certified facilities, we offer products and services in tune to global standards. Our founding principle of transparency and in-time delivery makes us one of the best manufacturers in skin care, health and wellness industries producing raw material and ready to use products for food, personal care, health and wellness industry.