Manufacturer of Hair Care Products
Aadhunik Ayurveda is one of the best preferred top hair care products manufacturers in India known for best quality private label hair care products manufacturing with complete customisation and least investment.
Every part of our body is essential and needs to be taken care of. Hair is the most important beautification of our human body and for this reason, it requires special care and proper treatment. But due to the recent lifestyle disorders, environmental changes, health problems many people tend to lose this beauty of their body. So, it causes many hair-related problems such as hair loss, hair breakage, and itchy scalp and so on. It has become vital to take care of your Hair needs and wisely choose hair Care Products. You can associate with Aadhunik Ayurveda for the best range of products as we are the Top Hair Care Product Manufacturers and private label hair care product company in India.
We are constantly working on hair product innovation to improve formulations and ensure optimal results for all hair types. Aadhunik Ayurveda is one of India's most prominent Hair Care Product Manufacturers.
Our premium quality hair fall control shampoo, dandruff, and other scalp issues related shampoos help address your needs while keeping your hair clean, soft, and lustrous. We undertake contract manufacturing, and private labelling of all hair care products as per demand and customise the product as per your requirement.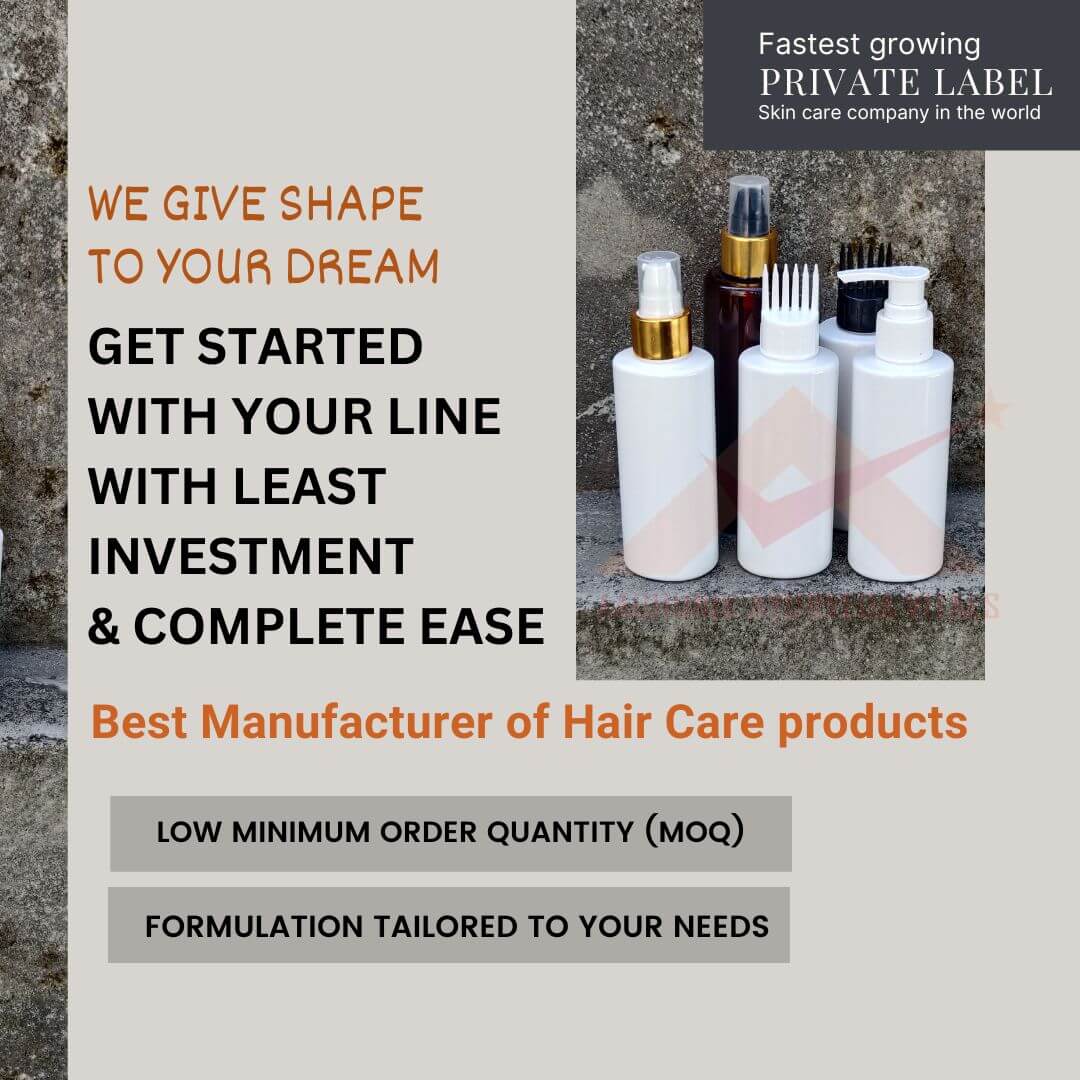 Start your own hair care brand today
If you want to set up your brand of herbal hair care products in India or anywhere in the world, then we are one of the top choices, the best natural hair care product manufacturers to get the quality and certified products. We have been manufacturing world class hair care products as per your need and budget with time tested ingredients that deliver results for close to a decade helping many brands establish themselves with our quality products. Because purity makes a difference in performance of the product.
Natural hair care products manufacturer & exporter
Aadhunik Ayurveda is the best natural hair care products manufacturer producing wide range of hair care & styling products like hair shampoo, zero waste soap bars, conditioners, hair mask, hair gel, hair oil, hair serums, hair tonic etc. in accordance to ISO, GMP, USDA and other required global standards.
Best Hair shampoo manufacturer- Best manufacturer of hair shampoo- Hair Shampoo/Cleansers contains all natural and organic certified ingredients which are good for nourishment and growth of the hair. We have a wide category or variety of hair cleansers that are meant for different hair types. We believe in offering only the best products to the customers, therefore we carefully manufacture the hair care products keeping in mind the needs and demands of the customers.
Best Hair conditioner manufacturer (Best manufacturer of hair conditioners)- Hair Conditioners are used to smoothen and strengthen the hair. There are a wide range of hair conditioners in the market. We have been manufacturing a huge range of herbal hair care products in India, like several varieties of conditioners containing diverse groups of herbal ingredients.
Hair oil manufacturer Best manufacturer & exporter of hair oils- Aadhunik Ayurveda is known for manufacturing result driven, powerful hair oils that works effectively in controlling hair fall, dandruff, promote hair growth, reduce patches, dryness, ease fungal concerns, strengthen rots etc. . Hair Oils have been used extensively by the customers to improve the quality and strength of the hair. Aadhunik Ayurveda is one of the top hair care product manufacturers offering a huge range of hair oils for the brand. With our deep rooted connect with farmers across India, our hair oils are super powerful oils that work on your hair and deliver the results. With years of experience in working with traditional time-tested herbs for hair, KESYA RASAYANS we deliver our oils to multiple brands and spa & wellness centres across the world.

Hair mask manufacturer- Best manufacturer of hair masks- Hair Mask & Styling Cream are used to benefit damaged, dry or frizzy hair and strengthen the hair & improve the scalp's health. Aadhunik hair mask and styling cream contains the special natural ingredients that gently work on the scalp and do not leave any harmful impact and makes hair shiny, smooth, stylish and healthy.

Natural hair masks are coming back in use as a natural nutrition to hair and a solution to hair concerns like hair fall, life less strands, frizz etc. Hence Aadhunik Ayurveda with its extensive experience in making use of herbal ingredients can create hair masks on your brand name as per the consistency, texture, aroma, target condition etc.

Explore more on the best hair mask manufacturer here.

Best manufacturer & exporter of hair serums & tonics- Hair Serums & Sprays are composed of various active natural ingredients, which boast the ability to make your hair feel refreshed and happy all over the day. Aadhunik hair serums and hair sprays contain plant ingredients to make your hair look healthy and shiny and frizz free.
Private Label Hair Care Products Manufacturer
Setting up a manufacturing facility can be a difficult task as it needs a handsome amount and certifications and compliances from many departments hence if you are looking for starting your own hair care products brand, then it's time to contact Aadhunik Ayurveda, the best certified organic private label hair care products manufacturer in India. The company with its years of experience in formulation with traditional used ingredients and modern day needs, has developed a fusion to cater to the ongoing market demand and thereby successfully delivering private label hair care products to more than 150 global and domestic brands. Hair Care products are formulated to help nourish and prevent hair damage because of dryness, pollution, and other factors. The haircare market is comprised of thousands of products, such as shampoo, conditioners, serums, styling cream, hair mask, hair color, hair oils & sprays, etc., which are composed of all plant derived natural ingredients in order to maintain healthy, lustrous and well-groomed hair. Aadhunik has listed some of the best Private Label Hair Care Products they manufacture for various global and domestic brands.
Private Label Hair Growth Serum
Private Label Onion Hair Oil.
Private Label Anti-Hair Fall Shampoo.
Private Label Hair Growth Serum.
Private Label Leave in Conditioner for curly hair.
Private Label Conditioning Hair Care Kit.
Private Label Champi Hair Oil.
Private Label Red Onion Shampoo for hair growth.
Private Label Deep Nourishing Conditioner.
Private Label Hibiscus Brahmi Hair Mask.
Private Label Protein Nourishment hair Mask.
Private Label Frizz Perfect Hair Serum.
Private Label Argan Oil Hair Conditioner.
Private Label hair styling and Setting Spray.
Private Label Curry Sesame Ayurvedic Hair Oil.
Private label japa - heal & nourish oil.
Private label nalpamaradi oil.
Private label bringhabali oil.
Private label amla bhringraj oil.
Private label neem kapur oil.
Private label Hair repair and growth oil.
Private label Advanced hair serum for perfect scalp and hair balance.
Private label organic mint hair oil.
Private label hair moisturing and hydrating hair restore cream.
Best herbal skin care & hair care product manufacturing company
It took years of effort to call us the best, especially because our connection with farming communities across the different Indian states gives us an upper edge in producing the best quality highly therapeutic product for treatment and regular use. From sourcing nuts, seeds to make oil using cold pressing technique to collecting fresh and semi-dried herbs to make essential oils, hydrosols using steam distillation technique in our unique facility which is a fusion of traditional technique and modern day safety and hygiene makes us add real value to the product. Click here & take a glimpse into the world where we and our partner farmers work in delivering real natural products to various brands.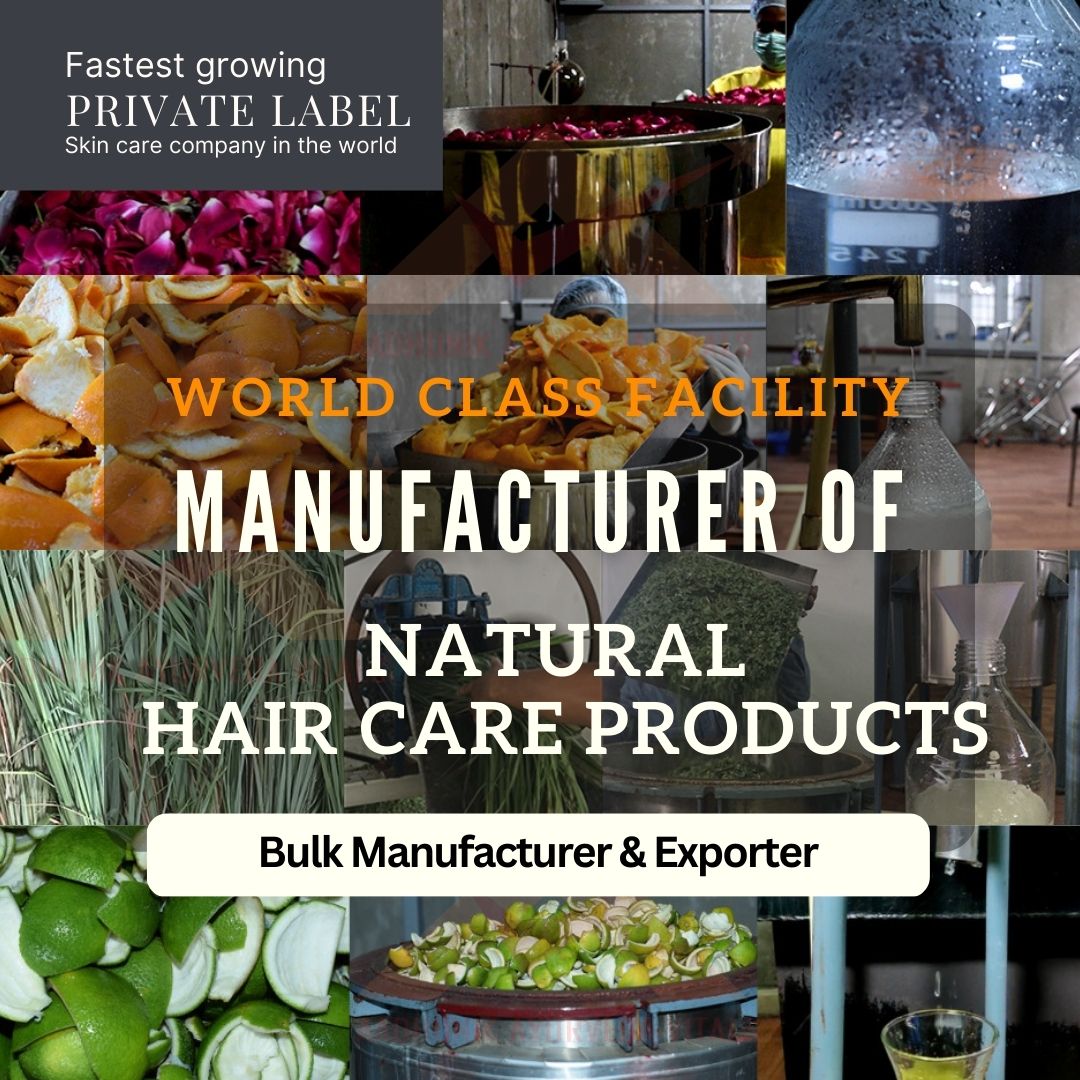 Aadhunik Ayurveda is the leading Private Label Manufacturing wholesale hair care products Company in India for Hair Care Range. For this, we have set our own manufacturing plants that work on manufacturing the items that help in improving the condition of hair. Our products are capable of fighting hair-related problems such as dryness, frizziness, hair loss, hair breakage, etc. moreover, the product range we deliver in this section helps in fighting with dandruff, scalp conditioning, and scalp cleansing. You can rely on the product range that we deliver as all the products are formulated under the guidelines of USDA, GMP & ISO. Our manufacturing plant is set up with advanced technology and examined natural resources to formulate the world-class range of hair care products. So, if you are looking for a company that can give you the quality assured range of hair care products. Aadhunik Ayurveda is the right choice for you.
FAQ
Can your company white label hair products as per our formulation?
Yes, we always work in tune to the requirement of the client and can work on your formulation to produce the product you desire.
Who is the best hair care product manufacturer in India?
Aadhunik Ayurveda is the best plant based hair care product manufacturer in India as the company has years of deep rooted connection with Indian farmers to source the quality raw material like herbs, nuts and seeds to use in the product making. Because it's ultimately the ingredients that create the best quality result oriented product. Visit Aadhunik ayurveda.com and take a tour of the website to see how the company has established itself on the authentic lines of natural, traditionally used ingredients and techniques to develop the different hair care products.
Who is the best hair product manufacturer in India?
Aadhunik Ayurveda is the best natural & certified organic hair product manufacturer in India that follows global quality standards & certifications to facilitate quality – result driven product & easy movement across the world. This helps brand's sell their product anywhere in the world.
How to find the best private label hair care manufacturers in the world?
Though the best way to find the best private label hair care manufacturer is through Google but once found it is also important to verify the claims of the manufacturer by understanding the manufacturer in detail about the process, certification, laboratory testing, prototype development, infrastructure, connect with farmers, quality standards for ingredient testing etc. either by making a visit to them or connecting with them online for all your queries. It is important to find answers to all your questions to your satisfaction before deciding to proceed with the manufacturer. Because creating and launching a brand need a lot of hard work and money.
Why Aadhunik Ayurveda is the no. 1 natural hair products manufacturers in India?
Aadhunik Ayurveda is a world class skin care, hair care and wellness product manufacturer exporting its produce to more than 13 countries across the world. From raw material to ready to use products like cleansers, moisturizers, serums, creams, toners, masks, it is one of the best preferred natural hair care products manufacturer in the world that offers private label and custom formulation along with designing, labeling, photo shoot, product making videos and much more, all under one roof to save your time and cost which are critical to the success of any business.
Is Aadhunik Ayurveda a natural hair product supplier?
Yes, Aadhunik Ayurveda is just not the supplier but a manufacturer of natural hair products.
What is the importance of laboratory testing in hair care products?
Be it hair care product or skin care product, it is important to test the ingredients and product for various parameters like Ph, viscosity, acidic value, microbial presence, heavy metal etc. to ensure product is safe, effective and healthy to use on human body. And we always test every batch of hair care products manufactured to provide uncompromised quality to our clients/brands..