Hair Mask Manufacturer and supplier in india
Aadhunik Ayurveda is an internationally acclaimed private label hair care product manufacturer with complete one stop solution from an idea to ingredient to development of a ready to use powerful hair care product. With years of research using traditional ingredients, methods and modern day laboratory, we provide uncompromised quality product as per your need and budget.
Therefore, Aadhunik Ayurveda is the best manufacturer of plant derived organic hair mask products. The haircare market is seeing a rise in demand as an increasing number of people's preference for using hair care products owing to various hair & scalp issues. The production of various hair care products has increased as more and more people struggle with hair loss, thinning, greying, dandruff, scalp infections etc.
We integrate a hygienic methodology to make sure clients get great and unadulterated quality.
Hair masks are one of the quick-fix options available to customers among the numerous hair care products on the market. These masks basically do exactly the same thing face masks do however they are formulated for hair. It has similarities with conditioners and could be considered accordingly.
There are various kinds of hair masks available for the consumer on the shelf like wash based and leave on mask. At Aadhunik Ayurveda, the various mask formulations are developed after an intense thought on its function, target consumer, ingredients compatibility, texture, consistency etc. And we work totally keeping in view your vision, the vision of your brand ensuring we save you from unnecessary expenditure and quality products.
Hair masks have the ability to address hair concerns like frizz, thinning, hair fall, scalp infection, dryness, dandruff etc. Hair masks can even strengthen hair and improve the health of the scalp. Demand for hair masks is rising in the market as consumers want to care for their hair. Hence if you are looking forward to adding hair masks to your brand line, you need the best experienced manufacturer formulating clean and plant derived masks using sustainable ingredients adhering to global standards. And no one can perform the job in delivering the clean plant based product as we do because we have a strong network with the farming community and various Ayurved Acharya ( Ayurveda practitioners) to create a guided and supervised powerful blend.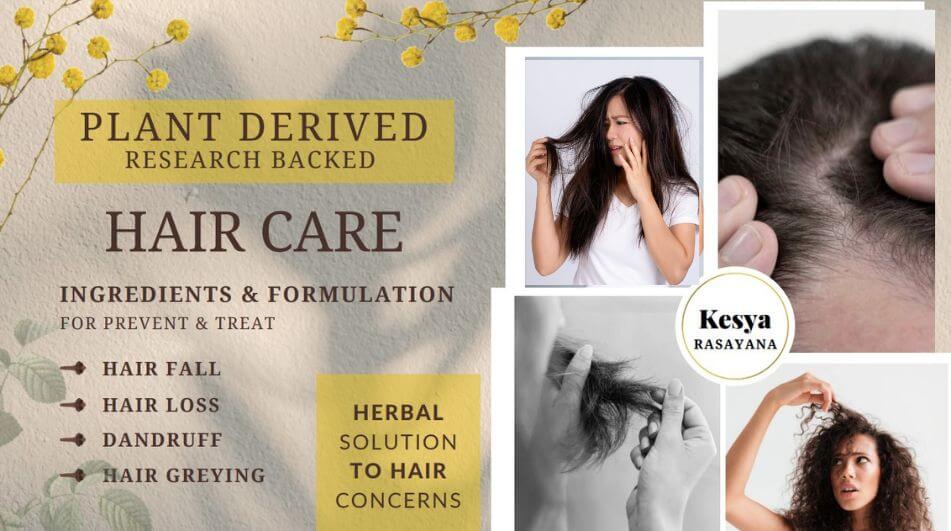 Private label hair mask manufacturer
Aadhunik Ayurveda with its rich experience in working with plant based ingredients that has mention in the traditional texts like kesaya rasayana, can be a prospective private label manufacturer of hair masks.For every brand to sell its product with uniqueness, we work and offer solution as per the need and budget of the brand and that's precisely make us the fastest growing and reliable private label hair care manufacturing company in the world. We have an experience of close to a decade of serving in the skin care, beauty, health and wellness sector. Our team is comprised of specialists who can guarantee you with:
Stringent quality checks for products
Manufacturing to match the high quality in the market
Safe and hair-friendly products
Organic ingredients
What is a Hair Mask?
Hair masks are made to treat specific problems with hair care, like frizz, nourish the hair and scalp, and provide deep moisturization. Natural hair masks are formulated with oils, butters, herbs & other nourishing ingredients. Hair mask ingredients and consistency vary in respect of the purpose of the hair mask.
Organic & Natural Hair mask Manufacturer
Aadhunik Ayurveda makes use of only 100% natural plant based ingredients that are research backed, effective, safe and healthy and has mention in Charak Samhita & Sushruta Samhita and the recent compilation - Ayurvedic pharmacopeia of India for making hair products including hair masks.
Hair masks act as a food for scalp and hence it is used occasionally to nourish the hair. It strengthens the hair, reduces hair fall & promotes overall health of scalp and hair. It contains natural ingredients that replenish nutrients and nourish the scalp.
We make various forms of hair mask which includes,
Powder based hair mask
Butter based hair mask
Gel based hair mask
Cream based hair mask
And much more
With consumers falling more towards organic & natural hair care products, hair masks are becoming popular in the market, especially traditional powder hair masks to even modern gel or cream based hair masks. Traditionally used powders of different herbs like tulsi, asana, bibhitaka, gunja, ketaki, dakh, gambhari, mulethi, harad, sahchar, bhringraj, nilajhinti, manjistha, nili, kaner, kadali, nirgundi, sahacara, utpala, dudhi, bhilawa, nagarmoth, makoy, babchi, karnasphota, bharangaraja etc. are powerful source of food, nutrition and medicine for hair.
Natural plant derived hair care products like hair oils, hair masks and zero waste hair shampoo bars are potent herbal alternative for the hair care and we at Aadhunik Ayurveda have been manufacturing lakhs of hair oil, shampoo bars and masks bottles and jars every year for brands in India and global brands coming from countries like America, Canada, Australia, Dubai, Singapore, France, Sweden etc. We at Aadhunik have everything to offer under one roof as per your brand's vision. Explore with us unique hair masks & introduce to your line in just no time.
Making of different types of Hair Mask-Aadhunik Ayurveda
There are various herbs in which natural saponion are present to make different hair masks for different hair problems depending upon the consumer's need.
Anti-dandruff hair mask
Mulethi dry powder hair mask for thick hair
Red onion ayurvedic hair mask for hair fall control
Amla, reeta & shikakai scalp treatment hair mask
Brahmi & ashwagandha hair mask
Hair fall control and strengthen hair mask
Natural protein food hair mask
Hair thickening and shining hair mask
We at Aadhunik Ayurveda, practise a great deal of resilience and morals when it comes to the manufacturing of hair care products. We provide you with a dependable selection of herbal products that you can confidently distribute under your brand by supporting naturally stable measures supported by a solid best-in-class R&D and manufacturing facility. We have established a remarkable path on this journey to become the first choice to various companies/brands as the manufacturer of hair care products including hair masks delivering quality products and thereby helping brands penetrate and hold good word about them in the market. Afterall, the product quality makes all the difference to the brand.
We at Aadhunik Ayurveda provide superlative quality natural & organic hair masks. Moreover, you can avail of third-party hair mask manufacturing opportunities that will definitely lead you toward a successful business with a huge amount of benefits.
To work upon quality is the prime aspect that we keep on our priority list and we provide the good quality potential.
Private Label hair mask product manufacturer
Private Label Hair mask manufacturers in India, Aadhunik Ayurveda has its own manufacturing unit which a group of experts looks at to guarantee quality formulation and production. As the hair care business is the quickest developing industry in the world, and individuals are showing interest in purchasing more hair care products; there are negligible companies who work ethically and with total transparency in delivering such products. Aadhunik Ayurveda will offer every one of the partners private label services for their own hair care products in India. Such as,
Private Label Anti Hair Fall Mask
Private Label Deep Conditioning Mask
Private Label Rosehip Protein Mask
Private Label Japapatti & Brahmi Hair Repairing Mask
Private Label Red onion & Fenugreek Hair Mask
Private Label Argan Oil Hair Treatment Mask
Private Label Hair Fall Control Mask
Private Label Scalp Treatment Hair Mask
Private Label Anti-dandruff Treatment Mask
Private Label Plant Protein Hair Strengthening Mask
And Much More
Being well-versed with the business of Private Label Cosmetic products Manufacturing, we offer full help contract manufacturing/private labelling from planning to complete merchandise or production of Private Label Hair Care in Bulk.
FAQ's
What makes Aadhunik Ayurveda the Leading Hair Mask Manufacturers in India?
Aadhunik Ayurveda has achieved a significant position in the Indian and global market for manufacturing and providing a range of Private Label Hair Care Products. The hair masks produced by us in our unit are guaranteed by certifications like ISO, GMP, FDA, USDA etc. Thus, join Aadhunik Ayurveda now and launch your hair care brand with ease and low investment.
Can I order 500 pieces of hair oil to test with customers connected with my brand just to check how it goes well?
Yes, sure we can private label hair oils on your brand name for a sample size 500 pieces. Request you to drop an email with complete details so that we understand what kind of hair oil you want plus other details.