Leading Private Label Hair Care Products Manufacturer
Aadhunik Ayurveda is the best Natural herbal private label hair care products manufacturer & exporter producing wide varieties of hair care products as per the need and budget of the brand to Indian & global personal care companies. The world class manufacturer has years of experience in manufacturing hair care products like herbal / ayurvedic hair oils, zero waste shampoo bars and conditioner, liquid shampoo and conditioner, hair gel, hair cream & pomade, hair tonics, hair serums and much more. The world class fully equipped facility with adherence to global standards and good manufacturing practices makes Aadhunik Ayurveda the fastest growing private label skin and hair care manufacturing company in the world.
Manufacturer of herbal clean & zero waste hair shampoo bar and other hair care products – Our years of experience in sourcing right quality herbs, nuts and seeds and the technical knowhow on making cold pressed oils, herb infused oils, essential oils, herb powders, herb waters using minimal processing through traditional practices gives us an upper edge to lead the industry in zero waste products for hair care needs. With complete in-house raw material making and experienced skilled team in quality production with apt blending and composition together lead to clean & result oriented product. Explore zero waste products like hair shampoo bar, hair powder cleanser, hair oil, hair tonic (water based) and much to introduce clean and zero waste products to your brand now.
Explore private label for more products
Private label zero waste hair shampoo bar manufacturer
Private label Hair shampoo powder manufacturer
Private label zero waste hair mask manufacturer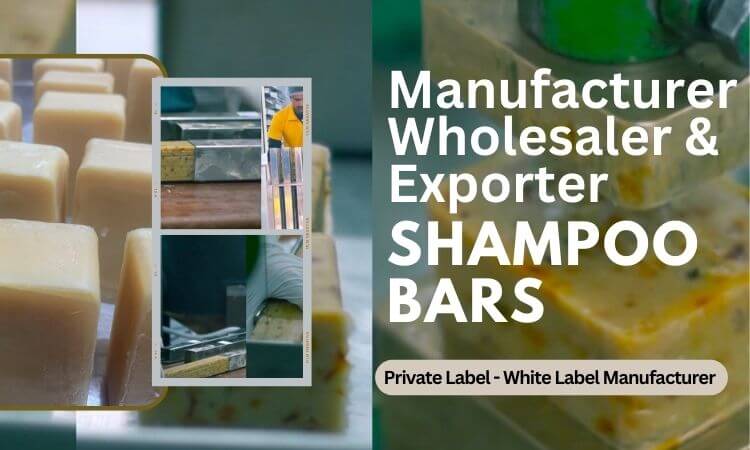 Hair Shampoo Manufacturer – With a wide range of shampoos from herbal, ayurvedic, scalp and hair specific, concern specific, we the best hair shampoo manufacturer in india offer brands complete customization with ease and at affordable prices. We private label hair shampoo for both domestic and international brands and in the journey we ensure everything is undertaken with utmost care for a quality product from ingredient quality check to through production line check with final each batch subject to laboratory check. Our years of experience makes us the best quality clean and organic hair shampoo manufacturer. All our shampoos are free from nasties like paraben, sulfates and are gentle on the scalp and hair. Since the shampoos are plant based and contain a significant amount of cold pressed oils which make them less foamy, super gentle and friendly without compromising on cleansing, hence the need to apply conditioner is not there anymore. We work in accordance with brand vision and policy and have successfully provided brands with two-in one shampoo cum conditioner products.
Explore private label shampoos with us like
Private Label Anti-dandruff shampoo
Private Label Anti-hair fall shampoo
Private Label Red Onion shampoo
Private Label Hair color shampoo
Private Label Hair fall control shampoo
Private Label Ayurvedic shampoo
Private Label Baby shampoo
Private Label Shampoo for dry curly hair
Private Label Vinegar shampoo
Private Label Herbal shampoo
Hair Conditioner Manufacturer - Aadhunik Ayurveda is one of the premium hair care product manufacturers constantly innovating clean, environment friendly and powerful solutions to hair care. The product hair conditioner is formulated keeping in mind the need of the brand like target consumer because there is immense need for hair conditioner to protect the hair from chemicals used in styling wear on hair products. Our successful development of plant based leave-on conditioners in desired texture and consistency makes us the best customized hair conditioner manufacturer in the personal care market.
Ayurvedic hair growth serum manufacturer in india
The changing consumer demand patterns and a look out for non-greasy yet powerful hair solutions call for the need of a hair serum to lend a healthy, smooth, shiny and neat look to the hair. And that's when Aadhunik Ayurveda started formulating unique hair serums using edible herb waters/hydrosols like rosemary, curry leaf hibiscus, gooseberry, vetiver, lemongrass, clove, cinnamon, ginger etc. These hydrosol based serums are nutrient rich and help overcome many concerns like itch, dandruff, greying, split ends, dryness etc. Hence Adhunik Ayurveda is the best hair serum manufacturer in the world that makes use of traditional ingredients and makes it convenient for consumers to use. Explore best quality clean, certified organic and powerful hair serums with us for your brand. We are known popularly for our work in areas like
Private label hair growth serum manufacturer
Private label Anti-frizz hair serum manufacturer
Private label hair strengthen and repair hair serum manufacturer
And much more
Best Herbal Hair Oil Product Manufacturers - Aadhunik Ayurveda is the one of the world leading manufacturer, wholesaler and exporter of herbal hair oils. The herbal hair oils are completely a traditional make with no use of any chemical or preservative in them. The unique, time -tested and science backed formulations are prepared in a world class fully equipped facility with traditional techniques and modern day needs, safety and hygiene. The making of hair oils at Aadhunik Ayurveda is highly labor intensive and time consuming as herbs, nuts and seeds are collected from farmers practicing sustainable and organic farming. Thereafter the seeds are cold pressed and the extracted oils are infused in desired herbs as per the formulation recipe. The hot, cold infusion of herbs in oil depends on multiple factors, read more here. Every formulation is unique as per the demand of the brand and that is why hair oils are a blend of cold pressed oils, herb infused oils, and steam distilled essential oils. And this makes Aadhunik the top hair oil manufacturer in India supplying its oil to personal care brands, spa, saloons and hotels across the world.
Hair tonic manufacturer - The increasing side effects of chemicals and poor lifestyle is taking a big toll on hair and therefore consumers are looking for topical as well as ingestible tonics to improve the hair health. Aadhunik Ayurveda with its continuous research and development with herbal ingredients have created powerful effective formulations in the form of hair nutrition or say hair tonic and privately labeled it on the name and logo of many personal care companies in the world. The hair tonic is made using steam distilled herb waters like rose mary, lavender, chamomile, cinnamon, ginger, ashwagandha, curry leaf, banyan, indian kinoo etc. The Use of edible ingredients in the manufacturing of skin/hair care, health and wellness products makes Adhunik Ayurveda the preferred manufacturer amongst the clean category brands who really thrive on purity, potency and ethical principles. Hence If you are looking for a hair tonic manufacturer, you are at the right place. Explore edible and topical hair growth and hair fall control tonics with us.
Hair gel manufacturer - Gels are not new to the market but what makes us different is that we do not make use of nasties in manufacturing the hair gels. We make different hair gels as per the need of the brand in terms of the consistency, texture, color and ingredients. Explore hair gels now with the best known hair gel manufacturer in the industry.
Hair mask manufacturer - There are variety of hair mask available in the market and we at Aadhunik are the best manufacturer of plant based hair mask customizing to the requirement of the brand in the areas of
Ingredients
Target hair
Texture & Consistency
Aroma
Hence we can manufacture hair mask with the following outcome as
Powder based hair mask
Paste/cream based hair mask
Gel based hair mask
Water based hair mask
Hair cream manufacturer - We stand unique in formulation of hair care products because everything that we do, we ensure purity, apt composition and convenience of use to the ultimate consumer which benefits the brand who sells the product. Hence hair cream too is a popular product that is manufactured at Aadhunik Ayurveda. The hair cream helps keep the hair moisturized and hydrated, lending a smooth, soft and shiny look and feel to it. We have been supplying cocoa, coffee, vanilla, cedar, citrus based hair creams to many popular brands in India and abroad. If you are looking to launch a hair cream or a hair pomade or a hair butter as a product to your brand line, explore below because it's important to sync your brand to changing consumer demand patterns.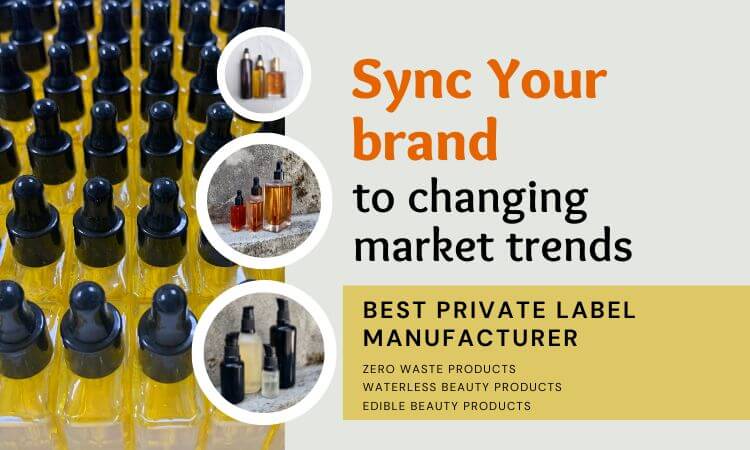 Explore with us everything related to hair care including conditioner and styling hair care products now.
Why Aadhunik Ayurveda
Aadhunik Ayurveda is the fastest growing private label, third party and contract manufacturer of skin care, hair care, health and wellness products producing every product with purity, apt composition and minimized carbon footprints. There is every reason to choose Aadhunik
World class facility accordance to global standards
Compliant & Certified with ISO, GMP, organic, USDA etc.
Exports to more than 20 countries including USA,Canada, Australia, Singapore, Dubai, Saudi Arabia, Spain, Malaysia, Indonesia, Sweden etc.
Strong connection with the Farming community to source quality raw material like herbs, nuts and seeds.
In-house cold pressing unit
In-house steam essential oil distillery
In-house hydrosol steam distillery
In-house herb coarse and powder making unit
In-house herb infusion infrastructure
Fully equipped laboratory
Facility is spread over an area of 30,000 sqft.
Custom formulation services
Private label services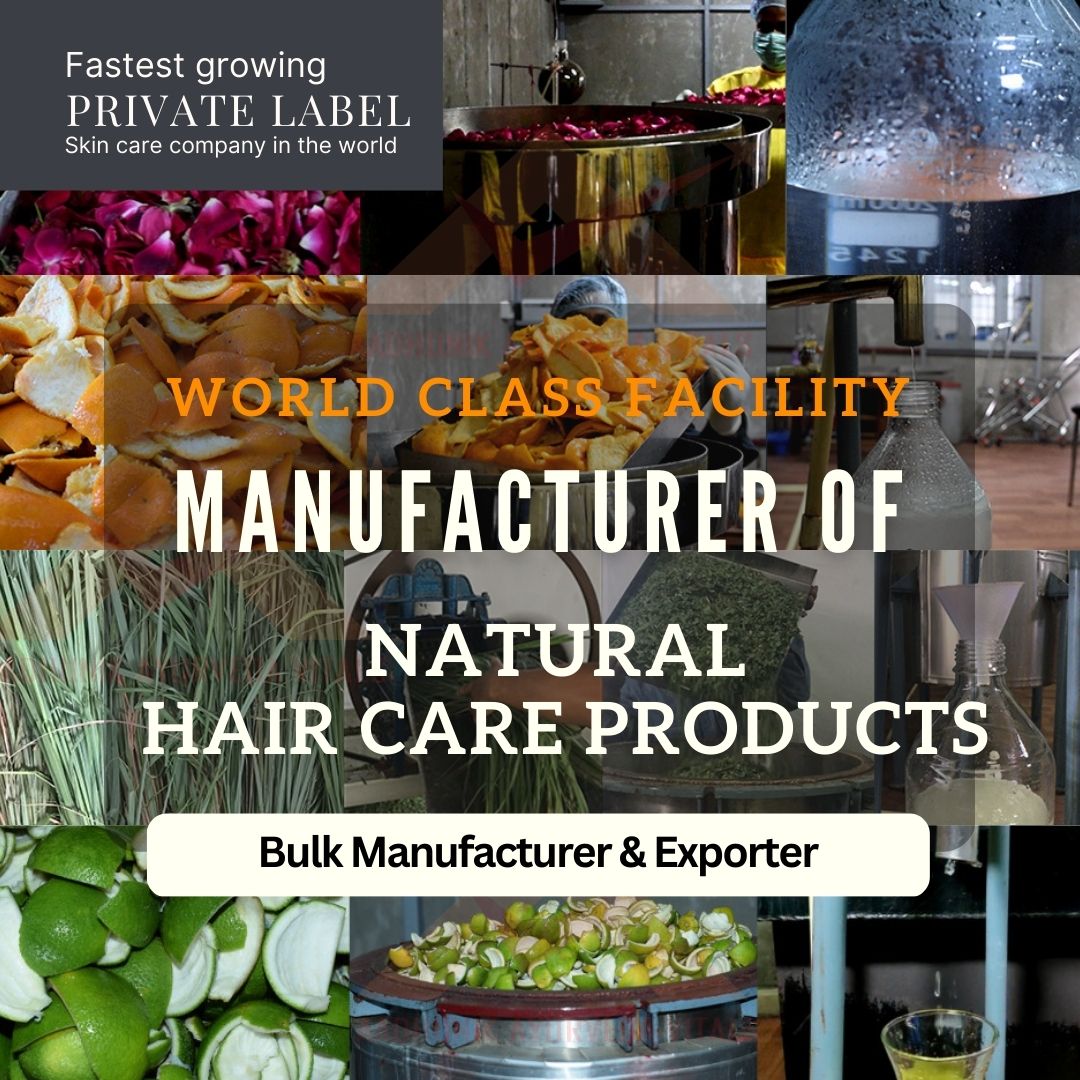 Private Label Hair Care Products Manufacturers in India
We can private label the product on your name providing complete assistance under one roof from product finalization to packaging, labeling and designing. Therefore introducing a product to your existing brand line or launching a new brand is simple, easy, time saving and money saving with us. Click here to contact us, the best hair care product manufacturer.
FAQ's How to make a hair product company or say how do I make my own hair oil brand?
If you are looking for quality hair oils that work, then simply get in touch with us as we can help you launch a clean, organic and ethically sourced fair trade product brand.
Is the hair oil business profitable with low investment?
Yes, hair oils are always in demand in retail and B2B segments like hotels, saloons and wellness centers hence hair oil brand when placed well in the market can surely be a profitable venture.
Who are the best hair oil manufacturers?
The industry is full of hair oil manufacturers nevertheless, Aadhunik Ayurveda is the top manufacturer of quality hair oils because no one does it the way Aadhunik Ayurveda undertakes the process of making hair oils. Know more here.
How to start a herbal hair oil business with low cost setup and profit?
To start a herbal hair oil business, it is important to keep many factors in mind like whom to target, kind of oils, packaging, marketing including choosing the right manufacturer, hence read more here..
Which company is the best manufacturer of hair care products?
If you are looking for clean and plant based products, then Aadhunik Ayurveda is the best manufacturer of hair care products.