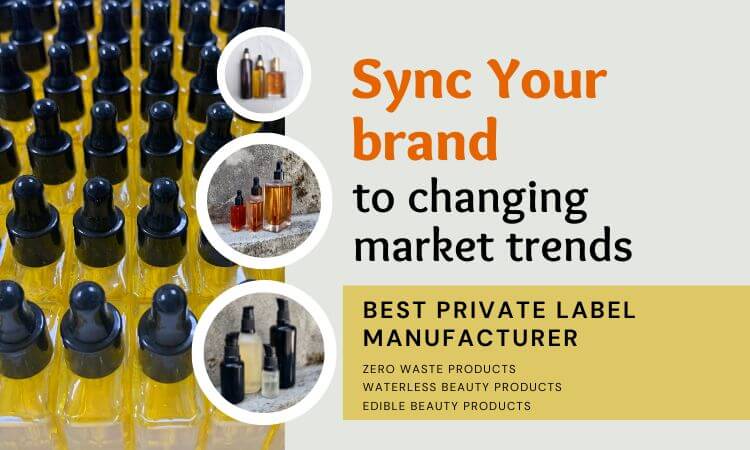 How to Sync Your brand With Changing Consumer Need Pattern
As we all have heard the famous theory of adaptability which says " survival of the fittest". So be it a product or a life, the fittest will always succeed over the weakest. And to always stay "the fit", it's important to evolve your product line to changing consumer demand patterns. Skin "CARE" product market makes up for close to half the total market of cosmetics and toiletries in the world.
Skin is the largest & important organ of the human body and hence people always look for ways to protect it. And the growing digital awareness has contributed so much to the unregulated skin care industry that consumer now demands
Clean labeled products
Transparency in ingredients
Environment friendly
Certified Organic
Plastic free
Fair & ethically made
If you are an existing popular skin care brand or a start up, you need to pace with market trends to upgrade your sales and stay popular amongst the consumers. Mere green washing is not the long term solution as consumers are increasingly understanding the difference between the real natural and the namesake natural.
You can no longer survive with key ingredients or difficult to read names because skin care is now on the line to get much more simplified and organized then it was way back. From unregulated to loosely regulated, to fully regulated skin care market is just a few years down the line.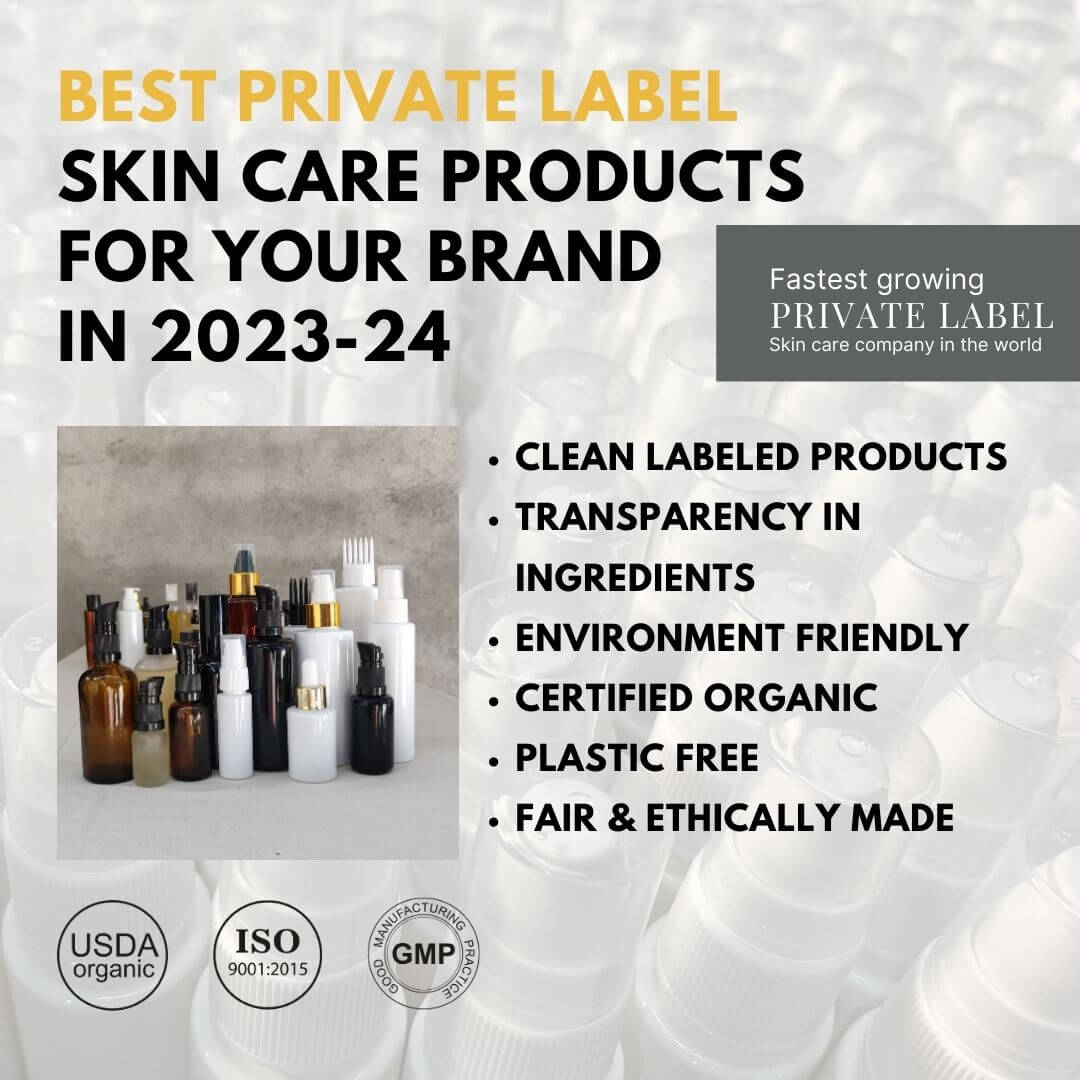 Best Private label skin care products for your brand in 2023-24
You don't need to do a course or open a lab to start a skincare brand or launch a new product to your existing brand line. All that is needed is to find the best suitable manufacturer who understands your needs, target market, budget and MOQ's.
Aadhunik Ayurveda is the best preferred private label skin care, health and wellness product manufacturer by internationally operating brands because of endless optimisation, fusion of ayurveda and science, complete inhouse product development infrastructure, ingredient making dedicated units like cold pressing, extract making, hydrosol and essential oil distillery with experienced team of skilled staff and a strong connect with farming community & bottling/packaging industry.
How we create best products for you
We always work with our hearts in each project to complete customisation as desired by the client/brand.
Our creation is unique as we work from conceptualizing & formulating new product ideas keeping in mind the beauty industry trends, gaps & opportunities. Thus, we create products that ultimately are trendsetters. In the process we always ensure we comply with Transparency, Good manufacturing practices, Sustainability principles and everything as desired by the client. So if you are looking for best selling private label skin care products for 2023-24, then here is the list of popular products that will trend the market.
Private label Zero waste products Manufacturer-
Zero waste simply means that the products should leave no waste meaning no plastic behind once they are used up. Plastic is a menace because of its non-biodegradability. And hence clean and zero waste products are fasting catching up with consumers and Aadhunik Ayurveda is the top private labeler making these zero waste products like soap bars, powder cleansers, oil based cleansers, hair cleansers, moisturisers, hair tonics, and much more for close to decade now. Explore zero waste private label products like
Zero waste hair cleanser
Zero waste face and body wash
Zero waste hair tonic
Zero waste body moisturizers
And much more
Private label Edible Beauty products manufacturer-
Extensive use of chemicals is making the consumer find skin care solutions with edible products simply with the hope that if there's something edible, it should be good to apply too. Hence world over many brands have developed their markets based on blends of edible ingredients that cater to various skin care routines like cleansing, toning, moisturizing, exfoliating, polishing including treatments.
Aadhunik Ayurveda with its deep connections with the Indian farming community have been working with various herbs, nuts and seeds to make them part of the edible beauty regime and deliver powerful results. We have developed product lines for brands across the world making unique products like face melts, youthful oils, instant polish & brighten, leave on masks and much more.
Explore edible private label skin care products customized to your desire and budget with us.
Private label Waterless beauty products Manufacturer-
Waterless beauty too is an approach towards clean and sustainable beauty products. Water has often been the part of the product formulation to make the product ready to use and inexpensive. Water is one of the most popular, inexpensive fillers. Use of water makes it necessary to use preservatives, emulsifiers and stabilizers to make a stable and long lasting formulation. Growing consumer awareness has created a niche that calls for going completely waterless, something our ancestors practiced when there were no emulsifiers or stabilizers. This niche is certainly going to grow into a larger market in time to come. Hence waterless beauty products are going to be the top selling skin care products in time to come.
Waterless beauty is not a new term to Indian culture but it has been in use for thousands of years now hence we at Aadhunik Ayurveda have multiple formulations coming from different cultures/kingdoms creating every blend unique in its own way and giving the world the hope for skin solutions in the most natural, powerful & effective form.
New ingredients - science backed-
The market is saturated with haldi, chandan, kesar, gulab and therefore there is a growing need to introduce new powerful ingredients that can be a change the consumers always look forward to. Change is the need of the time and introducing new ingredients and products to the product line definitely boost consumer confidence in you as a brand with continuous research & development to produce the best product. At Aadhunik we always work with our clients to give them new ingredients, new formulations which help create an upper edge and thereby creates unique space for them in the market. We already use more than 1000 clean plant derived ingredients in our various formulations and our connection with ayurvedic & herbal experts and villagers helps us work with more such ingredients like durva or chuimui.
Best organic skin care products manufacturer-
Aadhunik Ayurveda is considered the best skin care, health and wellness product manufacturer in the industry for its simplicity, quality and low to high MOQ's deliveries. Be it a startup with low MOQs or established brand, Aadhunik works with each client with full dedication guiding in each step to give tangibility to their idea. There are many factors that one needs to consider while thinking about starting a skin care brand and here is the simple guide we have created for you with our years of experience. We are a one stop solution for all your skin care, health and wellness related products manufacturing needs from raw material to finished, ready to use products.
Our exclusive world class facility is equipped with
In-house raw material manufacturing facility
Traditional distillery
Traditional cold pressing unit
Traditional ark making unit
Traditional herb powder making unit
Testing laboratory ( stability, microbial etc.)
Team of skilled personnel
High quality mixers and blenders etc.
Spread over an area of 30,000 sq ft.
Good manufacturing practices (GMP)
ISO certified
Organic certified
Strong connect with Farmers
With us, you can create healthy effective formulas for your brand in just no time. We do everything like
Private label- white label services
Custom formulation services
Labeling & designing services
Bottling and packaging assistance
Give your vision the real unique life with us
Aadhunik Ayurveda is the fastest growing skin care, food, health and wellness product manufacturing private label company delivering its raw material and ready to use products to different regions across the world as per their weather, skin type and personal taste and preferences etc. Our experience can help you create your brand anywhere in the world. For more queries & details, do write an email to us. Know more about us here.
I want to launch my brand by mid April, which is less than 2 months from now. I have my skin care business plan ready so simply looking for the best manufacturer that helps me reduce time and cost.
Yes, with our years of experience we can help you launch your brand in just 3-4 weeks of time. This is possible simply because we have the required infrastructure to do everything in-house like raw material making, proto type development, laboratory testing, labeling and designing etc., eliminating the time in communication with multiple vendors and making the process less costly. Read more here
I am looking for hair care products that are really worth the quality. Please share the catalog.
We are one of the best hair care products manufacturers selling our hair oils, serums, masks in bulk packing sizes like 5kg, 10kg, 25kg, as ready to use to many brands. Visit the following links to see how we work and create various hair care products.