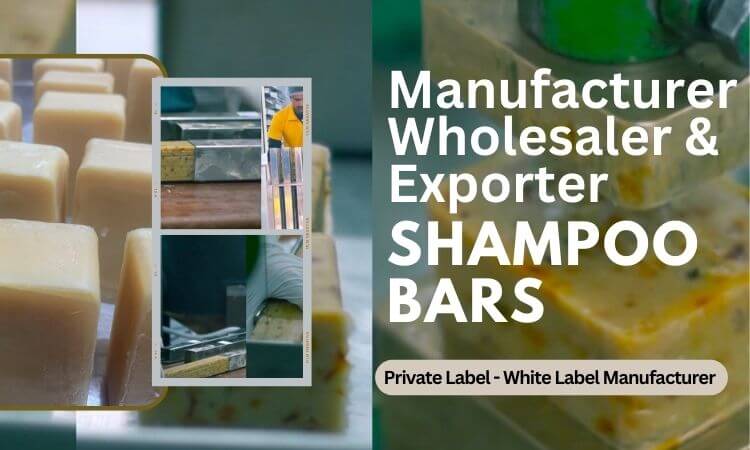 Switch to Zero Waste Solid Shampoo & Conditioner Bars
In human history, hair care has always existed in one form or another – and this activity has evolved time and time again. Many people don't live close enough to a refill store to refill liquid products regularly, so shampoo and conditioner bars fulfill the need for plastic free hair care.
However, one of the most frequent questions we have been asked is how to find zero waste shampoo and conditioner bars that actually work, are reasonably priced, and don't cause gummy build up and stringy hair.
Here we at Aadhunik Ayurveda Private Label Manufacturer of Hair care products collection includes shampoo & conditioner bars. This trending hair care solutions are eco friendly, sustainable and traditionally blend with oils and botanicals and are 100% chemical & preservatives free.
Sync your brand to market trends
The world is continuously raising the voice to go plastic free especially in skin care because major plastic pollution is contributed through daily use of skin care essentials like shampoos, body wash, lotions, household cleansing products etc. The awareness is forcing brands to environment friendly and sustainable solutions as consumers are preferring brands with clean plastic free ethos. So in a bid to try and cut down on plastic use and to help anyone out that is trying to do the same, we decided by finding an alternative to bottled shampoo for a more eco-friendly, usually plastic-free alternative solid shampoo in the form of bars.
The old soaps bars of the past say in the last 4-5 decades were full of lye and animal fat mainly and were very harsh. While many brands selling soaps bars in the name of cleansing bar, beauty bar etc. sought to make them more skin friendly or say milder but used tallow and chemicals in their ingredients till date.
Nowadays, the solid attributes of shampoo bars make them a popular choice for travelling and they are long lasting as compared to your liquid bottle.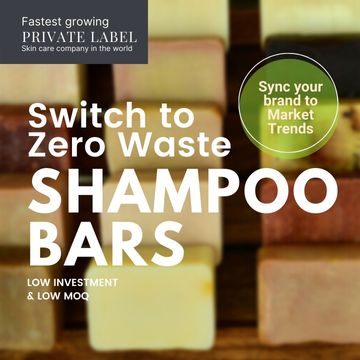 Making the switch to a Zero waste solid shampoo & conditioner bar
A shampoo and conditioner bar is exactly what it sounds like-shampoo and conditioner in the form of a bar instead of liquid version. They are used to get your hair squeaky clean and wonderfully nourished, providing the same results (or better) as bottled shampoo and conditioner.
However when we are using a shampoo bar as per our scalp and hair type, texture, we really don't need a conditioner. This is because the shampoo bars are made with cold pressed oils and butters provide cleansing as per the hair type without stripping the extra oil from it. Remember, in earlier times, before the coming liquid shampoos, our elders used only the soap for their hair cleanse and never complained of premature hair graying of hair fall much.
Manufacturer, wholesaler & Exporter of Shampoo Bars
Aadhunik Ayurveda is the best private label hair care products manufacturer.
We produce shampoo bars or say real soap for hair cleansing. The soaps are cold pressed soaps meaning the soaps are made using the cold process where the ingredients like oils and butters and essential oils are mixed with lye at room temperature nowhere beyond 37 degrees celsius to produce a super effective cleansing with hair vital nutrients. The use of no heat and plant derived cold pressed oils and butters in soap making makes them super healthy and effective.
Making of shampoo bar at Aadhunik Ayurveda Vitals
Making a real potent and effective shampoo bar is labor intensive and time consuming.
Here's how
The produced soaps are real soap completely free from detergents and chemicals. These soaps always help let the color stay longer on the hair and do not have side effects as usually is the case with detergent based or say chemical based cleansing bars or beauty bars. There is a difference between cleansing bars/beauty bars and Real Soaps. Because of the difference many brands are not eligible to name their produce as soap.
Best Private label hair shampoo bar company
With years of experience and serving multiple brands with different kinds of shampoo bars, we have the capacity to make more than 10k soaps bars a day. So explore Aadhunik Ayurveda for introducing shampoo bars to your product line now.
Shampoo bars are available in different colors, ingredients, aroma and for different hair types and needs like
Private label hair shampoo bar for normal scalp and hair
Private label hair shampoo bar for dry frizz hair
Private label Amla Reetha shampoo bar
Private label curry leaf hibiscus shampoo bar
Private label coconut shampoo bar
Private label turmeric shampoo bar
Private label earthy clay shampoo bar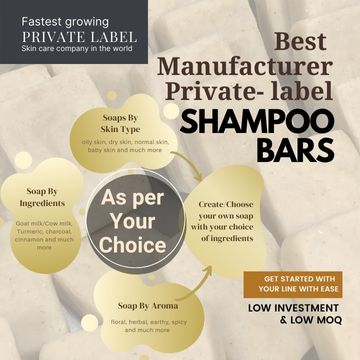 There are many options to begin with and you always have a chance to create your choice of shampoo bar with us using our custom formulation services where we create as per your vision and budget.
Aadhunik Ayurveda is the best transparent working company delivering its produce to more than 13 countries globally. It is a certified organic processor and holds certifications and licenses from various authorities to fulfill all the needed guidelines. You can contact us through email or whatsapp for seeking more details on manufacturing of private label shampoo bars.