Manufacturer, Exporter and Bulk Supplier of Herb Infused Oils
Aadhunik Ayurveda is one of the leading manufacturers of Herb Infused Oils in the world. Our herb-infused oils are widely used in health, beauty, and Herb Infused Oils.
We offer a wide variety of the best-infused oils along with other natural ingredients like Essential Oil, Hydrosols, Cold-pressed Oils, Herbal Powders, Carrier Oils, Body Massage Oils, fragrance/Aromatherapy oils and many others. We are one of the first few companies to start making pure herb-infused oil and deliver world-wide in countries like Canada, Australia, Saudi Arabia, America, USA, New Zealand and many other countries around the world.
Aadhunik Ayurveda is proud to be a leading manufacturer & bulk supplier of pure herbal infused oils to various brands in the food, skin care & wellness industry. We offer a one-stop solution for all-natural ingredients requirements. With our in-house laboratory equipped with the high-tech testing machines, you can be sure that when you buy oils from us, you can get nothing but pure, 100% natural infused oils.
Making of Pure Infused Oils at Aadhunik Ayurveda
Making of herb-infused oils or also known as macerated oils are made by using carrier oils to extract the therapeutic properties of certain plants. Many plants do not contain oil in them hence their nutritional abundance can not be derived in the form of essential oils or cold pressed oils. For example herbs like hibiscus, calendula or say gooseberry do not contain oil in them and therefore their hot/cold infusion is needed to derive their properties in a form of oil. Aadhunik herb infused oils are prepared using infused herbs, flowers, and other plant parts with pure carrier oils like Sesame, Jojoba, Olive, Coconut and many more depending upon the purpose of the oil.
By infusing plant particles, active constituents of the botanical ingredient get infused into the cold-pressed oil. This is mainly done with the aid of immersing the botanical ingredients in the suitable carrier oil mix for a period of time at a specific temperature until desired activities are transferred into the liquid phase from the plant parts.
Thus, producing a final product that has properties of both the carrier oil as well as the plant is a artistic precision that counts on innumerable factors like
Quality of the herb
Moisture content in the herb
Kind of infusion
Suitable choice of oil
Infusion time and much more
This process is mainly done as there are few plants that cannot be extracted using other methods like steam distillation or cold-pressing.
Methods Used For Making/manufacturing Herb Infused Oil
There is no universally accepted production technique with regard to making infusions. Different botanicals, herbs, and spices require different extraction temperatures and time which depend on their temperature stability and are determined by means of the experience of the manufacturer. However, there are two major techniques for infusion: hot and cold.
A Hot Infusion involves extraction under mild indirect heat. This technique is best appropriate for extracting active and aromatic notes of the plant material used. Hot infusion is particularly useful for roots or barks or dense materials as those may be resistant to releasing beneficial properties. Ashwagandha, Brahmi, Amla, Methi, Neem, Shikakai, Rosemary, Kapur Kachri, Garlic, Olive, Sweet almond, Manjistha, Anantmool and many more are the best herbs for Hot Infusion oils. Hot infusion can go on from a few hours to a few days depending upon the herb used and the purpose of the oil.
A Cold Infusion does not involve any heat applications during the process and is best suitable for temperature sensitive plants. Both fresh, as well as dried herbs, may be used for cold infusion to best access the minerals and phytochemicals of the plant. Calendula, Hibiscus, Peppermint, Rose, Saffron, Marigold, Lavender, Licorice and many more are best for Cold Infusion oils. Cold infusion goes on from days to weeks solely depending upon the purpose of making the oil.
Best custom manufacturer of herb infused oils
We are known for making what you need that is customisation to your requirement and this sets us completely apart in the industry. For example calendula petals infused in sesame oil will be different from calendula petals infused in jojoba oil. We work to deliver the best herb infused oils without compromising on quality and therefore we understand your need and thereafter initiate the infusion process. While creating the best-infused oils, we take various aspects into consideration like the timing of different herbs, length of infusion, temperature, cooling times, warming variations, wrapping techniques, refrigeration, straining methods, etc. These intricate processes along with the choice of base cold-pressed oil mark the quality of infusion.
Infusion may be subject to sunlight or under dark depending up the kind of herb used and the purpose of the oil. This makes us the best custom manufacturer of herb infused oil.
Diverse Range of Natural Infused Oils
At Aadhunik Ayurveda we have a diverse range of pure and unadulterated herb infused oils like:
Private Label Hibiscus Infused Oil
Private Label Amla Infused Oil
Private Label Methi Infused Oil
Private Label Shikakai Infused Oil
Private Label Bhringraj Infused Oil
Private Label Ashwagandha Infused Oil
Private Label Manjistha Infused Oil
Private Label Anantmool Infused Oil
Private Label Licorice Infused Oil
Private Label Calendula Infused Oil
Private Label Nettle Infused Oil
Private Label Triphala Infused Oil
Private Label Marigold Infused Oil
Private Label Guava Leaf Infused Oil
Private Label Daruharidra Infused Oil
Private Label Kapur Kachri Infussed Oil and much more.
At Aadhunik Ayurveda, we have been doing infusion with more than 500 different herbs so far and if you are unable to find the infused oil of your choice of herb, we can always do it. Simply get in touch with us through our email aadhunikayurvedavitals@gmail.com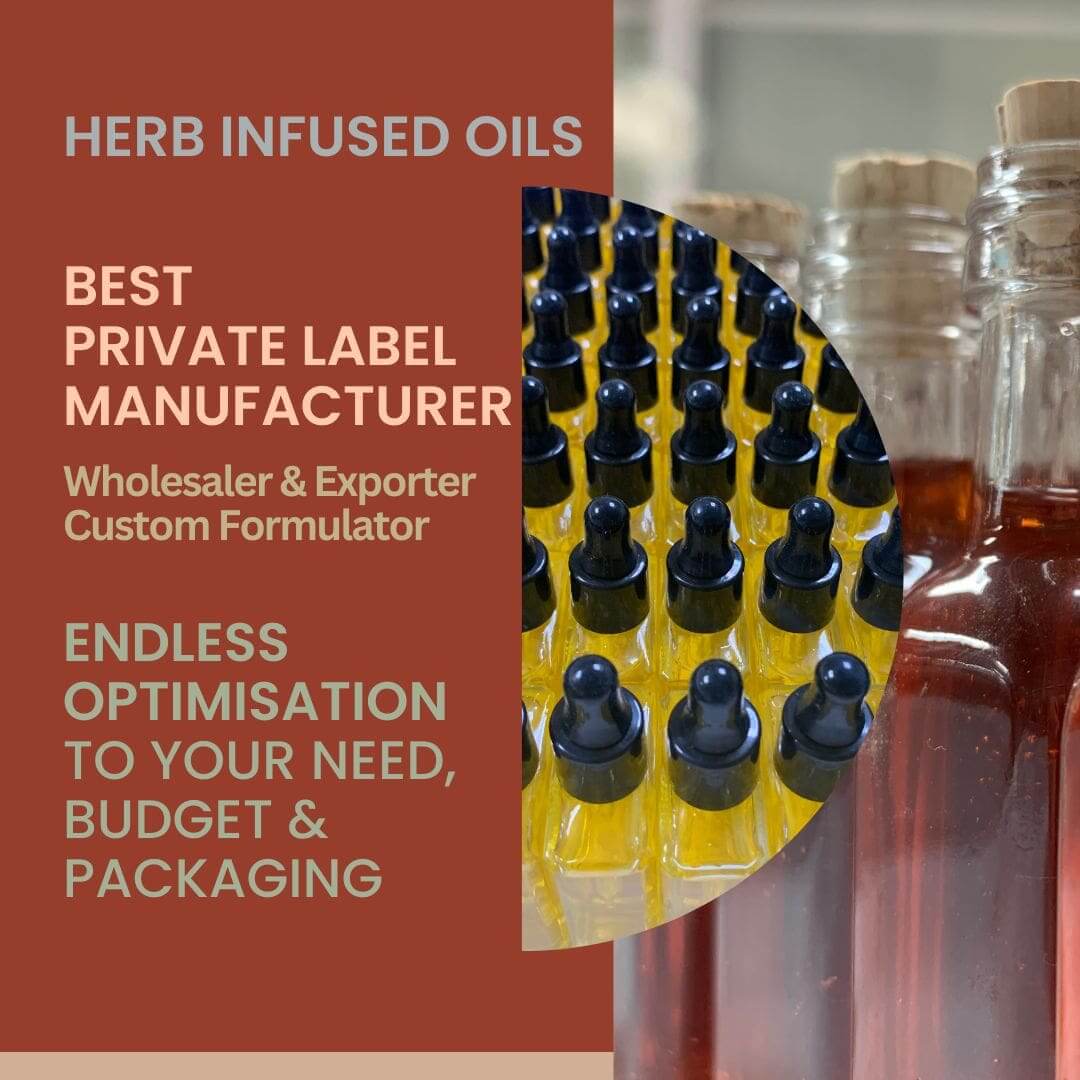 Why Choose Aadhunik Ayurveda For Natural Infused Oils
Wide variety: we provide an amazing variety of pure herb-infused oils. Each herb infused oil has its own therapeutic properties and comprises essential nutrients, vitamins, and minerals. Whether you need infused oil for hair, skin, body, and for wellness. Aadhunik Ayurveda is the best place to buy in bulk the best herbs-infused oil and their products.
Connect with farming community - Our strong connect with farmers over the years have developed a unique trust in each other which has helped source quality plant parts like leaves, petals, roots, stems, barks etc.
Sustainability - Sustainable ingredients and methods are the need of the time and with us you can always stick to your brands vision of clean sustainable ingredients and methods.
No Artificial Fragrance: our herb-infused oils are 100% pure and natural. They are free from any artificial fragrances, and chemicals. They are holistically and ethically produced to ensure their natural properties are maintained and they are as effective as possible.
Lab Tested: Our in-house lab helps us test each of our products. Each batch is tested to make certain that it's miles of premium quality. Certificate of Analysis (COA), Material Safety Data Sheets (MSDS) reports are available on request as well.
Eco-friendly Packaging: Aadhunik Ayurveda follows the highest packaging standard to ensure safe delivery worldwide. We try to incorporate packaging to keep up with our motto of keeping things natural.
Customised manufacturer - Oils are infused as per the need of the brand. This customisation helps brands develop exactly what they look forward to with their ideas in mind without compromising.
Worldwide Delivery: Our experience and connection with logistic partners, be it air or sea can help you get your bulk orders in time anywhere in the world.
Transparency - We believe in the journey of trust and trust can be achieved only through transparency. We involve you in everything we do from beginning to the final dispatch.
Best Manufacturer and Bulk Supplier of Herb Infused Oil in India
Aadhunik Ayurveda is one of the No.1 Leading Manufacturer, Wholesaler and Bulk Supplier of pure Herb Infused Oil in India and worldwide. These are suitable for the food, beauty, health and wellness industry. We provide premium quality herb infused oils at wholesale bulk prices which are free from any synthetic fragrance or additives. They are 100% natural, pure, and of the highest quality, available in different pack sizes.
We stand out in the market because of the outstanding quality we deliver to our clients. This is simply possible because everything from making essential oils, hydrosols, cold-pressed oils, herb-infused oils, herbal powers is done in our own in-house distillery, cold pressing unit, powdery unit. Thereby the chance of adulteration and use of poor quality herbs are completely removed as raw material like herbs and nuts and seeds are sourced from the best farmers cultivation across India.
We believe the right quality ingredients when used in apt compositions create a potent, effective and healthy product. This is the reason why brands come back to use more because their customers come back to them for their quality products.
Our Facility & Certifications
Aadhunik Ayurveda is the Best Private Label Manufacturer of Herb Infused Oil in India. We have state of the art environment friendly USDA certified organic world-class facility to create organic and natural products and other private label & custom skincare formulations. We have a close connection on raw material from farmers, making the products 100% potent, & highly effective.
Aadhunik Ayurveda is a quality-driven manufacturing brand in India for the best sustainable, clean & organic private label products. We produce the best high-quality products with the approval of ISO, GMP, and FDA certifications that allows us to manufacture an extensive range of organic and natural products.
FAQ's I want to buy calendula essential oil?
Calendula flowers do not contain any oil in them hence calendula flowers do not produce any oil when steam distilled. This means calendula essential oil is technically no product. Calendula oil can only be produced or say prepared using the method of infusion. Calendula infused oil is often termed as calendula oil and calendula essential oil. Likewise there is no hibiscus essential oil.