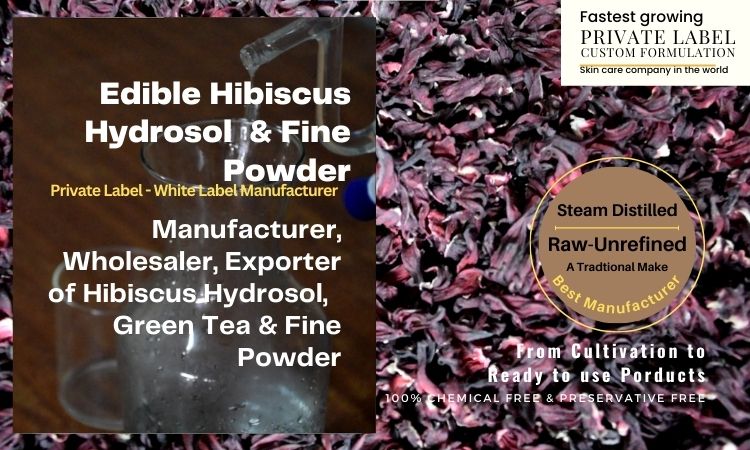 Best Manufacturer of Hibiscus Powder & Hydrosol in India
Aadhunik Ayurveda is the best manufacturer of Hibiscus powder, hibiscus tea & hibiscus water in India. The petals, powder, ark/water of Hibiscus is obtained by the steam distillation of fresh and exotic hibiscus flowers. Due to the good content of AHA i.e. Alpha Hydroxy Acids found in natural Hibiscus, it is extensively used in health & wellness, Skin Care, Cosmetic products. It also acts as a natural and hydrating skin toner.
You can incorporate natural Hibiscus in your day-by-day splendour and beauty care treatments, for obtaining fresh, smooth, and flawless skin. Making DIY face packs, face scrubs, and face masks with it's going to assist to cleanse your skin naturally. The sweet and blissful fragrance of Hibiscus lepas, packs, Floral Water makes you feel energetic and lively and those advantages may be integrated into aromatherapy treatments as well.
Our organic Hibiscus powder, water effectively balances your skin's pH level. You can integrate it with seaweed extracts and tea tree oils to attain a glowing complexion for your face. Hibiscus water contains anti-inflammatory properties that can be used to soothe skin rashes and irritations. The antioxidants present in pure hibiscus ark/water fight ageing effects.
Hibiscus Face Mist
Hibiscus tea-drops
Hibiscus night face cream
Hibiscus wellness drink and much more
You can buy Hibiscus hydrosol at exceptional wholesale prices from Aadhunik Ayurveda Vitals.
Manufacturer of Hibiscus Powder
Hibiscus powder is organic and very useful for face and skin healing. It is effective on signs of ageing and reduces hyper-pigmentation, which leaves your skin glow from within. This hibiscus powder will exfoliate dead skin cells and act as a natural cleanser. Hibiscus powder is 100 percent chemical-free and has no artificial components to it.
Hibiscus powder is safe for all skin sorts and has no aspect. This Hibiscus powder prevents split ends and hair fall. Hibiscus is a first-rate agent that stimulates hair growth very effectively. Hibiscus powder retains moisture within the scalp and is a natural solution for damaged and dry hair.
Hibiscus powder is used as a cosmetic product because of its enormous skin residences that put off the signs of ageing. It is antibacterial, anti-fungal and prevents infections. Hibiscus powder prevents untimely greying of hair and is very useful for the overall well-being of the skin.
At Aadhunik Ayurveda, we source fresh Hibiscus Flower directly from the farmers and thereafter prepare hydrosol and powder from it. You can buy the best quality Hibiscus powder - fine or coarse as per your need at the best prices since there are no middlemen involved at all.
Benefits of Hibiscus
Hibiscus water has powerful hydrating properties which make your skin texture turn soft and smooth.
Hibiscus has astringent properties which help to tighten open skin pores, thus, controlling the overproduction of sebum in your skin.
The soothing effects of Hibiscus water can be used to treat skin irritation or redness. Its anti-inflammatory properties make it effective against skin issues like eczema and so forth. It fits all skin kinds without causing any side effects.
Hibiscus powder is rich in anti-microbial and anti-inflammatory properties that aid various scalp and hair problems such as folliculitis, dandruff, and itching. It also prevents premature greying of hair and strengthens hair strands profoundly to give you voluminous shiner hair.
Hibiscus powder is known for its ability to smoothen mature skin and save you the signs of ageing such as wrinkles and fine lines.
Manufacturer, Wholesaler, & Supplier of Hibiscus Powder & Water
Aadhunik Ayurveda is one of the top best manufacturers, suppliers, and wholesaler-distributors of Hibiscus tea, powder, and hibiscus water in India. Our products are trusted all over India for excessive best and purity. No artificial colors, fragrances, or preservatives are added while making organic and natural hibiscus powder, and water. Hence our natural hibiscus powder & water is 100% organic certified.
We also deploy high-standard delivery to ensure that the best quality product reaches you in time. Our hibiscus powder, and hydrosol, contain many therapeutic qualities and can be used for treating various skin issues. You may also use them for making DIY cosmetics and soaps.
You can also buy pure distilled hibiscus water, and tea & powder in bulk quantities at Aadhunik Ayurveda at the best price. Do not miss this wonderful opportunity to buy chemical-free, fresh, and multiple-purposes Hibiscus powder, and hydrosol from Aadhunik Ayurveda Vitals.
Private Label Hibiscus Skincare, & Wellness Products
Private Label Organic Hibiscus Powder, and Hydrosol.
Private Label Ayurvedic Hibiscus Glow Face Pack with Tea-Tree Oil
Private Label Hibiscus and Saffron Night Cream.
Private Label Ayurvedic Hibiscus Hair Oil.
Private Label Herbal Wellness Drink
Private Label Hibiscus Tea-drops.
Private Label Hibiscus Face toner.
Private label hibiscus hair tonic
Best Globally Known Manufacturer
Aadhunik Ayurveda is a well-certified manufacturer and wholesaler of edible herbal, powder, essential oil, cold-pressed oil, and beauty and wellness product companies in India Our working transparency and well-timed delivery with time-to-time compliances and certifications make us excellent choices amongst many brands and global certifications have helped us stick with first-class processing and international standards.
We have a 100% (in-house) organic and chemical-free manufacturing line. This is viable truly due to the fact that for everything Aadhunik Ayurveda is strongly connected with farmers across India to source genuine & quality products.
With us get the high-quality best custom formulation, private label, and raw material for your start-up established brand at satisfactory prices, complete assistance, and low MOQs.
FAQ
What is the shelf existence of hibiscus water?
If stored properly, Hibiscus Hydrosol water can be effective for up to 2 years.