Manufacturer, Wholesaler & Supplier of Body Massage Oils
Aadhunik Ayurveda is the best herbal and ayurvedic body massage oil manufacturer, supplier, and wholesaler in India, with the superlative quality of formulas, we offer the best services ever. We ensure to provide the best in the industry as we take care of each aspect strictly.
We offer the purest forms of body massage oil to our customers. No chemicals, additives, or fillers are added to them. Check out premium-grade essential body oils that strengthen your mind, body, and soul in various ways. As no fillers or additives are used while manufacturing them, a little amount would be sufficient for most requirements.
The raw material of body massage oil is sourced from farmers from different regions of central India.
Aadhunik Ayurveda provides the best body massage oil at bulk prices in India & exports it to many other countries around the world for use in many hotels, salons, spas and ayurvedic centres. For ensuring quality the seeds are sourced directly from the farmers and cleaned at our cold-pressed unit for the best quality body massage oil.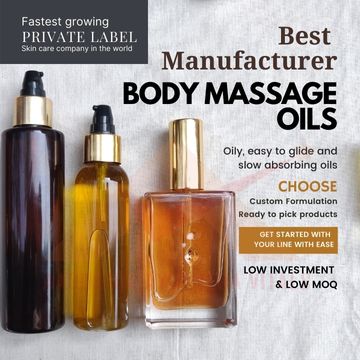 You can find different types of Body massage oils with different aromas, texture, target specific and much more. Aadhunik Ayurveda has decided to end the search for all kinds of users - hotel spas, dedicated spa centres, salons, retail brands etc. as we are now offering them at wholesale price when ordered in bulk. Right now, we are offering packages of 1 litre, 5 litre, 10 liter, and 20 liter, and much more. So, that you can order them as per your need.
Explore body massage oils at Aadhunik Ayurveda
Private label rejuvenating body massage oils
Private label Ayurvedic narayana body massage oil
Private label dasapushpam body massage oil for babies
Private label aromatic & therapeutic body massage oil
Private label balinese body massage oil
Private label thai - lemongrass body massage oil
Private label stress relief & relax body massage oil
Private label skin tone & firm body massage oil
Private label green tea blend body massage oil
Private label dosha balancing body massage oil
Manufacturer and Supplier of aromatic oils/essential oil/ fragrances oils
Aromatic oils or essential oils have been used by many cultures around the world. These are powerful extracts that have long been praised for their healing, beauty-enhancing, spiritual, medicinal, therapeutic, and aromatic attributes. Aadhunik Ayurveda is a super fine blender and thereby supplier of of natural or herbal extracts and stick with the philosophy to keep the soul, body, and mind alive.
Aadhunik Ayurveda is the best aromatic essential oil manufacturer, supplier & wholesaler in India. The company makes 100% chemicals & preservative-free oils using raw materials using the traditional technique of steam distillation.
Aadhunik Ayurveda is the fastest-growing fragrance oils-making company in India & globally with its exports rising manifold because of its quality products with the fusion of traditional & modern-day practices like good manufacturing practices and other hygiene and safety-related practices.
It is one of the only edible essential oil manufacturing plants in India with an A -class facility equipped with traditional resources and modern-day safety and hygiene infrastructure located in the Himalayas. The prime location-the Himalayan foothills give Aadhunik the advantage of easily keeping connected with farmers of Uttarakhand, Uttar Pradesh, Punjab, Rajasthan, and Madhya Pradesh for quality raw material like stems, roots, petals, barks, etc. to reach the distillery/factory within a day.
Explore aromatic oils for wrist application and diffuser purpose
Private Label anxiety relief essential oil
Private label desi gulab madurai jasmine aromatic oil
Private label Uplift & balance natural oil
Private label dosha pacifying essential oil
Private label breathe easy aromatic oil
Private label thai plant therapy natural oil
Private label natural deodorant
Private label moksha serene oil blend
Private label lavender oil
Private label chamomile oil
Private label rosemary oil
Private label vetiver oil and much more
Manufacturer & Bulk Supplier Exporter of hair massage oil
Oiling hair is an essential part of the hair care routine. Massaging your scalp with oil can promote hair growth; give you thick, long, and lengthy hair by stimulating hair follicles. Giving scalp and hair a boost with the best hair oils that nourish the hair and make hair softer, less frizzy, and strong.
Aadhunik Ayurveda is the fastest-growing wholesale hair massage oil supplier & manufacturer in India producing USDA organic certified and quality-assured plant derived hair oils.
The cold-pressed oil manufacturing process is a unique clean technique that calls for quality seeds, no heat, and no chemicals or solvents in the making of the oil. The produced oil is the best organic certified wholesale cold pressed oil suitable for multiple purposes like food, skin care, hair care, wellness & supplement. And cold pressed oils are a rich source of nutrients to the scalp and hair.
We produce more than 20 varieties of cold-pressed oils like coconut oil, mustard seed oil, hemp seed oil, cumin seed oil, Gotu kola oil, zucchini oil, almond oil, and much more.
Hair oils are prepared using the traditional techniques of cold or hot herb infusion in carriers, essential oils prepared from steam distillation, cold pressed oils etc. Right infusion, apt blending of oils and right storage in a clean, hygienic environment are very important factors in making hair massage oils.
These oils are available in multiple pack sizes like 1 liter. 5 liter, 10 liters, 25 liters, 50 liters.
Aadhunik Ayurveda provides you with the best quality, FSSAI & GMP & USDA organic certified, ISO certified hair oil at bulk prices.
Explore multiple hair massage oils with us
Private label rejuvenating all in one hair massage oil
Private label kumkumadi hair oil
Private label nalpamaradi oil
Private label methi - onion oil
Private label kalonji babchi oil
Private label abhyanaga oil
Private label bringadi oil
Private label bhringraj tulsi oil and much more
Start Your Skin Care Brand Under USD 5,000
Are you passionate about skincare and dreaming of starting your own skincare brand? Perhaps you've always thought it required a significant investment and a complex manufacturing process. Well, now with Aadhunik Ayurveda, the world's most preferred and fastest growing private label skin care manufacturing company, you can launch your skin care brand for under $5,000.