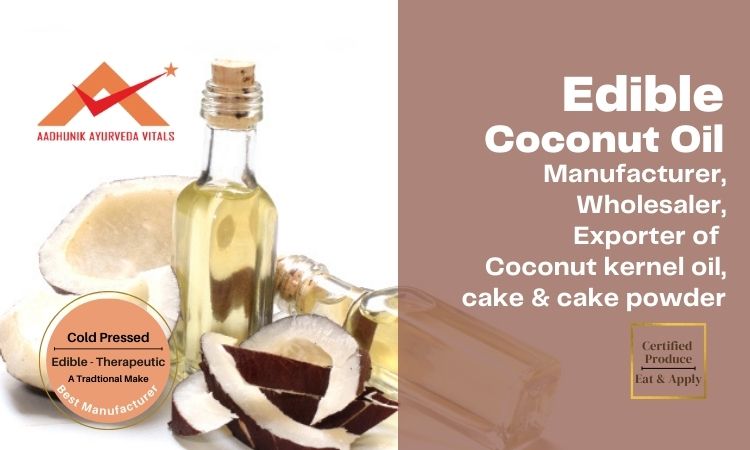 Coconut Oil Manufacturer in India
Coconut oil is one of those few staple ingredients that most if not all kitchens have. It is commonly used in cooking and has various other everyday uses as well like hair application and skin rejuvenation. There are different kinds of coconut oils depending on the method of preparation and what part of the coconut they are extracted from. Let us take a look at what coconut oil is, its types, and what it consists of.
"Coconut oil is rich in fatty acids and antioxidants that help prevent ageing and damage to our skin and hair. It also has research backed antibacterial and antifungal properties that help keep skin healthy and fight skin allergies and yeast infections that may be responsible for rashes, dermatitis, and thinning hair".
Coconut oil is the most abundant source of lauric acid, a fatty acid known for its antimicrobial, moisturising, and hormone-balancing properties. Aside from its anti-aging and skin-healing abilities, it also stimulates the production of collagen, and its vitamin E content protects the skin from sun damage.
What is Coconut Oil?
Often referred to as the tree of life, the coconut tree is a type of palm tree belonging to the Arecaceae family of plants that grows in tropical and subtropical regions. Coconut oil is prepared from the kernel (white inner flesh of the fruit of coconut trees).
Coconut oil is a fat that is made by pressing coconut kernels and extracting the oils. Because coconut oil is 80% to 90% saturated fat, it is solid at room temperature but has a relatively low melting point. There are different types of saturated fats in coconut oil, but about 51% of the saturated fat is lauric acid, which is considered a medium-chain triglyceride because it has 12 carbons in the fatty acid chain.
Cold-pressed or refined
Cold-pressed coconut oil is a much better option for coconut oil. Flavour retention and nutrition retention are the major advantages of the traditional technique of cold pressing over nowadays used techniques in preparing coconut oil. Cold-pressed coconut oil also has higher antioxidants compared to the normal one. It is also free from additives which makes it natural oil. Both are however made from the meat/kernel of the coconut and it contains a lot of saturated fat and some unsaturated fat. A tablespoon of coconut oil can contain 13 grams of fat. But then these saturated fats do not raise the level of cholesterol in the blood. Coconut oil is edible oil and can hence be safely added to your diet to ensure a healthy intake of fat. Embrace this natural oil and read on to discover the numerous benefits of this superfood.
Extraction of Coconut Oil
Coconut oil is extracted from the copra or dried coconut kernel by the cold-pressing method. This oil is highly nutritious because it is unrefined, unbleached, and unheated. It also retains the coconut's authentic flavour & aroma. The saturated fats contained in coconut oil help raise good cholesterol levels (HDL) and lowers bad cholesterol levels (LDL) thus, keeping your heart healthy.
Making of Coconut Cold-pressed Oil at Aadhunik Ayurveda
The making of Coconut oil at Aadhunik Ayurveda is a traditional technique of cold pressing of dried coconut kernels. It is the best technique where the dried coconut kernels are pressed between the two metal rods and the oil is released. There is no addition of any heat or any other ingredients to prepare the oil. This helps retain the aroma and nutritional content of the oil. This Coconut oil is 100% pure, virgin, raw, and unrefined oil good, and safe to consume and apply. This cold-pressed Coconut oil has multiple uses- in food & beverages, skincare hair care, and health to reap its benefits. 100% raw, vegan, no preservatives, cold-pressed dried coconut is sourced from farmers & sustainable.
It is a multi-purpose natural product. Coconut oil benefits goes on with its extensive use in aromatherapy, skincare, hair care, and in health & wellness.
Manufacturer, Supplier, and Wholesaler of Coconut Cold-Pressed Oil
Aadhunik Ayurveda is the leading manufacturer of certified organic cold-pressed oils in India. We produce more than 30 different nuts and seeds oil which are absolutely chemical & preservative free fit for consumption and topical applications.
At Aadhunik Ayurveda we source dried Coconut kernels from farmers to cold press for pure, unrefined, and nutrient-rich oil. This close connection helps us ensure a healthy kernel procurement and give farmers a better price. Aadhunik Ayurveda is the best supplier and wholesaler of edible and pure Coconut cold-pressed oil in India.
Aadhunik Ayurveda uses traditional techniques and methods to make the best quality seed oil as was made in our early times. This makes the oil rich in nutrients, aroma, and colour and lends good shelf life without the use of preservatives.
Coconut cold-pressed oil made at Aadhunik Ayurveda is safe and chemical-free and has multiple purposes in nature as this oil can be used for many purposes such as for skin, hair, health, and many other purposes.
You can buy cold pressed oils and their cakes in bulk quantities like 1 litre, 5 litres, 10 litres, & 20 litres, and much more suiting your requirement.
Private label cold pressed Coconut seed oil
You can easily get private-label Coconut cold-pressed oil from Aadhunik Ayurveda Vitals in bottles as you desire. We offer one-stop services from packaging, designing, and labelling to ready-to-ship products. Explore with us more private-label Coconut cold pressed oil products.
Uses of Coconut Oil
One of the best things about cold-pressed coconut oil is that it can be used for several things, the most important being cooking. It is especially good for frying, toasting, or sautéing purposes at a high heat due to its high smoke point. It can be used to deep fry or bake as a healthy oil over refined and other processed treated oils. Another popular reason for using coconut oil in cooking is the change in flavours, to include more of a coconutty flavour and aroma.
Other Uses of Coconut Oil
Moisturise Your Skin- it's a very pure, chemical-free & natural moisturiser for baby skin & hand and feet skin. It helps to repair cracked heels as well.
Used for Cooking- it is an ideal edible oil that you can use in any way in the kitchen for cooking.
Use to Reduce belly fat- coconut oil can be beneficial in reducing your stomach fat in a very healthy way.
Protect Skin from Sun- use it as a sun shield that prevents your skin from burning through UV rays.
Treats Skin Disorders- using coconut oil during the early stages of skin disorders like dermatitis and eczema, & other skin disorders can help control and treat these disorders.
Benefits of Coconut Oil
Cold-pressed oil is gaining popularity over the years, owing to the method of preparation that preserves the antioxidant content, as well as the flavor and nutritional value. When it comes to cold-pressed coconut oil, one thing comes to everyone's mind: hair oil. Yes, it is best for your hair health, but that's not it, adding it to your diet has interesting health benefits. Want to know what health benefits it can provide?
Benefits of Coconut Oil for Skin
Cold-pressed coconut oil is rich in antioxidants and anti-inflammatory agents that help fight free radicals and inflammation, the primary causes of premature ageing. It has hydrating properties that can nourish dry skin and repair cracked heels. Used as a nighttime moisturiser, coconut oil's antibacterial and antifungal agents work as a potent cleanser keeping skin issues like acne and dryness at bay. Use it as an under-eye hydrator, lip balm, or lip gloss. Coconut oil is rejuvenating massage oil and can be used as a hand lotion and an alternative to shaving cream.
Benefits of Coconut Oil for Hair
Coconut oil has been every mother's go-to oil for hair care. There is a growing misconception that oil needs to be treated differently before using it on your hair. You can use coconut oil the same way you use regular coconut oil. In fact, its rich nutritional profile provides more benefits than conventional store-bought coconut oil.
The benefits of coconut oil for hair include stronger and thicker hair. It contains vital vitamins and minerals that strengthen your hair follicles, making hair strands strong and shiny. It's rich in fatty acids that nourish your scalp, reversing hair styling products' harmful effects on your hair. Its antibacterial properties fight scalp irritation that causes dryness and dandruff.
Benefits of Coconut Oil for Health
Amazing benefits of cold-pressed coconut oil for health care are
Helps in Weight loss- making coconut oil your cooking oil can help in weight loss by increasing your body's metabolic rate. It also reduces hunger and keeps you feeling full for a longer time.
Helps in Improving Heart Health- cold-pressed coconut oil aids in increasing the level of good cholesterol in your body as it increases the level of HDL, it is also edible oil that is very easy to digest and helps in the proper working of the endocrine system. No wonder it adds to the immunity of the body.
Helps in Diabetes- cold-pressed coconut oil has the potential to stabilise blood sugar spikes and promote the secretion of insulin.
Helps in Brain Function- cold-pressed coconut oil contains components that promote the development of ketones in the body which act as a substitute for an energy source to your brain and eventually it enhances cognitive abilities.
Cold-pressed coconut oil is one essential food item you should always include in your diet and make sure you include it as a regular part of your shopping list to reap the benefits of good health.
Topical Benefits of Coconut Oil
Cold-pressed coconut oil is widely used topically for ample reasons. If you are suffering from dandruff in your hair or dry skin or need antibacterial support, coconut oil is the best remedy for you. It works perfectly in reducing fine lines and wrinkles. You can either massage it onto your skin, add to your diet or consume it as a supplement. Coconut oil is also beneficial in wound healing because of its anti-inflammatory and antioxidant properties.
Side Effects of Coconut Oil
Coconut oil is primarily safe when consumed in moderate amounts, but excess intake might cause problems. This is because oil contains a high amount of saturated fat and other harmful elements that are not good in high amounts. So, you must check the side effects of coconut oil before you use it.
Storage
Always store it in a cool place and avoid oxidation. It is good to use for 3 years from the date of cold pressing when stored properly.
Precautions
Coconut oil is comedogenic in nature therefore people with oily & acne-pimple-prone skin should not use it.
FAQ
1.Which coconut oil is best in India?
Aadhunik Ayurveda cold-pressed coconut oil is best. It is edible to add nourishment and wellness to your body, hair & skin. Use this organically produced bottle for multiple uses-in food & beverages, skincare & hair care to reap its benefits. 100% raw, vegan, no preservatives, cold-pressed with dried coconut kernels sourced from farmers & sustainable.
2.Does coconut oil whiten teeth?
While coconut oil does improve teeth health, it does not whiten teeth.
3.Is coconut oil good for wrinkles?
Yes, coconut oil moisturises the skin, making it supple and firm, thus reducing the early signs of ageing like wrinkles.
4.Does coconut oil lighten skin?
No. coconut oil on its own will not brighten your skin. Instead, coconut oil can help even out your skin tone and soften the look of your skin when used consistently.