Natural Fragrance Developer: Manufacturer And Exporter of Natural Fragrance
Aadhunik Ayurveda is the unique leading bespoke fragrance development company that develops the most meaningful fragrance that establishes a relationship between brand/product and the consumer.
A customized fragrance development is all about genuinely understanding the brand, their vision and involving our fragrance expertise to create an aura that translates the vision, hopes into reality. Creating a custom-fit fragrance needs a heart in it with artistry and technical aspects of scent creation.
At Aadhunik Ayurveda, we develop fragrance using plant material like roots, stems, bark, leaf, petals, fruit, peel etc. just to ensure that the fragrance is free from all the nasties that make it fit for human use. A natural fragrance establishes a bio connection with the mind and the soul and benefits the body.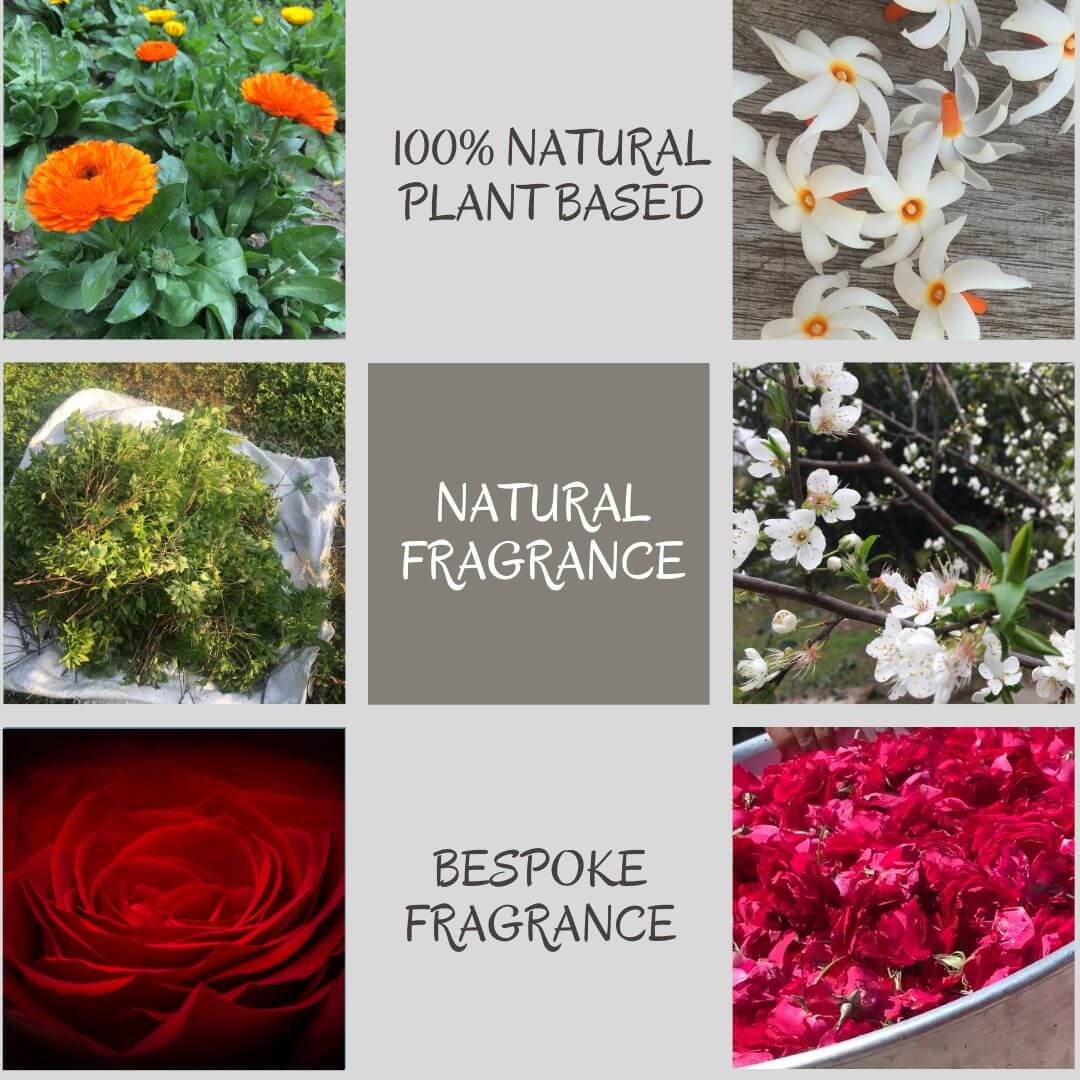 Fragrances developed using chemicals like aldehydes, benzophenone and much more chemicals are found to be carcinogen, endocrine disruptors, neurotoxins and much more. This as per research means that synthetically developed fragrances when used in beauty, skin and lifestyle products can put human health at risk and cause birth defects, respiratory disorders, neural ailments, and other serious health conditions.
Natural fragrance manufacturer
Aadhunik Ayurveda is the only 100% natural fragrance manufacturer in India that develops different natural fragrances using essential oils, herb infused oils etc. With our custom made fragrance development services we develop unique fragrance for your product that helps customers always link to it and a good aroma/fragrance in a product always attracts consumers to buy the product.
With changing times, consumers are more concerned about human & environmental friendliness of fragrance along with sustainability without compromising the sensorial experience. This is well explained as skin care products purchasing is driven by fragrance and people have long associated fragrance with the emotion. And today the fragrances are more developed and expected to work to provide a consumer with the sense of serene, clean and balanced emotion.
We blend multiple herbs with different notes from earthy, citrus, herbaceous to floral to create that fine, soothing and therapeutic fragrance that defines the uniqueness of your brand. Every solution is based on the concept, relevance, compatibility with key elements of indulgence, style and the owner's fuss. A fragrance has the power to instantly spark a variety of emotions from reviving old memories associated with fragrance, acting as an appetizer with the mouth watering aroma of home-made tadka, chutney's, curries etc. to make you feel more energetic & lively with ability that can take you through the stars.
We are the largest natural bespoke fragrance developer constantly working with different concepts, different target markets to develop right odour profiles to fit into your product and the brand.
Our solutions are
100% natural
Plant based
Therapeutic
Sustainable
Healthy for human use
Environment friendly
Custom made
Research based
And above all client satisfying
These natural fragrances can be manufactured for use in face creams, face oils, serums, bath oils, massage oils, diffuser oils, aromatic roll-ons, hair shampoo, face packs, natural deodorants, skin toners etc.
In-house fragrance development team
Uniqueness and naturalness is what differentiates a brand from the market. The right connect with the consumer with the right sense of energy derived from olfactory as per the product establishes the right natural connect. A connection that consumers immediately fall in love with and look forward to its use everyday. Just because the right things at the right time is what makes the difference. Meaning the right aroma at the right time in the right product works right for the consumer.
With our team of experts and years of work into the area, we have developed a unique process where understanding is a must to match the expectation in developing fragrance using a single plant derived compound or blend of compounds to unearth the real desire of the client and transform it into reality with the product. We work on a fragrance till we and the client together satisfactorily do not achieve the feel of the fuss to unfuss.
Testing and analyzing fragrance change when used, in different stages of the product.
Tracking and maintaining the desired compound in the final product.
Manufacturing of natural fragrance oils
At Aadhunik Ayurveda we make use of plant derived oils called essential oils to make different kinds of fragrances to use in skin care, hair care and other personal care products. The essential oils are manufactured using steam distillation technique which is the best known clean, sustainable and minimize carbon footprint releasing technique producing highly therapeutic oils that helps repair skin and connect healthy feel with the mind and soul.
Aadhunik Ayurveda is the fastest growing private label personal care product manufacturing company offering complete solutions from creating a formulation to testing, labeling, packaging under one roof for start-ups, established brands in the skin care, hair care, wellness industry. Aadhunik Ayurveda adheres to global standards with complete certifications like ISO, GMP, FDA, organic to maintain best quality production lines to deliver best product ready to use. Explore private label and custom formulation services for your skin care brand and launch your skin care business plan with ease and low investment with us.
Private label skin care products
Private label hair care products
Private label tea drops
Private label herb infused oils
Private label Wellness products
Private label food products
Private label Pain relief oils
Private label intimate hygiene products
Private label bath & body products
Private label hair care products
Private label hair serums
Private label cold processed soaps
Private label make-up remover
Private label facial oils
Private label goat milk soaps
Private label body and face polishers
Private label baby skin and hair care products
Private label spa, saloon & wellness products
Private label shampoo bars
Private label ayurvedic beauty skin care products
Private label waterless products
Private label body lotion manufacturer
Private label cold pressed oils
We manufacture and supply our products to various brands in India and international markets like Canada, U.S, parts of Europe, Singapore, Australia, New Zealand, Malaysia, Dubai, Saudi Arabia and much more. For more details contact us at aadhunikayurvedavitals@gmail.com