Phyto Cosmetic Products Manufacturer
Phyto cosmetics or plant-based cosmetics is much more than a trend, it is a natural and healthy alternative to pamper your skin and hair. If you want to know more about this revolution that aims at a healthy beauty and that dates back to time immemorial, it's best to explore with Aadhunik Ayurveda - the best manufacturer of private label phyto cosmetics and skin care products.
What is Phytocosmetic & Skincare?
Phyto cosmetics include all-natural ingredients derived from medicinal plants and other plants that can be used for the cosmetic treatment of the skin.
Phyto cosmetic products are cosmetic products made from vegetable substances, i.e. they are derived from active plant ingredients extracted from different parts of plants such as leaves, fruits, flowers, stems, and bulbs for the care and aesthetics of skin and hair. The use of different plants is decided according to their physiology, so it is possible to find plants for almost all skin needs. In cosmetics, the botanical extract, which can consist of hundreds of chemical structures, is called the active ingredient. In most cases, plant extracts cannot be replaced by synthetic substances or are not easily imitated with a complete nutritional profile in the synthesis laboratory.
Phyto cosmetics encompasses the use of lotions, creams, oils, makes, poultices, plasters, shampoos, and even make-up. It is possible to find thousands of formulas for preparing and applying all types of cosmetics, which is why Phyto cosmetics is an invaluable guide for professionals in the cosmetics sector, pharmacies, laboratories, artisans, formulators, manufacturers, distributors, etc.
If you are looking for non-toxic and responsible cosmetics, which beautify your skin and hair safely, at Aadhunik Ayurveda we are committed to this type of ayurvedic cosmetics, join us and introduce the best product range to your brand.
What is a Phytoingredient?
A phyto ingredient is a plant raw material that has been processed for inclusion in cosmetic formulations. Its origin can be from fresh plants, whole or in parts, oils, secretions, extracts, etc. Some phyto ingredients used are the following.
Essential oils - Most are used in cosmetics for manufacturers of therapeutic & aromatic products.
Hydrosols - This is the product produced through distillation. Part of the formulation water can be replaced by these hydrolases, which enrich the formula in sensory, therapeutic and cosmetic properties.
Vegetable oils - These confer nutrition and emolliency to the skin superior to any synthetic fat.
Vegetable butter - These are oils that have a solid texture even at room temperature.
Botanical extracts -Liquid extracts in water and oil are often used instead of extracts derived from petroleum or propylene glycol.
Fact - Aadhunik Ayurveda is one of the biggest manufacturers of private label-white label phyto cosmetics, skin care products with its manufacturing infrastructure spread over more than 50,000 sqft. The facility has all the connect, equipment, machinery including traditional know-how to produce the ingredients of skin care products like essential oils, hydrosols, oils, multiple form herb extracts etc. that make up the foundation to clean, sustainable & quality assured product. This backward integration for quality raw material differentiates Aadhunik Ayurveda from other players in the skin care & cosmetics industry.
Benefits of Phytocosmetics Skincare
Phytocosmetics will be the best supporter for your skin. Plants provide properties and benefits to the well-being of your skin, the most important of which are:
Nourishment
Softness and freshness
Protection against external agents
Moisturising
Rebalancing
The most important phytonutrients for your skin are vitamins (involved in skin regeneration and protection), minerals (help the most important phytonutrients for your skin and vitamins (involved in skin regeneration and protection), minerals (help support enzyme function and provide protection by creating a physical barrier). Antioxidants (control damage caused by free radicals, which cause cellular aging) and fatty acids (protect and maintain the hydrolipid barrier, prevent water loss and help to make the skin brighter and smoother). Different extraction techniques (steam-distillation and cold-pressing technique) are used to extract the natural active ingredients from plants and herbs to ensure the purity of the extracts.
Global Phyto cosmetics and skin care industry
The natural based cosmetics industry is continuously growing as a highly desirable industry with global markets anticipated to grow continuously for decades at an annual average growth rate of 8.5%. Though different continents and countries are growing at different rates keeping in factors like social- demographics, socio cultural differences and acceptance to it.
Factors such as consumers' age, awareness, mood, socioeconomic status,belief, information through media, product elements - benefits, labelling and packaging etc. are playing a major role in influencing the purchasing decision of the buyer/consumer.
Once a consumer buys a product, a brand overcomes the first challenge of a user converted into their product consumer. And thereafter the second challenge begins where in the quality, efficacy of the product plays a significant role. And that is possible only when the product contains potent - active bio-ingredients to deliver committed claims. The product ingredients retain their quality -nutrition, aroma and colour when they are subject to clean and healthy processing techniques that do not disturb their natural efficacy delivering profile. And for thai Aadhunik Ayurveda has been making use of techniques like steam distillation, hydro distillation, cold pressing, hand mill powdering, cold processing etc. With such techniques used, the ingredients and products provide different levels of effectiveness as a natural treat and prevent therapy.
Depending on the cosmetic activity, phyto cosmetic can be classified as follows:
Antiseptics. They disinfect and are mainly essential oils. E.g. Lavender, eucalyptus, thyme, lemongrass, rosemary, camomile, cinnamon, etc.
Soothing. They have an antispasmodic and anti-inflammatory effect, ideal for sensitive and irritated skin. E.g., chamomile, calendula, etc.
Toning. Stimulates metabolism.
Emollient. Exerts a softening effect. Prevents moisture loss and leaves the skin smooth. E.g. chamomile, etc.
Astringent. Tightens pores, leaving the skin even and smooth, and has a strengthening effect. E.g. lavender, rosemary, lemon, eucalyptus, etc.
Best private label Phyto Cosmetic Manufacturer
Aadhunik Ayurveda is the best beauty and skincare products manufacturer of ayurvedic skincare products in India; these products have been on the market for close to a decade. They offer a wide range of products for skincare. The products are based on natural active ingredients derived from plants, and other natural sources. They are also rich in amino acids, vitamins, lipids, and moisturising complexes that are essential to maintain healthy, beautiful skin.
We provide a variety of phytocosmetic products and also our formulated products are safe and approved. Moreover, we also give ayurvedic third-party Manufacturing Services in India and worldwide.
The company has a team of experts that have excellent experience in the same field. We are very focused on the manufacturing of phyto cosmetic skincare products keeping in mind the vision and budget of the brand. Every product is checked and tested for quality and effectiveness through multiple stages before it is approved and moved for final production. Because one mistake can be the reason for a great threat. That's why our herbal raw material is chosen very carefully by our experts. Explore with us and introduce the great products to your line with Aadhunik Ayurveda Vitals.
Explore with us
Private label & Custom formulated - Cosmetics & skin care products for regular and occasional use.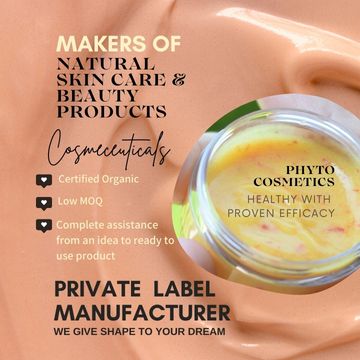 What makes Aadhunik Ayurveda as the Best PhytoCosmetic Skincare Manufacturer in India?
Aadhunik Ayurveda is the best private-label Phyto cosmetic skin care manufacturer in India and all over the world. As we run with the agenda to provide a great quality of satisfaction to the customers. Aadhunik Ayurveda is working with a team of highly experienced practitioners that ensures the provision of superlative quality products.
Apart from it, we do offer a broad range of plant-based skincare products for every skin type, that beautifies the skin gently without any side effects, as these organic beauty products do not contain any sort of nasties. We offer products that do immense care to the skin and beauty naturally. Aadhunik Ayurveda is the top private-label manufacturing company.
Our organic cosmetic products contain the best raw materials, herbs and plants.
ISO, FDA, GMP, and FSSAI certified.
USDA-certified manufacturing company.
Offers ayurvedic natural contract manufacturing
Safe & hygienic packaging
On-time order fulfilment
Moreover, we know the latest market trends and customer's nature, behaviour and demand patterns. And this is helping us to establish our unique identification in the Indian marketplace. Also, by investing in our product ranges, you'll easily be able to focus on the other marketing strategies as production with quality is well taken care of by us. It in addition assists you to grow your business across the global market. So, be a part of Aadhunik Ayurveda now for its 100% safe USDA organic product list in India.