Top Private Label / Third Party Organic Cosmetic & Skin care product Manufacturer in the world
With the continuous shift in consumer preferences, marketers and retailers are challenged to stay relevant in the beauty and skincare space. In recent years, an exciting development has been making inroads across all organic skin care channels: private–label skin care. According to a recently published cosmetics report, private label climbs to the top 10 positions in the beauty market in terms of annual sales.
Listed below are one of the Top Private Label Skin Care Products Manufacturers in India.
Private-label products are also becoming increasingly popular in the professional channel. Moreover, the growing e-commerce sector is anticipated to boost market growth further. Technological and product innovations have led to an increased demand for skin care products. There is a wide variety of products available on the market including sunscreens, anti-aging creams, body lotions, and skin-brightening creams. Rising awareness regarding the various benefits of using personal care products has resulted in a rise in their demand over the last few years.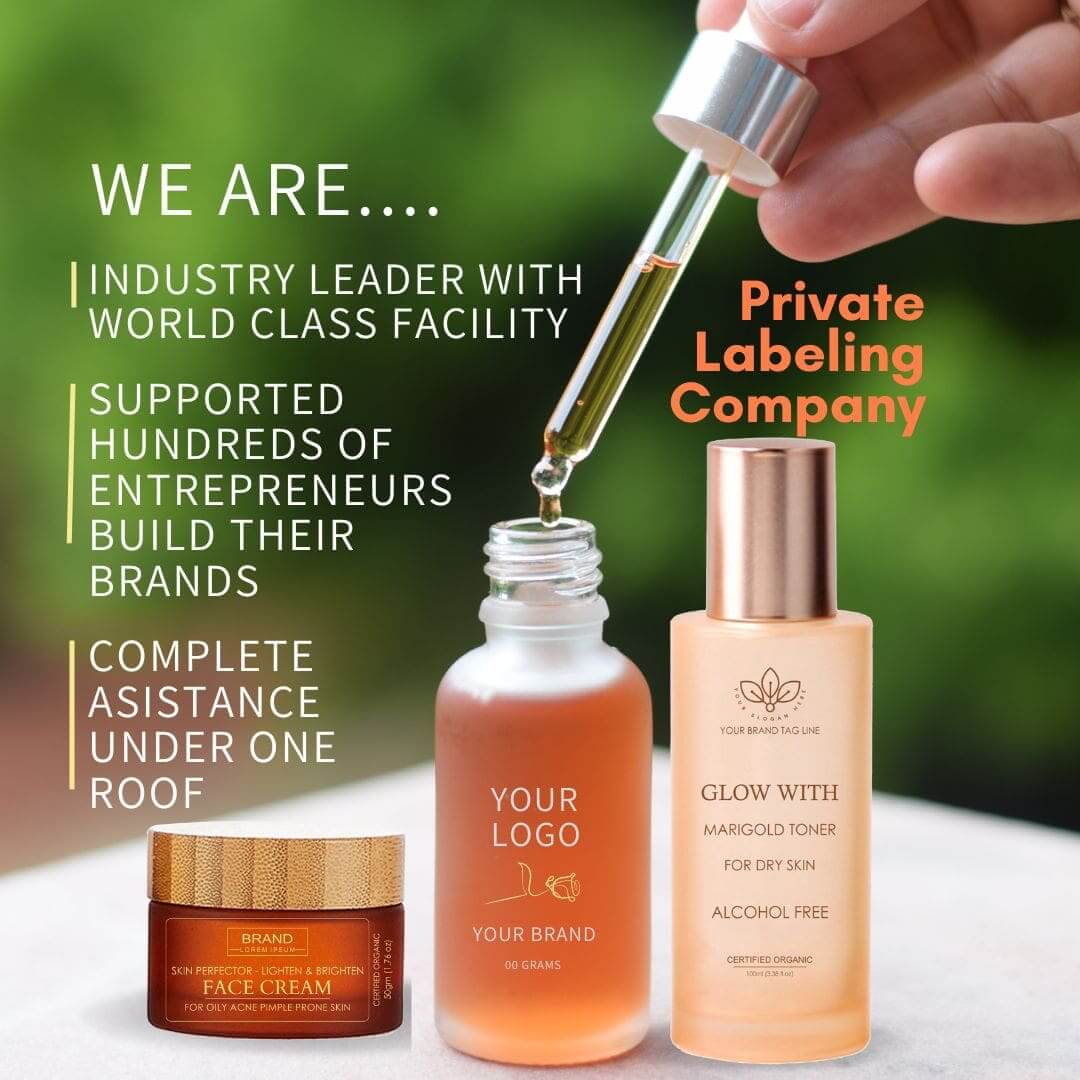 What is Private Labeling & Contract Manufacturing?
Private-label skin care is a multi-part procedure. It starts with selecting a manufacturer which you believe would best meet your desires. No groups/businesses will have exactly the same needs; that's why it's critical to choose a manufacturer that will be a good fit. Once you've made your choice, you should communicate with their team to ensure a satisfactory timely delivery is viable. The typical process looks like this
Consultation
Product evaluation
Packaging selection
Labelling
Design
Final products, and dispatch as agreed between the two parties (manufacturer & buyer)
Contract Manufacturing
Aadhunik Ayurveda is well known to third-party contract manufacturing with 100% transparency and whole quality assurance. As a client, you're assured of a companion who ensures consistent quality, reasonable costs, excessive financial savings, customer product delight, and on-time deliveries at all times.
We maintain strict control over the process in order that adheres to your timelines. All the products we manufacture are natural, and organic and have met all the exceptional parameters set by the clients and the industry.
We offer a massive range of products to our customers in the segment of organic products, skincare, essential oils, cold-pressed oils, cold-pressed soaps, hair care, cosmeceuticals, health and wellness products, etc.
Top Private Label Organic Skin Care Products Manufacturer in India
Organic Skin Care Products retailers have seen the opportunity that private label brands present. In response, they have started investing to create unique and compelling Natural skin care products that care for their customer's growing receptivity to private labels. Specialty beauty stores with exceptional quality assurance through fully backward integration such as Aadhunik Ayurveda offer private label skin care products brands wide range across their organic products, skincare, hair care, and health & wellness products.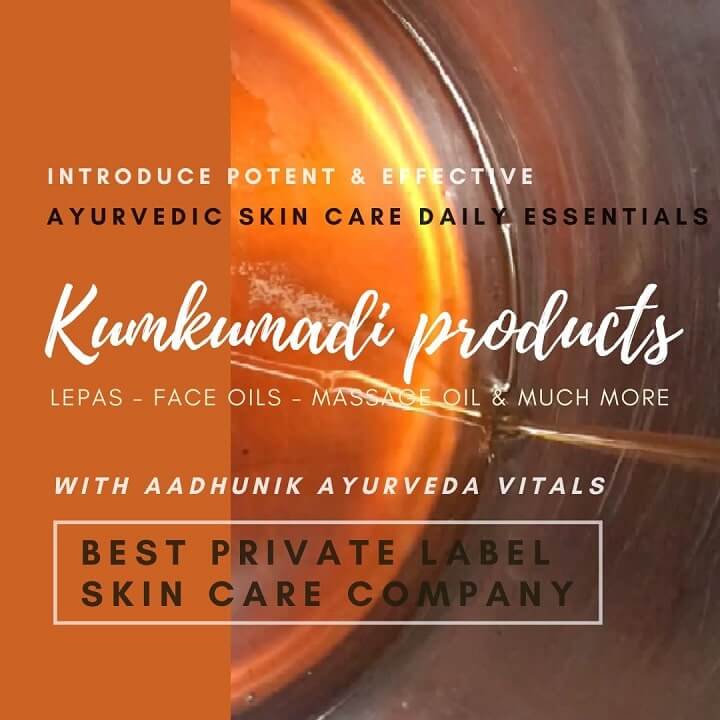 Organic products are in great demand these days, as most people choose to have herbal natural products. This is the because the organic products business is likewise gaining huge recognition and benefits, and in case you also searching for setting up a business in the same field then going with Aadhunik Ayurveda will be the best choice, as we offer the personal label organic ayurvedic products in India.
Associating with Aadhunik Ayurveda is like operating your own manufacturing as everything is done as per your desire with least stress of investing, setting up and managing a manufacturing facility.
Why Choose Aadhunik Ayurveda for Top Private label cosmetics manufacturers in World?
Aadhunik Ayurveda offers private-label manufacturing services with advanced progressive solutions for complete skincare, hair care, and personal care products. We make organic & natural skincare, hair care, and personal care products with customized packaging of products according to your requirement. All our products are manufactured under proper regulations and expert supervision. Our team provides appropriate guidance in the private labelling process helping you create the ultimate range of products for your customised Needs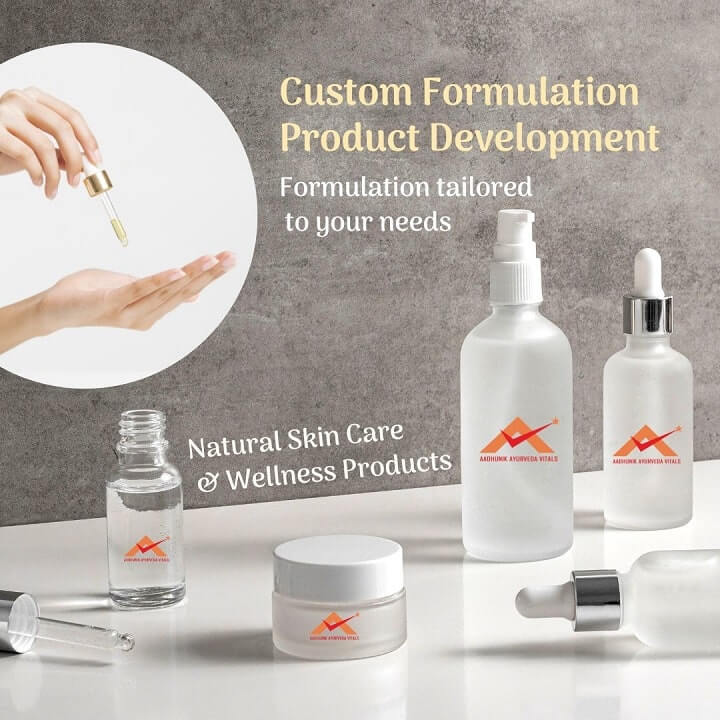 Here are the benefits of choosing Aadhunik Ayurveda as an herbal cosmetic manufacturer:
Startups may lack the necessary infrastructure and expertise to manufacture skin care & cosmetics. Also, sometimes, they might not be able to figure out the right ingredients required to make their products best-selling in the market.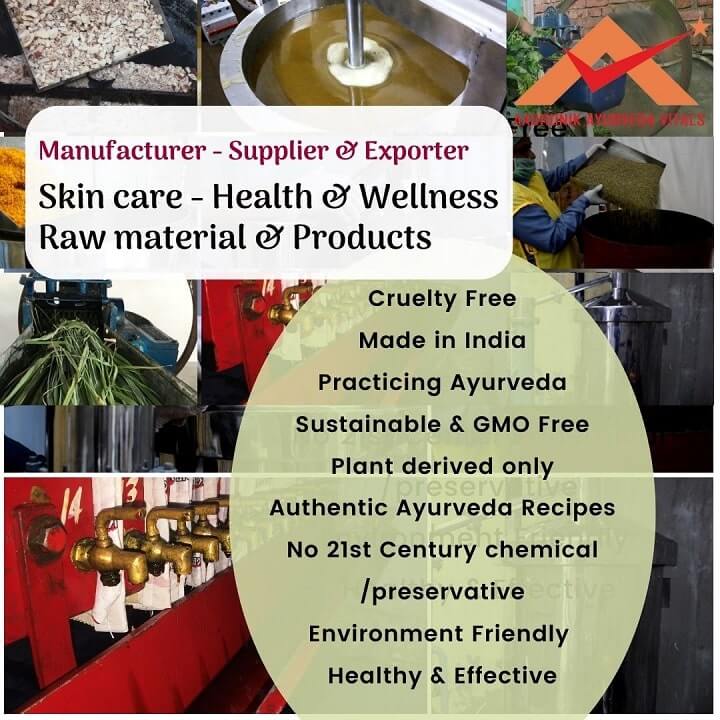 Aadhunik Ayurveda Vitals understands the challenge of the new entrants. Therefore, if you are not able to figure out the products or want to introduce some exceptional products in your line of products, approach us and we will not disappoint you. Our rich experience in making natural & organic cosmetics products allows us to deliver bulk orders to startups and established brands as well. Our R&D team has experience in manufacturing a variety of cosmetics products that allows us to serve the diverse needs of our clientele. We provide everything you wish for in your products, you only have to choose the labels and packaging design and get going! We help build brands as per your vision and budget with low MOQ's.
Advantages of Organic Cosmetic & skincare Manufacturers
There are different advantages to investing in an ayurvedic cosmetic third party or contract manufacturing company. If you are a person who wants to know what are the benefits of investing in a third-party company then no need to search further as we have mentioned here all you need to know. The benefits of investing in this business are as follows:
Low Startup Cost- The four main components of starting your own business makes manufacture, wholesale, and drop ship. If you will choose another company for the production of your own product then the first benefit that your will get is the low startup cost.
Quality Control- control of quality is the major aspect when going for third-party manufacturing. This is why people prefer to go for third-party manufacturing opportunities to avail themselves of the hassle-free business benefits.
Fast Production- This is another advantage of going with a private label manufacturing company. With expertise & modern-day infrastructure, bulk orders can be completed easily, so there will be no hindrance in fulfilling orders.
Opportunities Offered By Private Label Cosmetics Manufacturers in India
India is an ayurveda country, rich with herbalism that it would really like to pass to other parts of the world. The essential attraction of India is its age-old heritage and culture which has the brain power to beautify skin (saundarya petika) & cure various health-related issues.
According to research, the growth rate of the organic cosmetic market in India is around 15 to 20 percent per annum. There are many cosmetic brands in India offering the service of private label organic cosmetic manufacturers in India but none does it the way authenticity is practiced at Aadhunik Ayurveda Vitals. Suppose you will start your private label cosmetic manufacturing business in India, then at that time choose Aadhunik Ayurveda. This will prove to be a productive option for you and you will also get a lot of profit.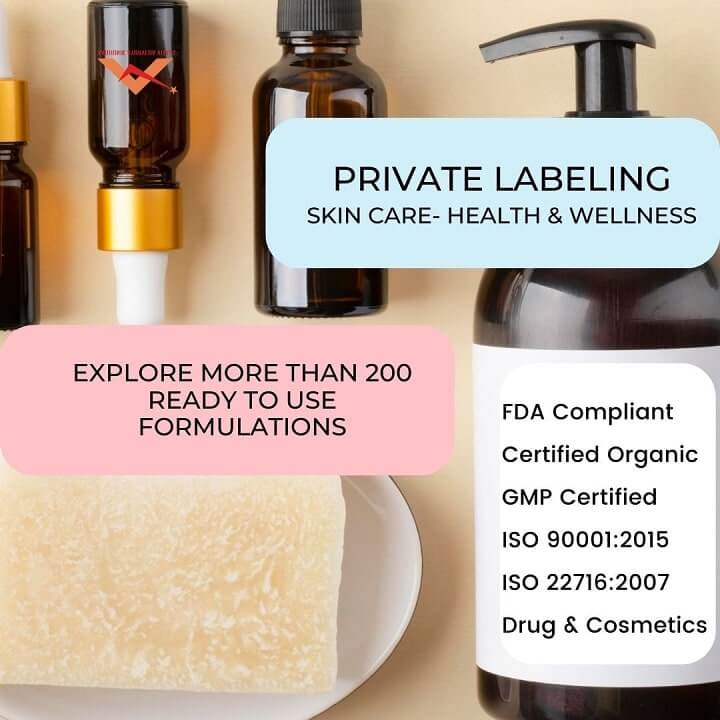 Why Choose Aadhunik Ayurveda for Top Private Label Cosmetic manufacturers in India?
Aadhunik Ayurveda is the best private-label cosmetic manufacturer in India delivering to brands across the world. As we run with the agenda to provide a great quality of satisfaction to the customers. Aadhunik Ayurveda is working with a team of highly experienced practitioners, that ensures the provision of superlative quality products.
Apart from it, we do offer a broad range of beauty products for every skin type, that beautifies the skin gently without any side effects, as these organic beauty products do not contain any sort of harmful chemicals. We offer products that do immense care to the skin and beauty naturally. Aadhunik Ayurveda is the top private-label manufacturing company
Our organic cosmetic products contain the best raw materials herbs and plants.
ISO, FDA, GMP, and FSSAI certified.
USDA-certified manufacturing company.
Offers ayurvedic natural contract manufacturing
Safe & hygienic packaging
On-time order fulfilment
Customised sample formulation
Moreover, we know the latest market traits and our customer's desires. Additionally, it is helping us to establish our unique identification in the Indian marketplace. Also, by investing in our product ranges, you'll easily be able to focus on the other marketing strategies as well. It, in addition, assists you to grow your business across the Indian, Middle Eastern, and European markets. So, be a part of Aadhunik Ayurveda now for its 100% safe USDA organic product in India.