Contract Manufacturer of Skincare Products in India
Backed by years of experience and fuelled by a wealth of knowledge, Aadhunik Ayurveda has been a skin care expert for long enough to know what works for the customers. From formulation, creating, packaging, designs, printing and shipping, our turn-key process happens entirely onsite, increasing transparency and building a climate of trust for our brands. With understanding as deep as the ocean and focus as sharp as laser, we're poised to grow to be the best preferred contract manufacturer of skincare products.
We use cutting-edge technology, traditional knowledge and advanced equipment to manufacture skincare, haircare, bodycare, personal care and other wellness products; we can manufacture anything and everything for our clients as per their requirement and budget to successfully gain market share in the skin care, health and wellness industry. The products we have manufactured so far are these: face cleanser, body cleanser, serums, gels, hair mask, body polisher, face oils, massage oils, cold-pressed oils, essential oils, aroma oils, healing balms, cold processed soaps etc.
As a private label manufacturer for skincare, haircare, personal care, hotel & spas and wellness products, our focus is on translating your thoughts around products into a reality. We have managed to surpass the expectations of your clients and will proudly continue to do so.
What's more, for us, the relationship with our clients matter more to us than ever, so we make concerted efforts to get to know our clients on a product expectation level, so we understand their vision, values and ambitions; this helps us to make the most of our time with our clients by making their products a dream come true.
What You Can Expect From Aadhunik Ayurveda
Quality products
Products formulated to your need & budget
Clean products
Designing and labeling assistance
Export documentation assistance
ISO, GMP, FSSAI & USDA certified
Huge Production capability
At Aadhunik we have the fusion of traditional manufacturing with modern day safety & hygiene with best production capacity. We are committed to making the best quality product. This is the reason that we are the leading contract manufacturing skincare products company in India.
The founding principle of Aadhunik Ayurveda is to provide the superlative quality of organic skincare products. With us, get benefits of "third-party skincare products manufacturing" business at affordable prices.
As a leader in the skincare products manufacturing market, Aadhunik Ayurveda affords you with the opportunity to develop custom skincare product formulations for your brand. Our turn-key procedure is completely onsite, including formulation, creation, packaging design, and shipping. Throughout our journey of 7+ years, we have worked with thousands of clients and manufactured 500+ of skincare products.
Aadhunik Ayurveda- The Best Skincare Contract Manufacturers
Aadhunik uses clean manufacturing techniques. It helps minimise waste and help you optimise the workflow.
We are ambitious but in a healthy ethical way. Aadhunik Ayurveda is driven by its passion and relentless ambition. However, we also understand the challenges. That's why we ensure a free of information between our clients and us. We believe in long-lasting relationships and obvious communication. It's deep, meaningful relationships with our clients that keeps us working.
We are custom formulation manufacturers: We assess and understand our clients' specifications and make custom formulation skin care products, custom formulation haircare products and custom formulation hotel amenities products, custom formulation personal care products and wellness products.
Aadhunik Ayurveda is one of the fastest growing skin care companies known as best Contract Manufacturers of Skincare in India.
1. Contract Manufacturer of Face Care Products
Aadhunik Ayurveda is the top contract manufacturer of face care products. Our clean beauty contemporary creations are rooted in nature with plant-derived raw ingredients. We provide contract manufacturing in different ranges of face care products like-
Contract Manufacturer of Face Toner
Contract Manufacturer of Face Oils
Contract Manufacturer of Face Serums
Contract Manufacturer of Face Cream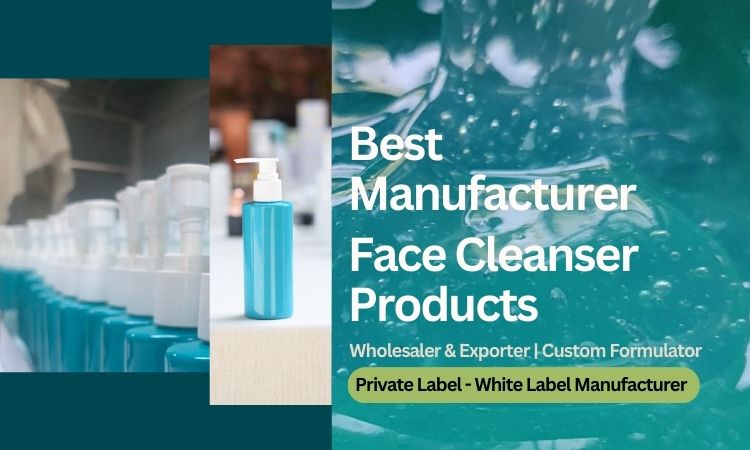 2. Contract Manufacturer of Body Care Products
At Aadhunik we provide Contract manufacturing of body and bath care product range as per their demand. With close to a decade of experience and well equipped facilities, we at Aadhunik Ayurveda can provide one stop-solutions under one roof from an idea to use products as per your need and budget. We provide contract manufacturing in different ranges of body care product like-
Contract Manufacturer of Body Wash
Contract Manufacturer of Gel Based Body Cleanser
Contract Manufacturer of Cold Pressed Soaps
Contract Manufacturer of Body Powder Cleansers
Contract Manufacturer of Body Lotion
Contract Manufacturer of Body Oils
Contract Manufacturer of Massage Oils
Contract Manufacturer of Hand & Feet Cream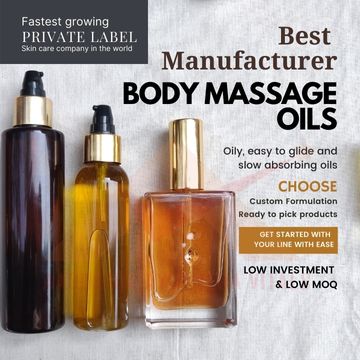 3. Contract Manufacturer of Hair Care Products
We at Aadhunik provide contract manufacturing of hair care products. We pride ourselves as one of the top best certified organic process & contract manufacturers of hair care products in India. We focus on our business around the globe with in depth understanding of market trends, consumer needs, offering brand multiple solutions & unique products helping them stand unique in the market. We provide contract manufacturing in different ranges of hair care products like-
Contract Manufacturer of Hair cleanser/shampoo
Contract Manufacturer ofLeave on Hair Oils
Contract Manufacturer of Hair Serum
Contract Manufacturer of Hair Tonic
Contract Manufacturer of Hair Conditioners
Contract Manufacturer of Hair Massage Oil
4. Contract Manufacturer of Wellness Products
We at Aadhunik stand out in the market because of the outstanding quality we provide to our customers. With an impeccable world class facility and wide range of wellness products to meet a variety of requirements. We provide contract manufacturer of wellness products in various ranges like-
Contract Manufacturer of Cold-pressed Oils
Contract Manufacturer of Essential Oils
Contract Manufacturer of Herb Powders
Contract Manufacturer of Hydrosol/ark
Contract Manufacturer of Aromatherapy Oils
Contract Manufacturer of Diffuser Oils
5. Contract Manufacturer of Hotel & Spa Products
Aadhunik Ayurveda is the premium leading contract manufacturer of hotel & spas toiletries. We offer a huge range of top-quality products for your hotel & spas as per your need and based on your idea for your hotels/spa. We curated a fine selection of customised hotel and spa products with a focus on purity and efficacy to complement the individualised hotel guest experience. We offer contract manufacturing of Hotel & Spas products in different ranges like-
Contract Manufacturer of Diffuser Oils
Contract Manufacturer of Massage Oils
Contract Manufacturer of Hotel Toiletries-Amenities
Contract Manufacturer of Lepas & Polishes
Contract Manufacturer of Potli Massage
And much more
If you're looking for ethically sourced products with customisation to your need and budget with complete transparency, then it's time to contract Aadhunik Ayuvreda, the fastest growing clean and certified organic private label manufacturers and contract manufacturer of skincare and wellness products.
The Pros of Working With Skincare Contract Manufacturer Company
The advantages and benefits you will receive from choosing Aadhunik Ayurveda as your skincare contract manufacturer are real and unique. Here's what you will gain from developing your hair and skin care and personal care lines with us:
The reduction of operational expenditure like research and development, formulation, testing, and packaging. This way, your brand will be able to concentrate on other tasks for your strategy.
A reliable & experienced manufacturer who will support you throughout the entire process from beginning to end. The production process can be led collectively: you'll be capable of sharing ideas, thoughts, and approaches so one can guide in the accomplishment of your dreams.
With a skincare contract manufacturing company such as ours, you will have full decision-making power. Private label, in fact, means that you get to decide everything you want for your skin, hair, body, personal care, hotel & spas and wellness lines. We will simply add our incredible expertise to help you get to the finish line!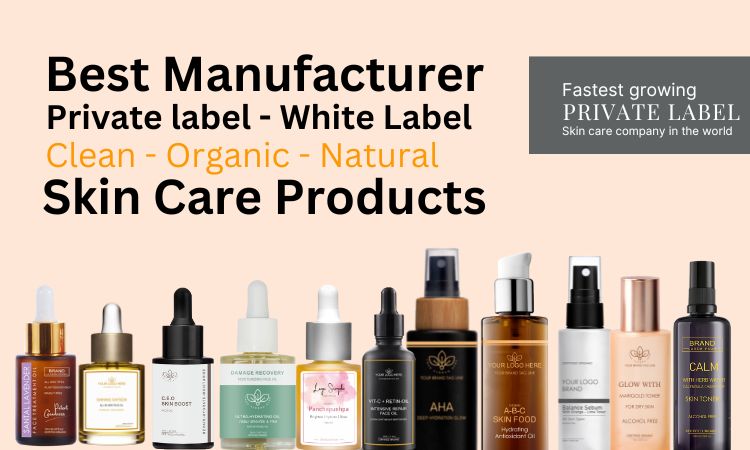 Our Motive as the Top Skincare Manufacturing Company in India
Being at the top of the cosmetic skin care market in India, Aadhunik Ayurveda brings a ton to the table. Hence, we are a private label skincare manufacturer in India, offering the best skin and hair care products on your brand name in the market. Additionally, we work on unique combination formulations to meet the evolving preparations of our clients in the global & Indian skincare market. With continuous growth and imagination, our industry has been instrumental in bringing in standardised and thoroughly researched skincare and personal care products.
Thus,if you are looking for a contract manufacturer of skincare products in India then go with Aadhunik Ayurveda. No.1 Private Label Manufacturer and Contract Manufacturer.
Best Certified Organic Contract Manufacturer of Skincare Products
Aadhunik Ayurveda is an ISO, USDA, GMP and WHO certified skincare company in India. With an aim to serve the best in the country, our company is working really hard. In order to achieve highly precise and high-quality results, we have therefore divided our company into various departments. Following is the list of highlights of Aadhunik Ayurveda that makes it on the top of the list of skincare contract manufacturing companies in the world. For instance,
We maintain a great focus on quality control and R & D team
Quality control at every step from raw material to ready to use product
100% natural and organic products
Fully developed in-house manufacturing and laboratory unit
Simple and transparent working
Moreover, these products are made beneath the supervision of a qualified team. So, you don't have to get worried about the quality we provide. Hence, join Aadhunik Ayurveda in India and get all the clean products at an affordable price and successfully launch your skin care brand with least investment.
FAQ
1. My company has its own formulation and looking forward to getting the product manufactured by a third party manufacturer hence does your company do so, please confirm?
Yes, we do manufacture formulations provided by the brands however we agree on manufacturing after looking at the ingredients as we do not work with ingredients that are of concern to the society like parabens etc.
2. Why is Aadhunik Ayurveda the best contract and private label skin care product manufacturer in the world?
Aadhunik Ayurveda has a trusted name in the market for its uncompromised quality and working ethics which help brands blindly believe in the products made in aadhunik's facility. From ingredients to formulations to designing & labelling, everything is done in a transparent and well informed way which makes the brand owner feel the direct connection with the product and hence believe in the product.