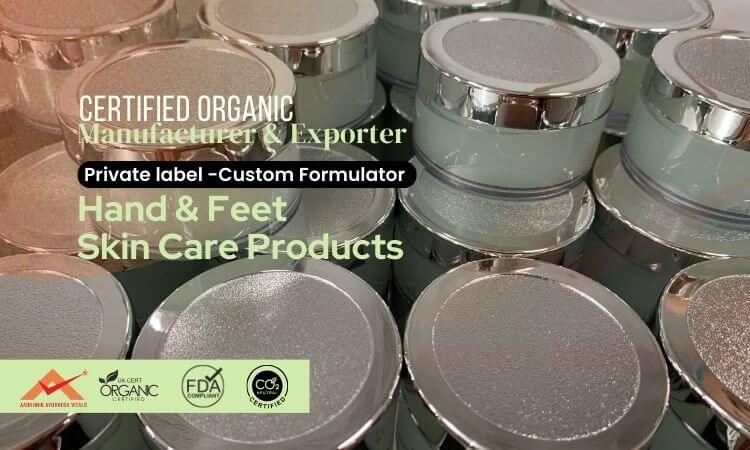 Hand & Feet Skincare Products Manufacturer and supplier
Aadhunik ayurveda is the best manufacturer of clean & certified organic hand & feet skin care products in India private labeling for brands across the world from East to West. With product customisation and uncompromised quality, Aadhunik Ayurveda has emerged as a front runner in the field of skincare product manufacturing, with a specific focus on hand and feet care too. Our dedication to quality, innovation, and customer satisfaction has made us the go-to choice for individuals seeking effective solutions for their hand and feet skin care & concerns.
Aadhunik Hand & feet skin care products are important essentials expected to grow at a CAGR of about 7% in coming years because of growing hygiene consciousness and rising purchasing power.
In the hustle and bustle of daily life, our hands and feet often bear the brunt of our busy schedules. Exposed to environmental pollutants, frequent washing, and continuous friction, these essential body parts can suffer from a range of issues, including dryness, roughness, cracks, and even more severe conditions like eczema and fungal infections. At Aadhunik Ayurveda, we understand the importance of hand and feet care, and we are proud to be recognized as a leading manufacturer, and exporter, of premium hand and feet skincare products.
At Aadhunik we have carved a niche for ourselves in the skincare industry by focusing on a crucial but often overlooked aspect - hand and feet care. With a commitment to providing high-quality and effective products, we have garnered trust from brands. By blending nature's bounty with scientific expertise, Aadhunik Ayurveda offers an extensive range of hand and feet skincare solutions that cater to various concerns.
Whether you're dealing with brittle nails, roughness, eczema, cracks, ingrown nails, or fungal infections, our comprehensive range of products is designed to address these issues as per the texture, consistency, aroma and ingredients you would like to have in the product and help your brand deliver the best product to your customers.
Best Hand Care Products for Varied Concerns
Hands, being the most exposed part of our body, demand special attention. Aadhunik understands this and has developed a comprehensive collection of hand care products to address a range of issues. Whether it's dealing with brittle nails, fungal infections, or the need for a thorough cleanse, our products have it all covered.
Brittle Nails Solution: Brittle nails can be frustrating and unsightly. Aadhunik offers innovative products that strengthen and rejuvenate nails, promoting their health and vitality.
Fungal Nails Treatment: Fungal infections are a common woe for many. Aadhunik Ayurveda has specialised the products that combat fungal issues, helping users regain their confidence with healthy nails.
Hand Care Products manufacturer
Cleansing Products: The cleansing range at Aadhunik Ayurveda stands out for its effectiveness and natural ingredients. Our natural soap bars are crafted with care, ensuring a gentle cleanse without stripping the skin's natural moisture. Likewise if you prefer liquid wash. Gel wash, cream based wash etc, we can formulate as per your preference depending upon where you would like to target the consumer say in dry-cold or hot humid environment.
Oils & Balms: The natural oils and balms including creams or serums manufactured at Aadhunik provide deep nourishment and hydration to hands. These products are formulated to leave hands feeling soft, supple, and rejuvenated.
Manufacturer of Cuticle Oils at Aadhunik Ayurveda
Aadhunik Ayurveda is a premium beauty product manufacturer specialising in high-quality nail and cuticle care solutions. With a commitment to excellence, we blend natural ingredients like- cold pressed oils, and plant derived herbs and use cutting-edge technology to create nourishing and revitalising oils that promote healthy cuticles and nails. Our products are meticulously crafted in state-of-the-art facilities, ensuring the highest standards of quality and safety. With a passion for beauty and wellness, Aadhunik is dedicated to enhancing the overall nail care experience, formulating best clean products for brands on their name with ease & low investment.
Best Private label Feet Care Products manufacturer
Aadhunik Ayurveda is a known hand & feet care products private label manufacturer developing powerful working formulations. Feet are often neglected despite bearing our body's weight. Aadhunik has recognized the importance of foot care and presents a powerful effective range of products that target specific concerns.
Crack Repair Solutions: Cracked heels can be painful and uncomfortable. Aadhunik formulated crack repair solutions for brands that work effectively because these are designed to moisturise and heal, bringing relief to tired and damaged feet.
Ingrown Nail Relief: Ingrown nails are not only painful but can also lead to infections. We specialise in products help soothe and prevent ingrown nail issues.
Fungal Infection Remedies: Fungal infections can be embarrassing and bothersome. Aadhunik has a range of foot care products that effectively addresses fungal concerns, restoring feet to their healthy state.
Hydrating & Moisturizing Creams: Dry and dehydrated feet are common problems. Aadhunik offers hydrating and moisturising creams or lotions that deeply penetrate the skin, leaving feet soft and rejuvenated.
Natural Oils and Balms: Infused with natural ingredients, Aadhunik Ayurveda manufactured natural oils and balms offer a holistic approach to foot care. These products provide nourishment while also promoting relaxation.
Manufacturer, Wholesaler, & Exporter Of Hand & Feet Skincare Products
As a manufacturer, wholesaler, and supplier of natural hand and feet skincare products, Aadhunik Ayurveda has set a benchmark for excellence. Our commitment to quality, innovation, and customer satisfaction is evident in a wide range of products that cater to diverse concerns.
As a leading manufacturer, and exporter, Aadhunik Ayurveda has set new standards in the industry while their private label range empowers others to join the clean & powerful skincare movement.
Private Label Manufacturer of hand & Feet Care Products
Aadhunik Ayurveda takes pride in offering private label options for businesses looking to expand their skincare product lines. Our customizable private label services allow you to create your own branded hand and feet skincare products, tailored to your specific target audience and market.
Private Label nourishing hand and foot cream
Private Label Green tea hand and feet cream
Private Label hand and feet powder cleanser
Private Label hand and feet natural scrub
Private Label hand cream for dry rough hands
Private Label crack repair foot cream
Private Label healing and moisturising foot massage cream
Private Label magnesium rich hand and feet balms
Private Label natural nourishing oil for hand and feet
Private Label hand cream for dry chapped hands with hyaluronic acid
Private Label overnight repair balm for soft and supple hands
And much more
Aadhunik Ayurveda is the No.1 Leading Private Label Manufacturer of Hand & Feet Skincare Products in India. At Aadhunik we don't just provide the exceptional products; but also offer private label manufacturing services as per your need & budget. With our expertise and state-of-the-art facilities, Aadhunik Ayurveda helps other brands bring their visions to life.
Why Choose Aadhunik Ayurveda For Private Label Manufacturing Services in India?
Quality Assurance: Our products undergo rigorous quality testing to ensure they meet the highest industry standards. We are committed to providing safe, effective, and reliable skincare solutions.
Innovation: We continuously research and innovate to stay ahead of skincare trends. Our formulations are backed by scientific research, ensuring optimal results for our customers.
Customer-Centric: Our customers' satisfaction is our top priority. We listen to feedback and continuously improve our products in consultation with you to keep pace with the demands of the consumers in the market.
Variety: Our wide range of products ensures that there's something for everyone. Whether you want to start a dedicated hair line or skin care line or an oil company, we have everything in skin care, hair care and health and wellness.
Global Certification: We are certified with UK cert, Cosmo Organic, Carbon neutral, GMP, ISO, FSSAI, FDA and that helps us reach consumers world wide.
Infrastructure: We have high-tech laboratories for testing products and have a team of experienced, diligent, and professional employees to carry out daily inspection of the products that have been produced.
Custom formulation: We also do custom formulation and private labelling services for our clients as per their vision.
Add hand & feet care products to your existing skin care line or launch a new skin care brand with us with complete assistance from an idea to a ready to use product. We offer complete support from formulation, product development, packaging, designing & labeling, photo & video shoot, website development etc. For more details write in to us at aadhunikayurvedavitals@gmail.com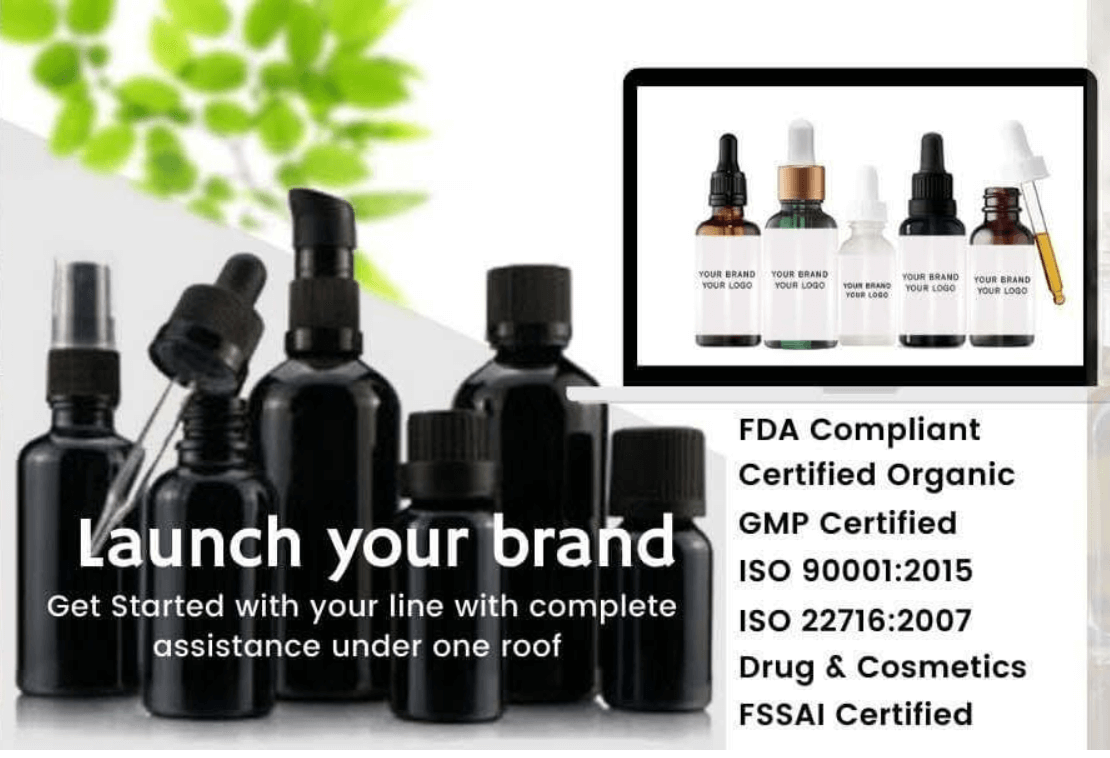 FAQ
1.Who is the best clean and natural skin care product manufacturer in India?
Aadhunik Ayurveda is the best clean & certified organic skin care products manufacturer in India adhering to global standards and delivering the product as per the need and budget of the brand. The custom formulation with clean ingredients and utmost transparency makes Aadhunik Ayurveda the best private label global skin care product manufacturer.
2.Can I get a sample of 500 pieces of foot care cream rich with magnesium to distribute to my existing customers to see the performance and thereafter I can look at a big volume in thousands? Please share pricing too?
Yes, we certainly can make a sample size bath of 500 pieces of foot care cream as per your need & budget. For more details please drop an email to us at aadhunikayurvedavitals@gmail.com