Lip Care Products Manufacturer and supplier
Aadhunik Ayurveda stands as a distinguished figure in the skincare industry as best preferred clean skin care product manufacturer, with a dedicated focus on lip care products. Aadhunik Ayurveda began with a passion for creating products that promote lip health and beauty. Over the years, it has evolved into a recognized player with a global reach.
With Aadhunik, you can attain the best quality organic lip care products as per your brand's vision and budget. All products are researched and developed, highly effective and safe for consumer use. Our cosmetic products are manufactured in COSMO organic-certified, GMP, ISO certified world class manufacturing facility which assures the quality in the products. So, if you're the one looking for the best natural manufacturer for Lip Care Products in India, you are at the right place.
What Are Lip Care Products Exactly?
Lip care products encompass a range of items designed to maintain the health and aesthetics of the lips. These products address various concerns, such as dryness, chapping, pigmentation, and fine lines. Some of the most common lip care products include lip balms, lip scrubs, lip tints, and lip masks etc.
Aadhunik is deeply rooted in providing brands with innovative, effective, and safe lip care solutions with their choice of ingredients, colour, texture, aroma etc. Our team of experts, including researchers, and skincare professionals, collaborate to develop products that align with the latest advancements in skincare science in tune to consumer taste and preferences. This commitment to pace the market with excellence has earned us a reputation for delivering top quality private label organic lip care products.
Organic lip care products manufacturer
At Aadhunik Ayurveda, the emphasis on organic products is a cornerstone of the manufacturing process. We source the finest quality organic plant ingredients, which are carefully selected to ensure maximum benefits for lip health. By avoiding harsh chemicals and artificial toxic additives, our products cater to brands seeking natural solutions for lip care products.
The manufacturing process involves a series of meticulous steps. First, the raw organic ingredients are acquired from farmers across India in the form of seeds, nuts, roots, flowers, stems, barks, etc. Then, these ingredients undergo a stringent quality assessment to ensure they meet the company's high standards. Thereafter the ingredients undergo minimal traditional processing like steam distillation, cold pressing, powdering etc. Next, skilled professionals utilise cutting-edge techniques to craft the final products while maintaining the integrity of the organic components.
Manufacturer of Natural Lip Scrub at Aadhunik Ayurveda
Lip scrubs are essential for exfoliating and removing dead skin cells from the delicate lip area. Aadhunik Ayurveda excels in producing natural lip scrubs that provide gentle yet effective exfoliation. These scrubs contain natural exfoliants such as brown sugar, finely ground nuts & seeds and other plant parts like stems, flowers, bark, roots etc. clubbed with oils & butters. The manufacturing process involves blending these ingredients to create a product that not only cleans away dead skin but also nourishes and moisturises the lips. We do not make use of plastic beads or say microbeads to create exfoliation in the product.
Hence Aadhunik Ayurveda manufactures clean, environment friendly products that do no harm to soil, water etc.
Manufacturer of Lip Balm at Aadhunik Ayurveda
We are a known manufacturer of healing and nourishing balms including lip balms in the industry. Lip balms are a staple in lip care routines, providing hydration, protection, and nourishment. Aadhunik Ayurveda takes pride in manufacturing lip balms that are a perfect balance of natural ingredients and scientific innovation. They carefully formulate each lip balm variant to cater to specific needs, needs of the brand, whether it's intense hydration, sun protection, or rejuvenation.
The manufacturing process begins with melting and blending natural oils, butters, and waxes. These ingredients are chosen for their moisturising and occlusive properties, effectively sealing in moisture and preventing moisture loss from the lips. The result is a range of lip balms that offer lasting comfort and suppleness.
Leading Manufacturer, Wholesaler & Exporter of Organic Lip Care Products
Aadhunik Ayurveda has established itself as a leader in the production, wholesale distribution, and export of organic lip care products. Our commitment to quality, coupled with the expertise in crafting effective formulations, has garnered brand's loyalty globally.
We follow strict quality guidelines laid by the government while manufacturing skincare products. Quality with timely delivery & affordable pricing has made us the preferred certified organic skin care product manufacturer.
Best Private Label Leading Manufacturer Of Lip Care Products
Aadhunik Ayurveda is the top leading Private Label Lip Care Products Manufacturer Company in India.
Since our inception in the skincare and personal care industry, we produce products with transparency & work totally in tune to the demand of the brand. This helps brands become involved with the product and gain confidence in the claims while selling in the market. Hence you can choose to bring your formulation to us to work or may seek our formulation. We develop products through our 5 step development process
Consultation
Formulation
Prototype development
Reformulation if needed
Fulfillment
Our customizable private label services allow you to create your own branded Lip Care products, designed to your specific target audience and market.
Private Label Organic Lip Scrub For Dark Lips
Private Label Beetroot Lip Balm
Private Label Natural Lip Balm For Pigmented Lips
Private Label Natural Glow Lip Scrub
Private Label Strawberry Lip Balm
Private Label Rosehip and Vitamin E Lip Balm
Private Label Tinted Lip Balm
Private Label Natural Lip Care Combo and much more
Aadhunik provides comprehensive support throughout the process, from formulation to packaging labelling, designing, photo & video shoot etc. ensuring that brand is able to find everything under one roof which helps reduce time and cost.
Here are some of the great benefits of choosing Aadhunik Ayurveda as a Lip care Product Manufacturer in India:
We are a COSMO Organic, Carbon neutral certified company.
Our company has GMP, ISO, FSSAI certified manufacturing Units.
Our manufacturing units incorporate the latest cutting-edge technology and machinery.
We are connected with farmers for sourcing high quality ingredients.
Simple and transparent work process.
100% natural organic products.
In the ever-evolving landscape of skincare, Aadhunik Ayurveda shines as a beacon of excellence in lip skin care product manufacturing. The commitment to organic ingredients, sustainable practices, and innovative formulations sets us apart as a trusted partner for those seeking top-notch lip care solutions under thri brand name. As they continue to redefine the lip care industry, Aadhunik Ayurveda remains dedicated to enhancing the health and beauty of lips worldwide.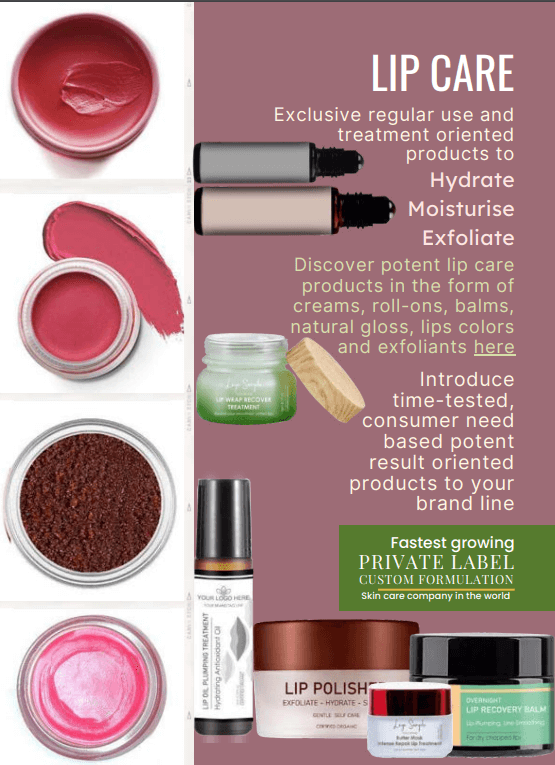 FAQ
1.Who is the best manufacturer of lip oils in india?
Aadhunik Ayurveda is the best manufacturer & exporter of private label lip skin care products in India manufacturing lip roll on's, lip balms, lip scrub, lip tint, lip prep salves etc.
2.Who is the manufacturer of 100% natural lip balms?
Aadhunik Ayurveda is the most preferred manufacturer for 100% natural skin care products including lip balms. The skincare company has been formulating and manufacturing for various national and global brands and therefore is the no. 1 manufacturer in India preferred by international brands for their bulk manufacturing.