Manufacturer, Exporter and bulk supplier of Wellness Products
Aadhunik Ayurveda is the No.1 Manufacturer of Private Label Natural Wellness Products in India. We are the only manufacturer, wholesaler, & exporter of best quality highly therapeutic natural wellness products like essential oils, cold-pressed oils, herb water/hydrosol, herbal powder, herbal green tea, aromatherapy oil, massage oil, spa products, natural healing balms and much more. Our years of manufacturing experience in production of multiple ranges of natural & certified organic blends to work effectively on different skin & age can help you introduce the best product to your brand in reduced cost & time.
Making of Natural Wellness Products
Aadhunik Ayurveda makes use of traditional methods to produce high quality natural wellness products.
All our high quality Natural Wellness Products are carefully derived from natural plant-ingredients & exotic herbs that are sourced directly from farmers form different himalayan regions and parts of India to produce 100% clean & chemical free products.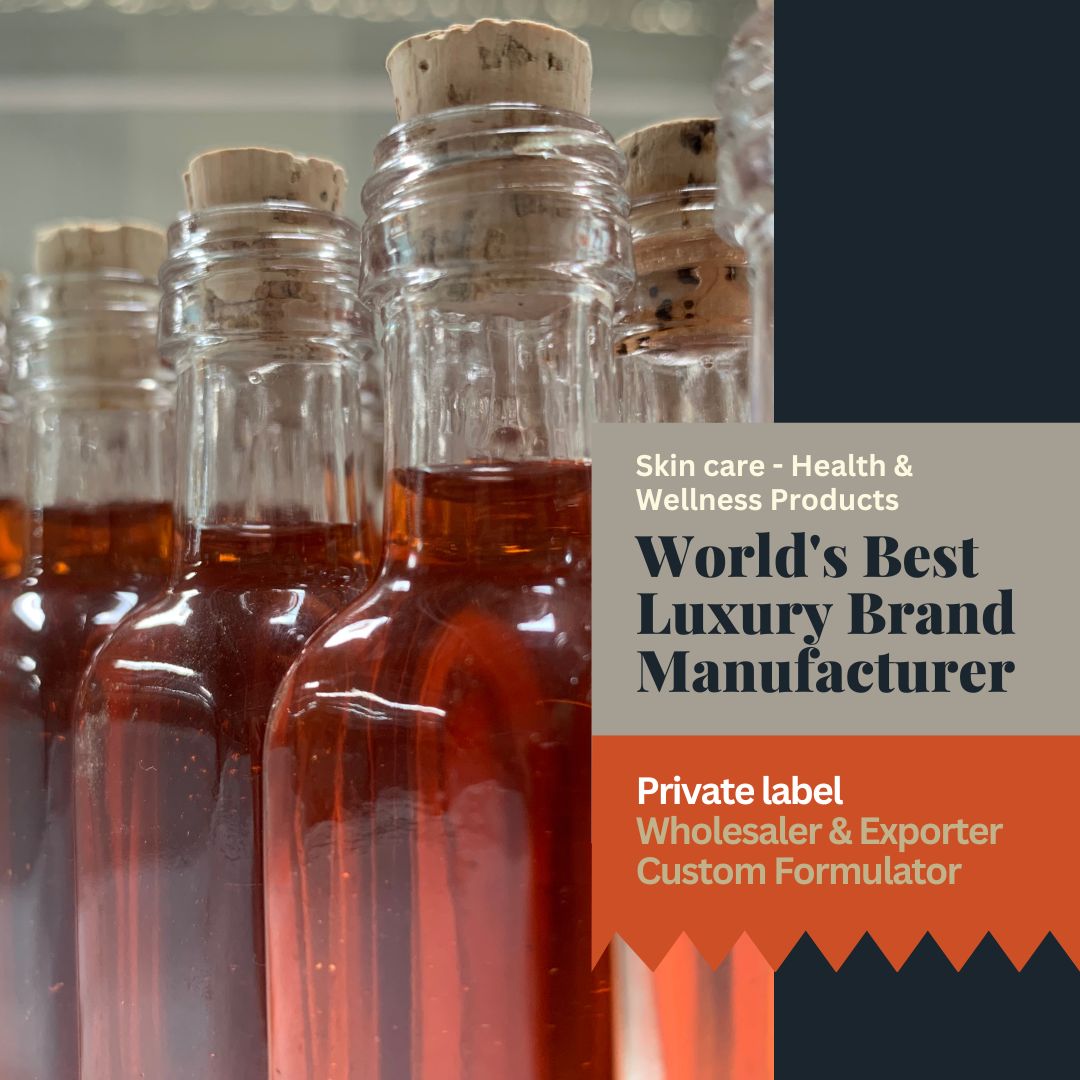 Our wide range of pure & clean wellness products includes herbs/ark water, spa products, healing balms, massage oils, herbal green tea, bath salts and much more available at reasonable bulk prices. We are the manufacturer of Natural Wellness Products with a wealth of knowledge and experience as we manufacture for various brands in India, Canada, Singapore, Australia, UAE, USA, New Zealand, Malaysia etc. Every product is made at Aadhunik with utmost care and love and tested for stability, performance and other parameters as a part of product development.
Best Manufacturer, Wholesaler, & Exporter of Wellness Products in India
Aadhunik Ayurveda is India's leading No.1 Private Label Organic Wellness Product manufacturer, wholesaler, exporter and bulk supplier. We have a team of professionals for manufacturing high-quality natural ayurvedic wellness products. Our one stop complete solution under one roof from an idea to ready to use/launch the product helps brands save on time and money. We have a very simple and transparent working process just to make sure the client is a part of the journey from the discussion of an idea to product development to labeling, designing, packaging etc.
With the world class facility, Aadhunik Ayurveda is the preferred manufacturer because
World class facility equipped with a fusion of traditional methods and modern day machinery & safety hygiene.
Fully developed in-house laboratory.
Raw material making units like cold pressing, distillery, hand milled herb powder unit etc.
Strong connect with farming community for quality raw material.
Simple and transparent working process.
Certified organic, ISO, FDA, GMP etc.
International logistics partnership for exports (exports to many countries like Australia, Canada, UAE, Singapore, US, Malaysia etc.)
Private label/white label services.
Custom formulation.
Product development & re-development or upgrade available.
Skilled team of personnel.
Sustainability & environment friendly sourcing.
Supports for more than 100 start-ups in the area of skin care, food, health & wellness.
Experience of creating a complete range of products for international brands as per their country specific needs like target market, skin type, weather condition, taste and preferences etc.
Provides raw material to multiple brands for use in their products like essential oils, hydrosols, herb powders, infused oils, cold pressed oils, ayurvedic oils etc.
Whether you are looking to create high-quality manufacturing of natural wellness products. We guide our clients through the entire process and help them to establish a successful brand.
We formulate natural wellness products keeping in mind your requirement
We work to give shape to the idea in your mind. From working on ingredients to use in the product to finding the compatibility to derive full efficacy without compromising with the quality is the sole principle while formulating a product. During a formulation many factors are considered like
Purpose of the product use
Ingredients - with their supporting claims
Texture & Consistency - oil, balm, cream, lotion, powder, water, gel etc.
Target market - skin type, age group,
Weather of the place where the product will be used
Every product is tested on its nutritional profile and fatty acids to produce what exactly the target skin health needs.
Explore Natural Wellness Products at Aadhunik Ayurveda
Our wide range of ayurvedic natural wellness products made with natural plant-derived ingredients that includes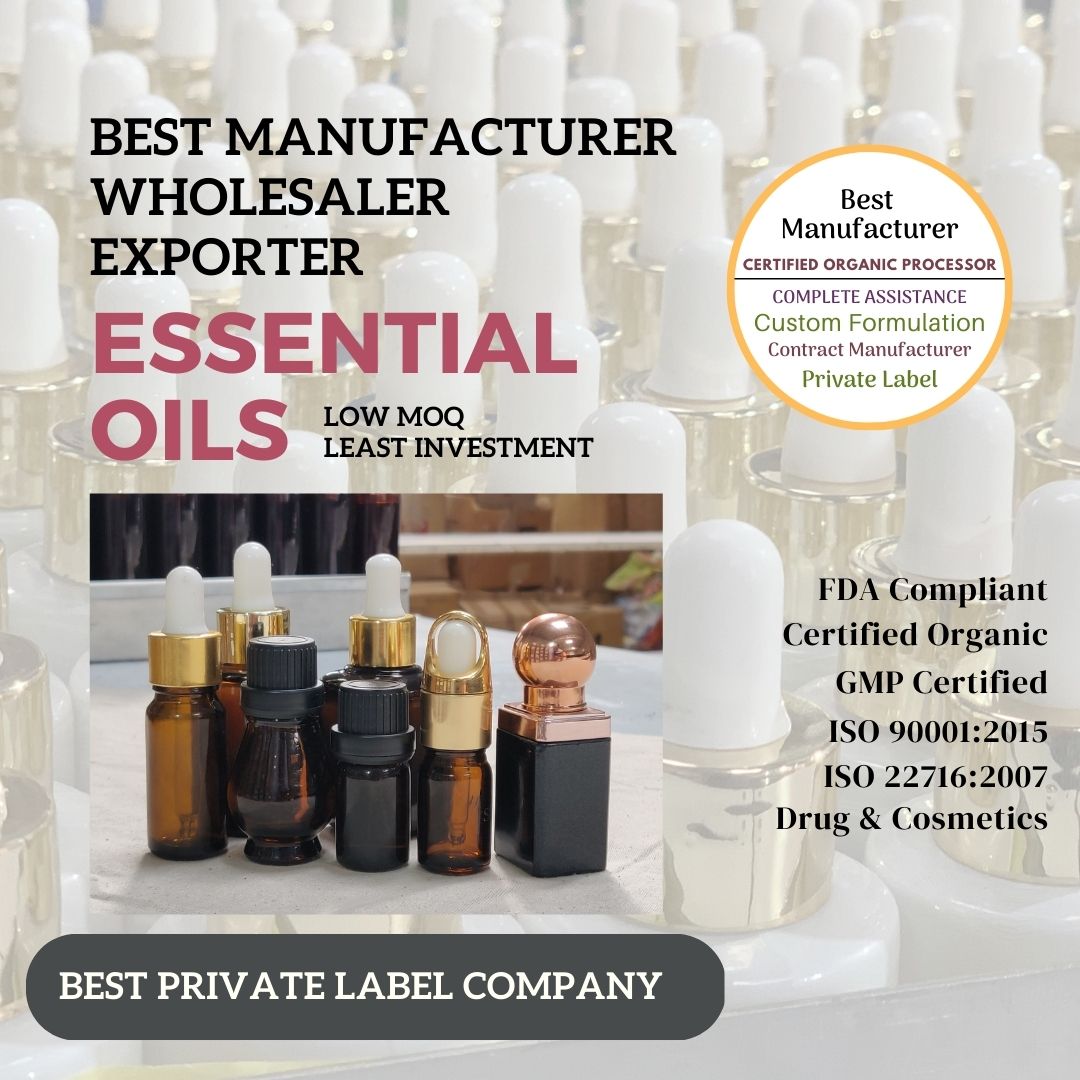 Manufacturer of Essential oils- Aadhunik Ayurveda produces essential oils in its own state of the art distillery. And therefore the essential oil produced is
At Aadhunik we have a diverse range of high quality regular use food products which includes.
100% clean & natural
Edible
Highly Therapeutic
100% free from chemical & preservative
Essential oils usually found in the market are meant for external use or cosmetic use only. But to make a quality product it's important to use the best quality raw material in the product.
Manufacturer of Cold pressed oils - Cold pressed oils are making a comeback because of their super health lending benefits and therefore their usage in the food, skin care and wellness industry has increased manifold in the last half a decade. And we at Aadhunik Ayurveda manufacture the cold pressed oils of more than 30 different seeds/nuts in house just to ensure no quality compromise. With this variety and capacity, we provide cold pressed oils as private label products to many food brands and raw material to skin care brands. Though the Aadhunik ayurveda oils are more expensive than the usually found oils in the name of cold pressed, these pure cold pressed oils make significant difference to the quality of the product. Here's what makes the cold pressed oils so much in demand
100% Natural & Clean
100% Free from chemical or preservative
Purely cold pressed, no name sake marketing
Suitable for eat and apply
Retains natural aroma, nutrition & colour
Highly therapeutic
Manufacturer of Herb water/hydrosol - Herb water/hydrosols are produced by steam-distillation process at Aadhunik. Steam distillation is not a newly devised technique but it is not used anymore because it is laborious, time consuming and more expensive than the synthetically developed & available options in the market. Hence the herb waters traditionally referred to as arrk/ark are almost dead. We at Aadhunik made every effort to revive this traditional method to produce a clean & healthy herb water to use as medicine, skin toner/elixir, food flavour, beverages flavour, light natural scent - aromatherapy etc. With the best state of the art distillery, Aadhunik Ayurveda produces best quality hydrosols/ark that are
100% Natural
Edible
Highly Therapeutic
Natural aroma derived from herb
Natural colour derived from herb
100% Chemical & preservative free
Suitable for EAT-INHALE-APPLY
The hydrosols are coming back big time as an clean, nutritious and powerful ingredient to wellness drinks, flavoured waters, skin toners, herb drops (nutraceuticals) and aromatherapy products. Aadhunik Ayurveda is the major producer of hydrosols in India with its portfolio containing more than 100 varieties. And if the choice of hydrosol is not available, we can distill it for your requirement.
Manufacturer of Herbal Green Tea - With the best over the years developed network with farming community pan India, we at Aadhunik Ayurveda source various plant parts like leaves, stems, roots, bark , petals etc. with best quality in terms of herb hand processing to make it suitable for use like chopping, sun or shade drying, etc. And this connect has provided us with unbelievable feedback of the quality of the green tea that our client- brands have used/experienced over the years. We are a major supplier of many whole herbs, tea cut herbs and powders to food, skin care & wellness brands as a raw material and ready to use product.
Manufacturer of Aromatherapy/diffuser oil - Synthetic free diffuser oils are the need of the time to calm and relax the mind, body and soul. And that's when the need of truly plant derived natural essential oils play a significant role in restoring human health. Aadhunik Ayurveda is the cleanest and therefore preferred manufacturing brand for bulk manufacturing of aroma oils suitable to use in diffusers. You can custom blend with us as per the taste, preference, budget and vision of our brand.
Manufacturer of Healing balms/roll-ons - Healing Balms- Healing balms or oil based roll-ons are the effective remedy to treat various ailments of the body. We at Aadhunik Ayurveda make use of plant-derived ingredients like essential oils and cold pressed oils for making roll on, anxiety balm, pain relief balm, energizing balm and much more. Our years of knowledge in formulation and product creation have given us a good skill set to create unique required formulations suiting the need and demand patterns. We also custom create the products in different texture, consistency and size available in 10ml, 15ml, 20ml, 50ml as per your need in low investment and moqs.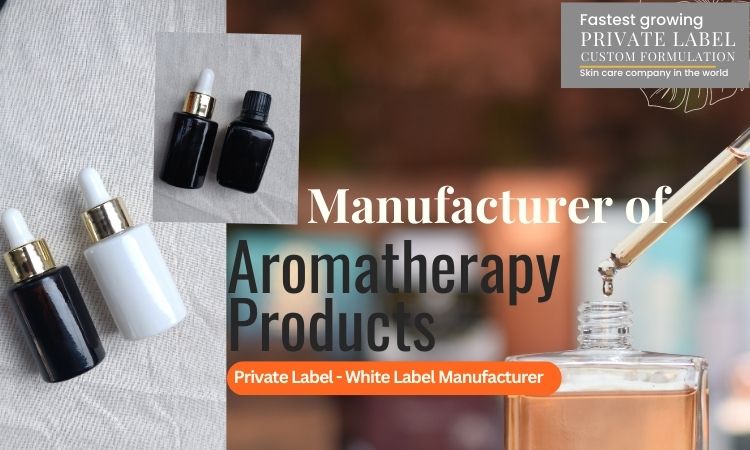 Manufacturer of Revitalising Massage Oils- are being used to revive your mood and eliminate pain from the body. We make quality products with the fusion of traditional & innovative-day practices for making massage oil, pain relief oil, face massage oils by infusing cold-pressed oils, essential oils and other therapeutic herbs. These herb infused massage oils are best for all age group people. You can find the best quality at the best price and with customization to your vision and budget. We offer packages of 1 liters, 5 liters, 10 liters, 20 liters, 25 liters, and much more to suit your convenience.
Private Label Manufacturer of Wellness Products Range
Aadhunik Ayurveda has curated its name for producing the Best Private Label Natural Wellness Products range in the market. As a private label manufacturing brand, we are ruling the market due to our high quality and effective wellness products range and our integral role in improving health conditions.
Private Label NaturalWellness Steam-distilled essential oil
Private Label Natural Wellness cold-pressed oil
Private Label NaturalWellness herbal water/hydrosol
Private Label Natural Wellness green tea
Private Label Natural Healing Balm
Private label sweet sleep balm for insomnia/sleeplessness
Private label breathe easy balm to ease cold & congestion
Private label eye nutri balm to revive the dry damage sensitive under eye skin
Private Label Natural Wellness massage oil
Private Label Natural Spa Products
Private Label Natural Wellness aroma/diffuser oil and much more.
With our reveal and ongoing services to this industry we offer products in wholesale pack sizes of 1 litre, 2 litres, 5 litres, 10 liters, 25 liters and as per your need and also retail packs of desired products in your preferred packaging and in your brand name.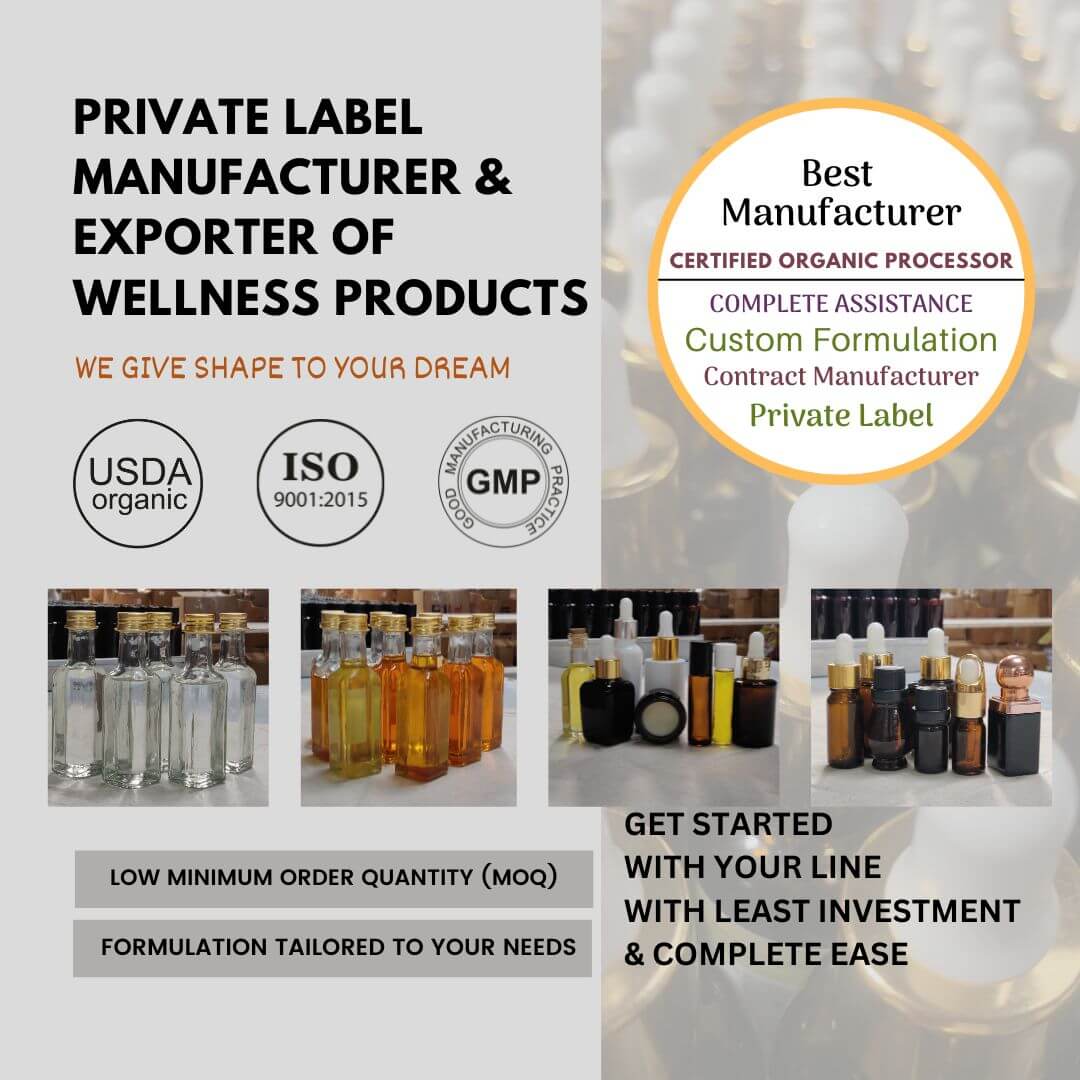 Natural Wellness Industry is the fastest leading to robust growth and Aadhunik Ayurveda is one of the major contributors in areas of essential oils, cold pressed oils, healing balms, pain relieving oils, herb waters like tulsi ark, flavored tonic waters, etc. With world class USDA, ISO, FDA & GMP organic certified facilities, we provide products and services in tune to global standards. Our founding principle of transparency and in-time delivery makes us one of the Best Ayurvedic Manufacturer of Wellness and skincare products company producing raw material and ready to use products for personal care, food, and wellness industry.
I would like to get a 5ml roll of 3-4 energizing blends of natural essential oil like floral, citrus, earthy, grassy etc. in a moq of 500 pieces before launching the brand. How to go about it?
Yes, we can certainly make it. You can read here more about how to start a wellness brand. For more details please feel free to drop an email at aadhunikayurvedavitals@gmail.com