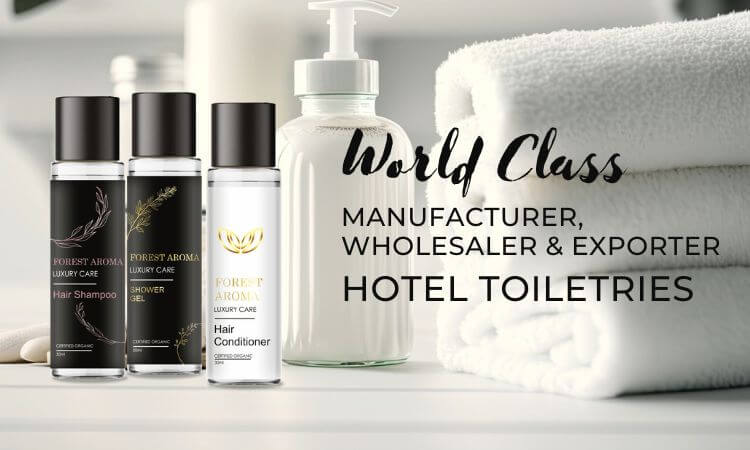 Wholesale Hotel Amenities Products at factory Prices
If you are looking for certified organic hotel toiletries for your hotel at factory prices, then it's best to get your hotel supplies from Aadhunik Ayurveda. Aadhunik Ayurveda's eco-friendly hotel amenities and toiletries are more than a growing trend, they are the new vital for responsible customer savvy hotels.
Aadhunik Ayurveda is a luxury hotel amenities supplier, exporter, and wholesale manufacturer. We supply ayurvedic and herbal skincare hotel amenities, toiletries, hair-care and personal care products for hotels, spas, resorts, airlines and other hospitality destinations.
Manufacturer of Sustainable hotel Toiletries
We have manufactured this line of toiletries with organic and natural ingredients that are kinder to the skin as well as the environment. Formulated and packed with sustainability in mind, each item in this contains high quality, biodegradable ingredients, and the gentle, natural, essential oil aroma is sure to please every guest. It is free from sulphates, silicones and the harsh chemicals that can dry out and strip hair, scalp and skin.
Aadhunik Ayurveda has a range of handmade, natural skincare products perfect for hospitality, hotels and luxury accommodation. We can offer bespoke skincare toiletries for hotels, spas, and hospitality to add harmonious luxury to your guest's stay.
As we understand the importance of providing your guests with top-of-the-line, spa-quality in-room hotel toiletries. That's why we provide an extensive range of wholesale products which might be fully customizable to meet the unique needs for your hotel or resort
With the growing number of hotels and destination spas, value addition is the need to keep ahead of the competition. And toiletries are one part of complimentary amenities that has the ability to add serenity to the stay, essential to the hospitality and guest experience. Our skincare range is handmade locally in the Indian state of Uttarakhand . Guests are increasingly looking for natural skincare products that are perfect for them as well as etjically sourced and environment friendly.
Customized hotel toiletries manufacturer
Aadhunik Ayurveda helps create unique & memorable guest experiences with a custom collection of hotel toiletries.
With close to a decade of experience in fulfilling the need of customised hotel toiletries for different hotels, spas and resorts with high quality ingredients, we offer a wide range of customization as per your theme of the hotel/destination spa. We work closely with you in developing the right natural aroma just to ensure you provide the perfect customer experience with your own touch. Aadhunik Ayurveda is the unique leading bespoke fragrance development company that develops the most meaningful fragrance that establishes a relationship between brand/product and the consumer.
Our clean formulation of hotel toiletries include an array of items such as zero waste shampoo cum conditioner bar, body lotion, lip balm, face toner, body oils, aroma oils, hair serums, face serums and much more. We have the understanding and acumen to develop products in tune to your need which holistically work on body, mind and soul. After all this world is all about gaining perfect balance, be it our body constituents or family or work place.
We also provide a range of packaging options to suit your needs, whether it be custom branding, packaging or labelling to ensure that your guests receive a truly memorable and personalised experience. From accessible products to spa-quality solutions, we work to unlock the power behind your brand and tap into its highest potential with value addition that makes a significant difference.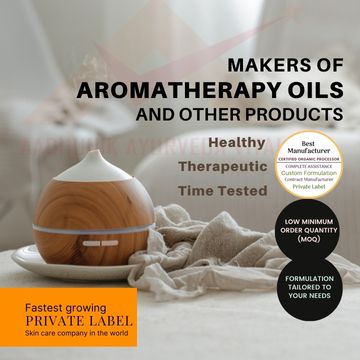 Location & Theme Based Aroma Customisation - hotel toiletries
We can work with you to create your own blend to create your own unique aroma for your hotel and based on your theme.
Forest - the combination of vegetation, soil, moisture, decaying wood and leaves all together make a unique therapeutic scent. So a combination of volatile compounds derived from forest plants, roots, clays etc can be made part of the toiletries to establish the connect.
Summer- god gifted heat pacifying grasses, fruits, roots etc. work to ease summer discomfort and balance the body hence a blend of rose, sweet lime, mandarin, peppermint, lemongrass with earthy vetiver sums up everything in the right connect with mind, body and soul.
Winter- all that lends warmness is what adds to peace, derived from perfect body, mind and soul balance. The cold pacifying herbs like clove, cinnamon, nutmeg, ginger works holistically in delivering a serene experience.
Desert- the pleasant muddy scent of rain droplets on fine sand add calmness, relaxation and zero thoughts to the mind helping revive the body with immense therapeutic gains. The original soaked roots of vetiver when distilled add a similar scent to the products that when used creates just a wow experience.
Peace- from lavender to chamomile to rose along with lime and grassy blends can take you through the stars with utmost peace and the feel of contentment. Holiday is a place where guests look forward to peace and contentment and hence a perfect balance of amenities as per the location of the property and time of the year add value to stay.
Aadhunik was founded with the vision of providing a flexible yet customised range of amenities to the expanding hospitality sector. With years of expertise, Aadhunik produces intelligently designed hotel toiletries for the individualized experience of hotel guests because we work to turn your dreams into reality.
What Makes Working With Aadhunik Ayurveda Different?
Aadhunik Ayurveda skincare products are expertly crafted, then lovingly produced and bottled in small batches, all from our in-house state of the art facility equipped with traditional methods and modern day safety hygiene.
This allows us to retain full control over each step of a product's evolution from formulation through to the final user experience.
All are products are:
Crafted to our custom formulations
Produced using only plant-based ingredients
Free from harsh chemicals
Free from synthetic ingredients, parabens and SLS
Made with absolutely no animal testing
Clinically tested and approved
Private Label Hotel Toiletries Manufacturer
Aadhunik Ayurveda is the No. 1 top private label Zero Waste hotel toiletries manufacturer in India. We have the whole range of products we offer:
Private Label Shampoo Cum Conditioner Bar
Aadhunik Ayurveda manufactures and supplies Zero-waste shampoo bars for healthy and silky hair. Unlike regular chemical-based, all our shampoo bar are handmade, cold-pressed and free from all chemicals and preservatives and 100% vegan. Thay are available in 25 gm, and 50 gm sizes for customers' convenience. We are hotel toiletries wholesale suppliers in India.
Private label vanilla soap
Private label coffee soap
Private label chai masala soap
Private label earthy soap
Private label mud soap
Private label lime minty soap and much more
Private Label Lip Balm
Wrap your lips in a thick layer of hydration with Aadhunik lip balm available in 50g sizes. Our lip balms drench chapped lips for maximum hydration and moisture retention. Made with only organic and natural plant based ingredients. 100% vegan.
Private label mango butter balm
Private label sweet earthy balm
Private label lip nourishment balm and much more
Private Label Face Toner
Quench your skin's thirst with our hydrating face toner, which works to swipe away the impurities accumulated in the pores while optimizing the skin's moisture level for that plump and youthful appearance for all your customers.
Private label rose mist manufacture
Private label earthy mist manufacturer
Private label aromatic summer hydration mist manufacturer
Private label tea blend mist manufacturer and much more
Private Label Body Lotion/ aromatic body oils
Crammed with food, the skin your body is starved of, our body lotions and aroma oils help to resurface the authentic and natural complexion hiding behind rough and dry skin to reveal skin you will not stop touching. We bet! Our body lotion and aroma oil is available in a convenient 30 ml, 50ml bottle or as per your need.
Private label aromatic rose body oil
Private label kumkumadi face oil and much more customized to your need.
Many more hotel toiletries products are available with us where you can choose from the production line or get custom formulated for your brand.
While we can supply these products, we can manufacture anything our client needs. We are incredibly flexible to meet our clients' evolving demands. No project is too big or small for us. We go above and beyond for our clients to ensure maximum satisfaction.
Best Hotel Amenities Products At Wholesale Bulk Pric-Aadhunik Ayurveda
We offer hotel, hospitality chains the hotel amenities at wholesale factory prices. Our wide network of courier service providers and logistics firms enable us to supply them to any corner of the world.
Also, with our years of experience in clean formulations, we are the top Hotel Amenities Manufacturer in the natural and organic ingredients category.
World class hotel amenities manufacturer, supplier and exporter
Aadhunik Ayurveda is the world class fastest-growing skin care, health and wellness products including hotel amenities manufacturer supplying to different parts of the world.
We provide you with world class hotel amenities products with fusion of traditional techniques and modern day machinery & safety hygiene.
We produce USDA, FSSAI, ISO and GMP organic certified & quality assure plant-derived food, wellness and other topical use skin care and aromatherapy products.
Fully developed in-house manufacturing and laboratory unit.
We ensure to provide 100% pure & organic hotel amenities products without making use of any harmful chemicals.
We constantly maintain a great focus on quality control and research & development team.
We provide customised blends/customized formulation.
Simple and transparent working.
For more details on Aadhunik ayurveda making process and products, visit us here.
FAQ's
What is the cost of bulk hotel amenities like soap, lotion, shampoo etc.
Since we have multiple variants to cater to the different hotels - needs like zero waste, plastic free, environment friendly, economical combo's etc. we need to understand your requirement & budget to give you the best for your property hence please get in touch with us through email or phone to take this forward.
Can we make a shampoo bar for my hotel that works super for the guest?
Yes, certainly we are the best experienced cold process soap manufacturer in the country and hence we make soaps and shampoo bars for many retail brands and spa & hotels across the country. Please drop an email for the same.