Pure Essential oils in India wholesale suppliers & manufacturers | Aadhunik Ayurveda
The demand for private label essential oil is increasing with its multitude use in various industries like skincare & wellness hence Aadhunik Ayurveda, the edible essential oil manufacturer in India is penetrating bigtime in the clean global skin care & wellness market with its clean organic produce using best quality sustainable ingredients. The leading and fastest growing edible essential oil manufacturer & supplier in India using clean methods & sustainable ingredients produces essential oils for skin care brands, spas, saloons & other wellness companies across the globe from the US. Canada, Europe, Saudi Arabia, Dubai, Singapore to Australia, New Zealand etc.
Aadhunik Ayurveda is the top essential oil manufacturers in India producing edible, organic certified, steam distilled highly therapeutic essential oils suitable for use in food, skin care, hair care and other personal care products.
The demand for high quality essential oils in wholesale is increasing manifold because of the rising demand of clean, organic & plant derived skin care and other personal care products.
What are essential oils:-
Sweet or herbaceous-smelling or say aromatic liquid substances which are taken out from certain species of flora, natural products, leaves, roots, and trees utilized in fragrance/aroma based treatment, and facial items or wellness products. It is highly potent & aromatic and cannot be directly applied to the skin. These essential oils are highly concentrated, potent, and volatile. For Example- rosemary oil, lavender oil, sandalwood oil, etc.
Essential oils, compounds extracted from plants, have been in use for thousands of years for health, medicinal, and aromatic purposes. With around a hundred essential oils available today, each one carries a distinct flavor and scent of the plant, from which it is extracted. Used commonly as a part of aromatherapy, the oils are either inhaled directly or rubbed on the skin after being diluted. The oils are known to treat various health problems like stress, depression, anxiety, sleep, headaches, insomnia, and reducing inflammation among others. Also, these are used as a natural healer and scent in natural skin care or cosmetics or to freshen things like laundry.
Best Essential oil companies in india
There are many essential oil companies in India but the genuine quality pure steam distilled edible essential oil manufacturer is Aadhunik Ayurveda. Because manufacturing essential oils is a technique that calls for an large networked association with farmers for sourcing quality raw material and making use of traditional techniques to produce it without chemicals. Hence the produced oil is highly therapeutic and hence when used in skin care & wellness formulations, it works in delivering the desired results.
How essential oils are made at Aadhunik Ayurveda
Making of essential oils at Aadhunik Ayurveda is a time-tested traditional technique that produces the best quality highly therapeutic essential oil. This makes us the best manufacturer of natural, pure, edible and highly therapeutic essential oil.
Edible essential oils market
Edible essential oil market is witnessing a stunning growth as consumer demands are shifting to natural products and therefore the skincare, health and wellness industry alone is expected to grow at a CAGR of more than 20% worldwide.
Natural essential oil was extensively used in ancient India up until the 19th century for multiple purposes like antibiotics, aromatherapy, food flavors etc. However in the last 200 years, people have shifted to other means creating a total disconnect from the natural healing tips, techniques and the biome. This has led to the present generation unaware of the appropriate dosage/use of essential oils.
Indian markets at present are flourishing with synthetically prepared essential oils that are just meant for external use marketed as aroma oil, diffuser oil etc. These oils are sold as pure essential oil with a discreet liner - Made for cosmetic/external use only.
Pure and highly therapeutic edible essential oils are purely the life force or say pran of a plant in a bottle and therefore the substance is highly powerful and need dilution before use.
Best organic essential oil manufacturer
It's the manufacturing technique, quality raw material and location that makes us stand apart in the industry as best essential oil manufacturer in the world
How Aadhunik Ayurveda is different from other essential oil manufacturers
Raw materials sourced directly from the farmers are used for making pure essential oils at Aadhunik Ayurveda. Raw material quality & technique is very important for making pure essential oils. Aadhunik Ayurveda makes pure essential oil using fresh or dried plants parts like roots, stems, leaves, petals, bark, etc. the raw materials are sourced directly from the farmers cultivating different herbs across the Indian states.
With various techniques used to manufacture essential oils like solvent based, CO2, hydro & steam distillation etc., steam distillation is considered the best so far in terms of delivering the best quality highly therapeutic essential oils.
Private label Essential oil
Essential oil is becoming a popular product because of its multiple uses & benefits to the human body hence skin care & wellness brands are focussing on introducing essential oil as a product for direct consumer use. Earlier essential oils were majorly used by industries to use them in skin care & wellness products like face oils, creams, candles, pain relief oils, massage oils, healing balms & roll-ons etc. However with consumer awareness and revival of the traditional wellness, the direct use of essential oil is visible amongst the consumers. This has led to increased demand for private label essential oils in India & across the world.
Aadhunik Ayurveda is the only best essential oil private label company where you can get a quality organic product in tune to your brand's vision. You can launch your dream business of private label/white label essential oil brand with us in low moqs & least investment.
And with this you can introduce blend of essential oils like
Private label de stress essential oil blend
Private label Balance essential oil blend
Private label citrus essential oil blend
Private label breathe easy essential oil blend And much more
Aadhunik Ayurveda is a one stop manufacturing solution to all your dream products like aroma oils, diffuser oils, bath oils, healing balms & roll-ons etc.
Formulation of Wellness products with essential is gaining popularity simply because essential oils are plant based & contain therapeutic power which help ease disorders in human body comforting it naturally hence custom formulations catering to various concerns like insomnia, indigestion, depression etc. are making their way in the form of product to consumers. And at Aadhunik we custom create blends, test on humans and thereafter provide services like contract manufacturing of essential oil blends to global brands.
Best manufacturers & wholesale suppliers of pure essential oil in India
Aadhunik Ayurveda Company is the leading manufacturer & supplier of organic and natural essential oils made through the process of steam/water distillation. To deliver true essentials to the market, we use plant parts in fresh, semi-dry or dried form without the application of any chemical process. We also deploy proven methods for activities like processing, packaging, and delivery. Our wide range of pure essential oils including lavender oil, rosemary oil,, and many others are available at reasonable rates. We are the leading supplier of pure essential oils.
Aadhunik Ayurveda is truly the manufacturer of essential oils through steam distillation, the clean environment-friendly technique known so far for producing chemical-free & edible quality essential oils. There is a direct connection with the farmers for quality raw material leading to no role of middleman and thereby full control on sourcing quality raw material.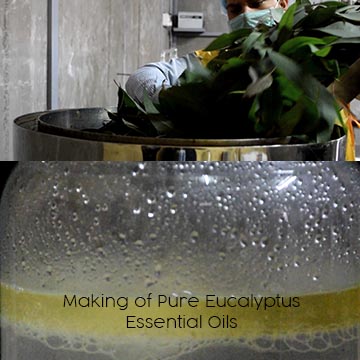 Essential oil Wholesaler & exporters from India
With multiple brands from food, skin care, health and wellness industry in parts of Europe, Canada, U.S, Singapore, Dubai, Saudi Arabia, Australia etc. believing in quality and using essential oils made at Aadhunik, the exports have been on the rise making us a quality proud essential oil wholesaler & exporter from India.
The clean ethical brands prefer Aadhunik Ayurveda simply because Aadunik's founding principles match their vision in terms of clean, sustainable, cruelty free, solvent free, truly plant derived, environment friendly, minimum carbon footprints, supporting farmers, creating employment etc.
Aadhunik Ayurveda manufacturers more than 20 varieties of essential oils like lavender, ginger, rosemary, turmeric, clove, cinnamon, nutmeg, peppermint, lime, sweetlime, orange, juniper, basil, lemongrass etc.
Lavender oil manufacturers in india
Aadhunik Ayurveda is the best manufacturer of kashmiri lavender essential oil India. Explore more about lavender essential oil making & private labelling here.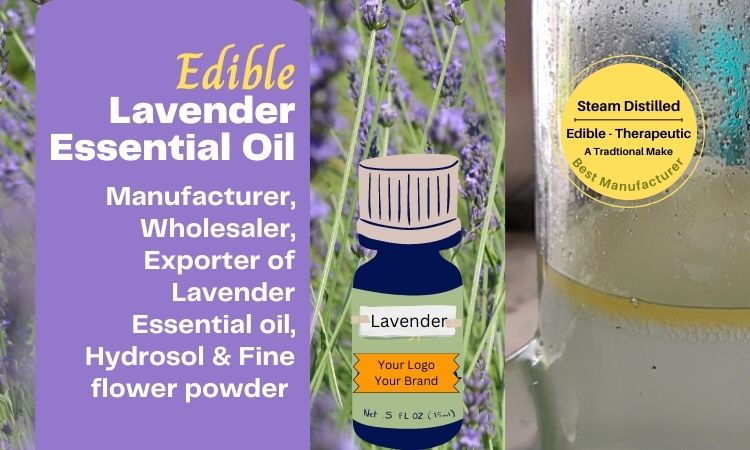 Mint oil manufacturers in India
Aadhunik Ayurveda is a famous manufacturer & supplier of mint essential oils like peppermint, spearmint in India. Explore more about mint essential oil here.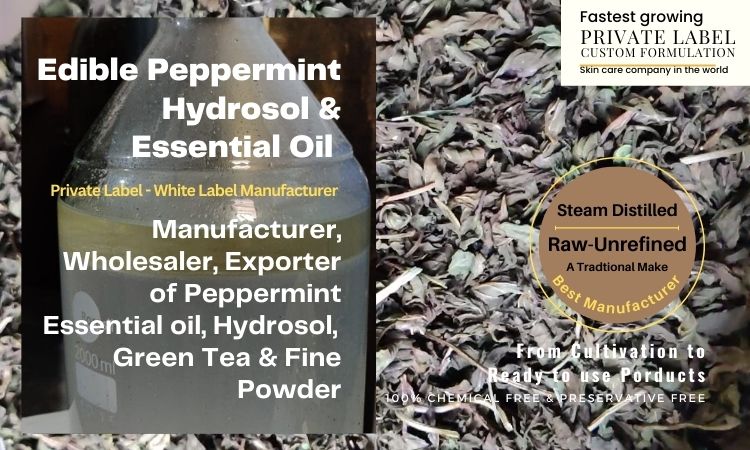 Rosemary oil manufacturers in India
Rosemary essential oil quiet popular in skin care & hair care formulation including pharma & wellness industry. Aadhunik Ayurveda is a famous manufacturer & exporter of rosemary essential oil. Explore more about rosemary essential oil manufacturing & certificate of analysis here.
Tulsi oil manufacturers in India
Tulsi oil or holy basil essential oil is revered all over the world for its health benefits & therefore its a part of formulation for many regular use personal care products. Aadhunik Ayurveda is the best edible tulsi oil manufacturer in India exporting the oil to many countries like U.S, Canada, Europe etc. Explore more about tulsi oil manufacturing here.
Black pepper oil manufacturers
Aadhunik Ayurveda is the best manufacturer of edible black pepper oil inIndia. Explore more about it here.
Fennel oil manufacturers
Fennel oil is used in various products and Aadhunik Ayurveda is the biggest manufacturer & supplier of clean organic fennel essential oil. Explore more about fennel oil manufacturing here.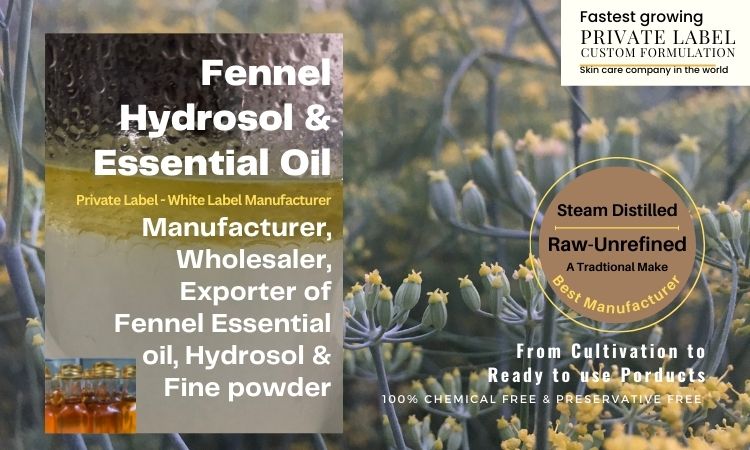 Juniper berry oil manufacturers
Aadhunik Ayurveda is the best manufacturer of juniper berry essential oil. Explore more of juniper oil manufacturing & natural constituents that it contains tha makes it useful for use in the skin care & wellness industry here.
Nutmeg oil manufacturers
Along with various other spices, Aadhunik Ayurveda manufactures/steam distills nutmeg essential oil. Find out on the making of nutmeg oil & its profile here.
Aadhunik Ayurveda is a known name in the essential oil industry. Explore oils that we manufacture.
Clove oil manufacturer
Turmeric oil manufacturer
Sweet lime oil manufacturer
Ginger oil manufacturer
Cinnamon oil manufacturer
Carom oil manufacturer
Vetiver oil manufacturer
Aroma oil manufacturers in India
Aadhunik Ayurveda vitals is the best private label manufacturer of aromatherapy products and creates a special custom blend for brands suiting their vision and budget. Explore aromatherapy products like-
Stress relief oil
Sweet sleep balm
Nourishing sleep oil
Calm & relax balm
De-stress oil
Rejuvenate & relax blend
Breathe easy balm
Puja - camphor divine oil
Kashmiri lavender serene oil
Get well soon -uplift oil
And much more
FAQ
What is the minimum quantity of natural organic essential oil one can buy from Aadhunik Ayurveda?
Since pure & edible essential oils are very expensive and therefore you can buy as little as 100ml at best reasonable wholesale rates.
Where to buy natural essential oils?
You need to be an aware consumer while buying a truly natural essential oil because brands often mis-sell synthetic fragrance oils in the name of pure essential oil. So ask questions to ensure satisfaction before you proceed to buy the same. For wholesale essential oil buying, contact aadhunik ayurveda and for buying retail quantities like 5ml, visit the natural skin care & wellness products store here.
Are essential oils edible also?
Yes, essential oils prepared using edible plant parts and steam distillation technique are edible. For example lavender buds are edible and the essential oil produced from lavender buds using steam distillation is edible too.
Why are essential oils sold as external use products despite steam distilled?
Essential oils majorly sold in the market are meant for cosmetic use or external use only simply because they are synthetically produced.
Why Aadhunik essential oils more expensive than usually found essential oils?
This is because Aadhunik Ayurveda produces essential oil using steam distillation of plant parts like leaves, buds, petals, barks, steams, peel etc. There is no adulteration or dilution etc. involved in the process. To put it more clearly, lavender essential oil can be easily found in the price range of Rs. 2000 per liter and the price of lavender buds is about Rs. 1400 per Kg. And all those who want to start a business using essential oil know that the yield per kg is too low, close to 1% only. So a liter of lavender essential oil would need sacks of lavender buds to produce and not a Kg.
Where to find a genuine wholesale essential oil manufacturer & supplier?
There are many wholesale essential oil suppliers in the market however finding a genuine essential oil manufacturer/supplier can be challenging as every supplier claims themselves as a manufacturer & their essential oils to be steam distilled, best quality but inedible. If you really want to add a quality essential oil to your products or add as a product line to your skin care brand, make an effort to visit the manufacturer's factory to see the process, seek answers to the questions in your mind and then only make a move.