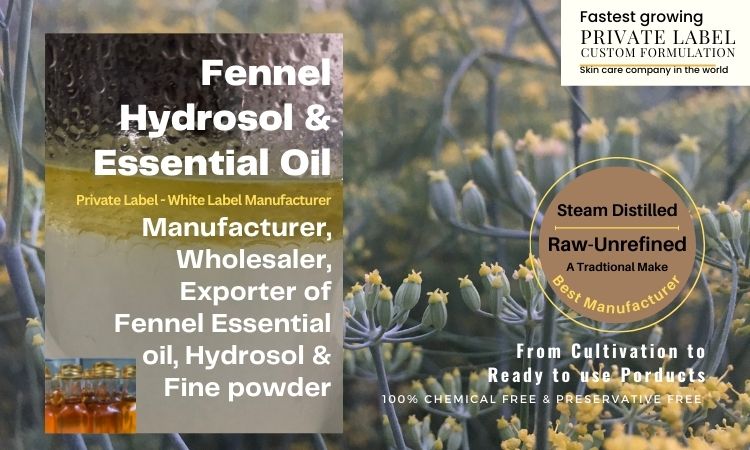 Best Fennel Essential Oils and Hydrosol Manufacturer in India
Fennel essential oil and hydrosol/herb water are extracted from the plant Foeniculum vulgare's seeds. It is an aromatic herb with yellow flora. From ancient times pure fennel oil and water have been primarily used to treat many health problems. Fennel herbal medicinal oil is a quick home remedy for cramps, menopause, digestive problem, and so forth.
Natural fennel oil and water contain limonene, and methyl chavicol, and are mentioned in high percentages. Organic Fennel seed oil is light yellow in colour with a sweet peppery licorice-like smell. Apart from having a pleasant Sweet Aroma, it's far rich in vitamins and nutrients beneficial for our health and mind. It is likewise used for aromatherapy or massage purposes due to its medicinal residences. It has a fresh uplifting aroma so that you can incorporate it into scented candles, perfumes, soaps, and room fresheners.
Aadhunik Ayurveda manufactures natural edible fennel water and edible fennel essential oil through the steam distillation method. Fennel seed oil and water provided to customers is pure and packed with utmost care. You can purchase the best fennel oil and hydrosol here which is filled with high-end properties such as Anti-stress, anti-oxidant, anti-inflammatory, and anti-dandruff, and has a sweet aroma.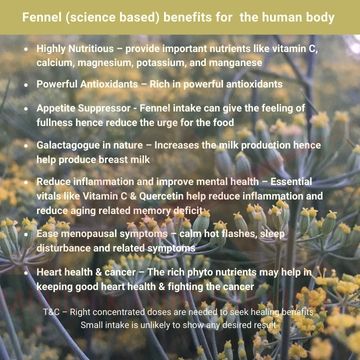 Benefits of Edible Fennel Essential Oil and Edible Water
Fennel essential oil shows relaxing effects on the body, providing quick pain relief from muscle spasms.
It boots mental health, and the ability of fennel can be used to relieve stress, anxiety, and even depression.
Fennel essential oil can help trigger the excretion of gas and toxins from the intestines to provide relief from problems such as indigestion, hypertension, and stomach pain.
Fennel water is helpful in urinary disorders as it helps flush the toxins from the urinary tract and reduce swelling/ inflammation and pain.
Fennel essential oil not only has antiseptic properties to inhibit and prevent infections, but also the ability to speed up wound healing.
Fennel water hydrates the skin making it moisturised for the day long.
It also helps to treat scalp and hair concerns like dandruff, hair fall, etc
Manufacturer, Exporter, & Wholesaler of Fennel Essential Oil and Water
Aadhunik Ayurveda is the leading manufacturer, exporter, supplier, and wholesaler of Fennel essential oil and water in different parts of the world. We offer the purest form of Fennel water and essential oil to our customers. The water and essential oil are obtained from traditional techniques of steam distillation. It has extreme shelf-life stability and they don't contain any harmful preservatives, fragrance, colour, or chemicals. Therefore, they prove to be ideal for day-by-day use.
We have a skilled manufacturing team and state-of-its-art technology to prepare premium quality Fennel essential oil and water without compromising quality. The highest quality and packaging requirements are employed to supply desirable results on utilization. Buy Fennel essential oil and hydrosol from Aadhunik Ayurveda online according to your requirements at the best competitive prices in the market.
With our commitment to client satisfaction, we go beyond conventional boundaries to provide 100% natural Fennel essential oil and hydrosol. As a leading manufacturer, we develop products of the finest quality while keeping in mind that the prices are competitive and affordable. We offer our Fennel water and oil in different package sizes so as to meet the specific needs of the individual customer whether big or small as per your needs.
We also export our edible high-quality Fennel water and edible essential oil to different countries around the globe. Our products follow the highest requirements when it comes to purity and quality. We assure you that you will not regret choosing us! Do not miss the opportunity to buy fresh, chemical-free, and multi-purpose Fennel water and essential oil from Aadhunik Ayurveda because this quality fennel produce is difficult to find in bulk in the market.
Private Label Fennel Skincare, Haircare & Wellness Products
Aadhunik Ayurveda offers natural and organic Private label Fennel-based skincare, haircare & wellness products that are proven safe and effective for your hair, skin, and wellness. They are also versatile i.e. they can work for various problems.
Private Label Pure and Natural Edible Fennel Hydrosol and Essential Oil
Private Label Herbs Infused Hair Shampoo with Fennel for silky & smooth hair.
Private Label Ayurvedic, Natural Face Ubatan.
Private Label Ayurvedic Fennel Lemon Herba Tea.
Fennel age delaying face cream
Fennel brilliance tonic for dry and dull skin
Fennel all purpose body and skin tonic
Fennel aromatherapy products
Hair Massage Oil and much more
Best Globally Known Manufacturer
Aadhunik Ayurveda is certified organic skincare, haircare, essential oil, hydrosol, massage oil, body butter, body polisher & health wellness products manufacturing company in India. Our working transparency and timely delivery with time-to-time compliances and certifications make us a preferred choice amongst many brands and global certifications like ISO, USDA, etc. have helped us stick with first-class processing and global standards.
We have the best (in-house) 100% organic and chemical-free manufacturing line. This is viable truly due to the fact that for everything the brand is completely incorporated forward to backward retaining close connection for raw material sourced from farmers to right minimal processing to retain nutritional compounds to the apt composition of the products making it healthy, potent, and effective.
With us get the best quality custom formulation, private label, and raw material for your start-up, established brand at the best prices, complete assistance and low MOQ's.
FAQ
What is so unique about Aadhunik's fennel essential oil that it's far more expensive than other fennel oils?
Fennel essential oil produced by Aadhunik is 100% steam distilled and therefore edible. This means that it can be consumed, applied and inhaled to seek its benefits. We prepare it using the best quality fennel seeds and the entire process is completely free from solvents/chemicals and preservatives producing a oil that is highly therapeutic and a drop is too powerful to give you the desired feel of goodness. Cheap fennel oils in the market are claimed to be steam distilled and pure but are synthetically prepared and therefore labelled as meant for external or cosmetic use only.
Can you private label fennel essential oil for us in low moq's?
Yes, we can with the minimum order quantity of 200 pieces. The more the number of pieces the less is the labour cost.
I want to develop a complete skin care range with the hero ingredient as fennel? Would you suggest how to go about it as fennel flavour and aroma is personally liked by many?
Yes, we can help you develop the complete skin care and wellness range. For this please drop an email to us with the details and we shall connect with you for understanding the requirement and thereby take it forward.