Clove Essential Oil Bulk Manufacturer and Supplier in India
Cloves are a traditional health-giving powerhouse! It is obtained from the tree popularly grown in tropical regions. It is used in many Indian dishes to add to the taste and aroma. It has many health benefits and can be found in most of the products used.
Clove oil has high amounts of antioxidants which is the main reason behind the numerous health benefits. The compound responsible for this is eugenol. It has high nutritional value too. It has minerals and vitamins that the body needs.
Clove essential oil has long been used in dentistry and for the relief of muscle aches and pains. It supports digestion, keeps the respiratory system healthy, and hastens the healing of bruises, wounds, and abrasions.
What is Clove Bud Essential Oil?
Clove oil is hot and spicy oil obtained from steam distillation of the leaves, stems, and buds of the clove tree. Clove bud oil is the most popular clove essential oil used in aromatherapy.
It has a variety of medical characteristics and can be applied topically to relieve pain. Plant-derived phenylpropanoids are abundant in the oil, with eugenol being the most significant. The color of the oil ranges from pale yellow to golden brown. It has a clove-like spicy aroma to it. The oil can be used for aromatherapy and flavoring.
Making of Clove Essential Oil at Aadhunik Ayurveda
At Aadhunik Ayurveda making of clove essential oil by using the best clean and healthy technique of steam distillation is practiced. The technique is 100% environment friendly and the product is the most potent, effective, and healthy for human use. This technique produces edible essential oil.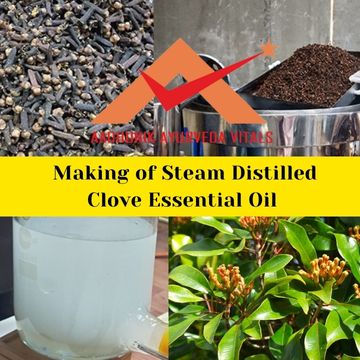 Bulk Manufacturer, Supplier & Wholesaler & Exporter of Clove Essential Oil
Aadhunik Ayurveda is one of the best top leading manufacturers, wholesalers, suppliers & exporters of high-quality clove essential oil and private label company in India.
At Aadhnik Ayurveda clove essential oil making is a clean and chemical-free technique to produce the best quality, highly therapeutic, and edible essential oil. The clove used in the making of essential oil is sourced from farmers.
We assure you that all our products adhere to the highest criteria of safety and quality. We offer natural & organic (in-house) forms of essential oils to our customers. Our products are free from all chemicals, additives, & fillers. They also do not carry any artificial colors, preservatives, and fragrances
Though Clove essential oil is skin-friendly and safe, you must dilute Clove essential oil with a compatible carrier oil as it is highly concentrated.
We also deploy proven methods for activities like processing, packaging, and delivery. Our wide range of edible pure essential oils including lavender oil, rosemary oil, turmeric oil, marjoram oil, chamomile oil, carom oil, cinnamon Essential oil, sweet lime oil and many others are available at reasonable rates. We are the leading supplier of pure & edible essential oils in the world delivering exceptional purity.
Apart from that, a secure payment gateway is provided to ensure the safety of your transactions. The best packaging strands and collaboration with top logistic companies like DHL, Bluedart, Delhivery, etc., enable us to provide undamaged yet safe essential oils shipments to our customers. Buy your favorite essential oil today, and we assure you that you will be able to reap many benefits from it!
Uses of Clove Oil
There are many common uses for clove bud oil. This herb is a powerful antioxidant and can be used to treat a variety of health issues
Traditionally, clove oil has been used for easing digestive upset, relieving pain, and helping with respiratory conditions. Research has found that clove oil may have benefits for dental and topical applications, for treating infections, and even for fighting cancer.
Private label Clove essential oil
Get clove essential oil on your brand name with least investment and complete ease. You have the option to choose your choice of bottle, size and label design. We have multiple size and colour bottles with different pattern dispensers however you can always ship your choice of bottle to us. Services like label designing and other related services are offered under one roof.
Popular uses
Used for cuts, burns, bruises & acne
Used in Arthritic pain, and rheumatism
Good for the digestive system as it is very effective against vomiting & diarrhea
Dentist advice on the use of clove oil as it helps in toothache & mouth sore
Benefits of Clove Essential Oil for health
It is good in treatment for ear pain
Good for better digestion
It is good for toothache
Strengthening the immune system
Keep blood sugar level control
Helps in blood circulation
Relieving stress
Prevents from Nausea and Headache
Prevent from sore throat and cough
It helps in purifying blood
Benefits of Clove Essential Oil for skin
Clove essential oil is rich in healing properties and offer some great skin advantages.
Clove oil prevents from aging
It prevents from acne as it has antibacterial properties
Clove oil helps in removing blemishes
Massaging with clove oil under the eyes promotes blood circulation and helps in reducing dark circles
Benefits of Clove Essential Oil for hair
Clove oil works wonders for hair, you will find a solution to your hair problems in clove oil. Following hair benefits of clove oil
Clove oil works great for hair growth
Clove oil give relief from dry and flaky scalp irritation
Clove oil prevents premature greying of hair
It also prevents hair fall
Side effects of clove oil
Clove oil can have a strong burning sensation if used in large quantities. It is always advisable to use small amounts of essential oiland to be careful when using it on children if you have never used it before.
Side effects of clove oil include
Allergy & toxic effects
Intestinal problems
Low blood sugar levels
Bleeding disorder
FAQ
1.Does cloves increases blood pressure
No, cloves do not increase blood pressure. In fact, it lowers high blood pressure due to the compound eugenol found in it. The oil of cloves also acts as a natural blood thinner which prevents various ailments.
2.Can we use clove essential oil for aromatherapy
Yes, you can use clove oil for aromatherapy
3. Can clove oil kill a tooth nerve?
It is a traditional remedy for numbing nerves. Put two drops on a cotton ball & place it against the tooth until the pain is reduced.