Clove Essential Oil and hydrosol Bulk Manufacturer and Supplier in India
Cloves are a traditional health-giving powerhouse! It is obtained from the tree popularly grown in tropical regions. It is used in many Indian dishes to add to the taste and aroma. It has many health benefits and can be found in most of the products used.
Clove oil and hydrosol have high amounts of antioxidants which is the main reason behind the numerous health benefits. The compound responsible for this is eugenol. It has high nutritional value too. It has minerals and vitamins that the body needs.
Clove essential oil and its ark has long been used in dentistry and for the relief of muscle aches and pains. Therefore many gums and teeth related products contain clove extracts like clove oil or clove hydrosol. It supports digestion, keeps the respiratory system healthy, and hastens the healing of bruises, wounds, and abrasions. With effective mouth cl;eansing properties clove hydrosol and clove essential oils are bigtime used in dental preparation and regular mouth hygiene products like mouthwash.
What is Clove Bud Essential Oil?
Clove oil is hot and spicy oil obtained from steam distillation of the leaves, stems, and buds of the clove tree. Clove bud oil is the most popular clove essential oil used in aromatherapy.
It has a variety of medical characteristics and can be applied topically to relieve pain. Plant-derived phenylpropanoids are abundant in the oil, with eugenol being the most significant. The color of the oil ranges from pale yellow to golden brown. It has a clove-like spicy aroma to it. The oil can be used for aromatherapy and flavoring.
What is clove hydrosol
Clove hydrosol is the steam distilled water of clove buds which is often used as water soluble extract of clove. This is simply because this steam distilled water of clove contains the water soluble nutrients of the herb clove and provides effective healing and nourishing goodness.
Is clove hydrosol edible?
Yes, steam distilled clove hydrosol is edible as it is simply the clove's water soluble nutrients rich water produced through traditional and so far best known technique to make the ark/hydrosol that does not require any chemical or preservative in it. Often clove hydrosol sold in the market is inedible hence always know in detail before making any purchase for your clean, organic brand.
Making of edible Clove bud hydrosol at Aadhunik Ayurveda
Making of clove bud hydrosol is a same technique as is used to make clove bud oil. This technique is 100% clean and free from chemicals and preservatives producing the best quality edible clove bud hydrosol suitable for use in food, medicine, skin care and other wellness recipes. Aadhunik Ayurveda is the only 100% clean and edible clove bud hydrosol manufacturer in India with fastest growing private label hydrosol services at low moqs and low investment.
Watch the making of Hydrosols at Aadhunik Ayurveda here
Making of Clove Essential Oil at Aadhunik Ayurveda
At Aadhunik Ayurveda making of clove essential oil by using the best clean and healthy technique of steam distillation is practiced. The technique is 100% environment friendly and the product is the most potent, effective, and healthy for human use. This technique produces edible essential oil.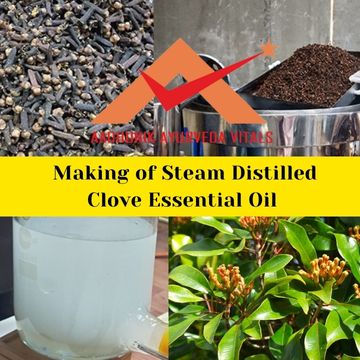 Bulk Manufacturer, Supplier & Wholesaler & Exporter of Clove Essential Oil
Aadhunik Ayurveda is one of the best top leading manufacturers, wholesalers, suppliers & exporters of high-quality clove essential oil and private label company in India.
At Aadhnik Ayurveda clove essential oil making is a clean and chemical-free technique to produce the best quality, highly therapeutic, and edible essential oil. The clove used in the making of essential oil is sourced from farmers.
We assure you that all our products adhere to the highest criteria of safety and quality. We offer natural & organic (in-house) forms of essential oils to our customers. Our products are free from all chemicals, additives, & fillers. They also do not carry any artificial colors, preservatives, and fragrances
Though Clove essential oil is skin-friendly and safe, you must dilute Clove essential oil with a compatible carrier oil as it is highly concentrated.
We also deploy proven methods for activities like processing, packaging, and delivery. Our wide range of edible pure essential oils including lavender oil, rosemary oil, turmeric oil, marjoram oil, chamomile oil, carom oil, cinnamon Essential oil, sweet lime oil and many others are available at reasonable rates. We are the leading supplier of pure & edible essential oils in the world delivering exceptional purity.
Apart from that, a secure payment gateway is provided to ensure the safety of your transactions. The best packaging strands and collaboration with top logistic companies like DHL, Bluedart, Delhivery, etc., enable us to provide undamaged yet safe essential oils shipments to our customers. Buy your favorite essential oil today, and we assure you that you will be able to reap many benefits from it!
Uses of Clove Oil
There are many common uses for clove bud oil. This herb is a powerful antioxidant and can be used to treat a variety of health issues
Traditionally, clove oil has been used for easing digestive upset, relieving pain, and helping with respiratory conditions. Research has found that clove oil may have benefits for dental and topical applications, for treating infections, and even for fighting cancer.
Private label Clove essential oil
Get clove essential oil on your brand name with least investment and complete ease. You have the option to choose your choice of bottle, size and label design. We have multiple size and colour bottles with different pattern dispensers however you can always ship your choice of bottle to us. Services like label designing and other related services are offered under one roof.
Popular uses
Used for cuts, burns, bruises & acne
Used in Arthritic pain, and rheumatism
Good for the digestive system as it is very effective against vomiting & diarrhea
Dentist advice on the use of clove oil as it helps in toothache & mouth sore
Benefits of Clove Essential Oil for health
It is good in treatment for ear pain
Good for better digestion
It is good for toothache
Strengthening the immune system
Keep blood sugar level control
Helps in blood circulation
Relieving stress
Prevents from Nausea and Headache
Prevent from sore throat and cough
It helps in purifying blood
Benefits of Clove Essential Oil for skin
Clove essential oil is rich in healing properties and offer some great skin advantages.
Clove oil prevents from aging
It prevents from acne as it has antibacterial properties
Clove oil helps in removing blemishes
Massaging with clove oil under the eyes promotes blood circulation and helps in reducing dark circles
Benefits of Clove Essential Oil for hair
Clove oil works wonders for hair, you will find a solution to your hair problems in clove oil. Following hair benefits of clove oil
Clove oil works great for hair growth
Clove oil give relief from dry and flaky scalp irritation
Clove oil prevents premature greying of hair
It also prevents hair fall
Side effects of clove oil
Clove oil can have a strong burning sensation if used in large quantities. It is always advisable to use small amounts of essential oiland to be careful when using it on children if you have never used it before.
Side effects of clove oil include
Allergy & toxic effects
Intestinal problems
Low blood sugar levels
Bleeding disorder
Private label clove hydrosol products manufacturer
Clove hydrosol is bigtime used in pharma, skin care, food and wellness industry as an ingredient to lend antibacterial and antifungal properties with its high antioxidant boost. Some of the very famous products that have been in the market for now are mouth wash, pain relief, anti acne, anti cavity, bad breath control, clove tea etc.
Find best private label clove products here
Private label mouthwash manufacturer
Private label healthy gums and teeth rinse manufacturer
Private label clove tea drops manufacturer
Private label bad breath control mouthwash manufacturer
Private label pain relief oil manufacturer
Private label hair tonic manufacturer
Private label anti acne skin toner manufacturer
Private label anti acne face wash manufacturer
And much more
Physico-chemical Study and Phytochemical Screening & Microbial Analysis of Clove Bud Hydrosol
Abstract: The current study objective was to look into physico-chemical, phytochemical analysis of Syzygium aromaticum bud hydrosol. Clove has long been known to have positive health effects. The majority of the clove spice consumed worldwide comes from home kitchens. One of the most expensive spices, clove (Syzygium aromaticum) has historically been used for both food preservation and for several therapeutic goals.
The following phytochemicals are present in Syzygium aromaticum, Carbohydrates, flavonoids, tannins, and sterols are all found, according to the phytochemical examination.
The utilisation of herbal medicines is a significant source for the development of novel pharmaceutical compounds to treat severe ailments. It offers a wide range of medical benefits including antibacterial, analgesic, antioxidant, anti-inflammatory and antiseptic properties.
Introduction
Cloves are fragrant plants that belong to the Myrtaceae family. It is a member of the Syzygium genus. The largest genus in the Myrtaceae family is called Syzygium. Cloves are a species of the Syzygium genus that have exceptional economic importance.
Cloves are known by the scientific name Syzygium aromaticum. It is used in Traditional medicine, which relies on using herbal medicines, and continues to be crucial to the health care system.
Due to the belief that natural medications from medicinal plants have fewer adverse effects and greater efficacy than their synthetic counterparts, these products have gained increasing recognition in recent decades.
The discovery of these phytochemicals has been regarded as a great breakthrough in the search for potent and novel medications. Herbal medicines have been acknowledged as a significant source for finding unique pharmacological compounds that have been employed to treat severe ailments up to this point.
Additionally, its use in numerous industrial applications has been described, and it is widely employed in perfumes, soaps, and as a washing agent in histology work. Chinese and Indian traditional medicine employs cloves as a warming and stimulating stimulant. Cloves have historically been used to cure a variety of conditions, including nausea, liver, intestine and stomach ailments, as well as to stimulate the nervous system. Cloves have been shown to treat several pathogens in tropical Asia, including scabies, cholera, malaria and tuberculosis.
Due to their medicinal qualities, these spices have been utilised since the Ayurveda to treat a variety of ailments. Spice's therapeutic benefits have been attributed to a number of phytochemicals. Additionally, they featured a number of pharmacological and phytochemical qualities that made them useful in the creation of numerous medicines.
The present work evaluates the aromatic waters/ hydrosol of Clove obtained as innovative commercial products of a steam distillation process.
The following tables provide information on the most commonly tested physico-chemical and phytochemical parameters, and Microbiological analysis in Clove Hydrosol.
| | |
| --- | --- |
| Product Name | Clove Hydrosol/Herb Water |
| Botanical Name | Syzygium aromaticum |
| Manufacturing Process | Steam distillation only |
| Part Used | Buds |
| Produce | 100% chemical & preservative free |
| Usage | Cosmetic, Skincare, Health & Wellness, Aromatherapy |
| Cultivation | Parts of southern India |
Experiment
This analysis is done to analyse the physicochemical, heavy metals, phytochemical and microbial test activity of Clove Hydrosol.
1.1 Physico-chemical Analysis
Various physico-chemical parameters of Clove hydrosol were analysed which were important for production of value added products.
Result of physicochemical attributes of analysis in a sample of Clove Hydrosol
| | | |
| --- | --- | --- |
| Properties | Specifications | Results |
| Physical Appearance | Transparent liquid, like water | Conforms |
| Colour | Clear, colourless to slightly cloudy liquid | Conforms |
| Odour | Spicy, Warm, Sweet | Conforms |
| Solubility | Soluble in water & alcohol, insoluble in fixed oils | Conforms |
| pH(25°) | 4.0-7.0 | 6.3 |
| Refractive Index | 1.440-1.480@20° | 1.459 |
| Specific Gravity 9g/ml) | 0.898-0.920@25° | 0.9073 |
Primary Constituents: Beta-Caryophyllene, Eugenol, Eugenyl Acetate
1.2 Total Presents of Components
| | |
| --- | --- |
| Components | Range % |
| Beta-Caryophyllene | 10-18 |
| Para-Cymene | 65-78 |
| Eugenyl acetate | 2-9 |
1.3 Heavy Metals Test Result
| | | |
| --- | --- | --- |
| Heavy Metal Test | Specification (%) | Result(%) |
| Total Heavy Metals | NA | Not detected |
| Arsenic (As) | NA | Not detected |
| Lead (pb) | NA | Not detected |
| Mercury (Hg) | NA | Not detected |
| Cadmium (Cd) | NA | Not detected |
1.4 Result of Phytochemical Analysis of Clove Bud Hydrosol
The following result were obtained after performing the phytochemical test:
This method involves the selective and successive extraction of the plant phytochemical. The analysis of the presence of the main group of natural constituents present in the plant extract was done using different specific reagents. Chemical tests were done to identify bioactive compounds of pharmacological importance through standard methods. Phytochemicals such as tannins, carbohydrates, saponins, flavonoids, glycoside, resins, sterols, etc. were qualitatively determined.
| | | | |
| --- | --- | --- | --- |
| S.No. | Phytochemical Tests | Clove Bud Hydrosol Specification | Results |
| 1. | Carbohydrates | (+ve) | Slightly present |
| 2 | Tannin | (+ve) | Slightly present |
| 3 | Saponin | (-ve) | Not present |
| 4 | Flavonoid | (+ve) | Highly present |
| 5 | Resins | (-ve) | Not present |
| 6 | Sterols | (+ve) | Highly present |
| 7 | Glycoside | (+ve) | Highly present |
1.5 Result of Microbial Analysis of Clove Bud Hydrosol
| | | |
| --- | --- | --- |
| Microbial | Specification | Results |
| Aerobic Mesophilic Bacterial Count | <100 CFU/g | Conforms |
| Yeast and Mould | <10 CFU/g | Conforms |
Description
Appearance- The Clove bud hydrosol/herbal water is a liquid form similar to water. That is the reason it is soluble in water.
Colour- The clove bud hydrosol is a clean, clear, colourless to slightly cloudy liquid.
Odour- The odour of a clove bud hydrosol is derived from the buds of a eucalyptus plant. The odour of clove hydrosol is a spicy, warm, sweet aroma. However the aroma changes from season to season with variety in its volatile compounds due to different factors like - temperature, rainfall, soil health etc.
Solubility- It is soluble in water and alcohol but insoluble in fixed oils.
pH- A pH of 7 is neutral, above 7 the pH is alkaline and below 7 the pH is acidic.
Specific Gravity- is used to define the weight of a liquid as compared to density at a specific temperature. If the specific gravity for a clove bud hydrosol sample is less than 1, that means the material will flow in the reference substances, and if the water sample is more than 1, that means the material will sink in the reference material.
Heavy Metals- this test is done to check for irregular levels of toxic or potentially harmful metals. Heavy Metal Limit test is primarily based on the reaction of metallic impurities with hydrogen sulphide or sodium sulphide in an acidic medium to produce metal sulphide which provides brown coloration.
Microbial Test- is necessary and required by many industries worldwide, where human health is at risk of being adversely affected by disease-causing bacterial & virus, and microbial toxins.
Microbiological analysis of a sample is the use of biological, biochemical, molecular or chemical methods for the identification of microorganisms in a sample.
Observations of Phytochemical Tests for Clove Bud Hydrosol
1. Carbohydrates
There is a slight presence of purple colour which indicates the presence of carbohydrates (starch).
2. Tannin
Slightly green coloration was observed, which shows the presence of tannins.
3. Saponins
There is no stable foam formation present, which shows there is no presence of saponin.
4. Flavonoids
A yellow colouration was observed that disappeared on standing, which is an indication of presence of flavonoid.
5. Rasins
A purple colour doesn't turn into violet colour, so there is no presence of resins.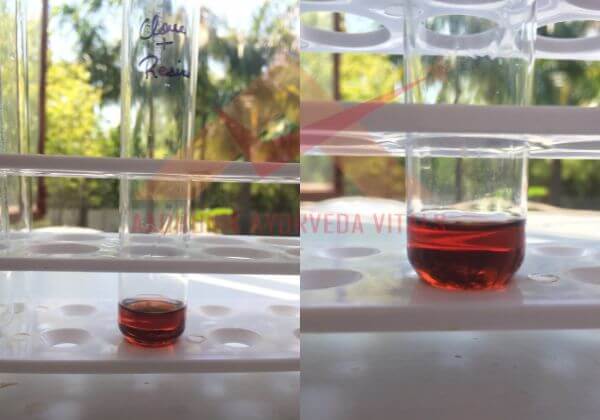 6. Glycoside
There is a slight presence of brown ring at the interference which indicates the presence of glycosides.
Conclusion
A positive reaction with the appropriate test reagent during phytochemical screening of clove hydrosol indicated the presence of carbohydrates, tannins, flavonoids, sterols, glycosides. Clove has pharmacological effects; these biological processes can be highly beneficial for illness prevention and therapy. The therapeutic properties of clove are strong, and it has a long tradition and history. Clove is beneficial for mental, emotional and physical health.
FAQ
1.Does cloves increases blood pressure
No, cloves do not increase blood pressure. In fact, it lowers high blood pressure due to the compound eugenol found in it. The oil of cloves also acts as a natural blood thinner which prevents various ailments.
2.Can we use clove essential oil for aromatherapy
Yes, you can use clove oil for aromatherapy
3. Can clove oil kill a tooth nerve?
It is a traditional remedy for numbing nerves. Put two drops on a cotton ball & place it against the tooth until the pain is reduced.
4. Is this clove hydrosol produced at Aadhunik Ayurveda edible?
Yes, it is 100% free from chemicals and preservatives and therefore suitable for edible use. You can add this to your food, beverages etc.
5. Is steam distilled clove hydrosol or essential oil edible?
Ideally the steam distilled clove essential oil and hydrosol should be edible but major manufacturers sell clove hydrosol and essential oil as " meant for external use only" or "cosmetic grade". Though they claim their product is steam distilled but there is much more to it hence the product is not edible. We at Aadhunik believe that if the herb is edible then the hydrosol or essential oil produced from it should be edible too.