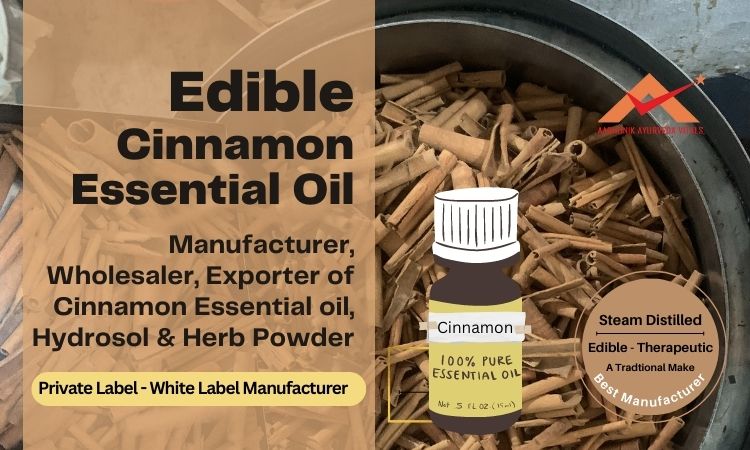 Best Manufacturer of Cinnamon Essential Oil In India
Cinnamon scientifically known as Cinnamomum zeylancium, is an evergreen tree that belongs to the Lauraceous family, native to Sri Lanka and India. Now, it's grown in almost each and every tropical region of the world. Cinnamon was especially valued in the Indian conventional medicinal system. It has been used to deal with numerous health issues.
Cinnamon essential oil is aromatic oil extracted from the bark of the cinnamon tree with the aid of the usage of the steam distillation technique. Though there are many techniques to produce cinnamon oil like solvent, co2 extraction etc. but steam distillation is the best so far known technique. The major active elements of cinnamon oil taken from the bark are eugenol, linalool, and cinnamaldehyde. All these three make up most of the oil's composition.
Aadhunik Ayurveda provides the best high-quality pure Cinnamon Bark Essential Oil that possesses powerful, antibacterial, antifungal, & antiseptic properties. The oil has a sweet & calming aroma used since ancient times to support mental and physical well-being.
It has a huge range of medicinal and therapeutic properties that can be used to enhance the health of your skin and hair as well. Organic cinnamon bark essential oil is used for treating various skin conditions in both Indian Ayurvedic and traditional medicines.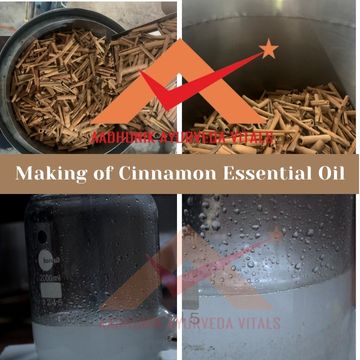 Manufacturing of edible Cinnamon Essential Oil
Aadhunik Ayurveda is the leading manufacturer of cinnamon bark essential oil in India. Making of cinnamon essential oil at Aadhunik Ayurveda is a time-tested traditional technique that produces the best quality highly therapeutic essential oil 100% chemical and synthetic free.
Raw material quality is very important for making pure essential oils. Aadhunik Ayurveda makes pure essential oil using fresh leaves, bark, roots, stems, etc. The raw material is sourced directly from the farmers cultivating different herbs throughout different Indian states.
And this chemical-free steam-distilled technique of making essential oils makes Aadhunik Ayurveda the only manufacturer of edible essential oils.
Private Label Cinnamon Essential Bark Oil
Aadhunik Ayurveda is the leading manufacturer, exporter, and bulk supplier of cinnamon oil from India. Our company owns a state-of-art manufacturing facility where varieties of oils are processed while making sure that they do not lack nutritional content.
We can make products custom formulated with cinnamon bark essential oil like face oil, soaps, perfume, hair shampoo, hair oils, etc, to provide unique products to your line with ease and low investment. Explore private-label hair and skin care products with cinnamon bark essential oils with us.
Aadhunik Ayurveda is the fastest-growing essential oil, carrier oils, and other products private label company in India & globally with its exports rising manifold because of its quality products with the fusion of traditional & modern-day practices like good manufacturing practices and other safety & hygiene related practices.
As a leading private label manufacturer, we develop products of the finest quality while keeping in mind that the prices are competitive and affordable. We offer our products in a vast variety of package sizes so as to meet the specific needs of individual clients, whether big or small.
Our working transparency and timely deliveries with time-to-time compliances and certifications make us a preferred choice amongst many brands and global certifications like ISO, FSSAI, GMP, USDA, etc, have helped us stick to quality standards and processing.
Aadhunik Ayurveda keeps on enhancing quality standards to maintain the products as per global standards. We deliver our products throughout the world using our logistic partners We maintain ethicality in the production of our essential oil and other products and they are free from any kind of the chemical, pesticides, and fertilisers and this makes Aadhunik Ayurveda the best ayurvedic third-party private label company in India.
FAQ
Is cinnamon oil good for hair growth?
Aadhunik cinnamon bark essential oil is pure and thus therapeutic. It stimulates the scalp & increases blood circulation. It is good for hair loss treatment and helps promote healthy hair & scalp.
Where to buy Cinnamon Oil?
Aadhunik Ayurveda is the leading manufacturer & supplier of 100% pure steam-distilled Cinnamon essential oil in India.
Can I market this cinnamon oil as edible essential oil?
Yes, you can.
What is the minimum MOQ for cinnamon essential oil for private label?
We are not very adamant on MOQ's and therefore it is something that can be worked out suiting both parties. However we have been doing a minimum MOQ of 200 pc for start-ups which indeed have helped many entrepreneurs turn their dream into reality. Aadhunik Ayurveda with its years of rich experience has supported more than 100 start-ups in the last 2-3 years.
Do I have to provide you with the bottle?
It is totally your decision. You can send your bottles/packaging and also pick bottles from our stock. Whatever suits you the best, we work in the same format.