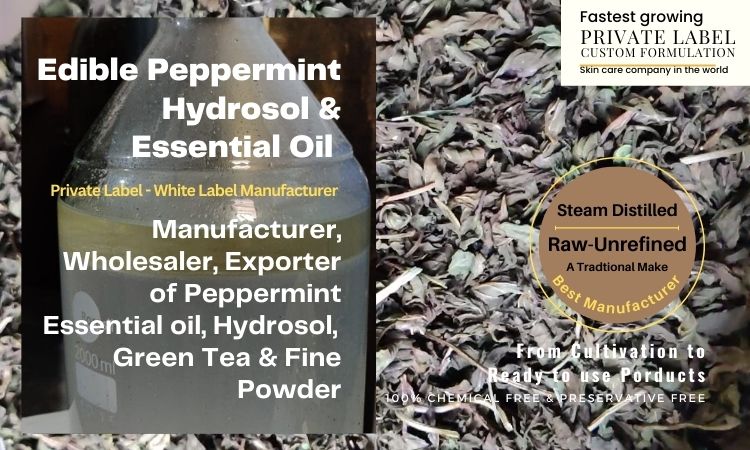 Best Manufacturer of Peppermint Essential Oil & Hydrosol in India
Peppermint is a herb found in Asia, Europe, and America. The organic peppermint essential oil, water, and powder are made from the fresh leaves of peppermint. Due to the content of menthone, and menthol, it has a distinct minty aroma. This steam-distilled essential oil, & water are directly obtained from the herb, and although it is most usually found in liquid form, it may also be seen in capsules or tablets in many health food stores. Peppermint is high in omega-3 fatty acids, vitamins A and C, minerals, manganese, iron, calcium, copper & potassium.
Peppermint water is likewise a natural antibacterial and assists with topical pain management of minor skin abrasions and small cuts. You can use this product as a spray, directly over your skin, add to food and beverages or add it to any beauty care recipe and make a wellness drink.
Peppermint Oil and water are mainly used for their therapeutic benefits, but it is also widely used for making perfumes, lotions, facial toners, cosmetic care products, and other different types of products. It is additionally used in aromatherapy due to its uplifting fragrance that definitely affects your mind and thoughts. Organic peppermint essential oil and ark water is best known for their anti-inflammatory, antimicrobial, and astringent properties. As no chemical processes or additives are used for making this essential oil, it's miles natural and safe to use.
Since it's a far more effective and concentrated essential oil, we recommend diluting it before applying it directly to your skin. It has a watery viscosity due to the steam distillation technique. Its color ranges from clear liquid to yellow form. These days, peppermint oil is being used widely in cosmetics due to its soothing residence. Various vitamins and minerals make it an excellent choice for your skincare and beauty care purposes.
Manufacturer of Peppermint Essential Oil
Aadhunik Ayurveda is the best manufacturer and producer of Peppermint Essential Oil in India. It makes use of the traditional technique of steam distillation to produce high-quality Peppermint essential oil which can be used for various purposes in beauty care, and wellness products. Many products contain Peppermint Essential oils which lend a natural Peppermint aroma & therapeutic effect to the product. Aadhunik is the world's best manufacturer of Stem-distilled Peppermint Essential Oil in India.
Manufacturer of Peppermint Hydrosol
Aadhunik Ayurveda is the largest producer of Peppermint hydrosol in India. Making of the ark is known to Indians since ancient times through the science of healing and nourishing the body called ayurveda. It makes use of a stem-distilled technique that is in use for thousands of years and produces top-quality highly effective peppermint ark suitable for repairing & healing the human body through inhaling, applying & ingesting. The hydrosols produced by Aadhunik are 100% free from chemicals and preservatives. Peppermint hydrosol may be used as-
Peppermint face toner
Peppermint tea-drops
Peppermint indigestion relief drink
Peppermint diffuser water and much more
You can buy Peppermint hydrosol and Essential Oil at exceptional wholesale prices from Aadhunik Ayurveda.
Benefits of Peppermint Water & Essential Oil
Unlike many natural herbs and medicines, there are various advantages of Peppermint oil as given under:
Distilled peppermint water is used to treat the redness and itchiness of the skin effectively and instantly. You can add hydrosol to a fine mist spray bottle. Spritz on acne as needed during the day.
With antibacterial, antifungal, and antimicrobial properties, Peppermint water is used for the preliminary treatment of cuts, wounds, and minor scrapes.
Peppermint is good for relieving congestion and treating coughs and colds.
Peppermint oil provides a relaxing and soothing effect in a very effective manner. It also reduces the pain of migraines in most patients.
Peppermint promotes wholesome respiratory function and clear breathing.
Manufacturer, Wholesaler, & Exporter of Peppermint Essential Oil, & hydrosol-Ark
Aadhunik Ayurveda is one of the top leading manufacturers, exporters, and wholesalers of high-quality Peppermint Essential Oil & Hydrosol private-label companies in India.
At Aadhunik Ayurveda Peppermint essential oil & ark making is a clean and chemical-free technique to produce high-quality, edible, and the therapeutic ark and essential oil. The peppermint used in the making of essential oil & hydrosol is directly sourced from farmers from different places in India.
Peppermint Essential Oil and water are skin-friendly and safe. You can use it for various purposes. We assure you that all our products adhere to the highest quality and safety. We offer organic & natural (in-house distilled) edible essential oil and edible hydrosol to our customers. They also do not carry any synthetic fragrances, colors, or preservatives.
We are the leading manufacturer & supplier of pure & edible essential oils in the whole wide world. Apart from that, a secure payment gateway is provided to ensure the safety of your transitions. We also offer the best private label services for the best quality edible Peppermint water and essential oil for brands across the world. Certification with good manufacturing practices are undertaken to provide the legal and environmentally best product for your brand.
We export the Peppermint Essential Oil and hydrosol in Bulk quantities to different countries using our logistic partners. You also can purchase our herbal products in Bulk at wholesale prices from us. We assure you won't regret choosing us!
Private Label Peppermint Skincare, Health & Wellness Products
Aadhunik Ayurveda offers natural Private Label Peppermint-based Products for Skin, hair, & wellness. They are versatile as they work for numerous problems.
Private Label Peppermint Face Scrub
Private Label Peppermint Green Tea
Private Label Peppermint Hydrating Face Mist
Private Label Peppermint and Amla Hair Oil
Private Label Herbal Peppermint and Seawood Body Scrub
With us get the best-quality custom formulation, private label, and raw material for your start-up established brand at the best prices, complete assistance, and low MOQs.
FAQ
Where I can Buy Peppermint Essential Oil and Hydrosol Online in Bulk?
You can order peppermint oil and water online at Low prices from Aadhunik Ayurveda Vitals. We are the leading manufacturer, supplier & distributor of bulk orders in India and across the world. Since there are no middlemen, we deliver the best quality at the best prices. We are not a trader.
How long does peppermint hydrosol last?
Peppermint ark/water lasts for 2 years.