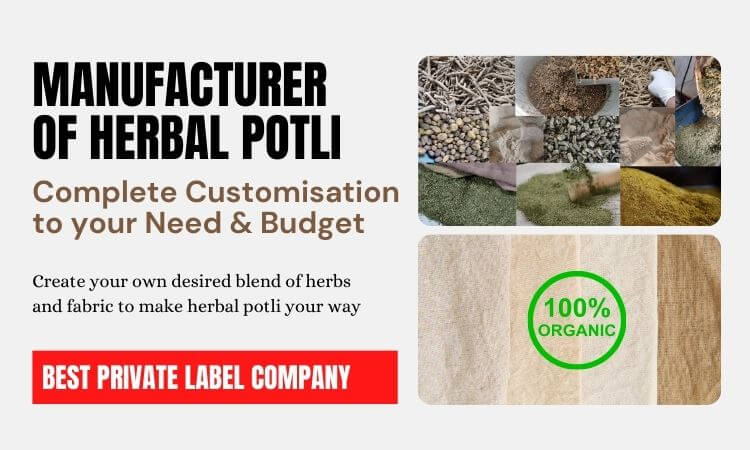 Manufacturer & Exporter of Herbal Massage Potli
Potli massage treatment finds its roots in the science of Ayurveda, one of India's oldest medical practices. This age-old technique is one of the most popular, effective and widely-used in ayurvedic treatments for pain relief. With more than half a decade of experience, Aadhunik Ayurveda has been formulating the best herbal massage potli for various salon, spa, ayurvedic centers and other health & wellness destinations in India and various countries around the world.
With years of experience in manufacturing treatment based herbal products, we at Aadhunik Ayurveda are the most preferred manufacturer of Ayurvedic herb healing potli compress that help reduce pain & promote better circulation and total relaxation. These herb based potli can be made customized to your need accompanying massage oil or balms as a complete private label solution under one roof.
What is Herbal Massage Potli?
The term "potli massage" comes from the practice of using a "potli," which is a pouch containing pain-relieving herbal ingredients. While it is one of the popular massage therapies practiced in India, its make, makes all the difference to quality of the product.
Herbal potli is prepared with various herbs, essential oils, and herb powders. These are then warmed and used to massage the entire body or any specific part like back, neck, shoulders, hands and joints.
Making of Highly Therapeutic Herbal Massage Potli at Aadhunik Ayurveda
Aadhunik makes use of herbs-whole/course, herbal powders, essential oils to make herbal massage potli for various body pain. Potli massage therapy combines the elements of fire and water with a particular blend of herbs and essential oil. The combination of herbs used often depends on the underlying disorder at the root of the treatment. Different blends of herbs are used to make different types of potli. Potli is customized to the needs of the therapist and the brand and that makes us the best customized herb potli manufacturer & supplier in the world as we export these herbal varied sizes potli to Canada, U.S, parts of Europe, Singapore, Malaysia, Dubai, Saudi Arabia, Australia, New Zealand etc. Hence
Making of different types of Herbal Potli
There are multiple herbs, their blends used in the making of herbal potli depending upon the need. The inside the blend is prepared in multiple ways -
Dried herbs blend
Dried herbs topped up with essential oils
Dried herbs infused in cold pressed oils
Dried herbs infused with cold pressed oils and topped up with essential oils.
These customized created blends are tied in a fine muslin or linen cloth. This makes the potli a helpful product in seeking relief from stiffness, joint aches and other concerns even restful sleep. The pores are opened and the muscles are relaxed when the heated potli is applied to the body in a rhythmic motion, resulting in relaxation, detoxification, and rejuvenation.
Private Label Manufacturer of Types of Herbal Massage Potli
Aadhunik has curated its name for manufacturing highly therapeutic and best ayurvedic herbal potlis in the market. Alternatively, if you are searching for administering potli massage therapy at home, salon, spa, ayurvedic centers and other health centers, you can select carefully curated herbal potlis from Aadhunik Ayurveda on your brand name through our best services -
Private label herbal/ayurvedic potli manufacturer
Customized herbal/ayurvedic potli manufacturer
Moreover, our private label range of herbal warm compresses is available in different sizes, totally customized to your needs and budget. Some of our major products available for private label are -
Private Label Shoulder Pain Massage Potli
Private Label Knee Pain Massage Potli
Private Label Back Pain Massage Potli
Private Label Joint Pain Massage Potli
Private Label Neck Pain Massage Potli
Private Label Eye Warm Compress Massage Potli
Private label Sinus relief warm compress potli
And much more
Potli massage is a unique form of abhyanga massage as it frequently incorporates heated oil. For the unenlightened, Abhyanga massage refers to any massage treatment that incorporates oil as a piece of the treatment.
We at Aadhunik Ayurveda can customise herbal potli for various wellness brands, Ayurvedic centres, Spas, Salons, and other wellness destinations. We used ayurvedic herbs and natural ingredients like Ashwagandha, Rosemary oil, Camphor oil, Rasna leaves, Turmeric, Eucalyptus oil, Hadjod, Carom, Castor, Peppermint oil and other authentic herbs to create various blends to suit your needs targeting different body pains. Our years of experience in formulation and product creation have given us a good skill set to create unique required formulations suiting the need and demand patterns.
Best Manufacturer & Exporter of Herbal Potli in India
Aadhunik Ayurveda is fast becoming the most committed manufacturer and exporter of herbal massage potli all over the world with its quality and luxury produce. Keeping various conditions and types of body pain in mind, we manufacture herbal massage potli that can soothe effectively various body pain.
We have always worked to stay ahead of the times to maintain the working abilities of the ayurvedic & herbal team of experienced and a staff of dedicated wellness providers to hold on to the manufacturing techniques with all minor details much needed to produce uncompromised quality best produce. The manufactured herbal potli will target the specific area that needs to be curated, and it is the most efficient base of our service that has made us No.1 leading amongst Private Label Herbal Massage Potli manufacturers.
Apart from this, we also offer pain relief oil, balms and health & wellness products. For those looking for reliable, pocket-friendly, and effective heated herbal potli for personal use, look no further than Aadhunik Ayurveda. We have a huge range of ayurvedic potlis that were made with 100% natural ayurvedic herbs, to bring relief from pain, promote restful sleep, and help you bring your healthiest self to life!
We export our herbal massage potlis in some parts of Europe, and other countries like Canada, USA, UAE, New Zealand, Thailand, Japan etc.
Various sizes available
At Aadhunik we offer private label services which help you build your brand with ease. With half a decade of experience and ongoing services to this industry we provide various herbal potli in wholesale sizes of 100gm, 175gm, 250gm, 350gm, 1kg and much more.
Why Aadhunik Ayurveda?
Aadhunik Ayurveda is the one of the leading manufacturer, supplier, and exporter of ayurvedic products and health and wellness products. With strong connection with the farmer community to source high-quality raw material and authentic herbs to make cold pressed oils, essential oils, herb powder-whole/coarse for making the best highly therapeutic massage potli.
Aadhunik is one of the fastest growing industries with world class USDA, GMP, certified facilities that help offer our products and services in tune to global standards. Our founding principle of transparency and in-time delivery makes us one of the best manufacturers in the health and wellness industry producing raw material and ready to use products for personal care, and health and wellness.
FAQ's
Can I order just 100 pieces for my brand? The tiny potli targeted for sinus points made with herbs like camphor, basil, eucalyptus, mustard etc.
Yes, we can provide you with a sample order for 100 pieces. The tiny potli are perfect warm compresses easy to use with long lasting warmth that can help melt away the mucus and provide ease. For more details please contact us at aadhunikayurvedavitals@gmail.com
My world class concept spa located in south India looks forward to unique wellness products including potli's. Can you suggest the range and the pricing for various when ordered in bulk.
Yes, we make more than 500 different wellness products for different brands across the world for wellness centers, concept spa destinations, hotels, saloons etc. considering many factors like target concern, weather of the place, age group, hero herbs, desired results, ease of use etc. For more details on pricing and MOQ, please feel free to get in touch with us.