Edible Hydrosols Manufacturer, Exporter and Bulk Supplier
Aadhunik Ayurveda is the leading manufacturer, wholesaler and exporter of Edible Hydrosols/Ark water in India. We are the only manufacturer, wholesaler, and supplier of best quality edible therapeutic herb water/hydrosol like lavender, peppermint, basil, sweet lime, rose, turmeric, chamomile, rosemary, carom and many more. If you are looking for the best private label manufacturer of herbal water, floral water or we can say hydrosols in India, then Aadhunik Ayurveda is the only one source to seek high quality edible hydrosols/ark.
Make Use of Quality Source Herbs for Making edible Hydrosols/Herb Water
At Aadhunik, high-quality fresh, semidried & dried herbs for making hydrosols/herbal water are directly sourced from best organic farming practising farmers in different parts of India in the form of roots, leaves, bark, stem. flower/petals, fruit/peel etc. The developed direct connect network with farmers over the years help us seek best quality herbs from the farmers. The right quality herb adds immense value to the final produce that is hydrosol. Choosing the right quality material and always keeping it in check with quality benchmarks is a time consuming and laborious process but helps yield the best quality floral/herbal water.
There are many factors that play a significant role in the manufacturing of best quality edible hydrosol including right quality raw material from the farmer. Many more factors that should not be avoided are
Clean making technique
Right temperature
Apt duration of distillation
Required state of herb - dried, semi-dried or fresh
Apt herb to water proportion and much more
Making of Hydrosola/Herb Water at Aadhunik Ayurveda
Herb water/ark or we can say hydrosols are obtained by steam-distillation method. These hydrosols (derive their name from Hydro/Water + Sol.\/Solution) are rich with water-soluble nutrients making them highly therapeutic- healthy & effective to use in our day to day life for multipurpose.
Steam distillation is not a new technique but it is not used anymore because it is laborious, time consuming and more expensive than the synthetically developed. We at Aadhunik make every effort to revive this traditional method to produce a clean & healthy herb water that is suitable not only for external use or cosmetic use but for use everywhere as they used to be in our earlier times.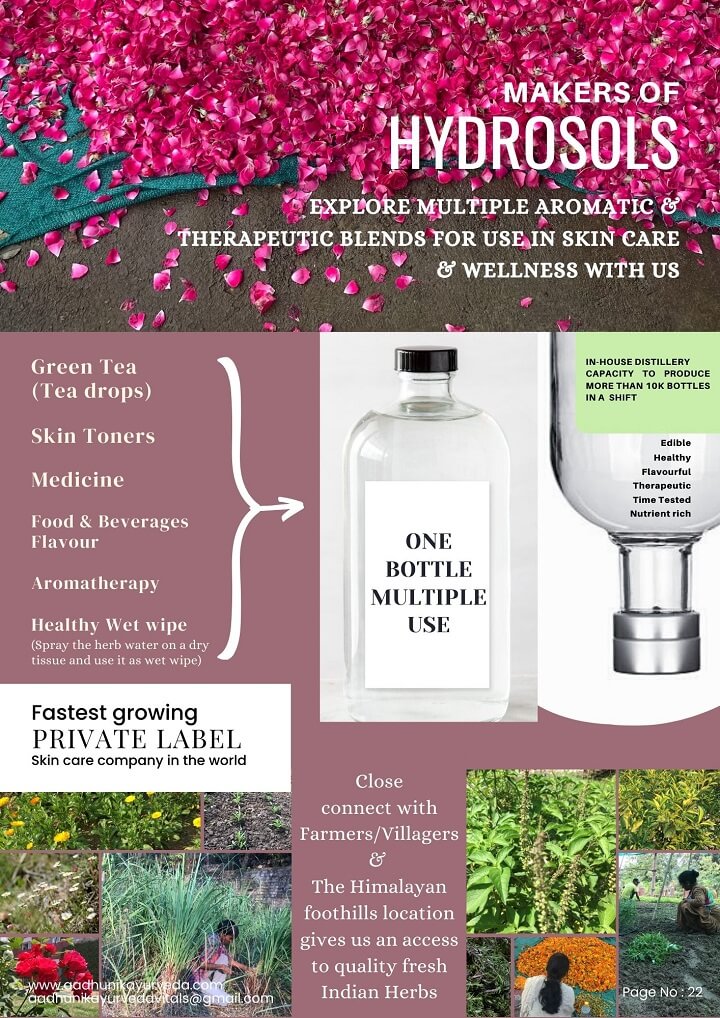 We strongly believe that herb waters be it floral or herbal if produced from an edible herb is edible and therefore can be used in many areas as-
Medicine/wellness drink
Skin care - skin toner
Tea-drops
Scalp Toner/Spray
Diffuser
Perfumes, natural scent etc. and much more
In case your choice of herb water is not available with us, we can still do it in our in-house distillery based on the availability of its raw material.
With the best state of the art distillery, Aadhunik Ayurveda produced best quality hydrosols/ark that are
100% Natural & Organic Certified
Edible & Highly therapeutic
Natural aroma & colour derived from herb which it is extracted
100% chemical & preservative free
Suitable for eat, apply and inhale
This makes Aadhunik Ayurveda a Private Label Manufacturer of herb water/hydrosol and wellness products producing best quality with minimal traditional processing delivering to multiple countries around the world.
Hydrosols are the best clean and 100% natural water soluble extracts of any herb.
Best Manufacture, Producer, Exporter & Bulk Supplier of Hydrosols in India
Aadhunk Ayurveda is the No.1 Leading Manufacturer of Hydrosols/Herb water/Ark or Floral water in India and delivers to more than 13 different countries around the world. We are the leading private label manufacturer of herbal waters like edible rose water, vetiver water, carom water, lavender water, lemongrass water etc. These herbal waters are also used in place of water for creating gentle and plant based cosmetic products. Our floral water/hydrosols are pure and devoid of any kind of additions, fillers or chemicals. They are free of synthetic fragrance, colour, and preservatives.
At Aadhunik, we upload the highest standard of quality. Ever since we learned the secrets of extractions and distillation, we have been using these processes to extract pure edible hydrosols/ark that are completely chemical free.
We are known for providing a huge range of pure and edible herbal water/hydrosols at affordable rates. Our first aim is to deliver our clients their preferred product with the safest packaging services.
Our products are free from harmful chemicals and that is something which we assure our end. We are the leading supplier of edible hydrosols/floral water in the world, and thus provide best prices in bulk to our customers.
These hydrosols/herb waters are used in the skin care industry as natural powerful water soluble nutrition, often a replacement to solvent based herb extracts. Likewise the food industry uses these hydrosols to add flavour and nutrition to the food and beverages. Alongside many of the concept hotels and spas make use of these as diffusers, edible tonic and flavoured waters etc.
Best Private Label Herbal Water for Skin, Health & Wellness
At Aadhunik we have a wide range of herbal water which includes.
Create your own blend of hydrosols with a purpose
We at Aadhunik help you create your own blend for your brand. The blend is prepared using the different herb hydrosols keeping in mind your requirement and budget. Hence we have been creating blends for skin care, food and wellness something on the lines as below
Skin care blends include - Skin boost - vitamin C, luminous elixir prep, pore minimising mist etc.
Food & beverages include - adding flavour to food like curries, soups and salads using lemongrass water, rosemary water, carom water, mint water, vetiver water, coffee water etc.
Wellness include creating blend for concerns like indigestion, nausea, anxiety and stress, insomnia etc.
What Makes Aadhunik Ayurveda the only Manufacturer of Edible Hydrosols in India?
Here're some of the exceptional traits that makes Aadhunik Ayurveda the preferred and thereby a famous Skincare, hair care, food & wellness products manufacturer & exporter in India.
Many Years of Experience
Aadhunik Ayurveda has been making a wide range of Herbal Waters/Hydrosols for close to a decade now. The years of experience in manufacturing & bulk supplying a high quality range of hydrosols have given us insights into producing uncompromised quality products. Our steam-distilled herbal waters/ark rich with water soluble nutrients are intended to offer tons of blessings to the customers, and therefore, they're quite popular. We use our experience accurately to make a distinctive range of herbal waters/ hydrosols and other wellness products as a prime Edible Herbal water/Hydrosol/Ark water manufacturer and supplier in India.
Our Speciality
World class facility with fusion of traditional techniques and modern day machinery & safety hygiene
Raw material making units like steam distillation, cold pressing, hand milled herb powder unit etc
Fully develop in-house laboratory
Simple & Transparent Working
Organic Certified GMP, ISO, FDA etc
Sustainability & environment friendly sourcing