100% Pure Edible Orange Essential Oil Manufacturer & Bulk Supplier & Exporter in India
Manufacturer of Sweet Orange Essential Oil
Sweet Orange Essential Oil (kinu) is derived from the peels of orange (Citrus nobilis x Citrus deliciosa). It is known for its sweet, fresh, and tangy aroma that is satisfactory and loved by everyone, including children. The uplifting aroma of orange-kinu essential oil makes it perfect for diffusing. It is likewise used in cosmetic applications on a wide scale due to its nourishing properties.
It is likewise useful for adding citrusy fragrance to beauty and skincare applications. Kinu-orange essential oil exhibits antimicrobial properties and is packed with powerful antioxidants that protect your skin from external conditions and pollutants. It is a natural antidepressant and is known for its anti-inflammatory properties.
Kinu-Orange Essential Oil is used to treat oily, dry and irritated skin as it accommodates emollient properties. It is also sometimes used in cleansing products to impart a refreshing fragrance to them after use. All these benefits make it a multi-purpose essential oil.
Aadhunik Ayurveda provides the best steam-distilled kinu orange essential oil and hydrosol, we use fresh and natural ingredients while making kinu - orange essential oil. Therefore, it does not cause any problems after use but rather benefits the body. However, since it is a concentrated essential oil, it needs to be diluted before using it for massage and topical applications.
Manufacturing of Orange Essential Oil
Aadhunik Ayurveda is one of the best manufacturers of orange essential oil in India. We make use of our traditional clean techniques of making kinu essential oil that produces the best quality & highly therapeutic orange essential oil..
Aadhunik Ayurveda makes pure & edible essential oil using fresh plant parts like kinu peel. The raw material is sourced directly from fruit juice vendors selling fresh fruit juices. Our man collects the peel from the juice shop owners every evening and brings it to the distillery. We inform juice shopkeepers in advance and give them our rugs to store the peel and request not to mix any other fruit juice waste with it. This collection and 100% chemical & preservative free steam-distilled method of making kinu-orange essential oils, makes Aadhunik Ayurveda the only manufacturer of edible orange essential oils.
At Aadhunik we prepare this orange essential oil under hygienic conditions to maintain its quality, fragrance, and volatility intact.
Private Label Orange Essential Oil
Aadhunik Ayurveda is the best natural orange essential oil leading manufacturer, supplier, and exporter exporting its products all over the world. We have a skilled manufacturing team and state-of-the-art technology to process premium quality kinu-Orange essential oil without compromising quality. There is a direct connection with shop keepers for quality raw material leading to no role of middleman and thereby full control on sourcing quality raw material.
We employ numerous tests and quality checks to ensure that only premium-quality and pure orange oil reaches you. The highest packaging and quality standards are employed to deliver desirable results on usage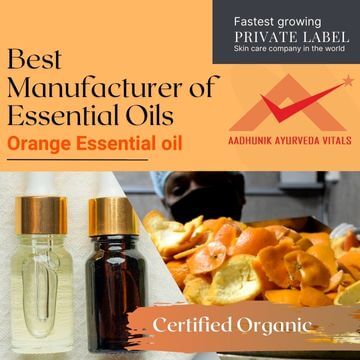 We make custom-formulated products with Orange essential oil like
brightening body serums,
Food flavours
All this to provide unique potent products to your skincare line with ease and low investment. Explore private-label skincare/beauty care products with orange essential oil with us.
With our commitment to client satisfaction, we go beyond conventional boundaries to provide 100% natural organic orange essential oil. We value customer delight and keep the great quality, purity, and natural characteristics of our provided pure orange essential oil intact. Our products are free from all chemicals, & harmful substances. Moreover, we check them time-to-time to ensure you get no chance to complain.
We also offer flexible logistic solutions to give the best service to our customers, and therefore, always exceed their expectations.
Aadhunik Ayurveda is an ISO, GMP, USDA, and FSSAI-certified company in India. So if you want to buy kinu-orange essential oil directly from a manufacturer at a reasonable price, you are at the right place. We offer 100% pure and natural kinu-orange oil in India.
You can buy orange essential oil in bulk from Aadhunik Ayurvda
Physico-chemical and Phytochemical Study & Microbial Analysis of Mandarin Orange Peel Extract Hydrosol
Abstract:India is the leading producer of fruits worldwide. And the peel of the fruit is often considered a waste but they are rich sources of fibres, large amounts of vitamin C, phenolics and flavonoids which are best agents of antioxidants. In this paper, we have discussed about the orange peel waste which has many beneficial roles in our daily life. Citrus peel has the highest number of phytochemicals such as flavonoids, terpenoids, quinolines and has highest antioxidant activity as compared to the pulp and seed identified from the extraction.
The different phytochemicals test analysis have been discussed in this. This review also indicated that citrus peels contain antioxidant compounds which could be exploited as value added products in the food, health & wellness and skincare industry.
Introduction
Mandarin Orange has been the most frequently employed fruit in the world because of its gratifying taste and nourishing values. Citrus sinensis or sweet orange originated from south East Asia which is consumed all over the world as a powerful natural antioxidant that enhances the activity of our immune system.
Today it is grown all over the world as a source of food for human consumption because of its high nutritional value and vitamin rich sources. The orange peel contains a number of compounds having various properties.
Orange peel has many active phytochemicals due to which it shows antioxidant properties and includes vitamins, flavonoids, Carotenoids, Saponin, Plant Sterols, Terpenoids. The main compounds in citrus peel such as ascorbic acid, flavonoids are beneficial for human Health.
The aim of this study is to evaluate the hydrosol/water of orange peels extract obtained as innovative commercial products of a steam distillation process. In this study we determine the phyto-chemical and physico-chemial composition of orange peel hydrosol.
The following tables provide a list of the most common physicochemical, phytochemical, and bacteriological evaluations of Orange Peel Extract Hydrosol.
| | |
| --- | --- |
| Product Name | Mandarin Orange Hydrosol/ Aromatic Water |
| Botanical Name | Citrus aurantium |
| Manufacturing Process | Steam distillation only |
| Part Used | Peels Extract |
| Produce | 100% chemical & preservative free |
| Usage | Skin, Health & Wellness, & Aromatherapy |
| Cultivation | Himalayan foothills |
Experiment
This study aim was to investigate the physicochemical, phytochemical, and microbiological activity tests for the orange peel hydrosol.
1.1 Physico-chemical Analysis of Mandarin Orange Peel Hydrosol
Various physico-chemical activities of Mandarin Orange hydrosol have been analysed which have been essential for manufacturing of price delivered products.
Result of physicochemical attributes of analysis in a Mandarin Orange Hydrosol sample
Properties
Specifications
Results
Physical Appearance
Transparent liquid, like water
Conforms
Colour
Clear colorless liquid
Conforms
Odour
Citrus characteristic orange aroma
Conforms
Solubility
Soluble in water & alcohol, insoluble in fat/fixed oils
Conforms
pH(25°)
4-7
Acid Value
0.04%
Conforms
Refractive Index
1. 470 to 1.495@20°
1.486
Specific Gravity 9g/ml)
0.930 to 0.965@ 25℃°
0.962
1.2 Total Presents of Components
| | | |
| --- | --- | --- |
| Components | Range % | % |
| Linalool | 28-45% | 33.42% |
| Limonene | 9-18%< /td> | 13.68% |
| Linalyl acetate | 3-15% | 6.82% |
1.3 Heavy Metals Test Result
| | | |
| --- | --- | --- |
| Heavy Metal Test | Specification (%) | Result(%) |
| Arsenic (As) | NA | Not detected |
| Lead (pb) | NA | Not detected |
| Mercury (Hg) | NA | Not detected |
| Cadmium (Cd) | NA | Not detected |
| Copper (Cu) | NA | Not detected |
1.4 Result of Phytochemical Analysis of Mandarin Orange Hydrosol/Water
The following result analysis were obtained after performing the phytochemical test:
| | | | |
| --- | --- | --- | --- |
| S.No. | Phytochemical Tests | Mandarin Orange Hydrosol Specification | Results |
| 1. | Flavonoid | Highly presence | (+ve) |
| 2 | Tanin | Not presence | (-ve) |
| 3 | Glycoside | Highly presence | (+ve) |
| 4 | steroid | Highly presence | (-ve) |
| 5 | Saponion | Not presence | (-ve) |
1.5 Result of Microbial Analysis of Mandarin Orange lHydrosol
| | | |
| --- | --- | --- |
| Microbial | Specification | Results |
| Aerobic Mesophilic Bacterial Count | <1000 CFU/g | Conforms |
| Yeast and Mould | <100 CFU/g | Conforms |
Description
Appearance- Mandarin Orange hydrosol/water is in a liquid form similar to water. That is why it is easily soluble in water.
Colour- Mandarin orange hydrosol is a clean, colourless liquid.
Odour- The aroma of mandarin Orange hydrosol is extracted from the peels of an orange plant by steam distillation method. The odour of mandarin orange hydrosol has citrus, characteristic orange aroma.
Solubility- The mandarin orange hydrosol mixed in alcohol and water, but it cannot be mixed in fats or fixed oils.
pH-A pH of 7 is neutral, above 7 the pH is alkaline and below 7 the pH is acidic.
Acidity/Acidic- Orange peel extract hydrosol/aromatic water is acidic in pH.
Specific Gravity- is used to describe liquid weight in comparison to its thickness at a particular temperature. If the weight of specific gravity of orange hydrosol is lower than 1, the substance will flow into the reference materials, while if the substance is more than 1, the material will sink.
Heavy Metals- This test is done to see if there are unusual amounts of metals that are toxic or could be harmful.
Microbial Test- is significant and is expected by various industries from over the world, where human wellbeing is in danger of being adversely affected by illness causing bacterial and infection, and microbial toxins.
Microbiological evaluation of a sample is the use of biological, biochemical, molecular or chemical methods for the identification of microorganisms in a sample.
Observations of Phytochemical Tests for Mandarin Orange Hydrosol
1. Flavonoid
Formation of red colour shows the presence of flavonoid.
2. Tanin
No formation of blue/blakish colour shows the presence of tannin.
3. Glycoside
Formation of brown ring colour shows the presence of glycoside.
4. Steroid
Formation of interference and yellow-greenish fluorescence in H₂SO₄ layer shows the presence of steroids.
5. Steroid-2
No appearance of froth formation shows the presence of saponin.
6. Saponion
No appearance of froth formation shows the presence of saponin.
Conclusion
Citrus plants are understood to have biological actions beneficial to human health. Citrus plants are readily accessible & show their effect in the treatment of different diseases. The phytochemical analysis indicates the presence of flavonoid, glycoside, and steroid tannin in the orange peel hydrosol.
FAQ
What is the minimum order quantity to get essential oil private label/white label?
We are a company who have supported more than 500 start-ups in the area of skin care, health and wellness. Providing ease of least investment in inventory to start-ups to minimise overall investment and give the ease of increasing the sku's have been our principle and therefore we can make as low as 200 pc too.
Where to buy orange essential oil?
Aadhunik Ayurveda is the leading manufacturer & supplier of edible orange oil. It has super shelf-life stability with complete nutritional compounds.
Is orange oil safe for your skin?
Yes, Aadhunik Ayurveda kinu-orange essential oil is safe. However, it is highly concentrated so add it in low quantities to add potency and aroma to your recipes.
Is orange essential oil good for hair?
Aadhunik orange essential oil holds the right amount of vitamin C to help with hair dandruff issues and acts as a moisturiser for brittle hair.
Can I buy orange essential oil online in bulk quantities?
You can order orange essential oil in bulk at Aadhunik Ayurveda. We also export this oil to many skin care, food, and wellness brands across 13 different countries around the world.