Bulk Manufacturers of Turmeric Essential Oils, Supplier and wholesaler in India
Turmeric is an important spice that offers a range of health and beauty benefits. This bright yellow Indian spice is used widely in almost every recipe in the country. It is considered auspicious and is also used in wedding rituals and during prayers. This reflects the importance of turmeric in our culture. In fact, people have been using it for its healing properties since ancient times. It has been used in multiple forms depending upon the needs of the body. It can be used in the form of essential oil too.
This is derived from the roots of the turmeric plant. It is known for its anti-inflammatory, antioxidant, anti-microbial, and anti-aging properties. Just like turmeric, turmeric essential oil also has an array of health and beauty benefits. As far as its health benefits are concerned, it can heal your wounds, treat psoriasis (immune-related disorders characterized by red, scaly patches on the skin), improve cognitive function, and also treat inflammation and pain.
Making of turmeric essential oil at Aadhunik Ayurveda
At Aadhunik Ayurveda, making turmeric essential oil by using the best clean and healthy technique of steam distillation is practiced. The technique is 100% environment friendly and the product is the most potent, effective, and healthy for human use.This technique produces edible essential oil.
Properties of turmeric oil
Turmeric essential oil is rich in antioxidants and has potent anti-inflammatory properties. It is a pale yellow-reddish color of turmeric due to the presence of 3-5% of curcuminoids, and it includes Curcuma as a major bioactive element. The essential oil has abundant antioxidants and has anti-allergic, anti-bacterial, anti-microbial, and anti-fungal qualities which work like a miracle on your skin and hair.
Topical uses of turmeric essential oil
Used as skin rejuvenator
Treating cracked heels
In facial masks
Curbing hair loss
Eliminating signs of aging
Defeating dandruff
Treating scalp conditions
Everyday uses of turmeric oil
It is used in abundant amounts by the pharmaceutical company
This essential oil is good for hair and skin
Good for teeth and oral health
Inhalation of this specific oil boosts memory and enhances concentration power
The oil has aromatherapy properties, it helps to reduce stress and anxiety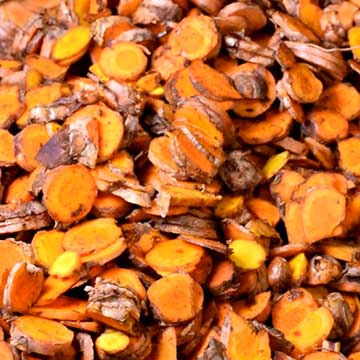 Health benefits of turmeric essential oil
For skin:-
Removes excess natural skin oil
Improve the skin's resiliency
Moisturize dryness to alleviate itchiness
Diminish the appearance of blemishes and wrinkles
Cleanse, clarify, smooth, calm, and brighten the skin
Strong in antibacterial and antiseptic agent that may be beneficial for application to areas of minor burns, cuts, and bites
For Hair:-
Remove loose dandruff flakes from the hair
Nourish and strengthen the strands
Moisturize dryness to help establish healthy scalp conditions that are conducive to hair growth.
For health:-
Turmeric oil is used to treat cancer and is effective against breast cancer, colon cancer, and skin cancer.
It also helps to support healthy glucose and lipid metabolism
Promote healthy immune function and response when consumed
Internal use of turmeric oil may enhance cellular antioxidants enzymes
It also promotes liver health due to its Ar-turmerone compounds in turmeric oil which helps to detoxify the liver.
Best manufacturer, supplier & wholesaler of turmeric essential oil in India
Aadhunik Ayurveda is the best manufacturer & supplier, wholesaler, retailer, and private label company of edible turmeric essential oil in India. At Aadhunik Ayurveda the turmeric essential making is a clean and chemical free technique to produce the best quality, highly therapeutic and edible essential oil. The turmeric used in the making of the essential oil is sourced from himalayan hills of jaunsar. The herb turmeric uses dried and semi- turmeric to produce its oil. We also deploy proven methods for activities like processing, packaging, and delivery. Our wide range of edible pure essential oils including lavender oil, rosemary oil, and many others are available at reasonable rates. We are the leading supplier of pure & edible essential oils in the whole wide world.
Private label turmeric essential oil and turmeric products
Aadhunik Ayurveda Vitals is the fastest growing certified organic and recognised globally for skin, health and wellness products manufacturing with world class infrastructure in the world. Aadhunik produces variety of turmeric products like
Turmeric essential oil
Turmeric hydrosol /herb water
Turmeric skin toners
Turmeric Face cream
Turmeric Face oil
Turmeric Powder
Turmeric Face polishers
Turmeric ubtan
Turmeric Body massage oils
Turmeric Bath oil and much more.
Aadhunik can develop products for you as per your need/ requirement, target market and budget through our dedicated team of formulators through our custom formulation service.
Get complete assistance in product packaging:-
Get full assistance in terms of packaging, designing and labeling of the product. You can choose packaging as per the requirement keeping in mind the target market.
FAQ
1. Where does turmeric oil come from?
Turmeric essential oil is typically obtained from the turmeric root through the steam distillation technique.
2. How is turmeric oil extracted?
At Aadhunik Ayurveda turmeric oil is extracted from the roots of the turmeric plant, called rhizomes by the simple process of steam distillation, an ancient technique and is therefore free from any kind of chemicals and preservatives.
3. What does turmeric oil smell like?
Turmeric essential oil has a light, earthy aroma that is slightly milder than that of spice.
4. Which is better: turmeric oil or powder?
Both oil and powder inherit the magnificent properties of the turmeric plant. However, they differ in respective strength and potency. As turmeric essential oil is more concentrated and volatile, it is more effective in the application even in smaller quantities.
5. What is the price of turmeric essential oil?
The price of turmeric essential oil at Aadhunik Ayurveda is Rs.661/5ml