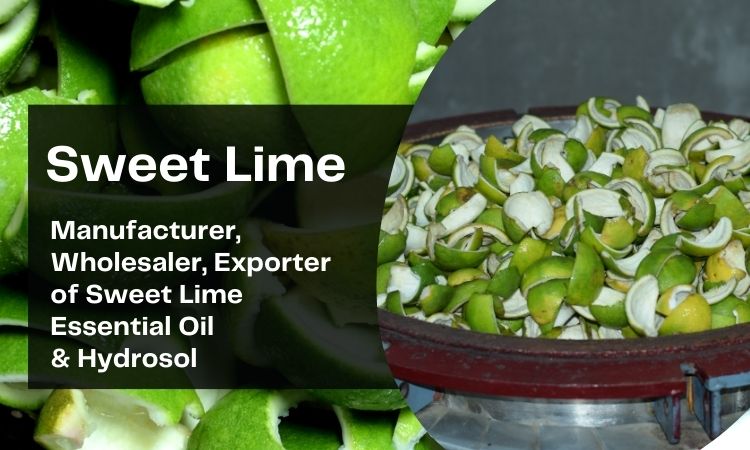 Manufacturer of Sweet Lime Hydrosol & Essential Oil in India
Aadhunik Ayurveda vitals is the best manufacturer of edible & highly therapeutic sweet lime essential oil and hydrosol in India. Sweet Lime Essential Oil and hydrosol are extracted from the peels of the sweet lime fruit (mausambi). It is thought of for its fresh and revitalising aroma and is utilised by many due to its capability to soothe the mind and soul. Sweet Lime Oil treats skin infections, prevents viral infections, cures toothaches, and strengthens the grip of the gums. It is anti-allergic, anti-microbial, and anti-inflammatory. It also prevents ageing symptoms.
Best Aromatherapy essential oil
Aadhunik Ayurveda organic Sweet Lime Essential oil and Hydrosol contain antioxidants that are healthy for your skin and hair. Inhaling citrus Aurantifolia Oil will ease respiratory and promote a feeling of well-being that is vital for your mental health.
The antifungal properties of citrus hystrix essential oil make it effective against issues like thrust, athlete's foot, etc. That is caused due to certain types of fungi. It is also effective against yeast infections. The fresh and energising scent of Sweet Lime removes the stale air responsible for the foul odour of your living spaces. Therefore, it is worth buying this multi-purpose and pure sweet Lime Essential Oil and hydrosol.
Aadhunik Ayurveda Sweet Lime Hydrosol and Essential Oil is 100% free from chemicals and preservatives and can be used in many ways-
Sweet lime recuperative diffuser drops
Sweet Lime Tea-drops
Sweet Lime Hydrating Face Mist
Sweet Lime Cold & Cough Relief Drink
Sweet Lime Wellness Drink and much more
Making of Sweet Lime essential oil & sweet lime hydrosol at Aadhunik Ayurveda
At Aadhunik Ayurveda, we follow the traditional technique of steam distillation to produce best quality sweet lime edible essential oil and hydrosol.
Benefits of sweet Lime Essential Oil & Hydrosol Water
Natural sweet lime essential oil is an anxiety killer, and it provides relief from stress and anxiety naturally.
It also boosts the production of dopamine and serotonin in our body, which are instrumental in alleviating anxiety.
The cleansing properties of pure sweet lime essential oil can also be used for making skin cleansers and face washes.
Inhaling sweet lime essential oil is good for cold symptoms like cough and fever. It not only soothes those symptoms but additionally provides instant relief from congestion.
Spraying Sweet lime on your scalp can help to strengthen the roots and balance oil production.
Manufacturer, Exporter, and Wholesaler of Sweet Lime Essential Oil
Aadhunik Ayurved is one of the largest manufacturers, suppliers, and exporters of top-quality sweet lime hydrosol and sweet lime essential oil, and other essential oils in India. We also export our high-quality sweet lime essential oil and ark water to different countries around the world. Our merchandise follows the highest standards when it comes to quality and purity. We provide the purest forms of essential oil and hydrosol to our clients. No chemicals, fillers, or preservatives are added to them. There is a direct connection with shopkeepers for quality raw material leading to no role of middleman and thereby full control on sourcing quality raw material.
We follow strict packaging strands while packing our high-grade essential oil and hydrosol-ark so that you can receive them in perfect condition at your doorstep. We offer pure Sweet Lime Water and essential oil in packages of different quantities so that you can order them as per your needs from our website. We aim to provide you with the finest of goods, giving you the richness and goodness of purely natural ingredients.
You can also Buy Sweet Lime ark-water and Essential Oil in Bulk at wholesale prices from us. We provide discounts and wholesale rates for bulk purchases. You can leave a query in our Bulk Enquiry section to buy Sweet Lime Essential Oil and Hydrosol at the best price in India.
Private Label Sweet Lime Wellness Products
Aadhunik Ayurveda offers natural and organic Private Label Sweet Lime based Products for health & wellness.
Private Label Sweet Lime Essential Oil
Private Label Herbal Sweet Lime Green Tea
Private Label Sweet Lime Body Shower Gel.
Private Label Sweet Lime Vitamin C Face Serum
Private Label Sweet Lime de-stress roll on
Private Label Sweet Lime Anti-acne face wash
With years of experience, Aadhunik Ayurveda develops healthy and chemical-free products which are highly beneficial to new brands as we understand the market needs in-depth. We are the leading manufacturer of beauty care and wellness products in India. We also give contract manufacturing and third-party manufacturing services to our clients.
FAQ
Where to find the best Sweet Lime Essential oil in wholesale Online?
Aadhunik Ayurveda is the best manufacturer of edible stem-distilled Sweet lime essentials in India. You can find premium-grade sweet lime essential oil in bulk packages from the official website of Aadhunik Ayurveda.