Manufacturer, supplier and private label of Face Serums
Face serum sweetly and deeply penetrates the skin's surface due to its low active molecules, face serum is beneficial to the skin because of its increased concentration power. A serum is reportedly lightweight and consists of result oriented ingredients. As a result, its effects are more obvious than those of usual face lotions and moisturisers.
Going with herbal face serums, it works wonders on the skin with its easy absorbing formula that easily penetrates the skin deeply. Serums are the best skincare regime ever that offers immense glow along with healthy skin. Made with natural formulation's plant derived or say ayurvedic serums stimulate the health of the skin. And choosing the right manufacturers is so important when it comes to the skin. In this aspect, Aadhunik Ayurveda serves the best being the top ayurvedic face serum manufacturers and private label company in India.
Making of Face Serums at Aadhunik Ayurveda
Aadhunik Ayurveda provides an array of best face serums in India. For making face serums Aadhunik Ayurveda uses natural ingredients like vitamin C, hyaluronic acid, AHA, BHA, PHA Vitamin C, Aloe vera , Caffeine, Coconut, Collagen, Green Tea, Hyaluronic Acid, Salicylic Acid, azelaic acid, glycolic acid, lactic acid, ferulic acid, lavender essential oil, vetiver, holy basil, rosemary, Tea Tree, rosehip, jojoba, moringa, kumkumadi, hemp seed and much more.
We at Aadhunik Ayurveda are moving ahead in the industry with the prime agenda of providing the superlative quality of natural beauty products made up with natural ingredients, roots, herbs, seeds, and nuts. We do offer a wide range of distinctive natural face serums. These products offer great skin health with ultimate glowing skin. There are no harsh chemicals, fragrances or preservatives used in preparing high-quality face serums.
Best manufacturer of Face Serums
Aadhunik Ayurveda offers the best range of face serums in India. As a result, we have established a strong market function. And we're well-known Manufacturers and Suppliers of Face Serums in India and around the globe. Our facial serums have shown first rate results in repairing fine lines and wrinkles, minimising discoloration, eliminating dead skin cells, and providing a youthful appearance throughout. Our face serums are appropriate for all skin sorts and can be worked to formulate desirable serum keeping in mind functional target, skin type and budget. With our years of experience and complete in-house product development from ingredients to compatibility & laboratory testing, we can manufacture the best face serums in time with quality at low moq's and low investment.
We make sure to take care of safety and hygiene aspects completely. Aadhunik Ayurveda deals in a broad range of herbal cosmetics and wellness products. Aadhunik Ayurveda also offers third party manufacturing line and contract manufacturing in different ranges of herbal cosmetic products including food and wellness.
Private Label Manufacturers of Face Serums
Aadhunik Ayurveda is the leading private label manufacturer of face serums and other wellness products in India and globally. There are huge varieties of face serums that you can private label- on your brand name for different markets and various skin concerns in your desired packaging. These private label face serums include-
Private Label Intense Hydrating & Brightening Face Serum.
Private Label Brightening Niacinamide Face Serum with B3.
Private Label Vitamin Face Serum for Glowing Skin.
Private Label 2% Salicylic acid Face Serum for acne-prone skin.
Private Label Anti-aging Face Serums.
Private Label Skin illuminates Face Serums
private label kumkumadi face serum.
Private label reset age delaying face serum.
Private label AHA-BHA face serum.
Private label green tea face serum with tea tree.
Aadhunik Ayurveda, the manufacturer and customised formulator of skincare products and has a well-equipped world-class facility and hi-tech lab and team of experts to guide you holistically. We also provide a wide variety of products to suit the needs of diverse customers.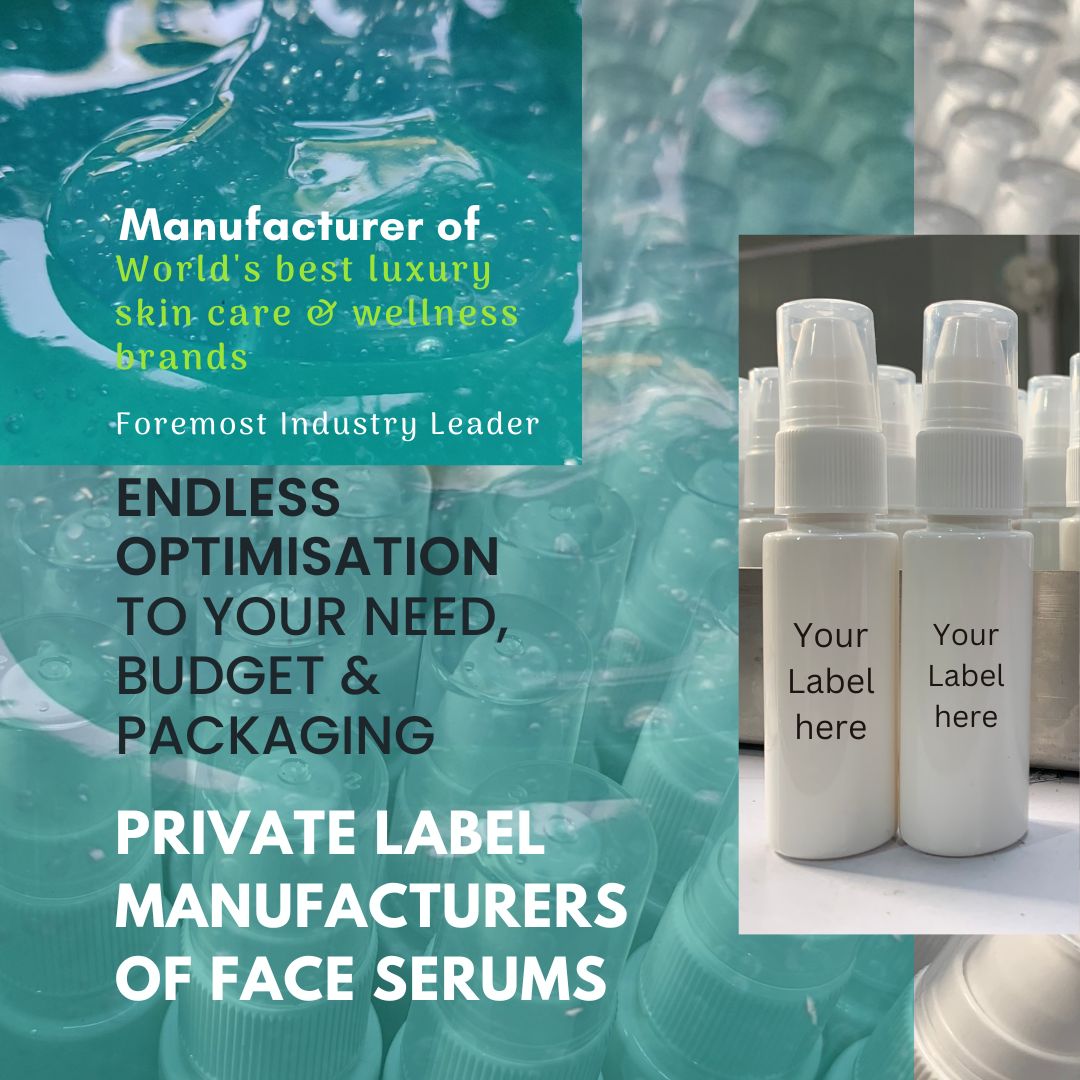 FAQ
Who are the best Face Serums Manufacturers in India?
Aadhunik Ayurveda is a certified organic-USDA, GMP & ISO Face Serums Manufacturer in India. With years of experience in providing customised & private label skincare solutions to different brands, the company produces products for multiple brands in India and globally. For more details related to quality face serum manufacturing>, write in to us at aadhunikayurvedavitals@gmail.com
What is the minimum order quantity of face serum ?
We can produce as low as 200 pieces for start-ups and minimum 1000 pieces for established brands.
How much does a face serum 30 ml cost in wholesale?
Face serum 30 ml may cost approximately around Rs. 45. Actual cost of a serum can be evaluated post finalisation of the formulation as cost of a product depends upon the ingredients used in it. For more details, you can contact us through whatsapp +91 81-71-3076-01