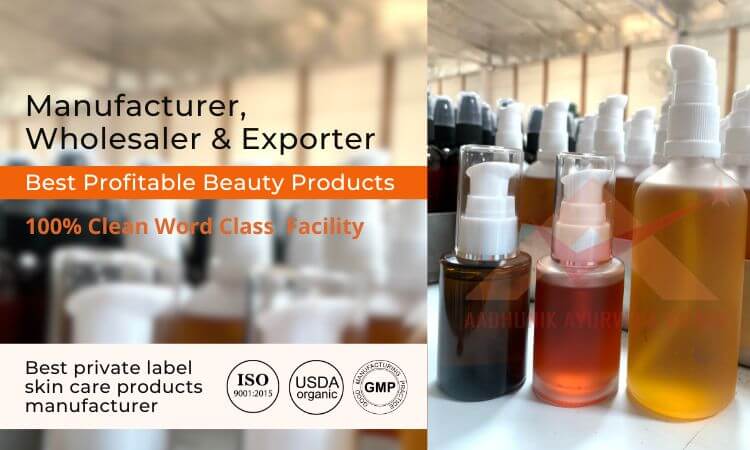 Best 10 profitable beauty products globally
Who doesn't love that flawless skin? But with the growing awareness of extensive use of chemicals in skincare products, no one wants beauty at the cost of health.
Ayurveda, the ancient healing science, has some of the best tried and tested beauty solutions that have been practiced since the ancient age. The market is overflowing with an enormous range of Indian beauty brands which use different labels and ingredients which has made it difficult for people to choose one that works for them. The main cause of concern is the high chemical composition that can cause health complications or damage the skin in the long run. Some ayurvedic Indian beauty brands have really healthy products that are free from such chemicals and are really effective and healthy for the skin.
The ancient knowledge can be applied to deal with the modern problems related to beauty like damage due to pollution, premature aging of hair and skin, etc. Many people are now becoming more experimental towards skincare and are giving a chance to local brands with innovative concepts all in the hope of finding a healthy chemical free solution for everyday use.
New Indian beauty brands based on Ayurveda have been able to deliver excellent results to their customers. Hence, natural or say organic skin care products are being adopted by more and more Indians. We gradually understand how adulterated and heavy chemical toxins are used in most of the daily skincare and beauty products that damage our skin to a great extent. Therefore, organic brands in India and globally are gaining immense popularity.
Here are the best organic skin care and beauty brands in India which cater to the various skincare and beauty needs for every type of skin naturally.
AADHUNIK AYURVEDA VITALS
Aadhunik ayurveda is a certified organic & ayurvedic brands private label & custom formulation product manufacturer with world class fully equipped manufacturing facility. It is a third party manufacturing company and has a wide range of handmade skincare, hair care, health and wellness products, which are made from the natural & organic ingredients and are 100% pure and organic inspired from ancient hair and skincare practices.
The brand offers experienced, regime-focused and affordable skincare products and services to help you achieve your self-care goals.
The products are not tested on animals and free from SLS, parabens and other nasties. The brand has multiple products for both him and her.
Buy Aadhunik Ayurveda organic Product Online
Cold pressed oil, Essential oil/Hydrosols, Herbs & Powders, herb infused oils are some of the nourishing and gentle ingredients used in their products. Choose from more than 200 different formulations ready to private label on your product from baby, toddler, teens, young adults, adults, and elderly age groups in the form of cleansers, toners, moisturizers and exfoliants.
TOP 10 Products:
1. Powder face cleanser cum polisher- lighten and brighten your skin, works effectively on scars, blemishes, pigmentation, removes sweat and dirt, polishes the skin, and removes tan. 100% chemical & preservative-free.
2. Rose Water- edible rose water potent effective & healthy suitable for eat & apply, super rich with nutrients like vitamin c, benefits body, skin & mind. 100% chemical & preservatives free.
3. After Shower Oil- quick absorbing, light & non greasy, super effective in hydrating and moisturizing the skin, improves skin texture, diminishes skin discoloration, scars & tan. 100% chemical and preservatives free.
4. Goat Milk Soap- available for all age skin type people. It shrinks the skin pores, removes dead skin, and is gentle & effective, reduces dryness, lightens dark patches. 100% natural free from chemical handmade with traditional techniques.
5. Body massage oil- super moisturizing & nourishing oil for skin and scalp, clear out toxins from body, reduce intense and itchy dryness, natural plant derived aroma tone, soften and scent the skin. 100% mineral oil-free & other synthetics, time-tested herbs and oil blend.
6. Eczema/Psoriasis treatment kit- provide gentle & effective care for the skin, reduce itch, inflammation & redness, restore skin PH, 100% free from chemicals/preservatives and steroids free. Suitable for face & body care for all age groups.
7. Baby diaper rash balm- highly effective in treating diaper rashes, soothes & heals rashes and eases redness and irritation, keeps baby skin soft, healthy and comfortable, free from scent, color & other nasties. 100% natural completely free from chemicals & preservatives and made with time-tested ingredients and traditional technique only.
8. Herb water/Ark- or hydrosol steam distillate beneficial for body, skin & hair. Heals skin wounds, burns and rashes, detoxifying, aromatherapy, improves digestion, boosts immunity, supports brain health, and prevents acne, eczema and many more. 100% pure chemical free and steam distilled nutrient rich.
9. Body butter- moisturize body, have high emollient properties, heal & protect from damage, and its light and non-greasy, 100% free from chemicals and parabens.
10. Cold pressed oil- have antibacterial properties, treat hair problems, and are beneficial for skin problems like acne, eczema, dry skin, etc. 100% chemical and preservatives free.
Aadhunik Ayurveda is one of the most famous Ayurvedic Indian beauty brands by using traditional techniques/methods to make best quality products as was made in our earlier time. The brand sells a wide range of ayurvedic products. The products are manufactured under the supervision of highly qualified ayurvedic experts and chemists using only pure and organic ingredients in the preparation of all the products.
The brand has gained the trust of its customers and its products are certified by GMP, ISO organic and FSSAI.
All the products are handmade with gentle and loving care. The products are not tested on any animals and free from chemicals with a good connection with farmers.