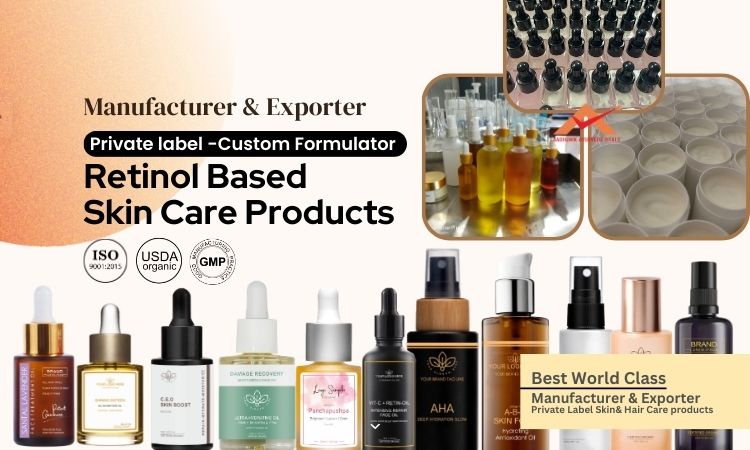 Manufacturer Of Retinol Based Skincare Products
If you're looking for the best quality retinol based skincare products for your brand then it's time to approach the best manufacturer of retinol based skin care products, Aadhunik Ayurveda.
In the ever-evolving world of skincare, Retinol is praised for its remarkable anti-aging and skin-transforming properties, retinol has become a staple in the routines of skincare enthusiasts and professionals alike. At the forefront of this skincare revolution stands Aadhunik Ayurveda dedicated to harnessing the power of retinol, the fat soluble nutrient for creating exceptional skincare products. From face creams to body products under private label, Aadhunik Ayurveda has set new industry standards and continues to inspire skincare enthusiasts worldwide with powerful cost effective solutions.
Aadhunik Ayurveda was founded with a vision to deliver best with every step transparency under the guidance of a group of skincare experts and required field professionals to create effective and transformative products. With a mission to make radiant, healthy skin accessible to all, we embarked on a journey to develop a range of skincare products centred around the potent benefits of retinol.
Combining cutting-edge research, state-of-the-art facilities, and ethical practices, Aadhunik Ayurveda quickly gained recognition as a pioneer in the skincare industry. Our commitment to quality, safety, and efficacy has earned us a loyal customer base and partnerships with esteemed professionals and retailers in the international market covering countries like U.S, Canada, Australia, Singapore, Dubai, UAE etc.
Best Retinol Face Cream manufacturer
Retinol face cream is a fast moving product in the market and therefore many manufacturers undertake the manufacturing of retinol products especially the face creams and serums. However Aadhunik Ayurveda stands unique with offering powerful active retinol face cream and hence brands from the global market always prefer us, the best retinol face cream manufacturer.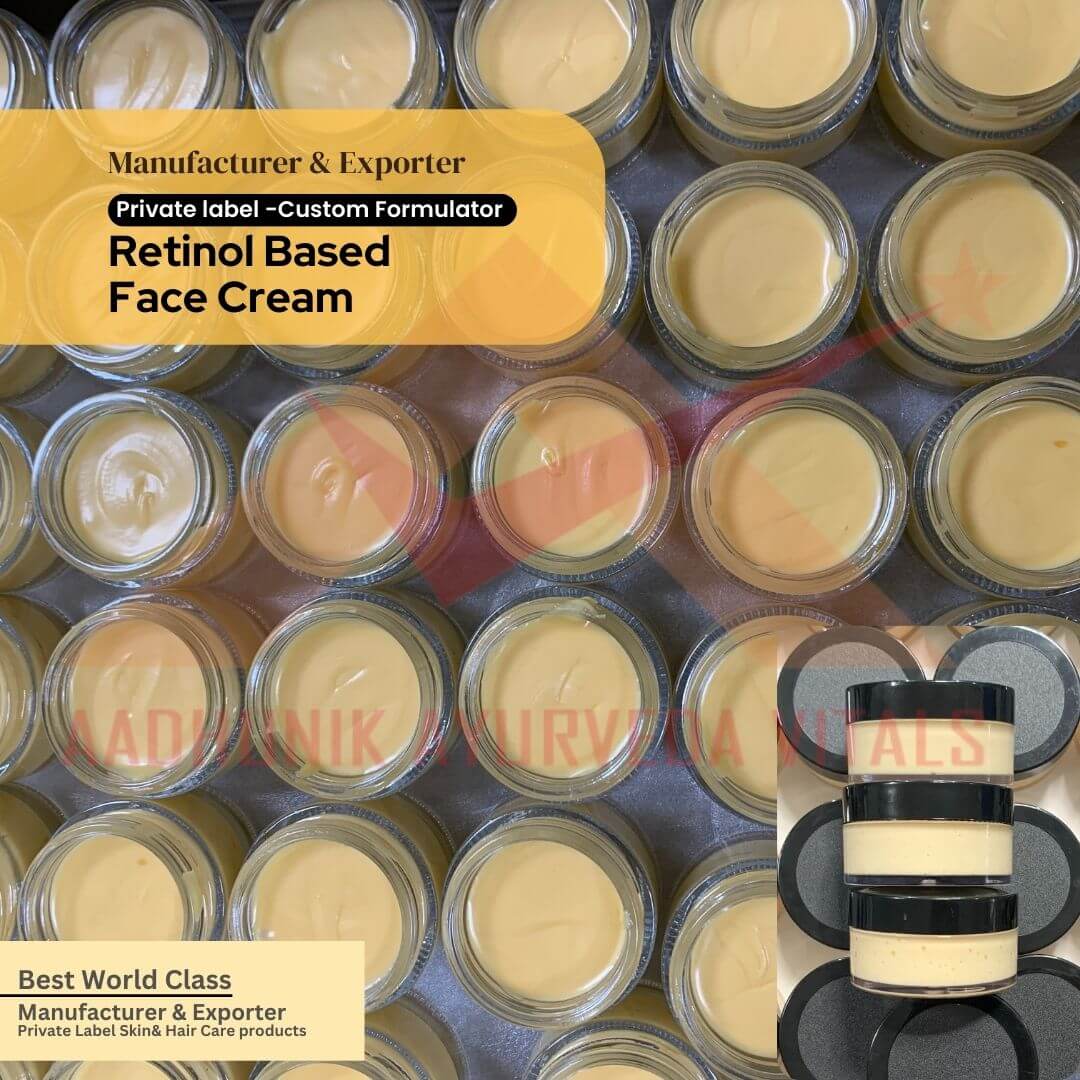 We stand unique in our offering because we work totally in tune to the brand's vision and make use of minimally processed ingredients, majorly derived from natural sources to ensure a bio connect which in turn helps reduce chances of sensitivity delivering uncompromised quality with results. All other factors like hydration, moisturisation, concentration, compatibility, texture, consistency, cost etc. are well taken care of in tune to requirements mentioned by the brand.
Best retinol face serum manufacturer
Complementing their face cream, Aadhunik Ayurveda offers a retinol-based face serum that delivers a potent dose of active ingredients to the skin. The serum's lightweight texture allows for deeper penetration, maximising the benefits of retinol. This powerful concoction stimulates collagen production, evens out skin tone, and enhances overall radiance. Moreover, the serum is enriched with antioxidants to protect the skin from environmental stressors, making it a valuable addition to any skincare routine. Since retinol is an oil soluble nutrient hence presence of oil is much needed to ensure its absorption in the skin.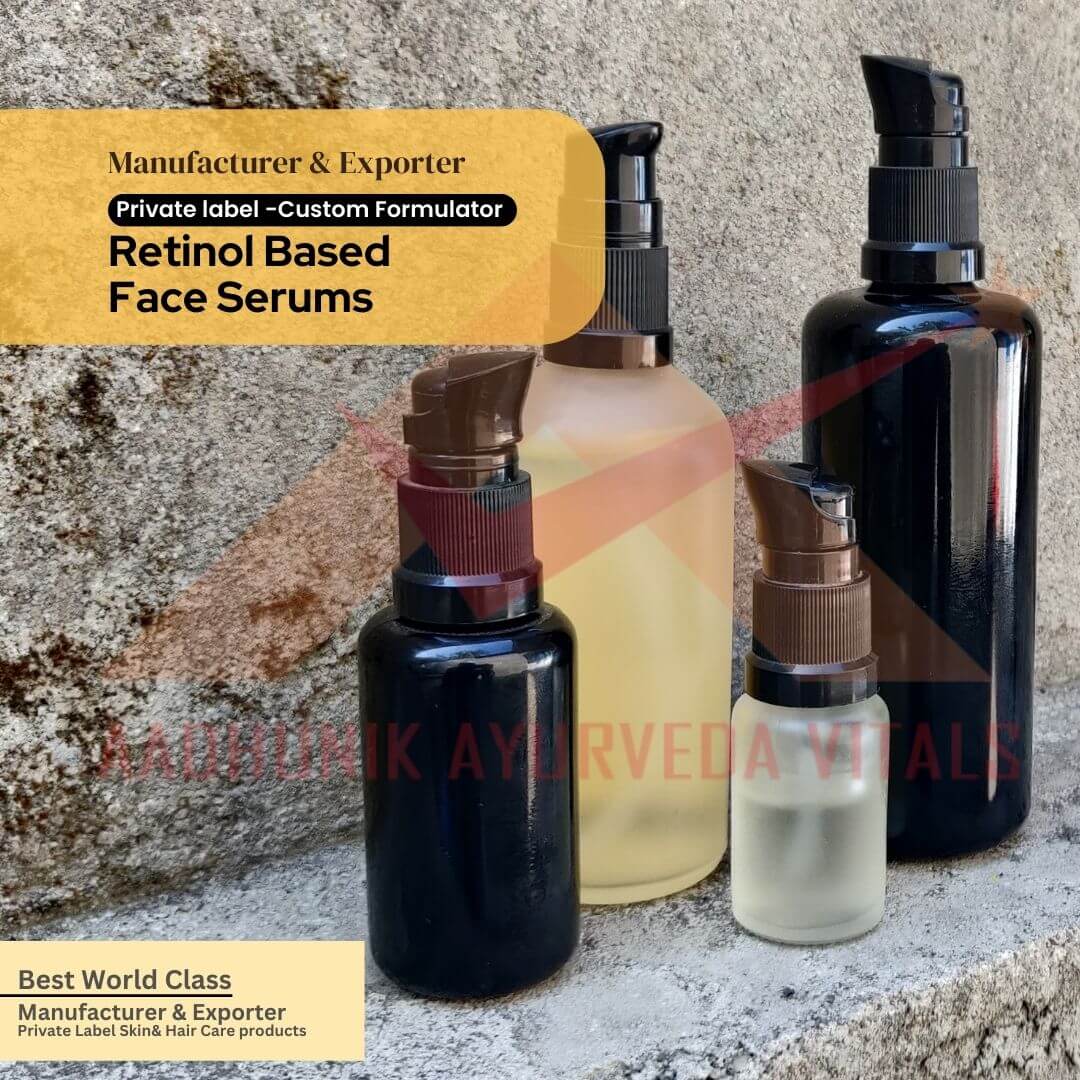 Aadhunik Ayurveda is the best private label manufacturer of retinol face serums fully customized to your need & budget.
100% natural retinol face oil manufacturer
For those seeking an extra boost of nourishment and rejuvenation, Aadhunik Ayurveda presents their retinol-based natural face oil. Infused with a luxurious blend of natural oils, this product provides deep hydration and enhances the skin's natural barrier function. The retinol works harmoniously with the oils to target dullness, fine lines, and uneven skin tone, leaving the complexion looking revitalised and glowing.
Let us know your requirement for retinol - active based product and we customize it to your need and budget delivering the best quality under your brand through our globally known private label skin care services.
Manufacturer of Retinol-Based Body Products at Aadhunik Ayurveda
Recognizing that the body also deserves the same level of care, Aadhunik Ayurveda expanded their retinol-based range to include retinol in body care products. From body lotions to body oils, these products are formulated to address common skin concerns such as dryness, roughness, and the effects of environmental damage on the body's skin. Users have experienced enhanced skin texture, increased firmness, and a reduction in the appearance of stretch marks with regular use.
Explore best quality fully customised private label skin care services adhering to global standards under one roof with low MOQs and low investment.
Best Manufacturer, Wholesaler, and Bulk Supplier of Retinol-Based Skincare Products at Aadhunik Ayurveda
Aadhunik Ayurveda commitment to excellence and adherence to stringent quality control measures have earned them the title of the best manufacturer, wholesaler, and bulk supplier of retinol-based skincare products. The state-of-the-art manufacturing facilities, efficient supply chain, and dedication to meeting customer demands have made the preferred choice for businesses looking to offer top-notch retinol-based skincare products to their customers. Whether it's a small boutique skincare brand or a large retail chain, Aadhunik Ayurveda has the capacity to meet wholesale and bulk orders while ensuring that the quality of each product remains uncompromised.
Private Label Manufacturer Of Retinol face & body care Products
Aadhunik Ayurveda is one of the best Private Label Manufacturer of Retinol Based Products. At Aadhunik we offer wide range of private label retinol products which includes-
Private Label Retinol Face Serum
Private Label Retinol Anti-ageing Face Serum
Private Label Retinol Body Lotion
Private Label Retinol hyperpigmentation serum
Private Label Retinol Night Cream
Private Label Retinol Face Oil
Private Label Retinol Face Wash
Private Label Retinol Under Eye Balm
PPrivate Label Retinol Moisturizing & Hydrating Cream
And much more
Aadhunik Ayurveda empowers other skincare entrepreneurs through their private label range of retinol products. This innovative service allows businesses to create personalized skincare lines with their own branding while harnessing the expertise and formulations developed by Aadhunik Ayurveda. This not only reduces the barriers to entry for new skincare brands but also ensures that the products they put forth are backed by research and proven results.
Aadhunik Ayurveda has undoubtedly revolutionized the skincare industry with its fusion of natural, time tested and clinically proven exceptional products including retinol-based products. From their remarkable face cream and serum to the indulgent face oil and body products, each creation is a testament to the company's unwavering commitment to quality and efficacy. As a leading manufacturer, wholesaler, and bulk supplier, Aadhunik has set new standards in the industry while their private label range empowers others to join the clean & powerful skincare movement.
Best private label skin care product manufacturer
Aadhunik Ayurveda is the best private label skin care product manufacturer in the industry because of its-
Fully developed (in house) manufacturing unit.
Connect with farmers for sourcing high quality ingredients
High-tech laboratories for testing.
Simple and transparent working.
Well organic certified company.
100% natural and organic products.