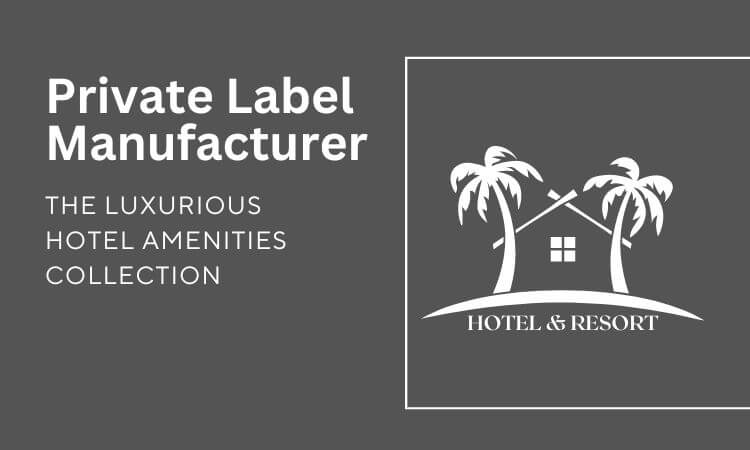 Private Label Manufacturer of The Luxurious Hotel Amenities Collection
Hotels, restaurants, luxury retreats, spas, and many other commercial centres in the hospitality and wellness industry need quality or say luxury guest amenities like shampoo, soaps, moisturisers, powder cleanser, after bath oils, hair oils, diffuser oil and much more on a large scale. Hence, this makes it highly important for hotels to choose the right product and even more so, choosing the right hotel amenities manufacturer. This might be considered to be an extremely small aspect of ensuring optimal guest experience, but hotels, resorts, spas and other centres are quickly realizing the need for the same. Quality amenities with minimal plastic to zero plastic determine the ethical and responsible outlook of the hotel brand and add value to its foundation.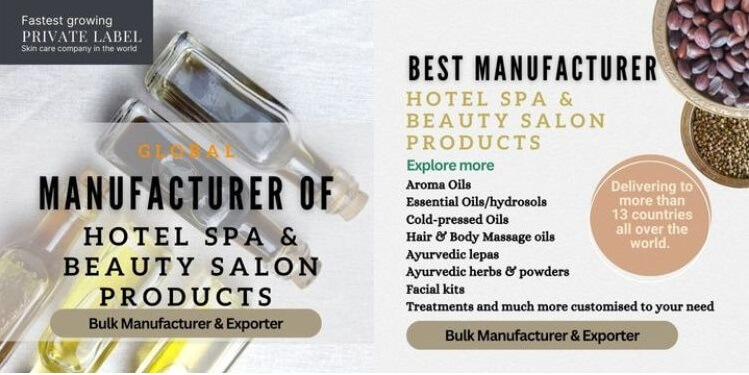 Aadhunik Ayurveda, a premium leading private label manufacturer and supplier of luxurious hotel amenities in India, that offers a huge range of top-quality products for your hotel as per your need based on your theme of the hotel. Our products help create the most pleasant and the most soothing experience for our clients because every property is unique and we work to create a connection between your vision and amenities to provide uncompromised quality & help you deliver your guest the holistic experience in today's stressed and competitive world.
Our luxurious rejuvenate, revive and treatment based products including takeaway products for resorts, spa's and hotels reflect our passion to combine the true principles of Ayurveda or say chemical free with the high quality plant derived ingredients make significant difference to the body, mind and soul of the guest and add beauty and well-being. Passionately focused on purity and efficacy, we curated, fine selection of customised hotel amenities to compliment hotel guest bespoke experience. Taking forward this philosophy, we are truly "Made in India '' brand and take pride in our range of 100% natural, herbal products, which are conceptualised, in-house formulated and bottled within the lap of nature-at our provenance in Uttarakhand.
Our variety of products use the purest, freshest and most potent ingredients and botanicals, with naturally derived fragrances from the pure essential oils of precious herbs, roots, stems, leaves, bark, & flowers and are completely free from sulphates, parabens and harmful chemicals.
Following the concept of "farm to bottle", we have got an experienced and skilled in-house team of researchers, developers, farmers, workers and employees who work toward fulfilling this vision. Crafted with precision, our 100% natural products are packaged in eco-friendly and recyclable quality containers; while resonating with the discerning taste of today's conscious consumers. We provide unique blends which encapsulate invigorating and refreshing notes of rich, seasonal flowers that enchant every guest. Our unmatched packaging and manufacturing services help enhance your guest's experience as testimony to the life cycle of our products by sourcing ingredients, manufacturing, packaging and distributing them ourselves. These procedures help us in providing products at an accessible price, while lowering carbon footprints.
Our Manufacturing Process
Our manufacturing unit in Uttarakhand is a state of art, GMP certified world-class manufacturing facility with high-quality grade production standards. It consists of a one-of-a-kind natural, Ayurveda formulations Research & Development laboratory and quality control facilities in addition to believing less in machines or say automated production but more in hand made, human involved production so as to make use of least processed raw natural ingredients and creating employment for traditionally skilled women & men using local ingredients more and establishing a network that creates negligible environmental concerns. Overall the focus is to move with strategies inspired by the local materials and indigenous techniques that have been in use for centuries in the region. Our controlled manufacturing ensures that we deliver a regular use skin care & wellness product that is environmentally free of concern.
Our highly qualified R & D team creates exceptionally unique products, using the finest quality ingredients with a touch of traditional and modernized techniques to ensure safety and hygiene. We use natural and organic plant extracts to formulate our high performing products and deliver long lasting results. At Aadhunik, our ingredients make the heart and soul of our products which are an amalgamation of organically grown herbs, and highly potent, naturally derived essential oils, & hydrosol/floral water.
Private Label Range of Hotel Amenities Products Manufacturer
Aadhunik Ayurveda is the fastest growing private label hotel amenities product manufacturing company offering complete solutions from creating a formulation to testing the products under one roof. Alternatively if you are searching for an exclusive hotel amenities products manufacturer for your hotel, spas and other centres then Aadhunik Ayurveda is the best.
Our some of the major hotel amenities products available for private label are-
Private Label hand soap bar
Private Label shampoo bar
Private Label body bar soap
Private Label powder face cleanser
Private Label powder body polisher
Private Label after bath oil
Private Label diffuser oils
Private Label hair oils
Private Label exfoliating & pamper kit
Private label body massage oils
Private label body wraps
And much more
We have a big wide variety of high quality amenities products that ensure unrivalled customer experiences. Each of our products offers a bright and clean look and steers us in advance of other resort & hotel amenities in India.
Our line of products are formulated and made with key ingredients which are proficiently blended to assist cleanse and moisturise skin. The finest quality herbs and ingredients are packaged in glass bottles, jars and tubes for hotel guests or as per your need. Our products are exquisite blends of naturally derived essential oils, which include a sense of calm, tranquillity and harmony, while making the stay an even more pleasurable experience.
Reputed Hotel Amenities Manufacturer In India- Aadhunik Ayurveda
Aadhunik Ayurveda is a prominent hotel amenities manufacturer. We've been in business for almost half a decade and have over 500 satisfied national and international skin care brands for whom we private label different products. If you are looking for clean, zero waste and ethically sourced products with customisation to your need and budget with complete transparency, then its time to contact aadhunik ayurveda, the fastest growing clean and certified organic manufacturer, wholesaler and exporter of skin care, health and wellness products.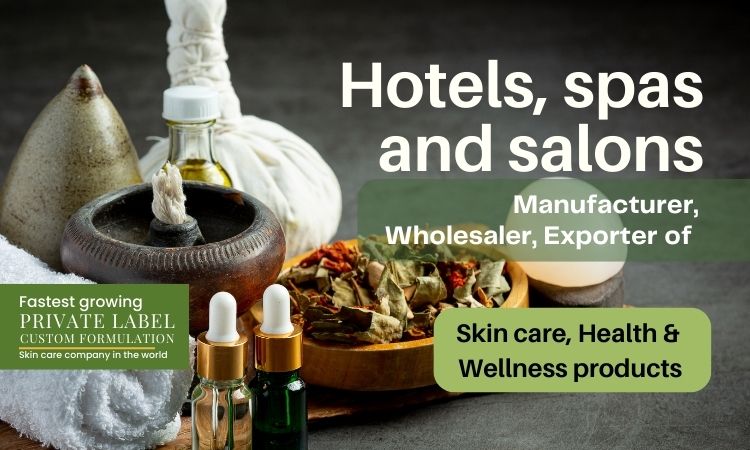 What makes us India's most dependable brand for guest amenities?
We as one of the top best hotel amenities manufacturers in India are recognised for high-quality and trust. We only sell the highest-quality products, and we have established a strong reputation in the business. Our professionals use only the highest natural ingredients, which are purchased from reputable vendors in the business, to create these goods. We also carefully take a look at these items against a set of quality criteria to make certain that they have got a specific composition, no adverse effects, and a protracted shelf-life. We only use the highest quality raw materials acquired from reputable industry vendors. Aside from that, we test these products in accordance with a set of quality standards. This ensures that only products of high quality and on time arrive at their intended destination but match your vision too.
Customised Natural fragrance developer for your brand
Aadhunik Ayurveda is the only 100% natural fragrance manufacturer and developer in India that develops various kinds of natural fragrances using essential oils, herb infused oils etc. With our custom made natural fragrance development services we develop unique fragrance for your product that help customers always link to it and a good aroma/fragrance in a product always attracts the clients to use the products.
We combine a variety of herbs with a variety of notes, including earthy, citrus, herbaceous, and floral, to produce fine, calming, and therapeutic fragrances that define your brand's individuality.
We are the largest natural fragrance developer continually working with various ideas, different target markets to develop right odour profiles to fit into your product and the brand. Our natural fragrance are.
100% natural and chemical free
Highly therapeutic & sustainable and plant based
Eco-friendly
And good to use for human
We also provide customised products to our clients including private label/ white label. In it, we allow you to send us packaging material, logo, and other branding material to provide our organic ingredients as per your commercial and branding needs.
Sustainability is the vision at Aadhunik Ayurveda
Aadhunik Ayurveda is dedicated to serve high quality hotel guest amenities and other products, balancing with sustainable business principles at every point of the value chain.
Eco-friendly at heart
We focus 100% on eco-friendly hotel amenities. Our products are from normal sources at every possible opportunity and help hotels to reduce the use of plastics.
Made for hospitality
Our assortments enable you to carry business sustainably while staying within budget and keeping up or further developing the guest experience.
Customised as per your need
If you decide upon a customised solution which includes a particular design or size, we work with you to provide the product in step with your requirements.
We are the No.1 fastest growing company with world class USDA organic certified facilities that help offer our products and services in tune to global standards. Our founding precept of transparency and in time delivery makes us one of the top best leading manufacturers in the hotel industry producing raw materials and ready to use products.
Apart from this, we export our hotel & spa related products in some parts of Europe and other countries like USA, UAE, Canada, New Zealand, Thailand etc.