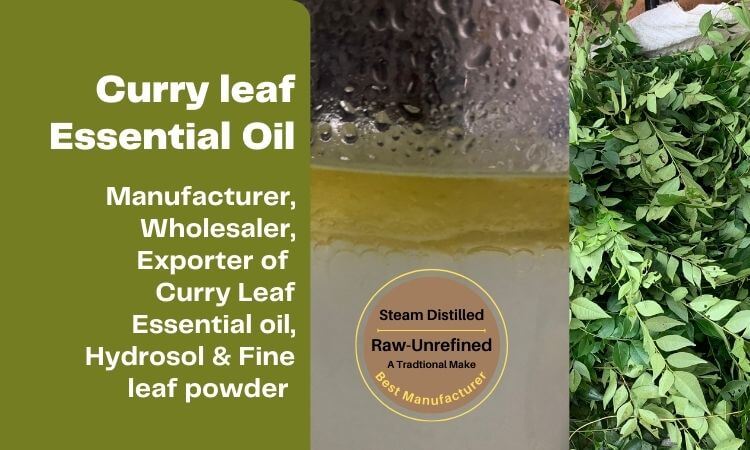 Curry Leaf Essential Oil Manufacturer and Wholesale Supplier in India
The Curry leaf essential oil is extracted from the leaves of the curry tree botanically called Murraya Koenigii. The aromatic tree is native to India and Sri Lanka. The leaves of the curry tree are used as a flavouring herb in south Indian Curries.
It is obtained from the curry tree, the best quality Curry Leaf Essential Oil is extracted through a process known as steam distillation. Curry leaves are famous in India and are used especially for culinary purposes. The steam distilled curry leaf oil is super healthy for the human body, skin and hair.
Aadhunik Ayurveda provides high-quality and pure Curry Leaf Oil that possesses powerful antimicrobial, anti-inflammatory, and antiseptic properties. The energising aroma of the oil proves to be effective against many mental issues as well.
It is particularly used in diffuser blends because of its stimulant and deodorising effects. Our natural Curry Leaves Oil is likewise used widely in cosmetic applications, massage oils, and personal care products due to its diverse therapeutic and medicinal capabilities and benefits. As an end result, it is a multi-purpose oil that could be a cure for a lot of your minor skin and hair issues.
Being highly rich in essential nutrients, vitamins, and minerals, Curry leaf essential oil cures several health ailments while promoting good well-being.
Manufacturer of edible Curry Leaf Essential Oil
Aadhunik Ayurveda is the top curry leaf essential oil manufacturer & supplier in India. It's miles the only manufacturer that makes use of our conventional easy approach - steam distillation yet expensive to make essential oil that you may consider for multiple use.
We prepare this oil under hygienic conditions to keep its volatility, fragrance, and quality intact. This chemical-free steam-distilled technique of making essential oils makes Aadhunik Ayurveda the only manufacturer and supplier of edible and potent curry leaf essential oil.
At Aadhunik Ayurveda uses ancient techniques to make fresh curry leaves by steam distillation method. The process gives complete natural curry leaf oil with no addition of any synthetic. This technique is 100% environment-friendly and the product that comes out is the most potent and therapeutic for human use. We make oil for use in different industries like food, skin care, health and wellness.
Private Label Curry Leaf Essential Oil
Aadhunik Ayurveda is the best Private label curry leaf essential oil manufacturer, wholesaler, supplier, or exporter in India. This steam-distilled curry leaf essential oil is 100% pure, and organic, and free from any type of synthetic or chemical.
We can make products - custom formulated with curry leaf essential oils like hair oils, face oils, hair shampoo. Hair tonic/food etc. to provide unique products to your hair line with ease and low investment. Explore private label hair and skin care products with curry leaf essential oils with us.
Aadhunik Ayurveda is the fastest-growing essential oil private label company in India & globally with its exports rising manifold because of its quality products with the fusion of traditional & modern-day practices like good manufacturing practices and other hygiene and safety-related practices.
It is one of the only edible essential oil manufacturing plants in India with a world class facility equipped with traditional resources and modern-day safety and hygiene infrastructure located in the Himalayas.
As a leading private label manufacturer, we develop products for our partners under their own labels and packaging. All our private label products are produced as third-party manufacturer partners with the major brands across the globe.
Our working transparency and timely deliveries with time to time compliances and certifications makes us a preferred choice amongst many brands and global certifications like USDA, GMP, ISO, FSSAI etc. have helped us stick to quality procurement and processing.
Aadhunik Ayurveda exports high-quality essential oil all over the world. Our products follow global standards when it comes to quality and purity. We deliver our products throughout the world using our logistic partners. We deliver the quality products on time and this makes Aadhunik Ayurveda the best ayurvedic third party private label company in India.
Do not miss the opportunity to buy chemicals-free, fresh, and multi-purpose Curry leaf essential oil from Aadhunik Ayurveda.
FAQ
Can I use curry Leaf Essential Oil for hair?
Yes, it reduces split ends and prevents greying hair
How to make curry leaf essential oil?
The curry leaves are steam distilled to provide this Curry leaf essential oil.
Can I purchase this essential oil in bulk?
Yes, you can purchase natural curry leaf essential oil in bulk in packages of up to 25kg and more from Aadhunik Ayurveda.