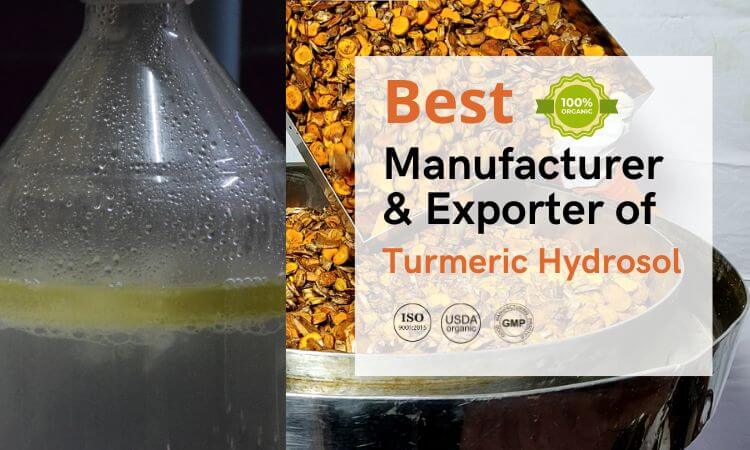 Turmeric Hydrosol Manufacturer and Supplier in India
Aadhunik Ayurveda is one of the best edible turmeric hydrosol manufacturers in India. Turmeric Root Hydrosol is a traditional, natural remedy for the human body to ease many disorders. It has a warm, spicy, fresh and mildly woody aroma, which is popularly used in many forms for better mental health and others.
Organic Turmeric Root Hydrosol is obtained as a by-product during the extraction of Turmeric Root Essential Oil. It is obtained by steam distillation of Curcuma longa, also known as Turmeric.
It is extracted from the rhizomes or roots of turmeric. Aadhunik Turmeric hydrosol is a pure, edible and natural distillation of the turmeric root. It is commonly known as haldi ark. Since ancient times, it has been a part of Indian culture. Turmeric was used in Traditional Chinese medicine, Ayurveda and unani medicine as well.
Aadhunik Turmeric Root Hydrosol is commonly used in various ways like-
Used as a face mist
Used as a scalp toner
Used in making personal care products
Used in making infusion
Used as a healthy drink, instant herb tea
Used in aromatherapy
Used in making wellness products
And much more.
Making of Turmeric Hydrosol at Aadhunik Ayurveda
At Aadhunik Ayurveda we make use of steam-distillation technique to extract this aromatic water/hydrosol from the roots of turmeric. Steam-distillation technique is a healthy technique 100% environment friendly and the product obtained from this is the most potent, effective, and healthy for human use.
Private Label Manufacturer of Turmeric Hydrosol Products
Aadhunik Ayurveda is the fastest growing Private Label Manufacturer of edible Turmeric Hydrosol.
At Aadhunik we use turmeric hydrosol in various ways like in skincare, haircare, and health and wellness formulation and therefore we have close to a decade of experience in manufacturing certified organic powerful skincare and wellness products with clean and quality ingredients like turmeric.
Private Label Turmeric edible hydrosol
Private Label Turmeric health & wellness drink
Private Label Turmeric infused products
Private Label Turmeric scalp toner
Private Label Turmeric diffuser
Private Label Turmeric face toner
Private Label Turmeric tea drops
Private Label Turmeric aromatherapy products
Private Label Turmeric cold-pressed soap
And much more
Aadhunik can develop for you as per your need/requirement, target market and budget through our dedicated team of formulators through our custom formulation services.
Making of personal care and wellness products from quality ingredients like tumeric hydrosol is a complete in-house process.
Our edible steam-distilled turmeric hydrosol is available in 100ml, 250ml, 500ml, and other different sizes for private label needs.
Manufacturer and Bulk Supplier of Steam-Distilled Turmeric Hydrosol
Aadhunik Ayurveda is one of the largest manufacturers and bulk suppliers of pure turmeric hydrosols. Our turmeric hydrosol is pure, edible and free of all chemicals and preservatives. Our turmeric hydrosol is the purest and potent, known for several health properties that make it safe for many commercial and health applications.
Aadhunik Ayurveda is a leading manufacturer and bulk supplier of organic hydrosol in India to many retail companies and exports worldwide to other countries like USA, UAE, Canada, Australia, New Zealand, SAudi Arabia etc.
Aadhunik Pure Steam Distilled Turmeric Root Hydrosol is tested via numerous quality checks in our in-house lab, to ensure premium quality reaches you.
Our FSSAI & USDA,ISO & organic certification allows us to manufacture the extensive and best range of ayurvedic products and other products like essential oil, hydrosol. In terms of product excellence and purity, our products adhere to the highest global standards with uncompromised purity.
FAQ
1. Is Turmeric Hydrosol edible?
Yes, Aadhunik Turmeric Hydrosol is 100% edible and organic. It is extracted from the roots of turmeric by steam-distillation technique, which is 100% healthy and environmentally friendly.
2. Can this be used in cough syrup?
Yes, it is used in cough syrups. It is edible and rich with nutrients found in turmeric root.