Manufacturer, Exporter and bulk supplier of Food Products
Aadhunik Ayurveda is the one of the best Private Label Manufacturer and exporter of Food Products in India. We are certified with FSSAI (food safety standards authority of India), ISO and GMP. If you are looking for the high quality organic & natural food products in bulk, then Aadhunik Ayurveda is the best to source high quality food products like masala/spice powders, herbal green tea, edible essential oils & edible hydrosols (herb waters), cold-pressed oils and much more.
Quality Raw Material For Making Best Quality Food Products
At Aadhunik Ayurveda, the raw materials for making high quality food products are sourced from the best organic farming practising farmers in different parts of India. Since India is a diverse country with almost everything grown in different parts from Kashmir to Kanyakumari, we make it a point to source the material from within the country to avoid long distance logistics & not to add to carbon footprints. The developed direct connect network with farmers over the years help us seek best quality fresh, semi dried and dried plant parts (herbs/seeds) from the farmers.
And this years of woven intensive network is the backbone of our quality products. Because a quality product can be developed using quality ingredients only. Plants have been the source of food, flavour and medicine to humans for unknown years and therefore we make use of different plant parts to produce different products. Explore quality herbs, nuts and seeds like hempseed, rosehip, chamomile, lavender, rosemary, marjoram, gotu kola, basil, peppermint, coffee, anantmool, manjistha, neem, hibiscus, banapsha, ashwaganda, shankpushpi and much more in the form of herb powders, essential oils, hydrosols, infused oils, cold pressed oils etc.
This makes Aadhunik Ayurveda No.1 Leading Manufacturer of health & wellness Food Products producing best quality with minimal traditional processing delivering to multiple countries around the world.
Manufacturer of best Quality organic Food Products
Aadhunik Ayurveda make uses of traditional techniques like cold-pressing, steam distillation, hand milled coarse and fine powder making to produce ready to use products like edible essential oils, cold pressed oils, green tea, fine herb powders - for use as supplement, masalas and other remedies.
Each method used produces highly therapeutic - nutrient rich best quality products.
Each technique adopted is
100% clean
Vegan - Plant derived only
100% chemical free
100% preservative free
Time - tested (traditional)
Scientifically backed
The complete inhouse facility with deep connection with farmers makes Aadhunik the best quality product manufacturer in the world. The facility includes a dedicated unit to each of the traditional processing technique like
Cold pressing - to produce cold pressed oils
Steam distillery - to produce essential oils ( essential oils usually found in the market are meant for external use or cosmetic use only hence always read carefully before ingest)
Hand milled coarse herb ( tea cut) - to produce green tea
Hand milled fine powdered herbs - to produce fine powders of herbs to use as supplements, cooking masalas, food & beverages flavour etc.
Private Label Manufacturer of Best Quality Food Products
Aadhunik Ayurveda is a private-label manufacturer of best quality certified organic food products in India. Our best quality food products are good to use in food, beverages and in health & wellness remedies. These products may cost you little more as these are completely free from chemicals, preservatives, fragrances and all sorts of additives/fillers that usually are found in such products.
The world-class facility with state of art traditional equipment and techniques make Aadhunik Ayurveda top Best Manufacturer of food products and other wellness products in India.
At Aadhunik we have a diverse range of high quality regular use food products which includes.
1. Manufacturer of Masala/Spice Powders
Aadhunik Ayurveda is the best manufacturer of private label masala/spice powders. We make use of traditional methods for preparing masala powders. The whole herbs are sourced directly from the farmers cultivating organic herbs for example turmeric is sourced from the himalayan jaunsar- bawar hills where many farmers undertake cultivation under the supervision of the organic certifying agency in accordance with the national programme for organic production and the national organic program & technical standards. These farming practices are considered equivalent to Swiss Organic Farming ordinance for unprocessed plant products originating in India.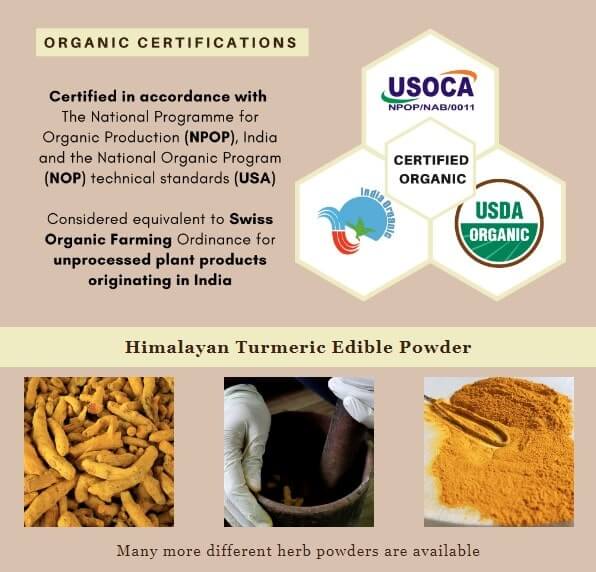 Since raw materials for masala powders are prepared in-house, the control over quality is always intact with no chance of adulteration. Hence the quality ingredients produce a quality, healthy, and tasty masala powders. We have a wide range of private label food & beverages masala powders for your use
Private Label Turmeric Powder
Private Label Clove Powder
Private Label Carom Powder
Private Label Black pepper Powder
Private Label Bay Leaf Powder
Private Label Nutmeg Leaf Powder
Private Label Cinnamon Powder
Private Label Ginger Powder
Private Label Ajwain Seed Powder
2. Manufacturer of Green Tea and herb tea
Aadhunik Ayurveda is the preferred leading manufacturer of herbal green tea/tea cuts. With our years of experience and well established relations with the farming community, we get the best quality herb to make tea cut size ready to brew tea chunks for you. Explore organic green tea - tea cut herbs with us for your brand.
Private label tulsi green tea
Private label marigold tea
Private label liquorice tea
Private label rose tea
Private label lavender tea
Private label chamomile tea
Private label cardamom tea
Private label kapha pacify tea
Private label pitta pacify tea
Private label vata-kapha pacify tea
Private label tranquil tea blend
Private label detox & harmonise tea blend
And much more
Manufacturer of hydrosols/tea drops
Aadhunik Ayurveda is the best manufacturer of hydrosols or herb waters which are used as tea drops. Tea drops are a great convenience in today's fast driven world. Brewing herb for a cup of tea is time consuming and therefore often takes a back seat and is not religiously practised. Tea drops are easy to carry, quick to make and therefore let you follow the wellness regime without fail. Be it at home or on a trip, these powerful nutrient rich herb waters when added in drops to a cup of warm water act as ready green tea or herb tea. These hydrosols are traditionally prepared herb ark used for multiple purposes like flavour to food & beverages, medicines, green tea, herb tea etc.
Private Label Basil Green Tea drops
Private Label Chamomile Tea drops
Private Label Lavender Tea drops
Private Label Nettle Tea drops
Private Label Curry Leaf Herbal Tea drops
Private Label Peppermint Green Tea
Private Label Rose Tea drops
Private Label Rosemary Tea drops
Private label cinnamon tea drops
Private label energising tea drops
Private label anxiety relief tea drops
Private label de-stress tea drops
Private label cool & calm tea drops
3. Manufacturer of Edible Essential Oils
Aadhunik Ayurveda is the Best Manufacture of private label natural edible essential oil to add flavour to your food, dessert, & beverages and also used as a wellness drink. We make use of traditional methods of steam-distillation to extract 100% pure and high quality edible essential oil & hydrosols.
We have a wide range of private label edible essential oil with which multiple blends as per your need can be created. For this you can always custom formulate with us as per your need and budget.
Private Label Basil Essential Oil
Private Label Cinnamon Essential Oil
Private Label Coriander Essential Oil
Private Label Curry Leaf Essential Oil
Private Label Ginger Essential Oil
Private Label Lavender Essential Oil
Private Label Hibiscus Essential Oil
Private Label Nutmeg Essential Oil
Private Label Carom Essential Oil
Private Label Clove Essential Oil
Private Label Fennel Essential Oil
Private Label Lemongrass Essential Oils
Private Label Peppermint Essential Oil
Private Label Rosemary Essential Oil
Private Label Sweet lime Essential Oil
Private Label Turmeric Essential Oil
Private Label Vetiver Essential Oil
Private Label Black pepper Essential Oil
4. Manufacturer of Edible Cold-Pressed Oils
Aadhunik Ayurveda is the top leading private label cold-pressed oils manufacturer. Aadhunik makes use of ancient techniques of cold-pressing seeds and nuts. It is the best method where the seeds are pressed between the two heavy metal rods and the oil is released. The process gives nutrient rich oil without losing its vitals. There is no addition of any heat or any other components to prepare the oil. This enables maintaining the aroma and nutritional content of the oil. We have a wide range of private label cold-pressed oils.
Private Label Mustard cold-pressed oil
Private Label Coconut cold-pressed oil
Private Label Sesame cold-pressed oil
Private Label Olive cold-pressed oil
Private Label Groundnut cold-pressed oil
Private Label Flaxseed cold-pressed oil
Private Label Walnut cold-pressed oil
Private Label Babchi cold-pressed oil
Manufacturer, Bulk Supplier & Exporter of organic Food Products
Aadhunik Ayurveda is the fastest-growing manufacturer, exporter and bulk supplier of Food Products in India and other international countries like Australia, America, Canada, Dubai etc. We produce USDA organic certified and quality-assured plant derived food products and wellness products.
We produce more than 30 varieties of cold-pressed oils, various curry & beverages - masala powders, essential oils, hydrosols, herbal green tea and much more.
We are the bulk supplier of private-label food products. You can buy these food products in bulk sizes as per your need at best prices from Aadhunik Ayurveda.
Aadhunik Ayurveda provides you with the best quality, FSSAI, USDA, ISO, GMP organic certified food products, Our research development team is working in the process of making new products very passionately keeping in mind the flavour/taste and new demands of the market.
If you are looking for a food product manufacturer that can custom blend your requirement for herbal green tea, food masalas, cold-pressed oils, essential oil and other products then your search ends here because we, our R&D team, is always working to create customised blends/tastes for you as per your need & budget.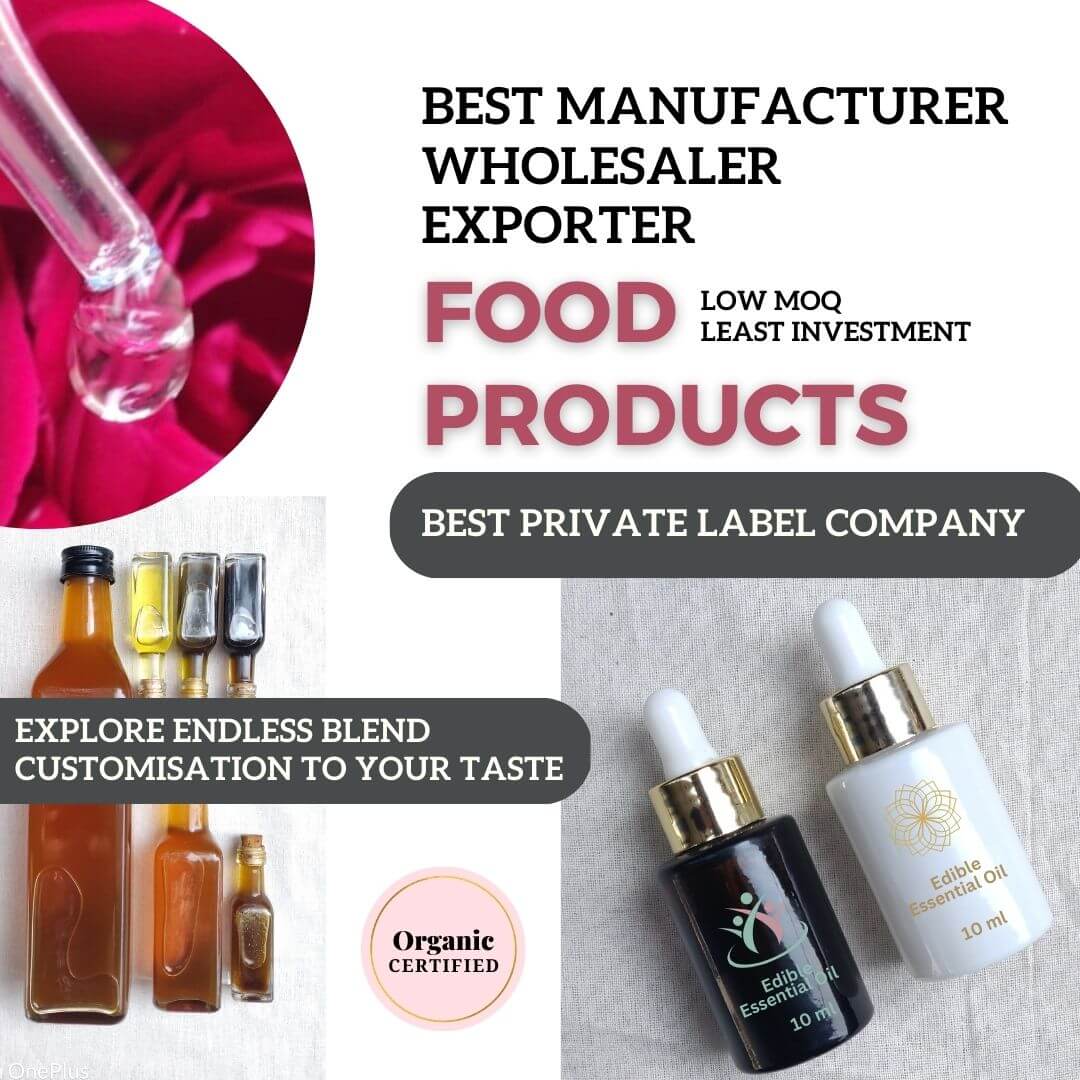 Here's how, get started with your product line now with our custom formulation/private label/third-party services and introduce a quality product line to your brand. With us you get the chance to explore natural food products and wellness products of your choice at best reasonable prices and uncompromised quality with complete solutions under one roof.