Kumkumadi Oil (Tailam) - Manufacturers & Suppliers in India
Kumkumadi Tailam is an ancient recipe consisting of about 16 precious herbal ingredients. It is an amazing ayurvedic oil that's majorly a blend of saffron threads alongside oils like almond, sesame, and rose oils and other ingredients. These ayurvedic herbs act as a paranormal remedy for uplifting skin health and treating various skin problems. This oil, which can also be used as a moisturizer is suitable for almost all skin types specifically for sensitive or dry flaky skin. A wonderful blend of plant, flowers, fruit, and raw milk that aims toward lightening the complexion diminishing various signs and symptoms of ageing like wrinkles, fine lines, dark circles, spots, pimples, blemishes and effectively treating skin infections and conditions like hyperpigmentation, allergy, eczema, and many others.
Major ingredients present in kumkumadi oil are:-
The major key ingredient present in kumkumadi oil is goat milk, mulethi, saffron, manjistha powder, sesame oil, and many more.
Saffron brightens skin, helps repair sun damage & controls melanin production. Mulethi is used to reduce fine lines, wrinkles, and scars.
Benefits of Kumkumadi Tailam/Oil:-
Below are some kumkumadi tailam uses that you should know about:-
Enhances Skin Tone: Organic herbs present in the oils are an amalgamation of antibacterial & antioxidant properties. It plays an extensive role in enhancing skin tone, elevating proper blood circulation, and repairing skin cells.
Promotes Skin Cell Regeneration: Regular massage with kumkumadi oil helps regenerate skin cells and lower the fine lines and wrinkles, providing skin an instant glow.
Improves Skin Texture: the oil is enriched with the residence of saffron, sandalwood, tea tree oil, and turmeric, reducing dark spots, pigmentation, and blemishes, and giving a cleanser & brighter skin with improved skin texture.
Acts as Natural Sunscreen: kumkumadi tailam for skin is a natural sun shield against harmful UV rays.
Heals inflamed skin: the particular mixture of herbs and natural oils heals the damaged and inflamed skin. Thus, kumkumadi tailam for the face is a good addition to your skincare regime. It has antiseptic, disinfected, and soothing properties, which help reduce itching scars, infections, pimples, and rashes.
Manufacturing of Kumkumadi Oil at Aadhunik Ayurveda:
Kumkumadi oil is a herbal oil that helps nourish the skin. The word kumkuma refers to the plant crocus sativus, known as saffron or Kesar. Regular application of kumkumadi tailam makes skin super radiant and glowing skin. The oil is prepared using traditional Ayurvedic techniques. If you are looking for the best kumkumadi oil then Aadhunik Ayurveda is the leading kumkumadi Tailam manufacturer in India.
Aadhunik Ayurveda is the leading manufacturer-certified organic company of ayurvedic face, body, and hair in India. We provide the best quality of natural and ayurvedic (in-house) manufacturer products which are 100% chemical & preservatives free, made 100% in accordance with rituals mentioned in our old texts.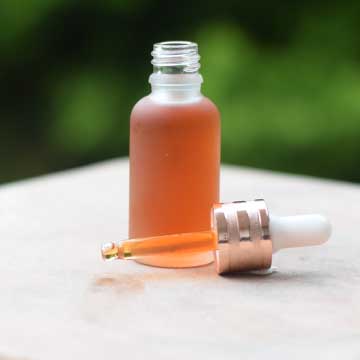 Kumkumadi oil offers multiple benefits. It helps to moisturize the skin and keep it soft, the kumkumadi oil benefits the skin. When it comes to nourishing & enhancing the health & radiance of the skin, Aadhunik Ayurveda stands above. It helps in improving skin complexion and reducing dark circles, the oil being rich in antioxidants. In reducing blemishes and scars on the skin, it is very helpful. Helping in lightening dark spots, the benefits of kumkumadi oil for the face include. Improving skin health is overall helpful and nourishes the skin.
FAQ
Q1. Which company is best for kumkumadi oil?
Aadhunik Ayurveda is the best kumkumadi oil manufacturer company in India. It is well certified & undertakes 3rd party manufacturing of ayurvedic products in India. With a team of highly expert practitioners, we manufacture and deliver the best organic herbal skincare, hair care, cold-pressed oil, essential oil, health & wellness products, and many more. We use the traditional techniques for making (in-house) products, which are 100% chemical & preservative free.
Q2. What is the shelf life of Kumkumadi Oil?
The shelf life of kumkumadi oil is more than 2 years after manufacturing.
Q3. How many ingredients are in kumkumadi Tailam?
The ingredients present in kumkumadi oil are:-
Goat milk
Mulethi
Manjhistha
Saffron
Other herbs
Cold Pressed Sesame oil