Eye Care Products Manufacturer and supplier
Aadhunik Ayurveda is a renowned name in the world of skincare manufacturing in India. With a commitment to quality and innovation, we have established ourselves as a leading manufacturer, wholesaler, and bulk supplier of eye skincare products. Our dedication to producing natural and organic products has earned us a stellar reputation in the industry.
The demand for eye skincare products has been on the rise in recent years, as more and more people are becoming aware of the importance of taking care of their skin. The global market for eye skincare products is expected to reach $1.6 billion by 2026 because of a growing ageing population and increasing concerns about skin health. One of the main reasons for the increasing demand for eye care products is the desire to combat the signs of ageing and minimise side effects of screen.
As a leading Eye Care Products Manufacturer, Aadhunik Ayurveda offers a comprehensive selection of eye care products, including under eye balm, under eye roll-on, leave on oil mask, and eye cream, to meet the specific requirements of our customers.
Manufacturing of Natural Eye Skincare Products At Aadhunik Ayurveda
Aadhunik Ayurveda is one of the best eye skincare products manufacturers in the beauty industry. We offer high-quality and effective skincare products for the delicate skin around the eyes. With a focus on natural and organic ingredients, Aadhunik Ayurveda has gained a reputation for providing the best eye skincare products in the market. All of our eye skincare products are formulated with natural ingredients that are gentle on the skin and free of harsh chemicals.
We manufacture different categories of eye skincare products such as:
Under eye balms
Under eye cream
Under eye Roll-on
Leave on eye mask
Quick absorbing oils etc.
Eye serums
All these eye skincare products manufactured at Aadhunik Ayurveda are formulated with a blend of active ingredients, such as botanical herbs, extracts, cold-pressed oils, infused oils, vitamins, retinol, caffeine & willow herbs that help reduce puffiness, dark circles, and fine lines.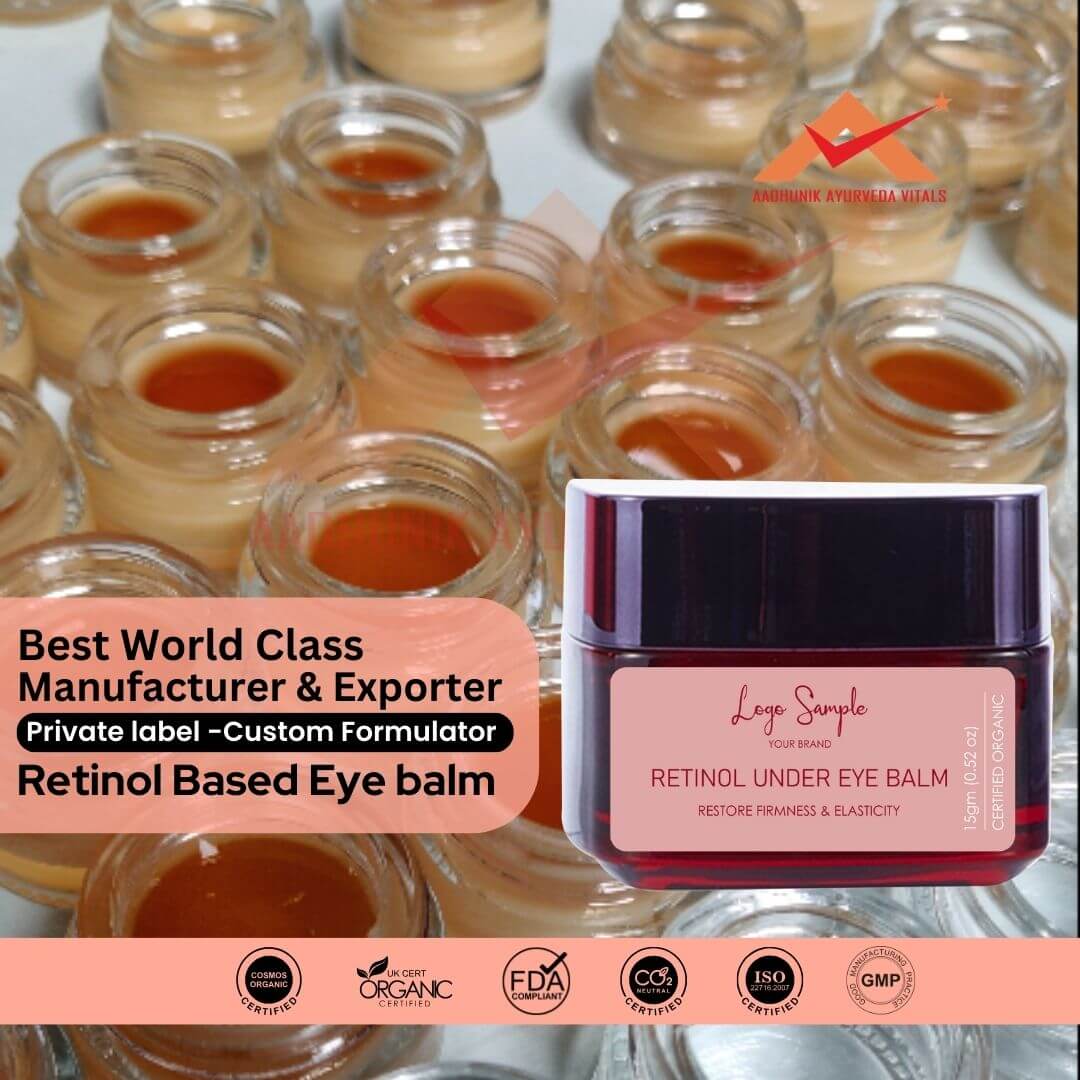 At Aadhunik we have a team of skincare experts who are constantly working to improve the products. We truly understand the unique needs of the skin around the eyes and have developed formulations that are made of these needs
Contract Manufacturer of Eye Skincare Products
Aadhunik Ayurveda specialises in the manufacturing of a wide range of eye skincare products which are formulated with natural and organic active ingredients that can help to keep the skin looking youthful and vibrant. At Aadhunik Ayurveda, we can manufacture any composition of eye care products just that the ingredient should be clean and compatible in the formulation. That's why we are the Best Custom product Manufacturer Of Eye Skin Care Products In India exporting the regime to various brands across the world from the US., Canada, Europe, Saudi Arabia to Africa, Malaysia, dubai, Singapore, Australia, New Zealand etc.
Leading Manufacturer, Wholesaler, and Bulk Supplier of Eye Skincare Products
Aadhunik Ayurveda takes pride in being a leading manufacturer, wholesaler, and bulk supplier of eye skincare products in India. Our state-of-the-art manufacturing facility is equipped with cutting-edge technology to ensure the highest quality standards. Whether you are a start-up, established brand or a wellness centre we have covered all areas in the industry with uncompromised quality and result driven products.
Private Label Manufacturer of Eye Skincare Products
Aadhunik Ayurveda is one of the fastest growing Private label eye skin care manufacturers in India. We can create custom eye skincare products under your brand name, providing you with a unique product line tailored to your specific needs and preferances.
Private Label Under Eye Balm
Private Label Dark Circles Remover Cream
Private Label Under Eye Gel Cream
Private Label Under Eye Oil Roll-on
Private Label Under Eye Leave On Eye Mask
Private Label Eye Care Kit
Private label Delay ageing eye serum etc.
As Aadhunik Ayurveda always provides leading brands, salons, hotels and start-ups with clean sustainable, healthy and effective formulation, in all to give shape & tangibility to their vision with complete assistance from start to finish as per the budget and industry insights. With us you always stand a chance to stay ahead of competition in delivering potent-effective, healthy, clean, sustainable, cruelty free and environment friendly products.
Why choose Us?
Aadhunik Ayurveda stands out as the top choice for organic eye skincare products in India for various reasons like-
We are a COSMO, UK cert, GMO, ISO certified brand.
We use traditional ingredients, traditional methods to make our products.
Our aim is to deliver products of the highest quality. We source raw materials directly from farmers and follow stringent quality control processes to ensure each product meets the highest strands.
We believe in harnessing the power of nature to provide effective and safe solutions for eye skincare.
We continually invest in research and development to bring innovative products to the market.
We stay up-to-date with the latest trends and technology in skincare to offer products that deliver real results.
Whether you want to choose from our existing products or custom create as per yur budget & need, Aadhunik Ayurveda offers flexibility with low moq's and low investment.
Aadhunik Ayurveda has built a strong reputation for their reliability and dedication to customer satisfaction with the transparent working ethics.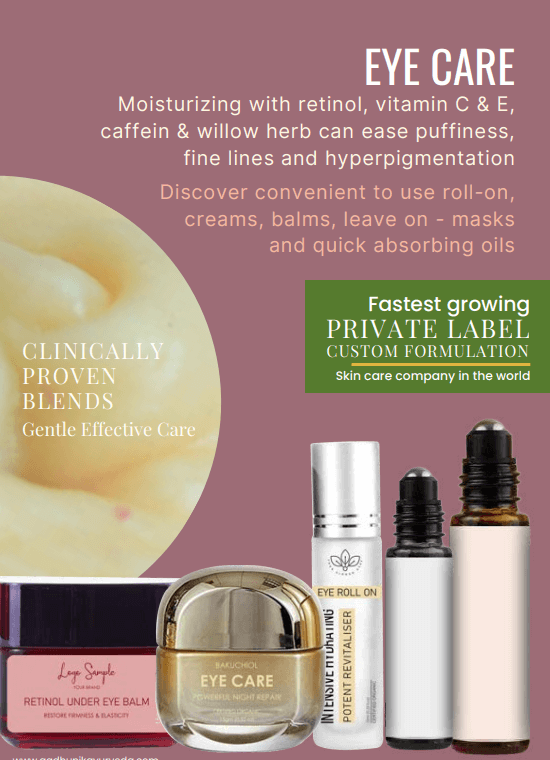 Aadhunik Ayurveda commitment to quality, natural ingredients, and customization options make us the top choice for organic eye skincare products in India.
Are you ready to elevate your eye skincare product line? Contact Aadhunik Ayurveda Vitals today and discover the difference that our expertise and dedication can make for your brand.
FAQ
1.Can I get custom eye skincare products for my brand from you in oil based serum texture?
Absolutely! Aadhunik Ayurveda offers private label manufacturing services, allowing you to create custom eye skincare products under your brand name as per the texture, consistency, ingredients etc all to match to your vision. This is a fantastic opportunity for businesses looking to establish their own skincare brand without the hassle of manufacturing. Contact Aadhunik Ayurveda for more details on customization options.
2.What would be per piece cost of size -5ml of under eye oil moq 10k?
The cost would depend on many factors like ingredients in the product, bottle preference, label & outer packaging etc. Hence it is important to undertsant your desire for ingredients, bottle and packaging to calculate the price per piece. For more details please connect with us at aadhunikayurvedavitals@gmail.com