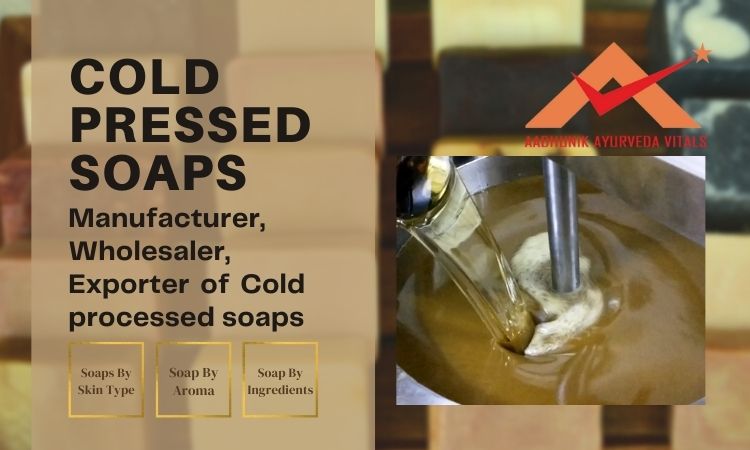 Cold Processed Soaps Manufacturer
Soap is something that many people take for granted, but do you know it's famous since ancient times?
Modern soaps often combine synthetically prepared ingredients, but its essential idea is based on the historical version.
Through different processes, soap is made. One that makes soap of the best quality is the cold process method. The traditional technique of making soap allows natural ingredients and essential oils to produce soap suitable for sensitive skin.
What exactly is Cold-Pressed Soap?
Cold pressed soap or cold processed soap means the same because there is no involvement of heat and the ingredients are pressed to set in the form of hard bars.
All handmade soap makers have their own way of making soaps. Some use the hot process method where they heat the mixture to speed up the saponification process.
While some other soap makers like to add colorants like mica to give their soaps a bright hue. But cold-processed soaps are different.
They are created using the traditional way of soap-making i.e. by reacting plant oils with lye. They also contain various beneficial herbs, and botanical extracts and are scented with just essential oils.
Since there is no heat involved in the process, the botanical ingredients in the soap retain their natural nutritional properties and hence are superior in quality as compared to hot processed soaps or any other kind of soaps made using base etc.
Making of cold-pressed soaps at Aadhunik Ayurveda
At Aadhunik Ayurveda cold process soap making is the original, traditional method of making soap by combining oil & butter (fat) in a vessel at a low temperature for making the soap.
In addition, lye is added to oils to saponify the oil and the temperature is cooled down to around 100℉/36℃ before adding to the vessel. Other ingredients like herb essential oil/milk are added & blended to make a smooth & thick better. This treatment causes a chemical reaction called saponification which takes up to 48 hours. Then after an additional slow curing process of about 6-8 weeks, it leaves us with the products that we recognize as soap. This 100% organic (in-house) chemical & preservative and environmental-free cold-pressed soap is beneficial for all.
Bulk Manufacturer, Supplier, Wholesaler & Exporter of Cold-Pressed Soaps
Aadhunik Ayurveda is the best manufacturer, supplier & exporter of cold-pressed soaps in India.
Aadhunik Ayurveda offers natural & organic and environmental-free (in-house) forms of Cold pressed soap to their customers. No chemicals, additives, or fillers are added to them. They also do not contain any artificial colors, preservatives, and fragrances. Therefore, they prove to be ideal for daily use.
We employ numerous tests and quality checks to ensure that only premium-quality of cold-pressed soaps reaches you.
We assure you that all our products adhere to the highest criteria of safety and quality.
Cold-pressed soap is skin-friendly and safe for the environment too.
We also deploy proven methods for activities like processing, packaging, and delivery. Our wide range of cold pressed soaps including goat milk, honey, vegan, turmeric or other herb based unscented cold pressed soap for different types of skin, Ganga Jal soap, and many others are available at reasonable rates. We are the leading supplier of pure cold pressed soaps for different brands that include baby soap, teen acne pimple soap, turmeric daily use soap, clay soap, butter soap for dry skin, scrubbing soap, coffee soap, eczema soap etc.
You can choose from the existing production line which are exceptionally made for private label services. This helps you add value to your brand with least investment and uncompromised quality.
If you are looking for something totally as per ingredients in your mind, we can custom formulate it for you with all checks and tests.
Apart from that, a secure payment gateway is provided to ensure the safety of your transactions. The best packaging standards and collaboration with top logistic companies like DHL, Bluedart, Delhivery, etc., enable us to provide undamaged and effective cold-pressed soaps to our customers. Add value to your brand with cold-pressed soap that suits your vision today, and we assure you that you will be able to reap many benefits from it!
Benefits of Cold-pressed Soaps
Made with natural ingredients: cold-pressed soaps are made with plant oils, butter, steam distilled essential oil, and milk (optional) and contain no synthetic detergents.
Gentler on your skin: commercial soap makers remove the glycerin from the soap which often makes them dry. Whereas cold-pressed soap makers retain this glycerin in content making them much more hydrating.
Less irritation: the artificial fragrances and dyes used in commercial soaps can often make your skin itchy and red. But with cold-pressed soaps, the chances of such irritations are very low.
Better for the environment: natural ingredients used in cold-pressed soaps are biodegradable and hence don't pose a threat to our environment.
How Aadhunik Ayurveda is different from other cold press soap maker
Aadhunik Ayurveda uses cold pressed oils and steam essential oils made by traditional techniques produced in-house, hence this ensures purity of ingredients in the soap. They use special innovative design vessels and batter drying pipes to produce an effective nutrient-rich soap bar.
Aadhunik Ayurveda does not use any synthetics like –Fragrance/perfume, color, soap noodles, soap bases, hardening & chelating agents, surfactants, etc.
FAQ
1.Why is cold process soap better than hot process?
It is better than the hot process because it retains all of the natural glycerin that is produced during the soap-making process. Glycerin is a natural humectant that helps keep the skin moisturized.
2.Do cold-pressed soaps last longer?
Yes, it lasts longer because it contains glycerin, which is a natural preservative. Glycerin helps to keep the soap from drying out and prolongs its shelf life.
3. Is cold-pressed soap good for you?
Depending on the ingredients you use, cold process soap-making typically yields a long-lasting bar of soap. Cold pressed soaps are better for the environment, healthier for the skin, and can be made incredibly moisturizing with limitless skin types/needs, designs and ingredients.