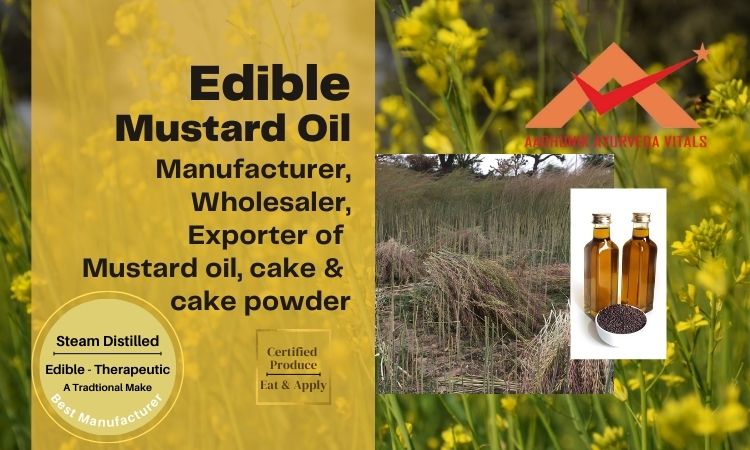 Black Mustard Seed Oil Manufacturer in India
Mustard oil is versatile and used in many parts of the world. It is popularly known as 'Sarson Ka Tel' in India and is a key ingredient found in every kitchen. Mustard oil has a strong flavor and enhances the taste of several dishes. Not only that, but it also has numerous health benefits.
There are numerous varieties of mustard seeds, but three are most suitable for culinary use, brown, black, and yellow seeds. We can find a black variety of mustard seeds as a common spice ingredient in various Indian cuisines. The yellow and brown variants come in use for making mustard sauce, spreads, and condiments.
Mustard seeds have a sharp and slightly bitter flavor with a rich aroma. It is a rich source of monounsaturated fatty acids and has anti-inflammatory propertiesM. In addition, it contains omega 3 and other fatty acids, powerful antioxidants, and essential minerals beneficial to health.
Mustard Oil
Mustard oil is extracted from mustard seeds in black, brown, and white. It is loaded with vitamin E, an essential nutrient that gives nourishment to the skin. Enriched with anti-bacterial, anti-fungal, and anti-viral properties, it is often recommended for cooking and topical application as well-it keeps away bacteria from the body and skin. This emollient is easily absorbed deep into the skin and adds a glow from within. This works as a great emollient for dry, patchy, and dehydrated skin, and leaves the skin supple, soft, and luminous.
Making of cold-pressed black Mustard Seed Oil at Aadhunik Ayurveda
The making of black mustard seed oil at Aadhunik Ayurveda is a traditional technique of cold pressing the seed. It is the best technique where the seed is pressed between the two metal rods and the oil is released. There is no addition of any heat or any other ingredients to prepare the oil. This helps retain the aroma and nutritional content of the oil. This black mustard seed oil is 100% pure, virgin, raw, and unrefined oil good and safe to consume and apply.
Bulk Manufacturer, Supplier, and Wholesaler & Exporter of black Mustard Oil
Aadhunik Ayurveda is the best manufacturer, supplier & exporter of cold-pressed black mustard seed oil in India. The raw material for the black mustard seed cold pressed oil is sourced from farmers from different regions of India like Rajasthan, Uttrakhand etc.
Aadhunik Ayurveda offers natural & organic (in-house) cold pressed oils to their customers/various brands. No chemicals, additives, or fillers are added to them. They also do not contain any artificial colors, preservatives, and fragrances. Therefore, they prove to be ideal for daily use.
We undertake numerous tests and quality checks to ensure that only premium-quality and mustard oil reaches you.
We assure you that all our products adhere to the highest criteria of safety and quality.
Though black mustard oil is skin-friendly and safe and therefore you can use it directly on your skin or use it in food. It is a carrier oil.
We also deploy traditionally practiced proven methods for activities like cold pressing - processing, latest safe available packaging, and best delivery modes. Our wide range of edible oils including coconut oil, hemp seed oil, pumpkin seed oil, watermelon seed oil, cucumber seed oil, almond seed oil, apricot seed oil, sunflower seed oil, and many others are available at reasonable rates. We are the leading supplier of pure & edible cold pressed oils and essential oils in the world providing quality raw material to many food, skin care and wellness brands.
Apart from that, a secure payment gateway is provided to ensure the safety of your transactions. The best packaging standards and collaboration with top logistic companies like DHL, Bluedart, Delhivery, etc., enable us to provide undamaged and effective essential oils to different destinations. Buy your favorite mustard cold pressed or get private label mustard oil with low investment and all ease today, and we assure you that you will be able to reap many benefits from it!
Uses of Mustard Seed Oil
It is used for cooking and frying food. In this way, it boosts immunity and is good for our hearts and diabetics.
It is used to clear our respiratory system from congestion.
It acts as a preservative when added to pickles and chutneys.
Consuming a tablespoon of mustard oil and honey helps in various respiratory problems.
It is rarely used in aromatherapy unless asked by an ayurvedic practitioner.
It has been used in herbal and Ayurvedic medicine since ancient times and is proven to be quite useful for a number of different ailments.
Benefits of black seed Mustard Oil
The health benefits of mustard oil are multiple. It is known to help treat ailments related to the heart, skin, joints, and muscles, among other benefits. Following are some of the well-known benefits of this wonder oil.
For heart health- mustard oil is rich in monounsaturated and polyunsaturated fats, which may help to balance cholesterol levels in the body.
Antibacterial- when consumed, mustard oil may fight bacterial infections inside the colon, intestines, urinary tract, and other parts of the digestive system.
Anti-fungal- applied directly to the skin, mustard oil can help fight fungal infections.
Reduces cancer risk- mustard oil has cancer-fighting properties, it contains a-linolenic acid. This acid when gets converted to omega 3 fatty acid. Helps prevent stomach and colon cancers.
Digestive aid- mustard oil boosts appetite and aids in digestion by stimulating the secretion of gastric juices and bile as well as stimulating the excretory system.
Skin health- high vitamin E content of mustard oil helps improve skin health. Applied topically it may also help protect the skin from ultraviolet light and other pollutants.
Anti-inflammatory & pain relief- applied topically, mustard oil has been known to relieve the painful effects of rheumatism and arthritis as well as help soothe sprained ankles and other such joint aches and pains.
Benefits for babies & kids
Treats rashes and infections
Relieves cold and congestion
Promotes hair growth
Good for massage
Keeps body warm
Has antibacterial and antifungal properties
Helps relieve symptoms of asthma & respiratory diseases
Natural insect repellent
Side effects of mustard seed oil
Black mustard is likely safe when eaten as part of food and applied on skin as an after bath oil or massage oil. Always do a patch test when using it for the first time.
Precautions
Overconsumption of mustard oil may lead to stomach and gastrointestinal irritation.
FAQ
1.Can mustard oil cause inflammatory reactions?
Yes, mustard oil applications may cause skin inflammation in people allergic to mustard oil.
2.Which mustard oil is best for health?
Aadhunik Ayurveda cold-pressed mustard oil is a raw - unrefined oil. It has a unique fatty acid profile extracted by a chemical-free manufacturing method. Therefore, it is suitable for health and retains the oil's nutritional properties.