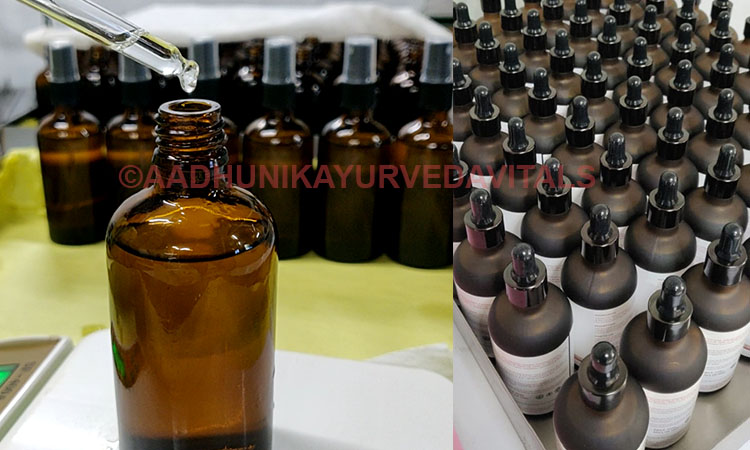 Natural Skin Toner Manufacturer & Supplier in India
Toners haven't always had a great reputation over the years, with many traditional products containing alcohol, known for stripping the skin of its natural oils and drying out the skin, leading to skin irritations, flare-ups, and premature aging.
Combine this with the fact that many of us spend our days in artificially heated or cooled environments, possibly not drinking enough water and consuming caffeine and alcohol. We are dealing with seriously dehydrated and lackluster skin!
Enter- a high-quality, alcohol-free toner. Putting the much-needed moisture back into the skin is one of the key qualities of a good toner. Hydrating the skin is an important component of your skincare regime and can result in improved skin elasticity, smoother texture, fewer fine lines and wrinkles, and an even tone.
What is Toner?
Simply speaking, toner is a skincare product with a liquid consistency that helps to balance skin and remove any makeup, dirt, and oil that's left behind after cleansing. It helps to refresh, protect and moisturize the skin. It can apply in different ways, such as a spray.
Why toning is really important/necessary
Now that you know about the benefits of skin toner, you may be wondering whether or not it's necessary for your skincare routine. And the answer is yes. As we mentioned above, facial toner ensures that dirt and impurities are removed from your skin, which can help prevent breakouts from occurring. Toners are also effective at balancing the skin's pH level, which can help your skin to be less prone to oiliness and infection, and create a more vibrant and smoother appearance. With the right formula, it can also work to hydrate your skin. Remember, the key to using toner effectively is to find the best formula for you.
Best skin toners in India
Skin toners are the best product to take care of the skin with all the natural ingredients. Not only does it nourish the skin deeply but also offer radiant and glowing skin. Going for herbal skin toners is the best way to get moisturized and healthy skin, and using the best skin toner products is essential. And in this context, we at Aadhunik Ayurveda serve the best as the top skin toner manufacturers in India which are 100% chemical & even preservative and other nasties free like paraben.
Ayurvedic Toners Manufacturers in India
When it comes to choosing the best herbal skin toners Aadhunik Ayurveda is the one that serves the best. We produce top-quality herbal & organic steam distillate toners which are 100% chemical & preservatives free, that are light weighted formula, and rejuvenate the skin in a most polished way which often provides radiant and soft skin. These herb water made from edible herbs are edible too like rose water, lavender water, peppermint water, chamomile water, mandarin orange water, vetiver water, etc.
Choosing Aadhunik Ayurveda as a third-party manufacturing company will lead you towards a huge amount of profit and success with an effective, healthy product making consumers come back for more. As we manufacture products that do not have any chemicals in them, the products perform gently on the skin. Herbal/ayurvedic products are extremely gentle on the skin, and this is the reason that people these days want to go for herbal products more and more. This is why we are the top ayurvedic toner manufacturer in India.
Top Best Toner Range at Aadhunik Ayurveda
Aadhunik Ayurveda mist & toners are potent, effective, and healthy. Edible refreshing, aromatic & therapeutic herb face toners improve hydration in the skin, make skin look and feel even, calm and healthy, and promote elasticity.
Aadhunik Ayurveda mist or face toners are for different skin conditions like oily skin, dry skin, itchy skin, or general skin conditions.
1. Rose water (mist)- for all skin types, it is steam distilled water that is edible, potent, effective & healthy. 100% chemical and preservatives free. It can be used for skin, and food to add flavor, body, and aroma to promote balance in body & mind and use as eye toner. Buy rose water at best wholesale prices in India.
2. Vetiver water (mist)- best for dry skin, this steam-distilled vetiver water is edible and used for many purposes. It helps to promote sleep, and skin health, boost mood, and soothe anxiety. This edible vetiver water is best used to add flavor & nutrition to food & desserts, tone skin & promote health & wellness. 100% free from chemicals. Buy best quality vetiver water at wholesale prices in India.
3. Sweet lime (mist)- best for oily skin, this steam-distilled sweet lime water is edible and used for many purposes. This organic hydrating skin toner help soothe, calm and nourish the skin while balancing the skin's pH. It is also a good source of vitamin c that minimizes discoloration and improves clarity. 100% pure, edible, and chemical-free. Buy best quality sweet lime water at wholesale prices in India.
4. Turmeric water/hydrosol- steam distilled edible turmeric hydrosol water is best used to add flavor & nutrition to food & beverages, tone skin, heal the body, and promote good health. It decreases hyperpigmentation, fine lines, and wrinkles and improves the appearance of the skin surface, shrinks the open large pores, and provides a smooth and even tone skin. 100% free from chemicals. Buy best quality high curcumin himalayan turmeric distilled water at wholesale prices in India.
5. Chamomile water/hydrosol- the traditionally prepared steam distilled edible chamomile hydrosol water is best used to promote relaxation, add flavor & nutrition to food & beverages, calm & relax sensitive skin, overcome eye fatigue and overall promote good health highly therapeutic and nourishing, 100% chemical & even preservatives free. Buy best quality edible chamomile herb water at wholesale prices in India.
Aadhunik Ayurveda is the fastest growing private label, custom formulation, and raw material wholesaler/supplier in India and globally for its pure produce with just no use of chemicals and preservatives at all. This unique proposition offered at Aadhunik Ayurveda vitals is the newly generated need of every consumer making natural organic skin, food and wellness products. They are directly linked with farmers across India for quality raw materials for manufacturing the best face skin mist & toners.
Aadhunik Ayurveda is the manufacturer, wholesaler/supplier, and retailer of chemical-free and even preservative-free effective & healthy skin care products including face toner.
FAQ
1. Which brand of face toner is best?
Aadhunik Ayurveda offers alcohol-free and hydrating face toners in India and globally. With the help of the steam distillation technique, these face & mist are edible and 100% pure and chemical free used for many purposes.You can private label these mist and toners on your brand name with least investment and complete compliance.
2. Is it good to use toner every day?
While some skin care products should only be used a few times a week, toner is typically meant to be used every day. Formulated to work hand in hand with your cleanser and moisturizer to remove leftover dirt, debris, and other impurities after your cleansing step, skin toner allows you to get the most out of the other products in your skincare routine.
Which private label brand face toner is best?
If you are looking for truly natural skin toners then it's time to contact aadhunik ayurveda vitals, manufacturer of skin toners for all skin types using the edible ingredients and absolutely free from alcohol and other chemicals.
Which toner is good for Indian skin?
India is rich with diversity in terms of flora, fauna, climate and probably everything hence a good skin toner suitable for a particular skin type is one which is made keeping in view the skin type and weather of the place.
Which private label toner is really natural or say chemical free?
Toners that contain plant derived herb waters or fermented waters make up the best toners for skin. With endless plant species providing multiple solutions to different skin concerns, toners made with plant parts are fast coming back to the shelf as effective, healthy and natural toners. Aadhunik Ayurveda vitals steam distills the different herb parts in its own world class distillery to make different aromatic and therapeutic herb waters to act as toners.
Which glow toner is best?
The toner that suits the needs of the skin will provide glow and keep it healthy. Every skin is different and hence one toner may not suit everyone.
Which is the best affordable wholesale private label toner in India?
Choose from more than 40 varieties of herb waters which could be blended to your taste, budget and other requirements to produce a rich quality best private label skin toner.