Sesame Seed Oil Manufacturers in India
There are a lot of things that are common in every kitchen household, and there would be just a few of them, which could be the exceptions, one common thing being sesame oil. Almost every household has a bottle kept aside for tempering their vegetables and curries. And who can forget the famous pickle? These cannot be made without sesame oil. But these are not the only prescribed things that sesame oil is used for, there are a lot of benefits of sesame oil, some of which will be covered in this blog.
What is Sesame Oil?
Gingelly oil, popularly known as sesame oil, is derived from sesame seed; it's on the list of edible oils. We have all heard about olive oil, jojoba oil, and even sunflower oil, but it's rare to hear about the benefits of sesame oil. The sesame seeds are yellowish-brown-white seeds that are small in size, and they are commonly found in Africa. Apart from Africa, there are also regions in India where these seeds grow. The sesame oil has a quite distinct flavour and a nutty taste that is healthier than other vegetable oils.
The colour of the sesame seed oil is golden yellow to yellowish-brown and is insoluble in water. The oil is rich in vitamins like Vitamin E and Vitamin K making it a healthy ingredient in the medical, cosmetic, and culinary industries.
Properties of Sesame Seeds
It is widely utilised for medicinal applications due to the presence of some unique phytochemicals. It may have the following properties.
It may show blood sugar-lowering activity
It might have lipid-lowering activity
It may show Anti-cancer properties
It may have blood pressure-lowering activity
It might have liver protective activity
It may have anti-inflammatory properties
It may have antimicrobial activity
It might show antioxidant activity
So these were some of the properties of sesame seeds.
Extraction of Sesame Seed Oil
Sesame seed oil or gingelly oil is extracted from the seeds of sesame. It is a lesser-known but healthier alternative to vegetable oil. The small yellowish-brown seeds of sesame are found primarily in Africa and the Indian subcontinent. Oil has been a part of the Indian kitchen for many years and is now infiltrating western culture due to its numerous health benefits.
The sesame oil is extracted through the cold pressing method from the seeds of the sesame plant. This oil is 100% pure and organic. It is unrefined and contains no chemicals or preservatives.
Making of Sesame Oil at Aadhunik Ayurveda
The making of Sesame oil at Aadhunik Ayurveda is a traditional technique of cold pressing the seed. It is the best technique where the seed is pressed between the two metal rods and the oil is released. There is no addition of any heat or any other ingredients to prepare the oil. This helps retain the aroma and nutritional content of the oil. This Sesame oil is 100% pure, virgin, raw, and unrefined oil good, and safe to consume and apply. This cold-pressed Sesame oil has multiple uses- in food & beverages, skincare & hair care to reap its benefits. 100% raw, vegan, no preservatives, cold pressed with seeds sourced from farmers & sustainable.
It is a multi-purpose natural product. Sesame oil benefits as it is extensively used in aromatherapy, skin care , dental care, and insect repellent.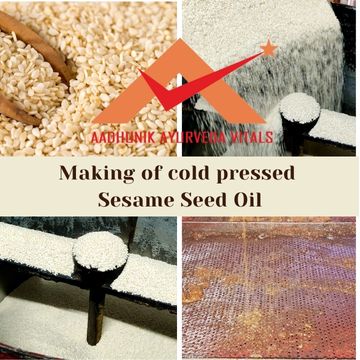 Manufacturer, Supplier, and Wholesaler of Sesame Seed Cold-Pressed Oil
Aadhunik Ayurveda is the leading manufacturer of certified organic cold-pressed oils in India. We produce more than 30 different nuts and seeds oil which are absolutely chemical & preservative free fit for consumption and topical applications.
At Aadhunik Ayurveda we source Sesame seeds from Gujarat & Madhya Pradesh to cold press for pure, unrefined, and nutrient-rich oil. This close connection helps us ensure a healthy seed procurement and give farmers a better price.
Aadhunik Ayurveda is the best wholesaler and supplier of edible and pure Sesame seed cold-pressed oil in India.
Aadhunik Ayurveda uses traditional techniques and methods to make the best quality seed oil as was made in our early times. This makes the oil rich in nutrients, aroma, and color and lends good shelf life without the use of preservatives.
Sesame seed cold-pressed oil made at Aadhunik Ayurveda is safe and chemical-free and has multiple purposes in nature as this oil can be used for many purposes such as for skin, hair, health, and many other purposes.
You can buy cold pressed oils and their cakes in bulk quantities like 1 litre, 5 litres, 10 liters, & 20 liters, and much more suiting your requirement.
Private label cold pressed Sesame seed oil
You can easily get private-label sesame seed oil from Aadhunik Ayurveda Vitals in bottles as you desire. We offer one-stop services from packaging, designing, and labelling to ready-to-ship products. Explore with us more private-label sesame seed oil products. Since we cold press in-house in our cold pressing unit, we do have sesame cake, sesame cake fine powder or known as sesame meal.
Private label sesame seed oil is available in multiple variiants like
Sesame oil - one bottle and multiple uses ( food, skin & hair)
Sesame oil for hair & scalp
Sesame oil for face & neck
Sesame oil for body
Sesame oil infused with herbs ( herbs of your choice) as per desired purpose.
Uses of Sesame Seed Oil
The oil is used in cooking, and it is most commonly used in Asian cuisines, including Chinese, Japanese, and Southeast Asian dishes, as well as in Middle Eastern cuisines.
It may be used for seasoning, due to its over-roasted flavour like on salads.
It may be used in massages, due to its beneficial effects on the body and skin.
It is a highly sought-after oil, even as a carrier oil for various cosmetic products.
It may be consumed raw by drizzling it over roasted vegetables or chutney.
Healthy Benefits of Sesame Seed
Improving Oral Health- one of the most prominent sesame oil benefits is that it improves oral health. Sesame oil has been used for oil pulling in old times. It helps in removing plaque & maintaining good oral health.
Sesame Oil for Skin- sesame is an excellent element in the Indian traditional Ayurveda medical system. It is valued due to its antibacterial, antioxidant, and anti-inflammatory properties. It is used in beauty treatment for healthy, healing, and enlightened skin as it naturally contains SPF.
Sesame Oil Prevents Anaemia- anaemia can be prevented if we consume an adequate amount of sesame oil in our diet. This is because sesame has a huge iron content, and iron is very effective in curing anaemia. So, sesame oil consumption is one of the most accessible home remedies for anaemia.
Sesame Oil for Hair- its nourishing, calming, and warming nature makes it the ideal massage oil. In Ayurveda, there is a special significance in using sesame oil for head massage. Its antioxidant elements prevent hair greying, promote hair growth, treat lice, and prevent hair fall.
Lowers Cholesterol Levels-the sesamol and sesamin content in oil help keep cholesterol levels low. It maintains good heart health and normalises blood pressure levels.
Side Effects of Sesame Seed Oil
Sesame is likely safe when applied to the skin, taken by mouth, or sprayed on the nose. However, the possibility of allergies rises in some people if it is misused or consumed excessively or the individual is allergic to the seeds.
Precaution & Storage
Always do patch/allergy tests when using the product for the first time. Keep it in a cool place, away from direct sunlight. Never let the bottle open for long. Do not dip your fingers or get water into the product since there are no preservatives & chemicals added to inhibit bacterial growth.
FAQ
1.How to use Sesame Seeds?
Sesame seeds can be sprinkled in salads, stir-fries, and soups. Sesame seeds can be toasted to make them crunchier and enhance their flavour. Sesame seeds can be toasted by spreading them out on a baking dish and roasting them at 350°F for 5-10min.
2.What is the price of sesame seed oil?
The price of sesame seed oil at Aadhunik Ayurveda depends on the sesame seed wholesale mandi rates - commodity price. Hence check with us whenever you want to buy pure cold pressed sesame seed oil.