Meal and Meal Product Manufacturer and Supplier in India
Aadhunik Ayurveda is India's leading Manufacturer & Supplier of Meal powder which are often used in health and wellness and also used in cattle feed, or plant conditioner. These oilseed meals are good in protein, nitrogenous compounds, and minerals. Beside its conventional usage, studies have been conducted to utilise these protein rich resources for human use. Aadhunik is proud to be one of the first few skin care manufacturers to make use of meals in skincare as a substitute to microbeads, which are a threat to aquatic life and overall environment.
Since we have close to decades of experience in making meal extracts/powders, we have managed to satisfy both local and global clients by supplying the best oilseed meal-fine powdered to be a part of their plant derived formulation. Apart from that, we are an oilseed meal supplier with our own manufacturing unit. That indicates that we carefully evaluate the quality of our products. Additionally, our superb services have also helped us to our worldwide recognition. You can surely expect only high quality and the best meal fine powder delivered to you.
No additives
Non-GMO
Rich in vitamins
Plant derived
Environment friendly
Uses of Meal Fine Powder in different ways:
Aadhunik cold-pressed meal powder is commonly used in-
Used in making health supplements
Used as a food for cattle
Used in formulation in skincare products
Used in infusions and much more.
Making of Oilseed Meal Powder at Aadhunik Ayurveda
Aadhunik Ayurveda makes use of traditional methods of cold-pressed technique. Oilseed meal powder, also known as 'press cake' is a coarse by-product of oil extraction from a variety of oilseeds and it is used for different purposes in skincare and health and wellness. This oilseeds powder is high in protein and minerals.
Aadhunik oilseed meal powder is a fine powder obtained from cold-pressed that is used in plant-based skin care formulation, nutritional drink powder, dairy alternatives & as a health-forward, plant-based nutritional supplement.
You can buy our meal fine powder in bulk packaging in various sizes as per your requirement as a raw material for your product.
Private Label manufacturer of Meal Powder Products
Aadhunik Ayurveda is the top manufacturer of Different Meal fine powder and every meal is unique with different set of properties useful in skin care formulation as clean plant derived ingredients.
Private Label Mustard Seed Meal Fine Powder
Private Label Coconut copra Meal Fine Powder
Private Label Jojoba seeds Meal Fine Powder
Private Label Hemp Seed Meal Fine Powder
Private Label Cucumber seeds Meal Fine Powder
Private Label Watermelon seeds Meal Fine Powder
Private Label Sunflower seeds Meal Fine Powder
Private Label Bakuchi seeds Meal Fine Powder
Private Label Moringa seeds Meal Fine Powder
Private Label Apricot seeds Meal Fine Powder
Private Label Gotu kola seed Meal Fine Powder
And much more
Best Manufacturer, Wholesaler & Supplier of Meal Fine Powder in India
Aadhunik Ayurveda is the only and No.1 Manufacturer, Wholesaler, and Bulk supplier of Meal Fine Powder in India delivering its quality produce to skin care, health and wellness brands across the world.
We offer the best and high-quality meal fine powders at bulk prices nationally & internationally around the world to the U.S, Canada, Australia, Sweden, France, Dubai, Singapore Saudi Arabia etc. For making high quality oilseed meal powder we sourced seeds directly from the farmers cultivating different seeds in different parts of India.
We are a renowned contract manufacturing company for meal products like skin polishers, body polishers, make-up removers, body scrub, hair mask etc. in different forms meaning texture, consistency as per the need of the brand.
Powder based exfoliant/polisher
Cream based exfoliant
Gel based exfoliant
Oil based exfoliant
These skin care products make use of fine powdered meals as exfoliants in place of microbeads which are threatening to humans and the whole ecosystem. These fine powdered meals as per their properties are used in the formulation of various products skin, health and wellness products.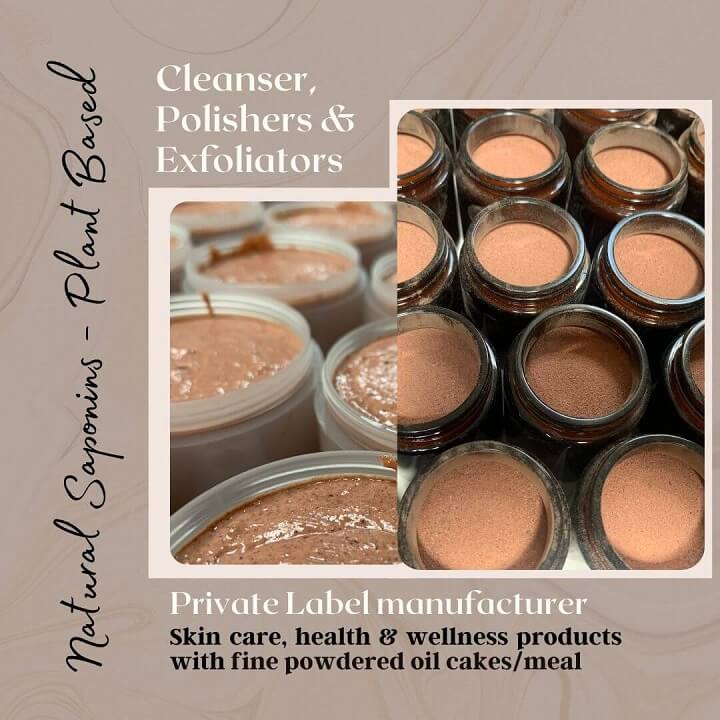 Aadhunik Ayurveda is the best manufacturer of soap free face and body cleanser in India manufacturing the chemical and preservative free product for more than 50 domestic brands and about 13 international brands. The formulation of the soap free cleanser cum polisher is 100% plant based, made using fine powdered herbs, fine powdered meals rich with nutrients like saponins, flavonoids, alkaloids and much more.
Our team is working in the process of making new products enthusiastically keeping in mind the desire, uniqueness and demands of the clients. We also provide you with the best quality FSSAI, GMP, ISO and USDA organic certified products to sell globally to your target consumer with complete ease and low investment. Working with us is very simple and smooth. Know more about creating your own product line with us here. meal fine powder and other health and wellness products and much more.
You can buy our meal fine powder in bulk packaging in various sizes as per your requirement.
Our Specialties
Complete in-house cold-pressing oil and meal fine powder unit
Strong connect with farmers in India for quality seeds and nuts
100% clean and natural products are produced without use of preservatives and chemicals
Private label/white label services with ease in low moqs and least investment.
FAQ's
Who is the best manufacturer and wholesaler of meal powders in India?
Aadhunik Ayurveda is the best known & highly preferred company for meal powders or cake powders to use in skin care & other ayurvedic/herbal formulations.
Which all meal powders in bulk are available with you?
We have more than 40 varieties of different meals available with us like apricot meal, jojoba meal, cucumber meal, watermelon meal, gotu kola, zucchini, sunflower, sesame, coconut, mustard, kalonji, babchi etc.