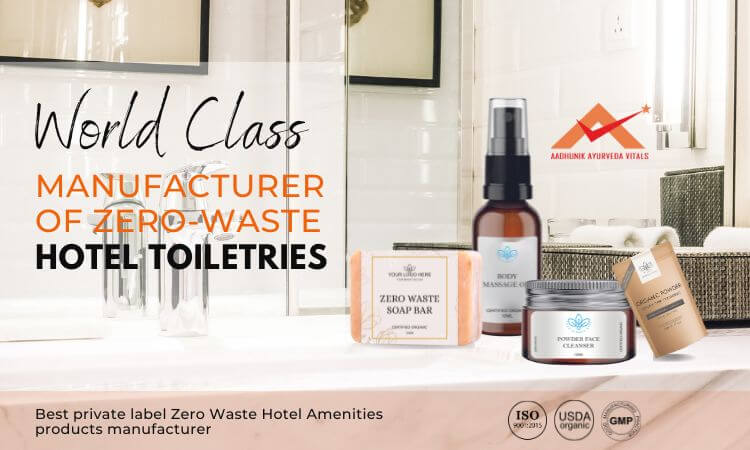 Manufacturer of Zero-Waste Hotel Amenities in India
Aadhunik Ayurveda is one of the world's leading manufacturers of zero-waste hotel amenities. Chemicals and plastic menace are a growing concern around the world and therefore clean environment friendly hotels are preferred amongst the growing cult of conscious guests. And hence we at Aadhunik Ayurveda take every step to ensure our product development is based on clean & green techniques with a unique understanding of people, products and sustainability-all of which contribute to the health and wellbeing of people and the planet and help hotels provide sustainable products and services to the guests.
After close to a decade of experience, the world famous clean products manufacturer, Aadhunik Ayurveda is proud to have developed 100% zero-waste products for spa and hotel amenities. From techniques to packaging, every aspect is well thought action to ensure minimal carbon emission and uncompromised product quality.
Discover the eco-friendly, guest amenity collection by Zero waste that's reusable, compostable and recyclable. The brand provides organic shampoo bars, body oils, body butter, after bath oils, body polisher, powder cleanser packaged within environmentally friendly and elegant packs.
We make sure all our high-quality ingredients and making techniques are ethically-sustainably sourced & practised for making hotel amenities products.The direct connect with farmers across India & traditional techniques help us create clean, healthy and powerful skin care, health and wellness products.
Clean & Environment Friendly Hospitality Supply
Aadhunik Ayurveda is a leading manufacturer & supplier of clean & environment friendly hospitality supplies to various hotels and spas around the globe. With our expertised customisation services, we help you create hotel toiletries customised in tune to your hotel/spa theme. Our bulk supplies to hotels, spas, airlines and other stay destinations have given us the understanding of the guest preferences, product viability etc. which help create a real natural and healthy product keeping our commitment to brand excellence, as well as environmental sustainability.
As a luxury clean and environment friendly hospitality supply we recognize the importance of creating outstanding experiences and high rates of customer satisfaction. For this reason we supply a large selection of brands and products for you to choose from, giving you the ability to cater to your consumer's preferences, and customise your guest's hotel experience all together.
Clean and environment friendly hospitality supplies for purchase at Aadhunik Ayurveda range from-
Organic soaps
Solid shampoo bar cum conditioner
All in one Soap bar for face, hair and body.
Powder face cleanser
Body massage oils
After bath oils
Body butters
Face oils
Body polisher and much more.
All the products can be customised as per individual specifications, branding and designing. Our range of Hospitality supplies are available and can be customised as per individual Hotel, Spas, Resorts, other hospitality destinations and other wellness destinations all over the world.
Eco-Friendly Hotel Amenities Suppliers
We know how hard it is to find eco-friendly amenities in India with genuine quality. Our highly experienced team has capabilities to suggest and develop the right product for existing hotels and others in terms of quality, price and durability. By providing these eco-friendly amenities, we are committed to reducing our environmental impact. And therefore Aadhunik Ayurveda is a known eco-friendly hotel amenities- toiletries supplier in the country.
Manufacturer & Supplier of Small Soap Bars For Hotels
Aadhunik Ayurveda is one of India's leading manufacturers & Supplier of Small Soap Bars for Hotels & spas. We are committed to providing hotels, and other customers with luxurious and affordable high-end hotel soap and toiletry items. Our solid soap bars are formulated using the finest natural ingredients, ensuring an organic and natural goodness & feel which is incredibly gentle on the skin. Our hotel soap bars come in many sizes and shapes to fit any budget, from small soaps perfect for bathroom counters to larger ones for guest rooms
We also use both the latest technology & traditional techniques to create the best with the best ingredients and reduce carbon emissions without compromising on quality with all certifications in place like ISO, GMP, Certified organic - USDA, FDA etc. The adherence to global standards help us create and bulk manufacture a range of small soap bars for hotels with consistent quality and performance.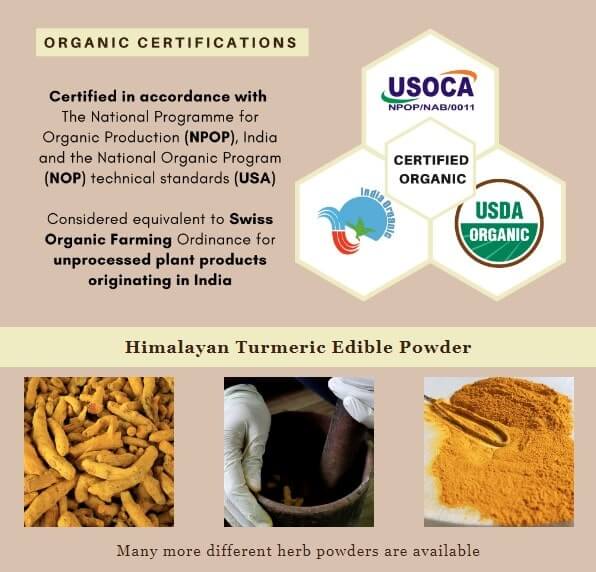 Best Manufacturer of hotel toiletries
Aadhunik Ayurveda is the best manufacturer of hotel toiletries because the strong connect for raw materials with farmers, to world class facilities fully equipped with present day safety and hygiene, testing laboratory, distilling, cold pressing, blending units etc. have made possible to achieve sustainability vision in skin care & wellness products.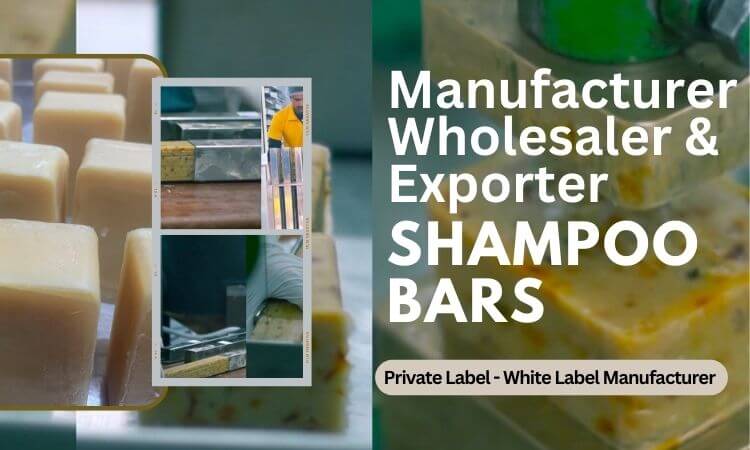 Why Aadhunik Ayurveda is the best preferred manufacturer of zero waste hotel soap bar supplies in India.
Fully developed (in-house) manufacturing unit
Simple and transparent working
Well organic certified company
Huge production capability
We maintain quality control at every step
100% organic and natural products
For more details, contact https://aahunikayurveda.com
FAQ
1. Can i get a set of soap, mist, body oil, shampoo, lip balm as a combo on my brand name? What will be the MOQ?
Yes we can definitely create a combo exclusively for your brand as per your requirement and budget. We always promote healthy toiletries in every space retail, and wholesale through white label hence we can do low MOQ through our specially designed startup scheme where we understand the requirement and accordingly fulfil the need. For more details please feel free to get in touch with us.
2. Who is the best manufacturer of shampoo bars for hotels in India?
Aadhunik AYurveda is the best shampoo bar manufacturer and private label company that produces healthy and great hair cleansers in the form of soap bars to cut down the use of plastics and chemicals which are a concern with liquid shampoo that comes in plastic bottles. Hotel's contribute significantly to plastic waste and hence a step in the direction can help contribute in the goodness towards nature.