Haritaki/Harad Powder Manufacturer and Supplier in India
Aadhunik Ayurveda is the top largest producer of Haritaki/Harad Powder, herbal powder manufacturer and Supplier in India. We are the leading manufacturer, wholesaler, and bulk supplier of Haritaki/Harad Powder and other herbal powders that were in use for many years in skincare, food & beverages, and used in health & wellness industries. If you are the one looking for the best Private Label Manufacturer of herbal powder, food powder, and other natural powder in bulk, then Aadhunik Ayurveda is the best one to source.
Quality Source Raw Ingredients for Making Haritaki/Harad Powder
Aadhunik Ayurveda sources high-quality organic Haritaki/Harad Powder from best quality farmers cultivating from different parts of India. The development of direct network connection with farmers over the years help us seek best quality herbs from the farmers.
We focus on keeping quality intact, in fact helps us maintain their quality, taste/flavor, and rich aroma. It's an historical medicinal herb, which plays an essential role in adding to your food & beverages, skincare and used for making health wellness products.
Manufacturing of Haritaki/Harad Powder at Aadhunik Ayurveda
Aadhunik Ayurveda makes use of ancient traditional techniques to produce 100% clean and high quality products. From making herbal powder to making food spice/masala powder, we make use of cold-pressing, hand milling coarse to fine powder technique to produce ready to use products for various remedies like.
Used in skincare products
Used to make medicinal/supplements
Used to make health booster
Used in food & beverages
And much more
Each and every technique used to make highly therapeutic-nutrient rich quality products are the best world class with no use of chemicals or preservatives.
Vegan-plant derived ingredients only
100% edible, and free of harsh chemicals and fillers
Scientifically backed & time-tested.
This complete process of producing Haritaki/Harad Powder involves careful selection and process to keep the natural nutrients contained in the herbs. Our natural and chemical free Haritika Powder is edible and widely used in making ayurvedic herbal medicines, supplements & other wellness products.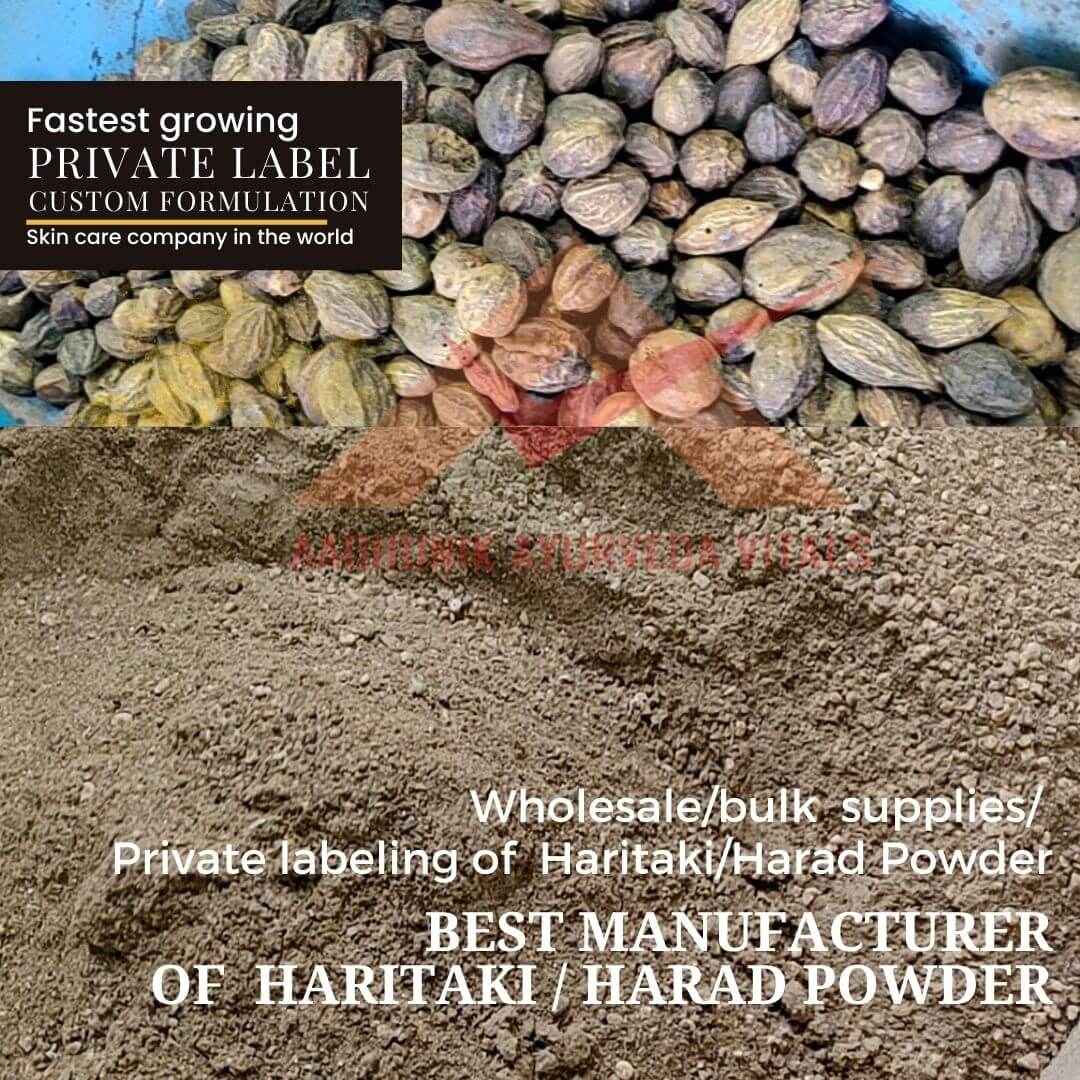 Best Private Label Organic Haritaki Product Manufacturer
We do deal in a wide range of organic herbal powder products with natural ingredients and take care of all the safety aspects and the quality, as we believe in serving the best, this is the reason that Aadhunik Ayurveda stands above as one of the most trusted company in India and globally. This is the motive more and more people are interested in private label manufacturing with Aadhunik Ayurveda Vitals.
Private Label Haritaki/Harad herbal powder
Private Label Haritaki/Harad healthcare powder
Private Label Haritaki/Harad health supplements powder
Private Label Haritaki/Harad Murabba
Private Label Haritaki/Harad churna
Private Label Haritaki/Harad natural hair powder
Private Label Haritaki/Harad ayurvedic health medicine
And much more
Why is Aadhunik Ayurveda the Leading Haritaki/Harad Powder and other Ayurvedic Herbal Powder manufacturer in India?
Aadhunik Ayurveda is one of the No.1 leading and renowned Organic Haritaki/Harad Powder and other herbal powder manufacturer companies for the past few decades.
We have a team of professionals for manufacturing high-quality haritaki powder and other organic herbal powders. We have state of the art eco-friendly USDA certified licensed with world class facility to create organic and natural products and different private label & custom formulations. We have a strong bonding for raw material with farmers, making the products 100% potent, highly effective, and powerful.
We believe the best quality ingredients when used in apt composition create a potent, effective, powerful and healthy product. This is the reason why brands come back to us more because their customers come back to them for their quality products.
We produce the best high-quality products with the approval of ISO, FSSAI, GMP certifications that help us to manufacturer an extensive range of natural and organic products.
The organic quality mark stands for 100% controlled organic and reliable. These ingredients are assured to be free of all sorts of chemicals, additives such as sugars, fats and fillers. The quality of our herbal products is regularly checked.
You will get our organic and edible Haritaki/Herbal Powder in wholesale prices in different sizes like in 1kg, 5kg, 10kg, 20kg, 25kgm, 50kg, 200kg, 500kg and in other packages as per your requirement.
With us you will get the chance to explore ayurvedic Haritaki/Harad Powder, ayurvedic supplement powder, food spice powder, herbal face powder and other of your choice at best reasonable prices and uncompromised quality with complete solution under one roof.
Looking for the best wholesale or bulk amounts of Harad Powder in India?
Aadhunik Ayurveda is wholesaler and exporter of Organic Harad Powder. We provide a high-quality range of thousands of (organic) ingredients that we can offer both as single ingredients or in a mix. If you are interested in the possibilities we provide to make your own products from our ingredients, please have a look at our custom formulation and private label services. For more details, contact us at aadhunikayurvedavitals@gmail.com
FAQ's
Which harad is available with you, small or big?
We have both varieties of harad that is small and big. Please let us know which one you are looking forward to?
I want to import 500 glass jars of 300 grams of harad to US. Suggest if you are already doing any such herb export and would it be feasible in terms of cost?
Yes, we are already exporting to U.S including other countries. We are exporting edible and general use powder blends and single ingredient in glass jars too. It will certainly be feasible in terms of cost as you will get best herb reasonably priced with low labour charges at compared to U.S.